Taste
Crafted to nourish the body, mind, and palate, our dynamic restaurants & nightlife venues spotlight the freshest seasonal ingredients, sustainably sourced from local farmers, ranchers, and fishers as well as our own on-site organic gardens and apiaries. Every bite tells a story of nature as nourishment, serving as a gentle reminder of our cherished responsibility to honor nature in return.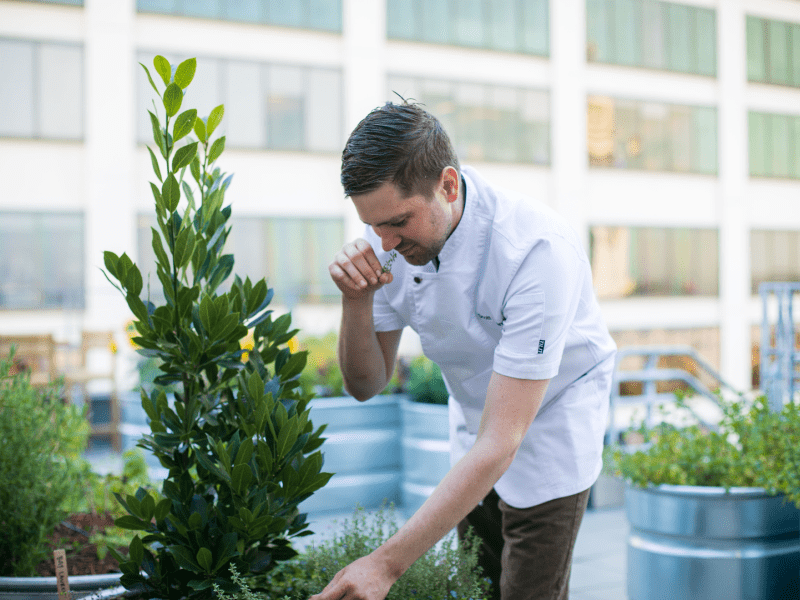 Partnering for the planet
Crafted to nourish the body, mind, and palate, our dynamic venues spotlight the freshest seasonal ingredients, sustainably sourced from local farmers, ranchers, and fishers as well as our on-site organic gardens and apiaries. While our verdant dining rooms naturally and effortlessly calm the senses, our radiant rooftop bars showcase picturesque skyline views and vibrant nightlife energy, creating the space for unforgettable sensory experiences that celebrate the world around us.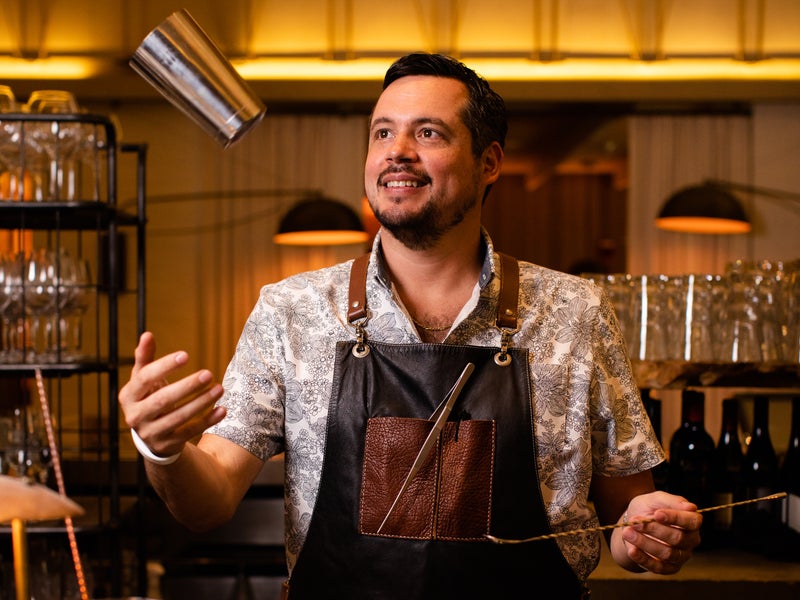 Sip With Purpose
Our creative beverage programs, led by Corporate Beverage Director Steven Minor, strive to transform the way we imbibe by seamlessly integrating sustainability, flavor innovation, and community engagement. Every beverage is shaped by our inventive sustainable methods, from infusing liquors with citrus peels to sourcing organic and biodynamic wines as well as local craft beers from our trusted neighbors.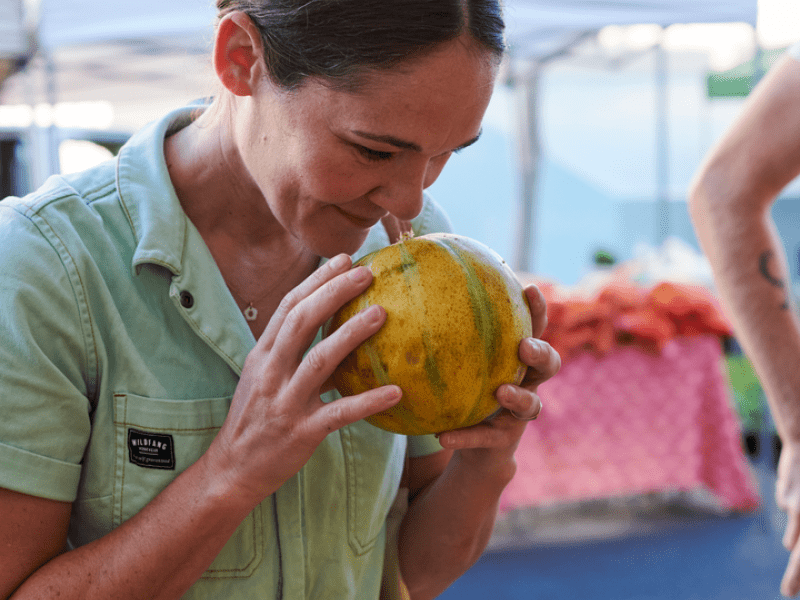 Local Purveyors
Supporting local farmers and growers is essential to our sustainability efforts. Our purveyors provide us with the freshest, ethically sourced ingredients to ensure a mindful dining experience. Farmers across the globe provide us quality, fresh produce so that you can savor the flavors of the season and we can work to preserve the beauty and bounty of nature.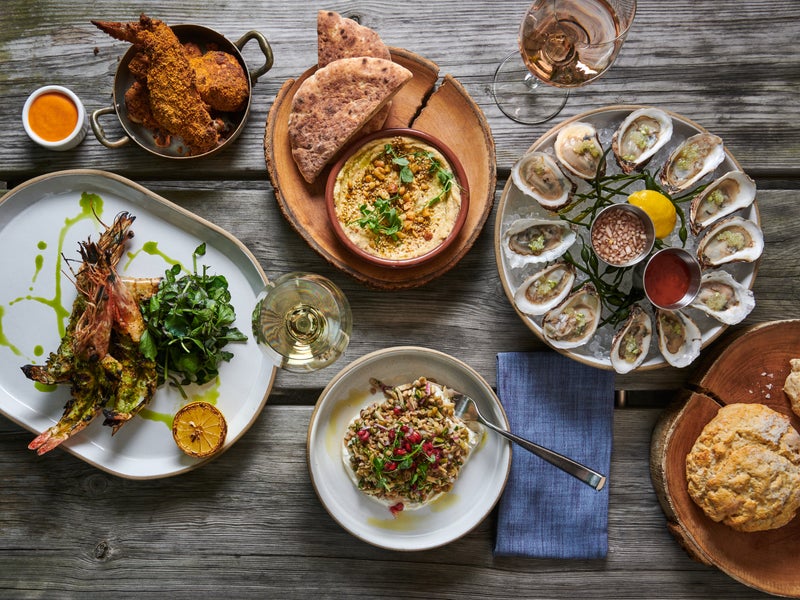 Raised with Love
Our meat, fish, and seafood partners are committed to growing and sourcing the best products with minimal environmental footprint. We can also ensure that our dairy and eggs come from animals that are cared for and ethically raised.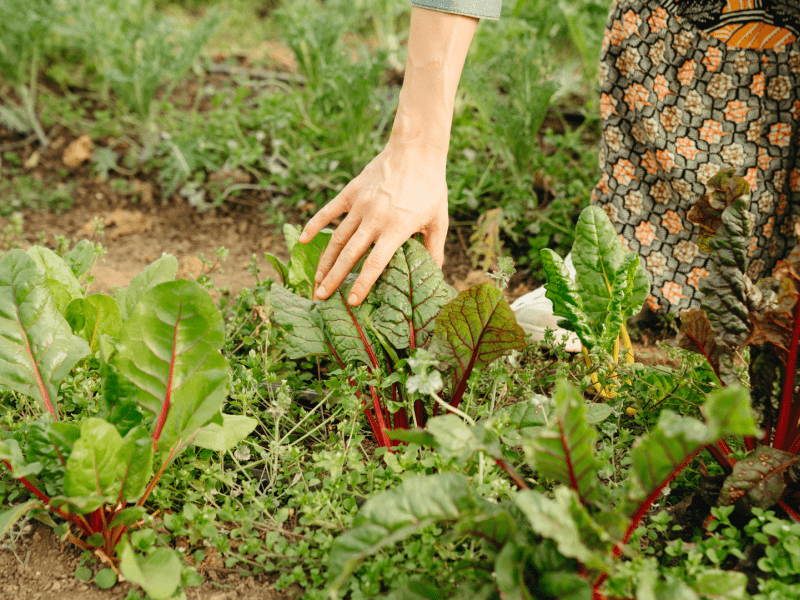 Zero-waste Journey
With guidance from our partners at Foodprint Group, we've successfully diverted over 1,181 tons of waste from landfills, saving over 2,205 metric tons of carbon dioxide from entering the atmosphere—the equivalent of removing 491 cars from the road for one full year.
Natural Nourishment
At 1 Hotels, we believe in natural nourishment that also honors the delicate systems and seasons that sustain us. Through our sustainable approach, local lens, and creative flair, our signature outlets offer healthy seasonal menus and day-to-night dining experiences that nourish your body, uplift the community, and honor the natural world.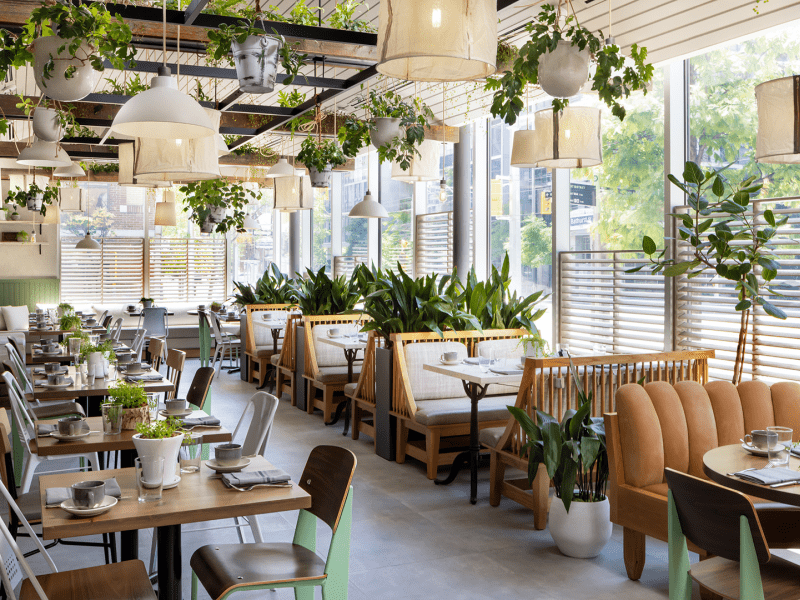 Various Locations
1 Kitchen
Light-filled and open, 1 Kitchen feels like home and is centered around plant-forward, hyper-local, and sustainably sourced cuisine, local beer, biodynamic wine, and zero-proof and craft cocktails. A menu of natural abundance, indulge with fulfilling flavors and shared conversations that last long after dessert.
Hanalei Bay
Haitang Bay
Nashville
Toronto
West Hollywood
1 Hotel Toronto
Casa Madera
As Noble 33's first location in Canada, Casa Madera offers an immersive experience centered around bold, inventive flavors. Crafted using the freshest seasonal and sustainable ingredients, every bite celebrates the culinary traditions of Mexico and the Mediterranean. With talented local DJs spinning energizing sets in an enchanting atmosphere, savor a full-sensory global experience in the heart of Toronto.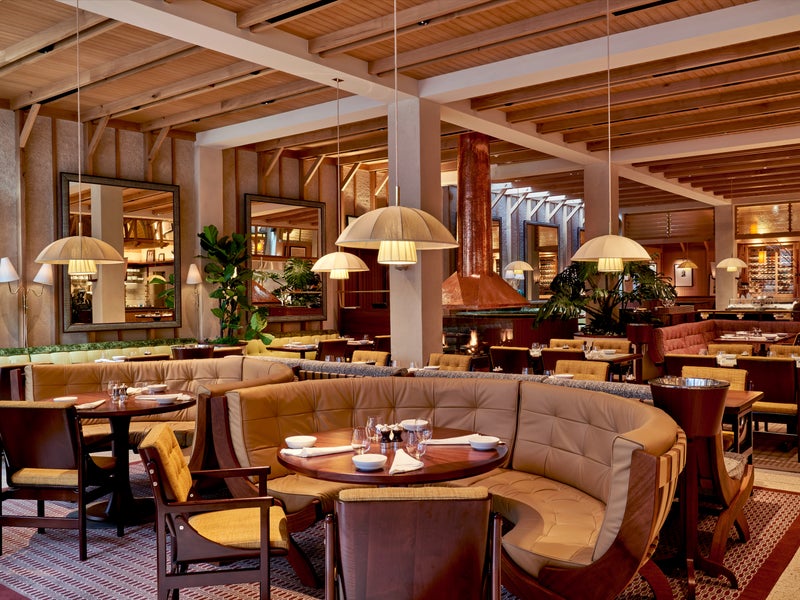 1 Hotel Mayfair
Dovetale
Located in the heart of London and led by the Two Michelin-starred Chef Tom Sellers, Dovetale is a natural haven for reimagined European classics. With ingredients sourced from some of the finest purveyors in the UK, indulge in dishes that celebrate the seasons, evoke memories, and inspire connection.
1 Hotel South Beach
Habitat
Warmly lit and filled with vivacious energy, Habitat is known for its reimagined Mexican cuisine and zesty cocktails—always pairing bold flavors with sustainable ingredients. With a nature-inspired dining room, flourishing outdoor patio, and private mezzanine, every detail of Habitat extends a standing invitation to gather and stay a while.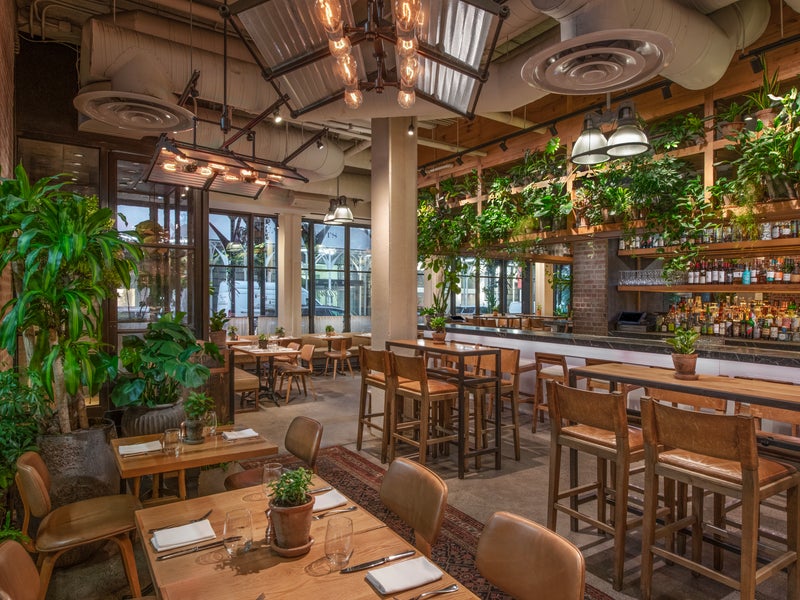 1 Hotel Central Park
JAMS
From the James Beard award-winning 'Best Chef in New York City,' Jonathan Waxman offers a seasonal menu of contemporary American cuisine, using the freshest, locally sourced ingredients from surrounding farms. Set right off the paths of Central Park, step into a nature-centered space with an open kitchen, breezy, greenery-lined terrace, and the best brunch in town.
1 Hotel San Francisco
TERRENE 
Inspired by San Francisco's sunlit energy, Terrene's menus spotlight produce from neighboring farms, herbs from our rooftop chef's garden, and fresh honey from our on-site apiary. Aligned with its vibrant atmosphere, the bar menu boasts an impressive selection of organic agave mezcal and tequila, zero-waste cocktails, craft beer, and sustainable Napa Green-certified wines.
1 Hotel Brooklyn Bridge
THE OSPREY
With a natural allure shaped by hand-stamped tables, floor-to-ceiling windows, feathering greenery, and locally sourced farm-to-table cuisine, The Osprey's contemporary American menu illuminates the global diversity of New York City's neighborhoods and invites you to settle in and connect over life's simple pleasures.
1 Hotel Hanalei Bay
Welina Terrace
Known for the best sunset views on Kauaʻi, this modern Japanese-inspired lounge is perched above the glistening Hanalei Bay. Savor an impressive menu of the freshest sushi and nigiri and toast with your choice of 26+ sakes, whiskies, craft cocktails, and local beer. As the sun paints a mural in the sky, let the sounds of talented local artists whisk you away to an evening of pure bliss.
Rooftops & Lounges
Our rooftops, lounges, and garden venues offer a unique opportunity to immerse yourself in the stunning elements of nature, even in the most unexpected urban settings. Vibrant and adaptive, these transient spaces create unparalleled atmospheres for you to savor unforgettable moments, bespoke libations, and captivating musical performances in an intimate setting.
Laid Back Fare
Whether it's a grab-and-go snack to power your picnic or a craft cocktail to sip as you soak up the sunshine, our laid-back venues always spotlight fresh ingredients, local traditions, and sustainable methods to help you make the most of your adventures. Choose to savor vibrant flavors beside the ocean or cozy up in a calming café overflowing with wispy plants. Either way, you'll find yourself surrounded by nature's nourishing essence.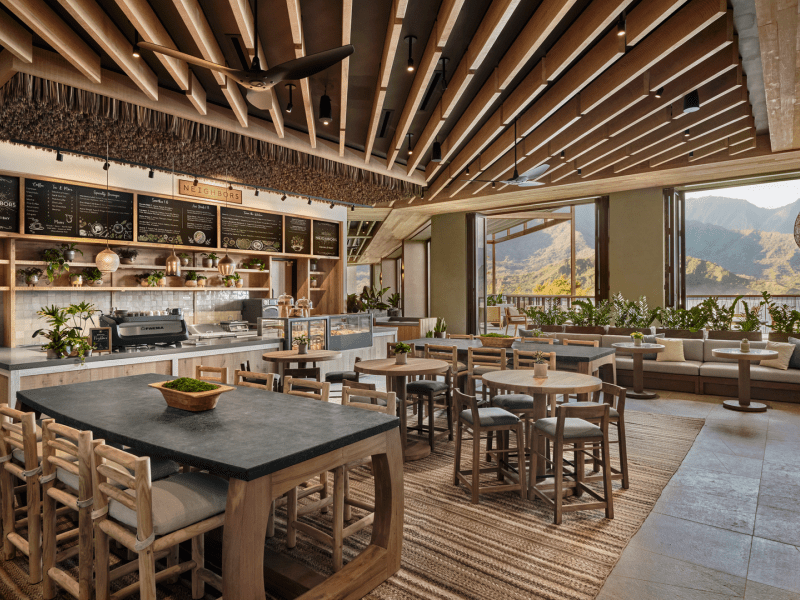 Various Locations
NEIGHBORS
Originally inspired by local offerings from our actual neighbors at 1 Hotel Brooklyn Bridge, this lively, social café and gathering spot serves fair-trade coffee, fresh cold-pressed juices and smoothies, and light seasonal dishes sourced from nearby farmers and growers.
1 Hotel South Beach
Plnthouse
Plnthouse is home to 1 Hotel South Beach's healthiest dishes, serving creative plant-forward cuisine and locally sourced organic fare. From quick smoothies and soft-serve ice cream to build-your-own bowls, enjoy delicious pick-me-ups throughout the day as you relax on the verdant terrace or poolside overlooking the ocean.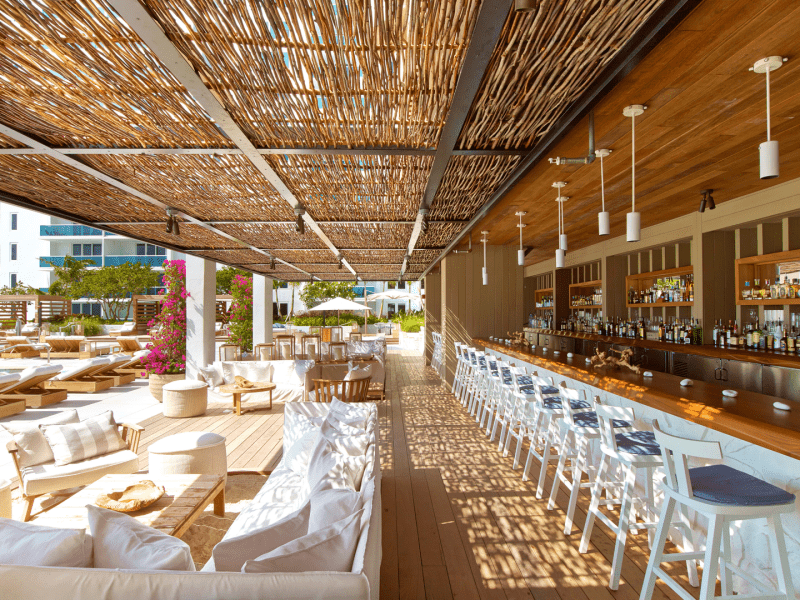 Various Locations
The Sandbox
Always situated among sparkling waters and abundant sunshine, The Sandbox is an ideal spot for families and friends to gather, lounge, and share a meal between swims. With perfect poolside bites that call upon local ingredients and traditions alongside refreshing beverages designed for lounging, enjoy uninterrupted relaxation and rejuvenation—while indulging in nature's freshest flavors.
Certified Sustainable Gatherings
Gather, celebrate, and bring your vision to life in a way that maximizes your event's lasting impression—but minimizes its environmental impact. Certified Sustainable Gatherings offers a beautiful opportunity to unite all hosts (that's you!), vendors, and guests around the common purpose of nurturing and safeguarding the planet and its people.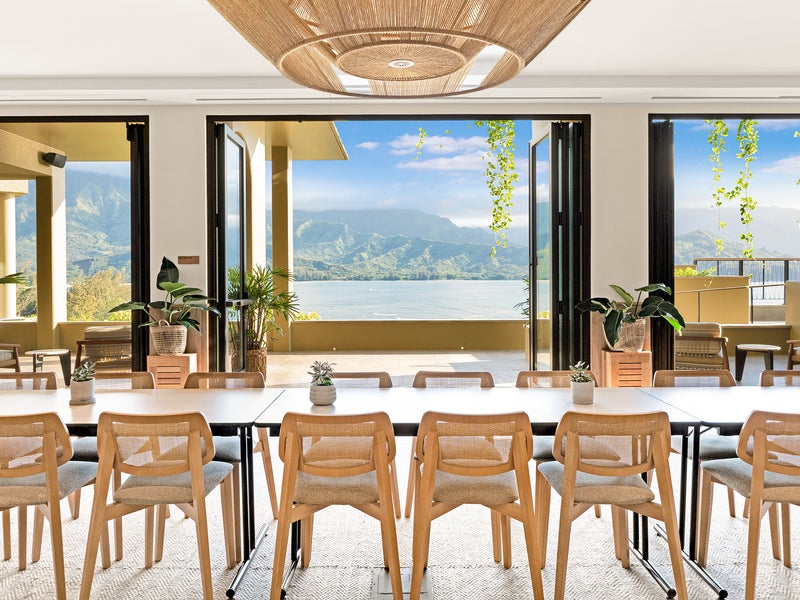 Gatherings Grounded in Nature
The extraordinary beauty and influence of nature breathe life into everything we do, and when it comes to gathering, this holds especially true. From connective business events to awe-inspiring weddings, our unique and dynamic spaces adapt effortlessly to your one-of-a-kind gathering. Watch your vision bloom through our turnkey event planning, seasonal menus, ethereal decor, and nature-inspired spaces that blur the lines between indoor and outdoor—and make even the largest gatherings feel perfectly intimate.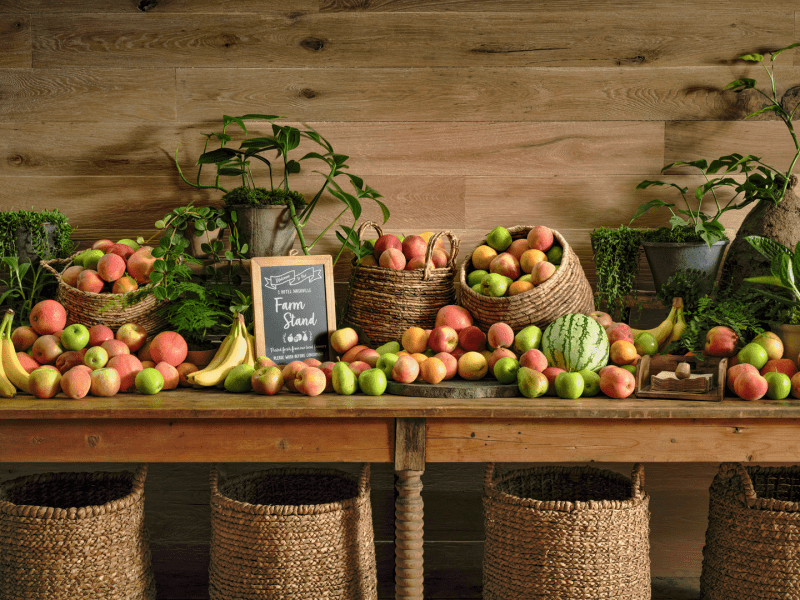 Lobby Farmstand
At our daily market stand, you'll find fresh seasonal fruits that are imperfect in appearance but perfect in taste, which would otherwise be discarded by producers or grocers. The Lobby Farmstand is open to guests and neighbors alike.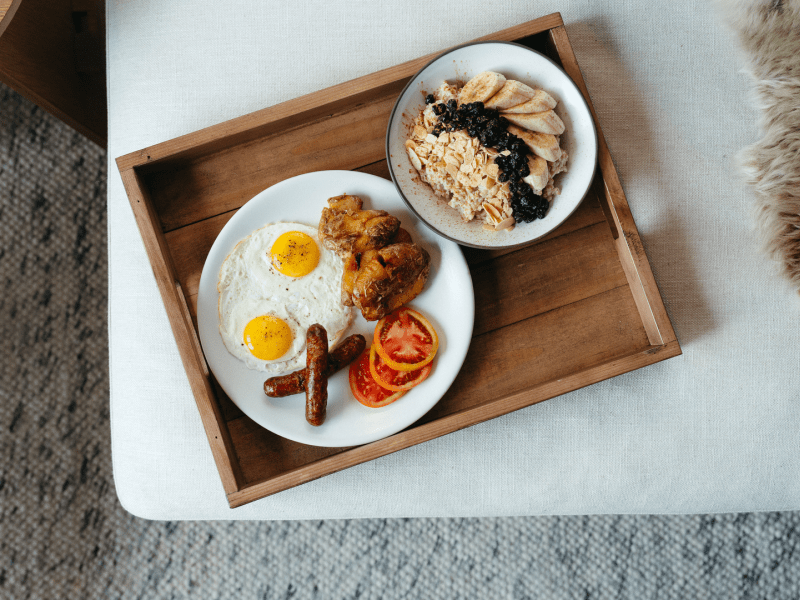 In-room Dining
Relax and refuel on your own schedule with locally sourced, seasonally inspired fare delivered to your door. Each farm-fresh dish is available 24 hours a day and spotlights the mindful methods of our local purveyors, serving as a delicious reminder that natural nourishment is always within reach.