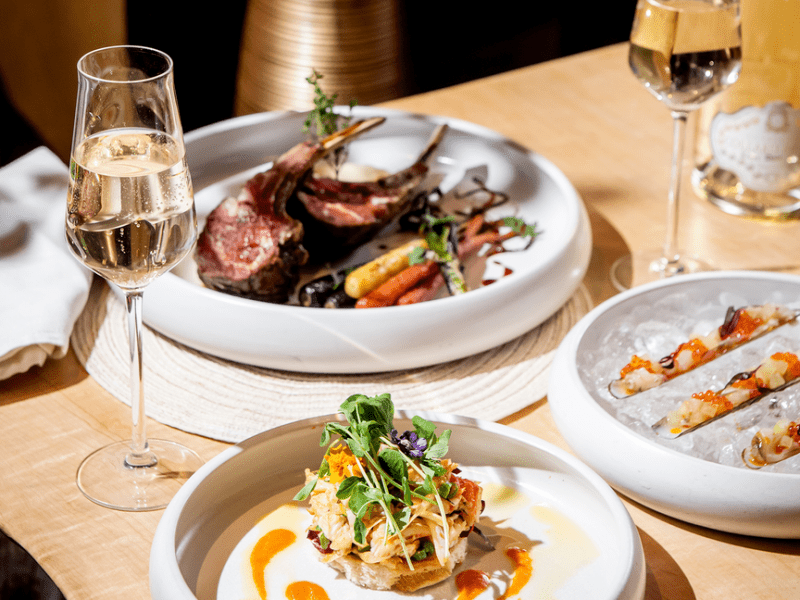 The first location in Canada, from famed restauranteurs Noble 33, welcomes patrons into an immersive dining experience.
Casa Madera's diverse menu is one that speaks to Noble 33's core tenants – serving inventive, bold flavours built on sustainable, organic fare, using only the freshest ingredients coupled with a diverse array of vegan and gluten-free options.
Enjoy chef-driven selections that celebrate the culinary traditions of Mexico and the Mediterranean while DJs play alongside talented performance artists. Casa Madera's cocktail program also includes an extensive non-alcoholic and low-proof selection.
Sunday
12pm - 9pm
With brunch from 12pm - 4pm
Starters
Whipped Aubergine

charred cascabel oil, oven baked pita

Mayan Hummus

chickpea, tahini, lemon, olive tapenade, aleppo pepper, tajin, oven baked pita

Jalapeño + Cucumber

fresno chile, red onion, cilantro, pink peppercorn, fresh lime

Diver Scallop

mexican tabbouleh, jalapeño garlic oil, serrano cilantro butter; Vegan by request

Chile Pulpo

sweet corn puree, chives, marcona almonds, chile de arbol

Albondiga

slow braised wagyu meatball, jitomate, aged pecorino, micro basil

Kobe A5

seared japanese wagyu, whiskey barrel aged soy air
Raw Bar
Tore de Mariscos

chef's selection seafood tower

Oysters Cascara

chef's daily select

Ceviche Blanco

white fish, red onion, habanero, lime, citrus supremes, cilantro; vegan by request

Hamachi Serrano

fresh lime, cucumber, pickled onion, crispy garlic

Bahia Vieira

sea scallop and striped bass aguachile, bergamot, ginger, charred cucumber, sea beans, hand torn herbs

Aji Panca Tuna

avocado, cucumber, black sesame

Tuna Timbale

house-made ponzu, avocado, chili oil, lime air

Champagne + Caviar

1oz osetra caviar, dom perignon
Salads
Artichoke + Manchego

arugula, lemon, pink peppercorn flakes

Beet + Jicama

candied walnuts, citrus supremes, whipped goat cheese; Vegan by request

Heirloom Tomato

watermelon, red onion, cilantro pesto, balsamic, black truffle burrata

Yucatan Sweet Corn

romaine, white bean, sweet corn, jicama, campari tomato, queso fresco, chile shallot vinaigrette, crispy tortilla strips

A La Plancha

grilled vegetable, romaine, balsamic vinaigrette, crispy garlic
Taqueria
Arrachera

wagyu skirt steak, caribbean jerk marinade, cilantro, pineapple, red onion, avocado cream, cotija

Duck Carnitas

orange supreme, red onion, serrano, garlic cream, chipotle cherry salsa

Al Pastor

jidori chicken, caramelized onion, fresh cilantro, chili de arbol salsa

Tiger Shrimp

avocado tomatillo salsa, jalapeño cabbage
Entrées
Pollo Asado

half jidori chicken, herbs, tomato, fresh peppers, warm mediterranean rice salad

A La Roca

6oz wagyu top cap, red wine jus, triple inferno salt

Dover Sole

caper brown butter sauce, chili de arbol, lemon brulee

Fire Grilled Ribeye

10oz wagyu ribeye, parsnip pure, roasted garlic, potato pave, red wine jus, bone marrow

Pacifico Striped Bass

fennel citrus salad, salsa trio served with corn tortillas

Earth + Sea

8oz prime filet, poached lobster, madeira cream sauce

Truffle Risotto

chanterelle mushrooms, vegan parmesan fondue, black truffle

Madera Burger

8oz casa ground beef blend, brioche bun, roasted poblano, chili cheddar, balsamic onions dijon, fresno ketchup

Casa Tomahawk

32oz bone in wagyu tomahawk, tomato and potato confit, roasted garlic, smoked butter, black truffle
Main
Strawberry Basil Custard Tarta

Strawberry basil tart, oat crumble, strawberry balsamic sorbet, candied walnuts, basil ice cream

Matcha Mango Cheesecake

Vanilla, mango, matcha cream, cashew oat granola, mango coulis, mango sorbet gluten-free, vegan

Salted Caramel + Chocolate Truffle

Swiss meringue, vanilla pavlova, chocolate almond crumble, chocolate ice cream

Blanca y Limon

Lemon cake, strawberry sauce, fresh strawberry & mint relish, lemon coulis, strawberry ice cream

Brown Butter Tarta

Brown butter tart, feuilletine crunch, caramel sauce, blueberry coulis, brown butter ice cream

Peanut Butter Mousse

Peanut butter chocolate truffle sphere, honey sponge cake, honeycomb toffee, peanut butter snow

Cristalino

Cristal infused cake with white chocolate and raspberry mousse, Cristal macaron, raspberry coulis, black truffle ice cream
Beer
Matter of Fact Blonde

collective arts

Hazy State Session IPA

collective arts brewing

Guava Gose

collective arts brewing

Circle the Sun Cider

collective arts brewing
Sparkling
Zanotto, Brut Prosecco NV Veneto, Italy

Santomé, Prosecco Brut Rosé NV Veneto, Italy
Rosé
Malivoire 'Vivant Rosé' 2021 Niagara, Canada
White
Lionel Gosseaume, Sauvignon Blanc 2020 Touraine, France

Bernard Defaix Chablis 2021, Burgundy, France

Bodegas Aquitania 'Bernón' Albariño 2020 Rías Baíxas, Spain
Red
Chàteau Fleur Haut Gaussens, Bordeaux Supérieur 2018 Bordeaux, France

Château Combel-la-Serre, Cahors Malbec 2020 Cahors, France

Tre Gemme, Montepulciano d'Abruzzo 2017 Abruzzo, Italy

Grotta del Ninfeo, Valpolicella 2020 Veneto, Italy
Chilled Red
Tinedo, Cala N. 1 2017 La Mancha, Spain

Fabien Jouves 'You F*ck My Wine" Jurancan Noir 2020 Cahors, France
Classics
Casa Margarita

Blanco Tequila, Organic Agave, Lime

Suerto

Blanco Tequila, Sparkling Water, Himalayan Salt, Lime

Ponche de la Casa

Tamarind & Papaya Ponche, Reposado Tequila, Rum, Aperol, Lime

Mi Casa Tepache

Housemade charred pineapple tepache, Mezcal, Grapefruit Zest, Lime, Tajin
Earth
Casa Madera Old Fashioned

Our version of the classic old fashioned. Choose one: Mezcal Reposado Tequila Whiskey Scotch

Mohojito

Rum, Rosemary Muscovado, Mint, Lime, Strawberry, Angostura

Mayahuel

Mezcal, Nopales, Kiwi, Lime, Mint, Fernet Sidecar
Air
Atmosfera

Mezcal, Gin, Wildflower Honey, Pêche de Vigne, Basil, Lemon, Madeira

Antidote

Ketel One, Dry Vermouth, Spirulina Agave, Almond Milk, Lemon, Orgeat, Sage, Lavender Bitters

Huracan

Brandy, Creme de Violette, Earl Grey Honey, Blackberry, Lime
Fire
Solstice

Blanco Tequila, Passion Fruit, Tri-Pepper Juice, Lemon, Grand Marnier

Pog

Reposado Tequila, Passion Fruit, Guava, Orange, Agave, Fire Water

Zama

Blanco Tequila, Pomegranate, Honey, Beet, Orange, Lime, Arbol Tincture, Mole Bitters
Water
Quintana Roo

Mezcal, Blue Spirulina Agave, Lime, Himalayan Salt

Playa Paraiso

Blanco Tequila, Watermelon, Coconut Water, Benedictine, Lime, Agave, Eucalyptus & Cinnamon Fog

Agua Rosa

Gin, Cucumber, Grape, Lime, Agave, Flower Sphere, Rosé
Low ABV
La Tierra

Blanco Tequila, Seedlip Spice, Cointreau, Bergamot Liqueur, Lime, Agave, Arugula

Cielo Nocturno

Cocchi Americano, Pêche de Vigne, White Port, Simple, Lemon, Prosecco, Bubbles, Peach Air

Agua de Vida

Gin, Martini Bianco Vermouth, Bergamot Liqueur, Lychee, Watermelon Calamansi Essence, Fever Tree Tonic, Sea Salt Air

Fuego Rosa

Manzanilla Sherry, Mezcal, Licor 43, Cointreau, Strawberry, Cucumber, Ginger, Agave, Lemon, Mint
0% Cocktails
Origenes

Seedlip Garden, Hoja Santa, Aloe, Purple Corn, Cucumber, Agave, Mint

La Fuente

Seedlip Grove, Coconut Water, Blue Spirulina, Spiced Demerara

Estrellita

Seedlip Garden, Prickly Pear, Epazote, Lime, Berry Air

Casa Sangrita

Mango Habanero Sangrita, Seedlip Grove, Agave, Basil
La Ultima Copa
Espresso Martini

Blanco Tequila, Cacao, Espresso, Licor 43, Coffee Liqueur, Oat Milk, Canela Demerara, Condensed Milk, Chipotle

Casa Carajillo

Licor 43, Espresso, Cream

Amaro Smash

Mezcal, Strawberry, Horchata, Amaro Lucano, Nonino, House Hazelnut Orgeat, Lemon, Mint, Ango

Leche de Aguacate

Ketel One, Rum, Avocado Milk, Coconut, Simple
Starters
Whipped Aubergine

charred cascabel oil, oven baked pita

Mayan Hummus

Chickpea, tahini, lemon, olive tapenade, aleppo pepper, oven baked pita. Sub cucumber

Chile Pulpo

sweet corn puree, chives, Marcona almonds, chile de arbol

Kobe A5

seared japanese wagyu, whiskey barrel aged soy air
Sweet or Savory
Churro French Toast

cinnamon toast crunch brioche, fresh berries, cinnamon ice cream

Poppy Seed Pancakes

lemon whipped cream, blackberries, cherry almond syrup, toasted almonds, lemon zest

Almond Butter Toast

multigrain toast, almond butter, banana, blueberries, amber honey, toasted walnuts, honeycomb

Salsa Verde + Eggs

sunny side up eggs, salsa verde, fresno chile, onion, cilantro, cotija, flour tortillas

Eggs + Eggs

Multigrain toast, truffle butter, organic eggs, chives, black pepper creme fraiche, truffle caviar?

Frittata

Italian style eggs, spinach, smoked gouda, onion, tomato, cucumber

Add Turkey Sausage

$14.00

Huevos Rancheros

2 eggs like the salsa verde. Crispy corn tortillas, ranchero salsa, black beans, sunny side up eggs, avocado, pico de gallo, crema

Migas

eggs, black bean, avocado, onion, tomato, cilantro, aleppo

Greek Omelet

scrambled eggs, baby spinach, feta, avocado, tomato, cucumber, balsamic reduction

Casa Omelet

Organic eggs omelet, snow crab, asparagus, charred fresh corn, roasted poblano sauce

Casa Tomahawk + Eggs

44oz bone in wagyu tomahawk, sunny side up eggs, tomato and potato confit, roasted garlic, smoked butter, black truffle. Add shaved seasonal truffle MP

Steak + Eggs

8oz skirt steak sunny side up eggs, salsa verde, fresno chile, onion, cilantro, cotija

Pacifico Striped Bass

fennel citrus salad, salsa trio, corn tortillas

Madera Burger

8oz Casa ground beef blend, brioche bun, roasted poblano, chili cheddar, balsamic onions, dijon, fresno ketchup, yucca fries. Vegan by request
Raw Bar
Oysters Cascara

½ dozen chef's daily selection

Ceviche Blanco

White fish, red onion, habanero, lime, citrus supremes, cilantro. Vegan by request

Hamachi Serrano

fresh lime, cucumber, pickled onion, crispy garlic

Aji Panca Tuna Sashimi

avocado, cucumber, black sesame

Champagne + Caviar

1oz Osetra Caviar, Dom Perignon
Seafood Tower
Pequeno

oysters, jumbo shrimp, lobster, crab cocktail

Grande

oysters, mussels, jumbo shrimp, lobster, crab legs, lobster cocktail
Salads
Jalapeno + Cucumber

fresno chile, red onion, cilantro, pink peppercorn, fresh lime

Artichoke + Manchego

arugula, pink peppercorn flakes, lemon

Yucatan Chop

romaine, white bean, sweet corn, jicama, campari tomato, queso fresco, chile shallot vinaigrette, crispy tortilla strips

Fattoush

romaine hearts, cherry tomato, tajin-dusted corn tortilla chips,queso fresco, red onion, cilantro, corn, cucumber, red radish, roasted ancho vinaigrette
Sides
Warm Tortillas & Honey Butter

Toast

sourdough, wheat, brioche
Brunch Cocktails
Casa Margarita

tromba blanco, lime juice, organic agave

Suerto

tromba blanco, lime, Himalayan salt, sparkling water

Tepache

house-made charred pineapple tepache, siete ministerios mezcal, lime, grapefruit zest, lemongrass

Mayahuel

siete misterios mezcal, pineapple, nopales & kiwi puree, lime juice, agave, mint, fernet sidecar

Solstice

tromba blanco, tri pepper juice, lemon, grand marnier, passionfruit agave

POG

tromba reposado, agave, passionfruit, orange, guava, lemon, fire water

Casa Bloody Caesar

vodka or tequila

Casa Michelada

house miche mix, choice of beer

Prosecco + Seasonal Sorbet Kit

bottle of prosecco, assortment of seasonal sorbets, fruit, garnish menagerie
Earth
Mas Paz

mezcal, dolin blanc, triple pepper cordial, sage, honey, lemon, orange bitters
Fire
La Verdad

dillon's rye, chili jam, citrus mix, angostura, absinthe
Air
Alimiento

blanco tequila, mezcal, creme de violette, luxardo, lemon, prosecco, rose, citrus bubble
Water
Sediento

raspberry infused cachaca, house falernum cordial, benedictine, lemon, kumquat, & mint
Low ABV
Rayo de Sol

aperol, passionfruit, mango, orange, lemon, prosecco
Zero Proof
Buena Onda

seedlip, coconut, lychee, lemon, pineapple, bubbles
Coffee Cocktails
Baja Bae

amaro blend, espresso, strawberry, orgeat, lemon, simple, almond milk

Agua Selva

grilled pineapple & clove infused rum, espresso, licor 43, spiced demerara, grapefruit oil

Despierta!

rum, 1757 rosso vermouth, lime, espresso, mediterranean tonic
Beer
Life in the Clouds

collective arts brewing

Hazy State Session IPA

collective arts brewing

Guava Gose

collective arts brewing

Circle the Sun Cider

collective arts brewing
Sparkling
NV La Montina Franciacorta Saten DOC, Lombardia, Italy

NV Belstar Prosecco, Veneto, Italy

2019 Podere Saliceto Lambrusco, Modena, Italy
Champagne
NV Cuvee Crochet Rose Extra Brut

NV Perrier Jouet Brut Reserve

2013 Louis Roederer Cristal Vintage

NV Collard Picard Rose Brut

NV Bruno Michel Cuvee Brut

2009 Dom Perignon Brut Vintage
White
2016 Dominikanerg Weingut C Von Nell Breuning Riesling Kabinett, Mosel, Italy

2020 Antonutti, Pinot Grigio Ramato 'Copper' Friuli, Italy

2019 Santi Giacomo e Filippo la Fogliola Bianco, March, Italy

2020 Big Head Chenin Blanc, Ontario, Canada

2019 Antonutti Traminer Aromatico, Friuli-Venezia, Giula Italy

2016 Fontanassa Gavi del Comune di Gavi, Gavi, Italy

2018 Oakridge Blazon Chardonnay