1 Hotel
South Beach
2341 Collins Avenue, Miami Beach
Your South Beach retreat is inspired by 600-feet of beach along the Atlantic Ocean. Designed for comfort using reclaimed materials, it is one-of-a-kind, naturally.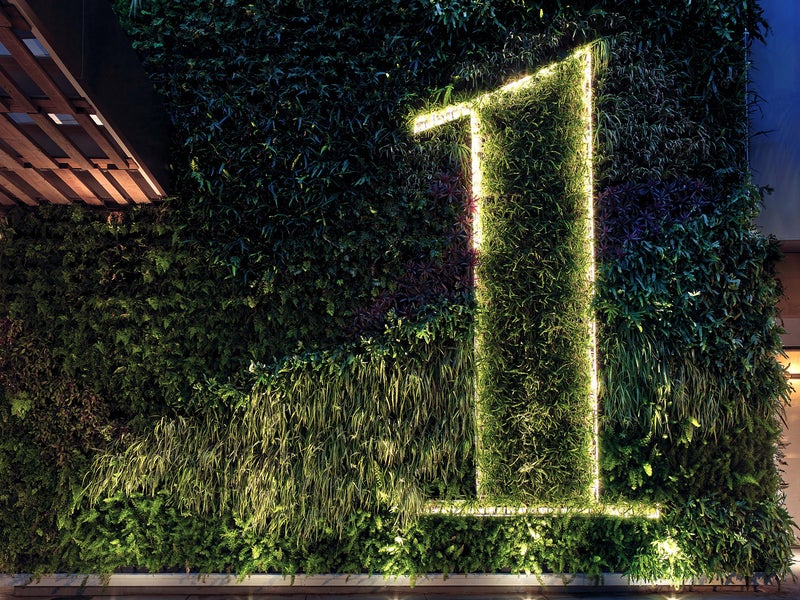 Good Energy Is Clean Energy
Your home away from home is equipped with state-of-the-art energy efficient heating and cooling systems.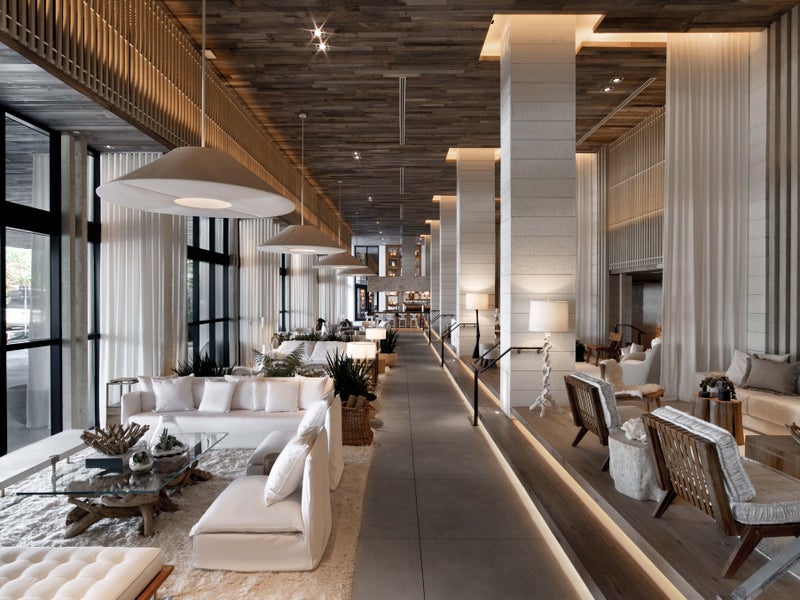 Get Closer to Nature
1 Hotel South Beach features locally sourced and repurposed materials, such as regional coral stone and beetle kill pine wooden wall coverings.Our lobby features ceilings made of salvaged wood from water towers in Alaska, and furniture made from fallen trees in South American rainforests.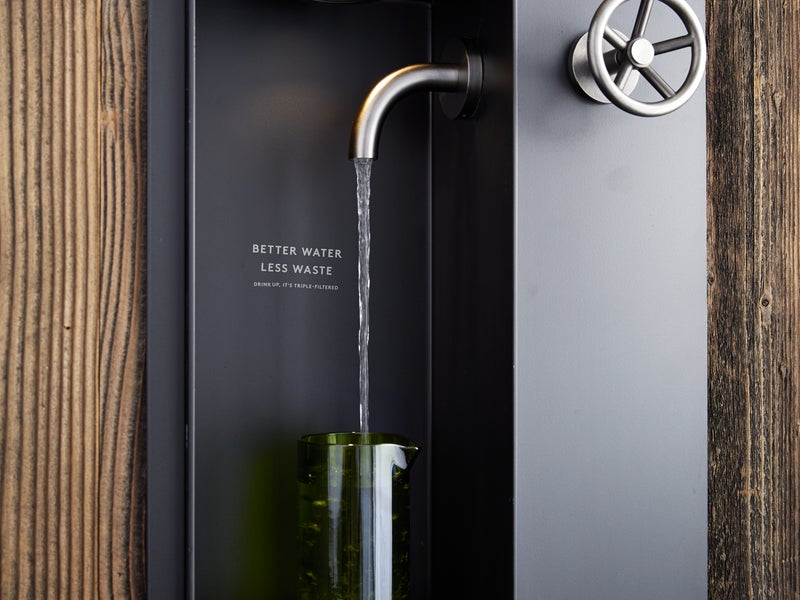 Drink Up
Each faucet in our hotel is equipped with a water filtration system to provide our guests with high-quality drinking water. Our in-room cups and carafes are made from recycled wine bottles, to discourage guests from using single-use water bottles, especially plastic.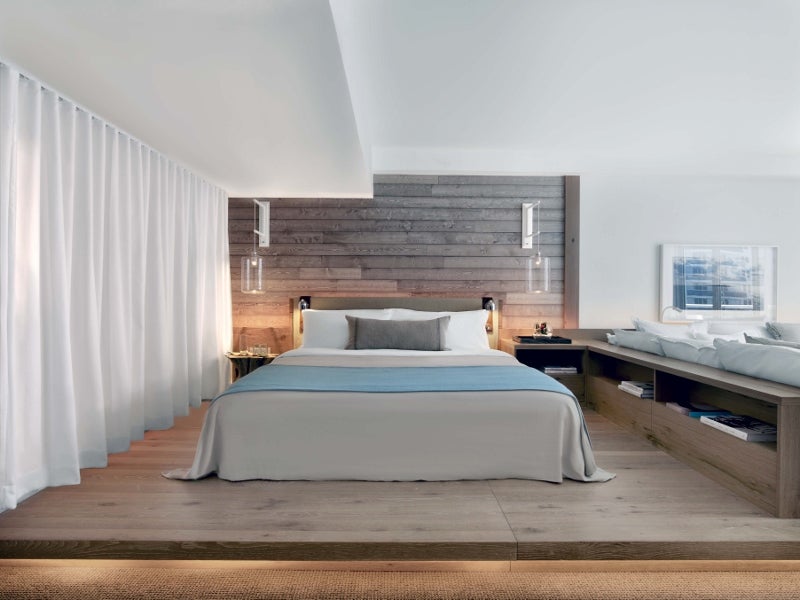 Winding Down Should Come Naturally
We provide sustainably-sourced bed linens and non-toxic, eco-friendly mattresses that are healthy for both you and the environment.
Travel with Care
Explore the city emission-free with our fully electric Audi, or take a stroll on the sand to experience the true beauty of South Beach.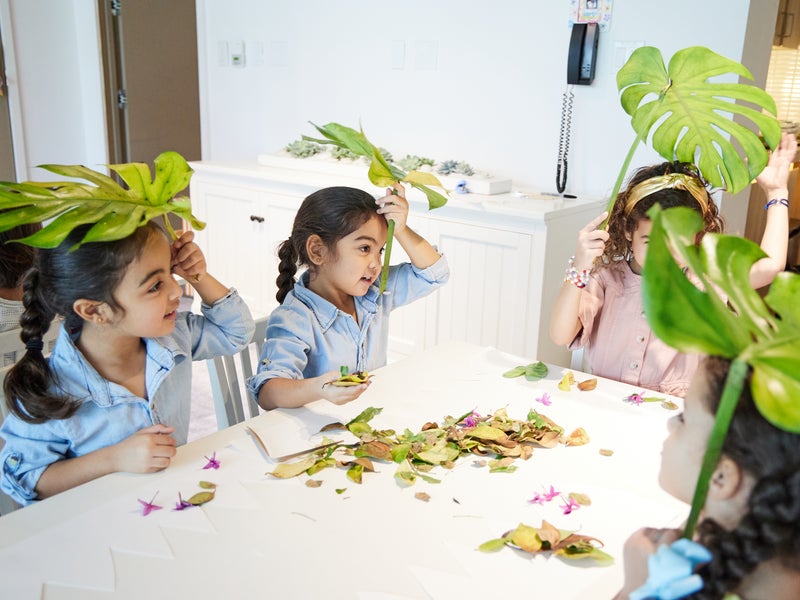 Nurturing Seedlings
Seedlings at 1 Hotel South Beach aims to nurture nature's next great explorers by offering families and their young ones experiences that are healthy, active, educational and fun.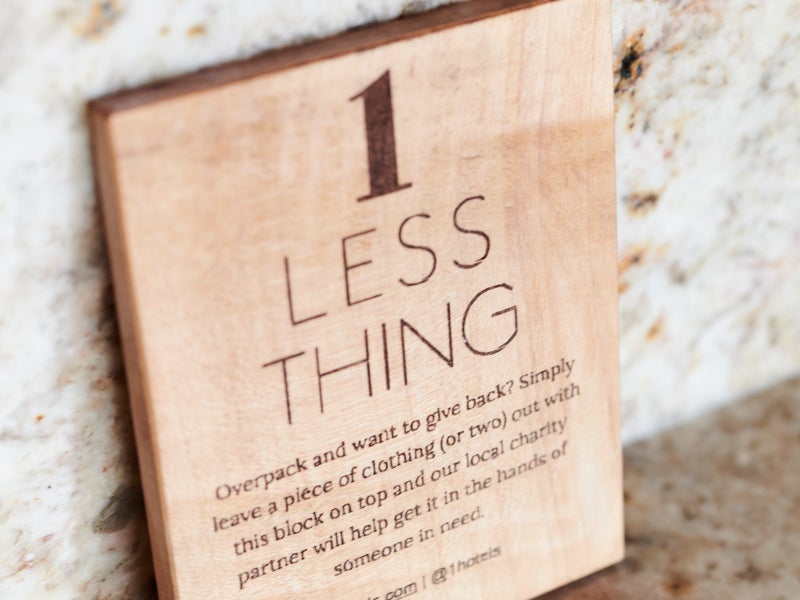 1 Less Thing
This initiative allows guests to de-clutter and simplify, or even just create more space in their suitcase, by leaving behind gently used clothing which in turn will be donated to Miami Rescue Mission.
Restore Natural Nourishment
Spa is devoted to nurturing the mind, body, and spirit. Our holistic approach is based around a heartfelt connection with nature. In the intuitive hands of our therapists, the effect of each treatment will be felt long after you depart.
Train with the Best
Discover the culture of Anatomy, a health and wellness sanctuary that has gained international acclaim. Exclusive to guests and Beach Club members, Anatomy at the 1 offers proprietary programming influenced by sports performance and the science of strength conditioning.
Indulge Guilt-Free
Many of the ingredients on your plate today are organic, and sustainably and locally sourced.
Pets Are Family Too
We would never ask you to leave your furry (or not furry) friend behind! As a pet friendly hotel in Miami, your pup is always welcome at 1 Hotel South Beach .
close x
Nature is Home in South Beach
Geography
South Beach sits on a 10-mile-long barrier island between the beautiful Biscayne Bay and the vast Atlantic Ocean. Its position between two bodies of water makes it both a desirable destination and a vulnerable target of extreme weather events. Mostly flat, South Beach is a very vibrant and walkable oasis, covered in lush tropical vegetation as well as bustling city boulevards.
Climate
Miami is characterized by its tropical monsoon climate with hot, humid summers sprinkled with passing thunderstorms contrasted by short, warm, and drier winters. Temperatures typically vary between 62°F to 90°F, rarely dropping below 50°F or peaking above 92°F. With an average rainfall of just over 60 inches, this coastal city typically gets enough rain to get through the hotter months.
Flora
South Beach is home to diverse tropical flora — Beach Sunflowers, Blanket Flowers, Blazing Stars, Coral Honeysuckle, Passion Flower, Powderpuff Mimosa, Scarlet Sage, Hibiscus, Azalea, Saw Palmetto, Sabal Palm, and Southern Live Oak all sprinkle the landscape with bright bursts of colors and natural beauty.
Fauna
Florida is home to some of the most magnificently diverse fauna in the country. On land, you might see squirrels, foxes, deer, raccoons, rabbits, coyotes, and even black bears. Soaring through the air, you might catch sight of hawks, parakeets, orioles, pelicans, sparrows, cardinals, herons, and peafowl. Miami's waters also sustain a wide range of species including barracuda, dolphins, manatees, tarpon, catfish, bass, nurse sharks, angelfish, stingrays, octopus, crabs, eel, and parrotfish — to name a few. We can't forget the amphibious creatures that call this marshy wetland home, ranging from alligators, iguanas, and snakes of all kinds to gentle turtles, adaptive chameleons, and tiny geckos.
Natural Attractions
The Miami Beach Botanical Garden is 2.6 acres of urban green space in the heart of South Beach. Featuring Japanese gardens full of gorgeous native plants and wetlands full of winding mangroves, it's the perfect place to get a closeup of Florida's rich biodiversity. Roughly 40 minutes north of South Beach, you'll find Oleta River State Park. With over 1,000 acres of natural refuge and tranquility, you're free to hike or bike through forested trails or kayak through the river to get closer to nature — and maybe even catch a glimpse of a manatee. About an hour inland is the largest subtropical wilderness refuge in the country: Everglades National Park. It's overflowing with freshwater prairies, mangrove forests, and hundreds of different species of native flora and fauna.
Sustainability
Immersed in nature wedged between two bodies of water, Miami holds sustainability and resilience close to its heart — prioritizing the protection of its beaches and waterways. The city has its own tree preservation program, innovative solar energy initiatives, stormwater management plans, and plastic-free incentives. The University of Miami has kicked off an inventive project to create a hybrid coral reef off the coast of Miami, creating human-made coral structures that will act as a safe haven for natural coral that's more resilient to current climate conditions and extreme weather.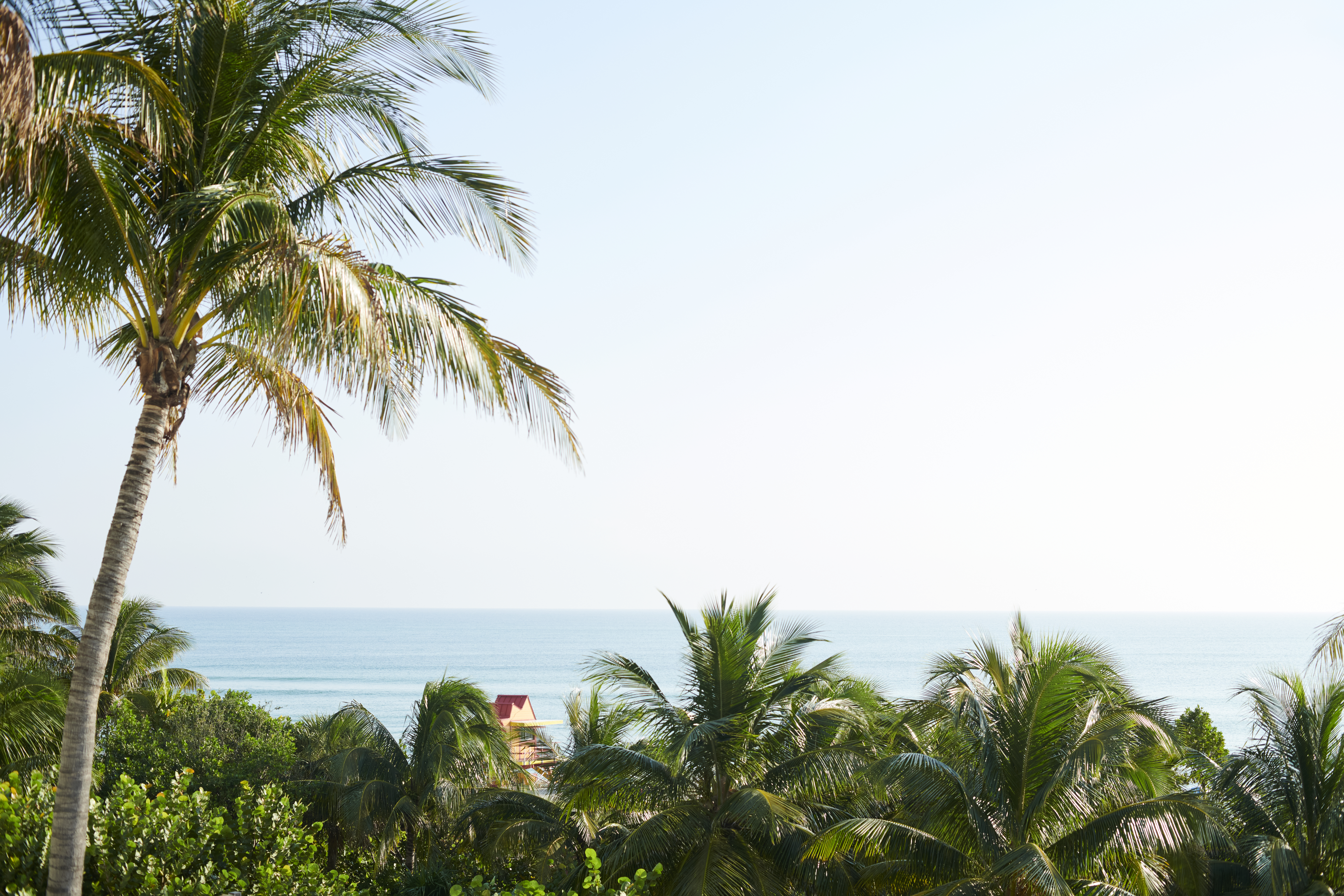 1 Hotel South Beach
2341 Collins Avenue
Miami Beach, FL 33139
Located on Collins Avenue at the beach, this is your perfect basecamp for all your South Beach adventures. 
We recommend asking for a taxi with credit card machine before departing the airports.

Property Map

Find your way around our sustainable sanctuary.