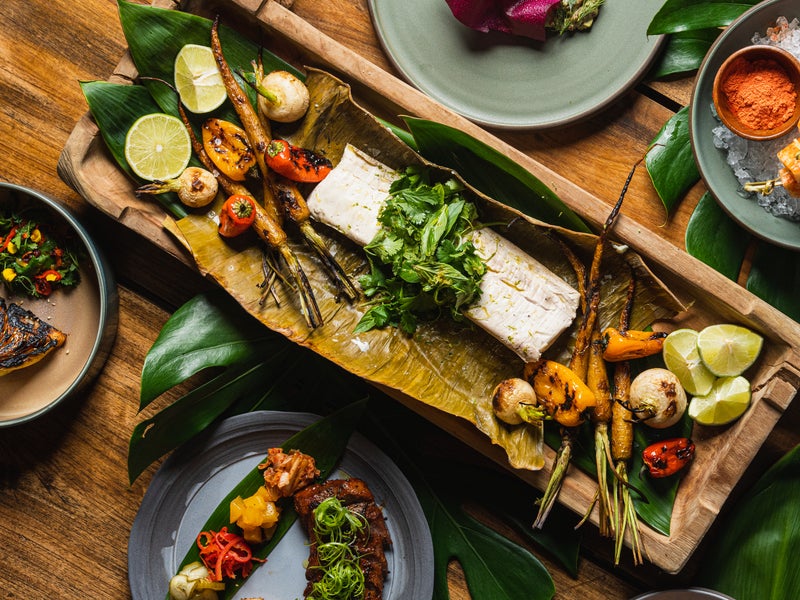 Our signature restaurant, founded on plant-forward, hyper-local and sustainably sourced cuisine from the island and its surrounding waters. Led by nature, 1 Kitchen's menu is highly seasonal, envisioned by Executive Chef Mel Fogata to feature the best ingredients from Kaua'i's farmers, ranchers, fishers, and growers.
1 Kitchen's evolving wine list is one of the island's largest, featuring 165+ labels highlighting organic and biodynamic vineyards, plus zero-waste cocktails made with local rum and spirits.
Daily Hours
Breakfast | 7am - 11am
Dinner | 5:30pm - 9pm - Reservations Required
Bar | 10am - Close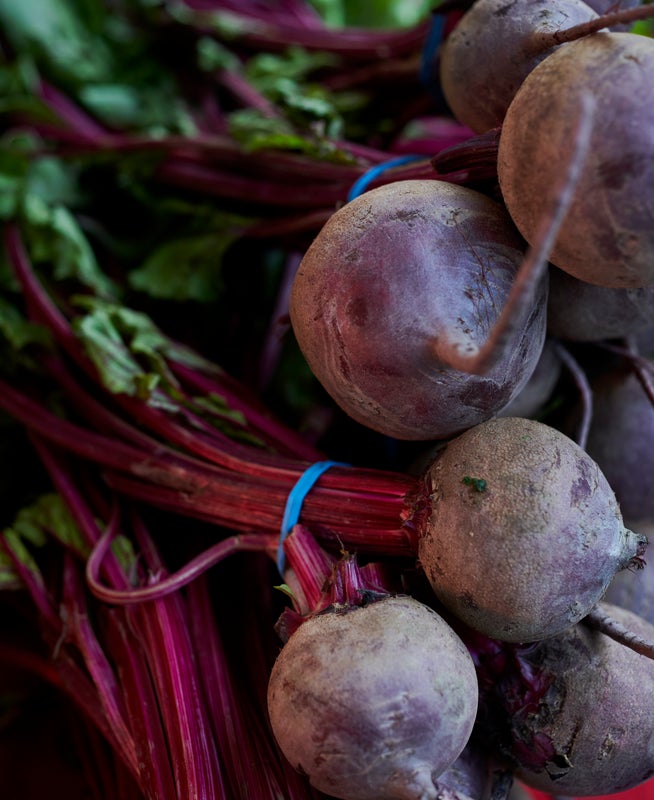 Meet Our Local Purveyors
Supporting local farmers and growers is essential to our sustainability efforts. Our island purveyors provide us with the freshest ethically sourced ingredients to ensure a mindful experience.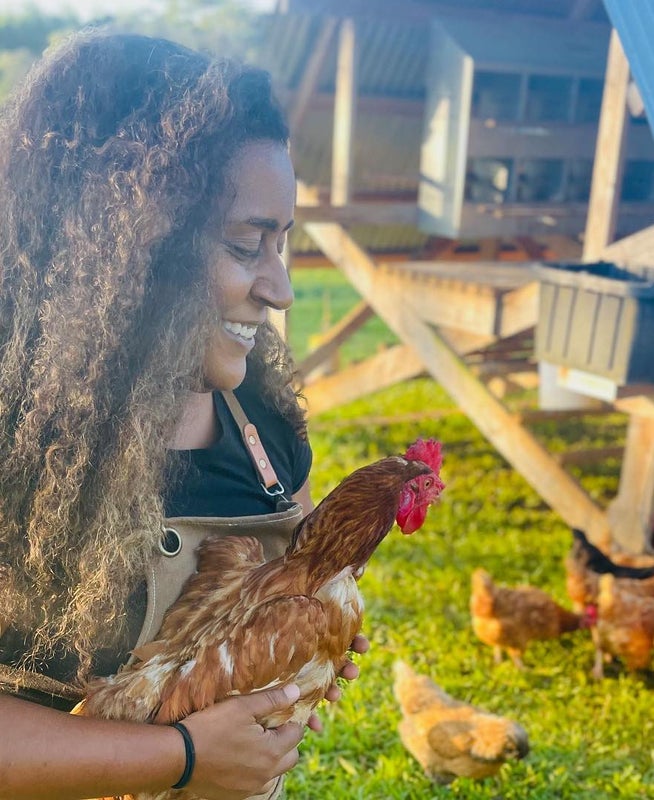 1 Kitchen Signature
Breakfast Buffet

Welcome to our signature breakfast experience. We partner with carefully chosen purveyors to serve fresh, local, and sustainably sourced farm-to-table cuisine. We feature a balanced offering of savory and sweet to delight the senses. Our signature experience includes Hanalei Coffee Roasters House Blend and Decaf, and Passion Orange Guava Juice or Orange Juice 47
Sweet
Assorted Fresh Pastries

House Baked, Lilikoi Butter, Seasonal Preserve (Vegetarian) 15

Fresh Local Papaya

Lime & Black Lava Salt (Nut Free, Gluten Free, Vegan) 9

Fresh Hawai`i Grown Fruit Plate

Nut Free, Gluten Free, Vegan 22

Kaua`i Bakery Bagel & Whipped Cream Cheese

Choice of Plain or Everything (Vegetarian) 9

Yogurt Parfait

Fresh Local Fruit, House Granola (Vegetarian) 14

Steel Cut Oatmeal

Coconut Sugar, Golden Raisins (Nut Free, Gluten Free, Vegan) 15. Add Bananas 3

Lemon Ricotta Pancakes

Cultured Butter, Maple Syrup, Berry Preserves (Nut Free, Gluten Free, Vegetarian) 24

Belgian Waffle

Pineapple Compote, Whipped Crème Fraiche (Nut Free, Gluten Free, Vegetarian) 22
Savory
Kaua`i Avocado Toast

Local Artisan Bread, Lomilomi, Local Tomatoes, Pickled Onions, Radish, Black Lava Salt (Vegan) 19. Add Local Cage Free Egg 3, Add Smoked Salmon 6

Good Start Bowl

Rainbow Quinoa, Kauai Juice Co. Chili Crunch, Local Mushrooms, Baby Spinach, Blistered Tomatoes, Green Onions, Avocado, Local Cage Free Egg (Nut Free, Vegetarian) 24

Smoked Fish Plate

Smoked Salmon, Whipped Cream Cheese, Local Tomatoes, Baby Lettuce, Shaved Red Onion, Capers, Plain or Everything Bagel 24

Hanalei Breakfast

2 Local Cage Free Eggs, Roasted Molokai Sweet Potatoes, Choice of Portuguese Sausage, Smoked Bacon, Crispy Spam or Turkey Sausage, Choice of Toast 26

Eggs Benedict

Choice of Kalua Style Pork or Classic, Poached Local Eggs, Swell Bakehouse Mini Bagel, Hollandaise Sauce, Breakfast Potatoes 26

3 Egg Omelet

Served with Toast, Roasted Molokai Sweet Potatoes and a choice of 3 Fillings: Local Tomatoes, Maui Onions, Sweet Peppers, Roasted Mushrooms, Portuguese Sausage, Smoked Bacon, Turkey Sausage, Spam, Cooper Cheese, Cheddar, Local Goat Cheese (Nut Free, Gluten Free, Dairy Free) 26. Per Additional Filling 1, Add Avocado 3

Loco Moco

Hamburger Steak, Steamed Rice, Fried Egg, Mushroom Gravy 26. Sub Fried Rice 3
Coffee & Tea
100% Hawaiian

Smooth, delicious roast from the Hawaiian Islands offers a bright aroma with light floral notes 16

Kona Honey

Environmentally friendly 100% Kona Coffee has sweetness with a hint of fruit 20

Maui Mokka

This brew provides a rare combination of earthy notes delightfully fused with a range of chocolate flavors 18
Daily Juice Selection
Fresh Juice

Orange, Pineapple, Passion-Orange-Guava, Guava 8
Cold Pressed
Ali`i

Carrot, Apple, Turmeric, Ginger (Nut Free, Gluten Free, Vegan)

Mana

Celery, Cucumber, Kale, Chard, Parsley, Lemon (Nut Free, Gluten Free, Vegan)

Green Bottle

Pineapple, Cucumber, Kale, Cilantro (Nut Free, Gluten Free, Vegan)
Smoothies
Garden Isle

Spinach, Peanut, Cashew, Cinnamon, Banana, Date, Probiotics (Gluten Free, Vegan)

Dawn Patrol

Açaí Berry, Banana, Coconut, Himalayan Pink Salt, Blueberry, Honey (Gluten Free, Vegetarian)
AM Offerings
Guava Nectar Mimosa

Chandon Brut 16

Farm-To-Table Bloody Mary

Belvedere, 1 Kitchen Seasonal Garnish, Spicy Hawaiian Salt, Pepper 17

Hanalei Bay Spritz

Chandon Brut, Aperol, Mango 18
For the Table
1 Kitchen Milk Bread

Maui Butter, Black Lava Salt (Vegetarian, Nut Free) 12

Wood Oven Roasted Baba Ghanoush

Locally Grown Vegetable Crudité (Vegan, Nut Free, Gluten Free) 18

Hummus

Zaatar Oil, House Made Seeded Crackers (Vegan) 18

Spicy Carrot Dip

Dill, Pickled Red Onion, House Made Flatbread (Vegan) 18

Tuna Carpaccio

Grilled Golden Pineapple, Chili, Scallion, Crispy Shallot (Gluten Free, Nut Free, Dairy Free) 27

Grilled Local Shrimp

Meyer Lemon, Garden Herbs, Sea Salt (Gluten Free, Nut Free, Dairy Free) 25

Kanpachi Crudo

Heart of Palms, Finger Lime Vinaigrette, Curry Leaf Salt (Gluten Free, Nut Free, Dairy Free) 27
Local Greens
All the Greens Salad

Local Greens, Fine Herbs, Bush Beans, Mixed Radishes, Citrus Vinaigrette (Vegan, Gluten Free, Nut Free) 21

Superfood Salad

Shredded Hearty Greens, Carrot, Bell Pepper, Pea Shoots, Cilantro, Mint, Crispy Shallots, Sesame Dressing (Vegan, Gluten Free, Nut Free) 22

Romaine Salad

Garlic-Herb Breadcrumbs, Hearts of Palm, Green Goddess Dressing (Vegetarian, Nut Free) 22

Heirloom Tomato

Cucumber, Fennel, Sweet Land Farm Feta Cheese, Sunflower Shoots, Basil (Vegetarian, Gluten Free, Nut Free) 22
House-Made Pastas
Rigatoni

Burst Cherry Tomatoes, Basil, Garlic, Parmesan (Vegetarian, Nut Free) 29

Bucatini

Local Shrimp, English Peas, White Wine, Fresh Herbs, Garlic, Chili, Breadcrumbs (Nut Free) 34

Gemelli

Maui Nui Venison Sugo, Calabrian Chili, Pecorino Romano (Nut Free) 36
Mains
Seared Local Tempeh

Shaved Local Baby Carrot, Baby Fennel, Mixed Radish, Citrus Gremolata (Vegan, Gluten Free, Nut Free) 26

Nancy Silverton's Market Fish Spiedini

Market Fish Skewers, Zucchini, Fregola Sarda Salad, Cucumber, Cherry Tomatoes (Gluten Free, Nut Free) 47

Grilled Local Kanpachi

Green Bean Salad, Macadamia Nuts, Gremolata, Grilled Lemon (Gluten Free, Dairy Free) 75

Next Wave Island Chicken

Roasted Half Chicken, Wilted Garden Greens, Chermoula Sauce (Gluten Free, Dairy Free, Nut Free) 58

1 Kitchen Burger

Wagyu Blend, Baby Lettuce, Cheddar Cheese, Pickled Red Onion, Tomato, Secret Sauce, French Fries, Harissa Ketchup (Nut Free) 27

Grilled NY Strip Steak

12oz Steak, Roasted Scallions, Sweet Potato Wedges, House Steak Sauce (Dairy Free, Nut Free) 90
Sides
Roasted Baby Carrots

Carrot Top Chimichurri (Vegan, Nut Free, Zero Waste) 13

Blistered Romano Beans

Chili, Lemon, Garlic (Vegan, Gluten Free, Nut Free) 13

Shoestring Za'atar Fries

Crispy Shoestring, Garlic, Herbs, Parmigiano-Reggiano, Harissa Ketchup (Vegetarian, Nut Free) 13

Grilled Baby Beets

Chili Labneh, Mint, Dill, Cilantro (Vegetarian, Gluten Free, Nut Free) 13
Cocktails
Zombie

Mt Gay Black Barrel Rum, Falernum, Star Anise, Cinnamon, Lime, Grapefruit 24

Mule

Hansons Organic Vodka, Italicus, Slow Island Co. Kaua'i Ginger & Lemon Syrup, Lime, Fever Tree Club Soda 20

Agave Mele

Teremana Blanco Tequila, Montelobos Mezcal, Dragon Fruit, Guava, Coconut Water, Lime, Aromatic Bitters (Sustainable) 22

Hana Hou

Roku Gin, Aloe Vera, Melon, Cucumber, Fever Tree Yuzu & Lime Soda 18

Maha `Ol

Grey Whale Gin, Coconut Oil Washed Campari, Bruleed Banana Sweet Vermouth, Grapefruit (Sustainable) 22

Hanalei Punch

High West Rye, Banana, Vanilla, Guava, Chai, Lemon, Nutmeg, Coconut Milk Wash 20

El Gran Finale

Cincoro Reposado, Salted Hawaiian Coffee Syrup, Orange, Cacao, Chile 22
Zero-Proof Cocktails
`Akala Kala

Lychee, Hibiscus, Soda Water

Seedlip Fizz

Seedlip Garden 108, Lemon, Simple Syrup, Soda
Draft & Bottled
Lanikai Party Wave Pilsner

Draft 9

Hanalei IPA

Draft or Can 9
Sparkling & Champagne
Prosecco, Giuliana, D.O.C., Italy

(Organic, Biodynamic) Gl 14; Btl 56

Champagne, Pommery, Brut N.V., France

(Organic) Gl 25; Btl 98
White
Riesling, Poet's Leap, Columbia Valley, Washington

Gl 17; Btl 68

Pinot Grigio, Jermann, Friuli, Italy

Gl 14; Btl 56

Sauvignon Blanc, Twomey, Napa Valley, California

Gl 19; Btl 76

Chardonnay, Iconoclast, Russian River Valley, Sonoma, California

Gl 20; Btl 80
Rosé
Rosé, Hampton Water, Languedoc, France

(Organic, Sustainable) Gl 16; Btl 64

Rosé, La Fête, Cotes de Provence, France

Gl 17; Btl 68
Red
Pinot Noir, Cloudline Cellars, Willamette Valley, Oregon

(Organic, Biodynamic, Sustainable) Gl 16; Btl 64

Malbec, TintoNegro, Mendoza, Argentina

Gl 12; Btl 48

Red Blend, Owen Roe, Yakima Valley, Washington

Gl 14; Btl 46

Cabernet Sauvignon, Justin Vineyards, Paso Robles, California

Gl 18; Btl 72

Cabernet Sauvignon, Faust, Napa Valley, California

(Organic) Gl 33; Btl 132

Cabernet Sauvignon, Routestock, Napa Valley, California

Gl 18; Btl 72
Desserts
Nancy Silverton's Rosemary Olive Oil Cake

Olive Oil Gelato, Maldon Sea Salt, Fried Rosemary (V, NF) 16

Chocolate Mousse Tart

Whipped Cream, Macadamia Nut Crunch (VG)

POG Panna Cotta

Passionfruit Boba Caviar, Strawberry Crispies (GF, NF) 16

Coconut Mango Sundae

Vegan coconut sorbet, Mango compote, Toasted Coconut (VG, GF, NF) 16

Local Gelato and Sorbet Selection

Gelato (VG) Sorbet (V) 7 per scoop
Wine
Chateau Laribotte, Sauternes

20

Michele Chiarlo, Nivole Moscato d'Asti

15
Cognac
Remy Louis Xlll (1oz)

285
Scotch
Lagavulin 11 Single Malt

28
Liqueur & Cordials
Hanalei Spirits Lilikoicello

22
Coffee & Tea
100% Hawaiian

Smooth, delicious roast from the Hawaiian Islands offers a bright aroma with light floral notes 12

Kona Honey

Environmentally friendly 100% Kona coffee has sweetness with a hint of fruit 16

Maui Mokka

This brew provides a rare combination of earthy notes delightfully fused with a range of chocolate flavors 16
Sparkling & Champagne
Giuliana Prosecco, Italy

(Organic, Biodynamic) 18

Champagne, Pommery, But NV, France

36

Champagne Rosé, Mandois, Grande Reserve NV, France

(Organic, Sustainable) 42
White Wine
Reisling, Poet's Leap, Columbia Valley, Washington

17

Pinot Grigio, Jermann, Friuli, Italy

17

Sauvignon Blanc, Twomey, Napa Valley, California

(Organic) 19

Chardonnay, Iconoclast, Russian River, Sonoma, California

20
Rosé
Hampton Water, Rose, Cotes de Provence, France

(Organic, Sustainable) 19

La Fête, Rosé, Côtes de Provence, France

(Organic) 22
Red Wine
Pinot Noir, Cloudline Cellars, Willamette Valley, Oregon

(Organic, Biodynamic, Sustainable) 17

Malbec, TintoNegro, Mendoza, Argentina

18

Tempranillo, Emilio Moro "Finca Resalso," Spain

16

Cabernet Sauvignon, Routestock, Napa Valley, California

20

Cabernet Sauvignon, Faust, Napa Valley, California

(Organic) 33

Owen Roe, Red Blend, Columbia Valley, Washington

(Sustainable) 24
Champagne Non-Vintage
Moët & Chandon, Imperial Brut, Épernay NV

170

Veuve Clicquot Ponsardin, Yellow Label Brut, Reims NV

175

Lanson "Green Label", Brut, Reims NV

(Organic) 175

Perrier-Jouët, Grand Brut, Épernay NV

215

Ruinart, Blanc de Blancs, Reims NV

265

Pommery, Brut Rosé Royal, Reims NV

85

Pieper Heidsieck, Brut 1985, Reims NV

(Sustainable) 115

Ruinart, Rosé, Reims NV

265
Champagne Prestige Cuvée
Dom Pérignon, Épernay 2012

600

Krug, "Grand Cuvée 169th Edition", Reims NV

380

Krug, "Rosé 24th Edition", Reims NV

800

Perrier-Jouët, "Belle Epoque Brut", Épernay 2013

320

Louis Roederer, "Cristal Rosé", Reims 2013

965

Paul Bara, "Bouzy", Grand Cru, Reims 2014

245
Other Worldly Sparkling Wines
Mumm, "Cuvée Napa", Brut, California NV

110

Lucien Albrecht, Crémant d'Alsace, Brut Rosé, France NV

85

Domaine Chandon Brut, California NV

60
Sauvignon Blanc
Régis Minet, Pouilly-Fumé "Vieilles Vignes", Loire Valley, France

(Organic) 80

Domaine Auchère, Sancerre, Loire Valley, France

75

Domaine Fouassier, Sancerre, Loire Valley, France

(Organic) 95

Stag's Leap Wine Cellars, "Aveta", Napa Valley, California

(Organic) 78

Merry Edwards, Russian River Valley, Sonoma County, California

(Organic, Sustainable) 95

Allen Scott, Marlborough, New Zealand

(Organic) 65

Cloudy Bay, Marlborough, New Zealand

(Sustainable) 95
Chardonnay
Gran Moraine, "Yamhill-Carlton", Willamette Valley, Oregon

115

Matthiasson, Chardonnay, "Linda Vista", Napa Valley, California

(Organic, Sustainable) 105

Hess, "The Lioness", Napa Valley, California

135

Frank Family Carneros, Napa Valley, California

112

HDV "Hyde Vineyard," Carneros, California

165

Landmark Vineyards, "Overlook", Sonoma County, California

70

Ramey, Russian River Valley, California

95

Jordan Vineyards, Sonoma Coast, California

100

Flowers, Sonoma Coast, California

(Organic, Sustainable) 120

Diatom, Santa Barbara, California, California

85
White Burgundy
Alain Chavy, Bourgogne Blanc, France

89

Robert-Denogent, "La Croix", Vieilles Vignes, Pouilly-Fuissé

(Organic, Biodynamic) 65

Domaine Cornin, Pouilly-Fuissé

(Organic) 70

Savary, "Vielle Vignes," Chablis

135

Domaine Long Depaquit, 1er Cru "Les Beugnons", Chablis

(Organic) 165

William Fevre, 1er Montmains, Chablis

185

Bouchard, Puligny Montrachet

(Organic, Sustainable) 235

Louis Latour, 1er Cru "Blagny", Meursault

(Organic, Sustainable) 189

Louis Latour, 1er Cru "Blagny", Meursault

(Organic, Sustainable) 189

Comtesse de Cherisey, 1er Cru "Blagny Genelotte", Meursault

(Organic) 285

Louis Latour, Corton-Charlemagne Blanc

(Organic, Sustainable) 625

Étienne Delarche, Chassagne Montrachet, 1er Clos St. Jean

(Organic, Sustainable) 300
Exciting White Wine Discoveries
Gunderloch, Jean Baptiste Riesling Kabinett, Rheinhessen, Germany

(Organic) 65

Nigil, Freiheit, Grüner Veltliner, Kremstal, Austria

(Organic) 60

DO Ferreiro, Albarino, Rias Baixas, Spain

(Organic) 85

Bodegas Emilio Moro, Godello "Polvorete", Bierzo, Spain

(Organic) 65

Marchese Antinori, Guado al Tasso, Vermentino, Bolgheri, Tuscany, Italy

65

Yalumba, Viognier, Australia

(Organic) 60
Dry Rosé
Château d'Esclans, Whispering Angel, Côtes de Provence, France

(Organic, Biodynamic, Sustainable) 60

Château d'Esclans, Rock Angel, Côtes de Provence, France

(Organic, Biodynamic, Sustainable) 135

Domaine OTT by OTT, Côtes de Provence Rosé, France

(Organic) 85

La Spinetta, Il Rose de Cassanova, Italy

75

Peyrassol, Commanderie de Rose, Provence, France

90
Pinot Noir
Four Graces, Willamette, Oregon

(Sustainable) 85

Beaux Fréres, Willamette Valley, Oregon

(Organic, Biodynamic) 135

Gran Moraine, "Yamhill-Carlton", Willamette Valley, Oregon

120

Flowers, Sonoma Coast, California

(Organic, Sustainable) 110

Hirsch, "Bohan Dillon", Fort Ross-Seaview, Sonoma, California

(Organic) 118

Belle Glos, "Clark & Telephone", Russian River Valley, Sonoma County, California

(Organic) 115

Goldeneye Winery, Alexander Valley, Mendocino, California

140

Lioco, Mendocino, California

(Organic, Sustainable) 105

Chalone Vineyard, "Estate Grown", Chalone, California

(Organic) 100

Melville Vineyards, Santa Rita Hills, Santa Barbara, California

(Organic) 98
Red Burgundy
Bouchard, Bourgogne, France

65

Domaine Taupenot-Merme, Bourgogne

(Organic) 110

Joseph Roty, Gevrey Chambertin

215

Albert Bichot, Fixin

(Organic, Sustainable) 175

Anne & Hervé Sigaut, Chambolle-Musigny

(Organic, Biodynamic) 195

Bovier, "En la Rue de Vergy," Morey St. Denis

210

Maison Louis Latour, Vosne Romanée

(Organic) 255

Domaine Robert Chevillon, 1er Cru "Les Cailles", Nuits St. George

(Organic, Biodynamic) 335

Maison Louis Latour, "Grancey", Corton Grand Cru

(Organic) 425

Vincent Girardin, "Vieilles Vignes", Pommard

(Organic) 160

Bouchard Père et Fils, "Cuvée Ancienne, 1er "Les Caillerets", Volnay

(Organic) 250

Domaine Chignard, Fleurie "Les Moriers", Cru Beaujolais

(Organic, Biodynamic) 85
Bordeaux
Château la Tour Carnet, Haut Médoc

(Organic) 165

Château Haut Beausejour, Saint-Estéphe

125

Carruades de Lafite, Pauillac

895

Segla 2015, Margaux, France

175

Château Margaux 1999, France

(Organic, Sustainable) 1,600

Château Pape Clement, Pessac-Léognan

385

Domaine de Chevalier 2005, Pessac-Leognan

285

Château Feytit Client, Pomerol

265
Rhone Valley
Barruol Lynch, "Les Tiercerolles", Croz-Hermitage

(Organic, Sustainable) 135

Domaine de Beaurenard, Châteauneuf du Pape

(Organic) 145

Domaine de Vieux Télégraphe, "La Crau", Châteauneuf du Pape

(Organic) 200

Château Beaucastel 2006, Châteauneuf du Pape

(Sustainable) 350
Italian Reds
Vietti, "Castiglione," Barolo

140

Ronchi Barbaresco, Piedmont

105

Bruno Giacosa, "Faletto," Barolo

395

Cantine Valpane, Barbera del Monferrato "Rosso Pietro", Piedmont

(Organic) 70

Masi Costasera, Amarone, Veneto

(Sustainable) 170

Marchese Antinori, Chianti Classico "Peppoli", Tuscany

95

Fontodi, Chiant Classico, Tuscany

140

Il Poggione, Brunello di Montalcino, Tuscany

320

Bondi-Santi, Brunello di Montalcino, Tuscany

425

La Fiorita, Brunello di Montalcino

180

San Polo, Rosso di Montalcino, Tuscany

(Organic) 215

Bondi-Santi, Rosso di Montalcino

295

Marchese Antinori, Tignanello, Tuscany

295

Tenuta delle Terre Nere, Etna Rosso, Sicily

(Organic, Sustainable) 98
Spanish Reds
J Palacio Petalos, Mencia, Bierzo

(Organic) 110

Marqués de Murrieta, Rioja Reserve, Rioja

(Organic, Sustainable) 135

Bodegas Emilio Moro, Malleolus, Ribeira del Duero

150
Merlot
Ancient Peaks, Paso Robles, California

75

Trefethen Family Vineyard, Napa Valley, California

(Sustainable) 125

Duckhorn Vineyards, "Three Palms Vineyard", Napa Valley, California

(Sustainable) 195
Cabernet Sauvignon
Silver Oak, Alexander Valley, California

165

Opus One, Napa Valley, California

650

The Mascot, Napa Valley, California

295

Groth, Napa Valley, California

Silver Oak, Napa Valley, California

295

Mayacamas, Mt. Veeder, Napa Valley, California

210

Caymus, Special Selection, Napa Valley, California

395

Stag's Leap WIne Cellars, Artemis, Napa Valley

185

Caymus Vineyards, Napa Valley

210

Au Sommet, Napa Valley, 2005

950

Bond, "St. Eden", Napa Valley

1,250

Harlan Estate, Napa Valley

2,500

Arrorwood Estate, Sonoma

115

Vérité, "La Joie," Sonoma

850

Justin Vineyards, Paso Robles

150

Booker, My Favorite Neighbor, Paso Robles

130

Canvasback Winery, Washington

125
Exciting Red Wine Discoveries
Heitz, Gringolino, Napa Valley, California

75

Domaine de Pallus, Cabernet Franc, Chinon, France

(Organic) 110

Carlisle, Zinfandel "Carlisle Vineyard", Russian River Valley, Sonoma, California

(Organic) 165

Edmeades, Zinfandel, Mendocino, California

85

Château Musar Rouge, Pekka Valley, Lebanon

(Organic) 150

Bramare, Malbec l, Mendoza, Argentina

(Sustainable) 135

Mollydooker, Shiraz "The Boxer", South Australia

135

Paraduxx, Proprietary Red Blend, Napa Valley, California

(Organic, Sustainable) 165

The Prisoner, Red Blend, Napa Valley, California

115