1 Hotel
West Hollywood
8490 Sunset Boulevard, West Hollywood
Nestled at the base of the Hollywood Hills with sweeping views from downtown L.A. to Santa Monica, inspired by the sparkling surf, sea, and sun of Southern California, 1 Hotel West Hollywood casts nature in every role.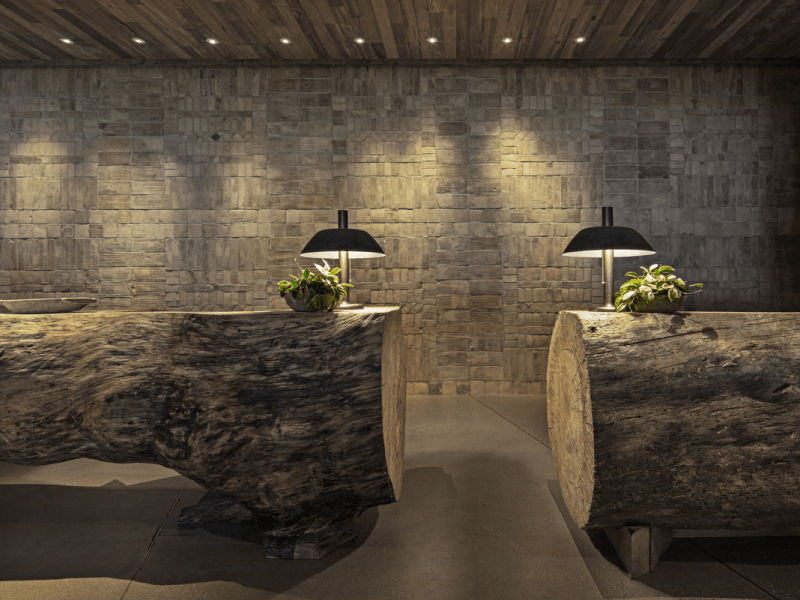 At 1 With Nature
A sustainable sanctuary inspired by the sparkling surf, sea, and sun of Southern California. Our local partners at Angel City Lumber helped us recover 75 tons of wood from fallen trees in California to create the design elements that keep your surroundings beautiful, and keep trees out of the waste stream.
Good Energy Means Clean Energy
One of LA's most energy-efficient hotels,1 Hotel West Hollywood is LEEDv4 for Existing Buildings Silver Certified, with an Energy Star score of 95.
WANDERING RESPECTFULLY
Explore the city emission-free in our fully electric Audi e-tron house car, power your own at one of our charging stations, or stroll West Hollywood—among California's most walkable cities.
DRINKING SUSTAINABLY
Each room is equipped with recycled wine-into-water bottles. No thank you, single-use plastics.
Peace of Mind
We provide locally sourced, sustainable bed linens and non-toxic, organic mattresses, so you and the earth can sleep soundly.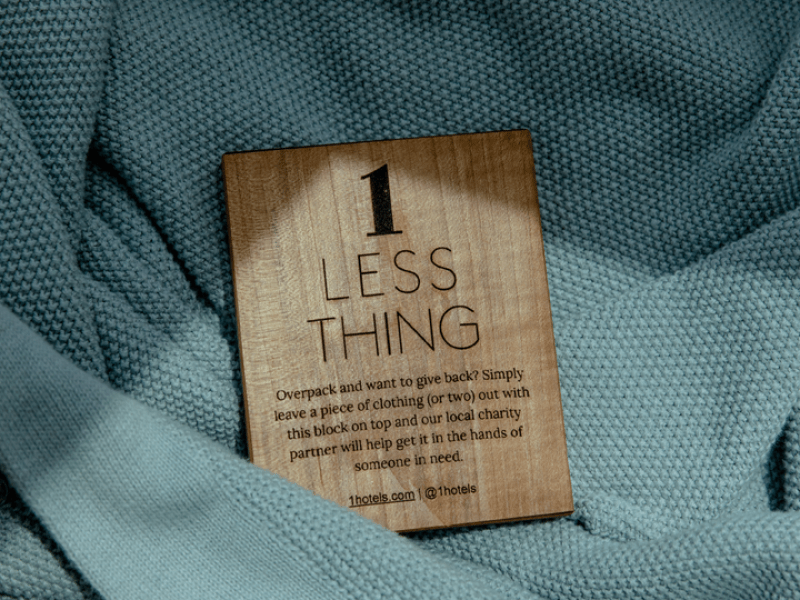 1 Less Thing
Overpacked? Simply leave a piece of clothing (or two) under this block to get your pre-loved threads into the hands of those in need through our local charity partner, Los Angeles Mission.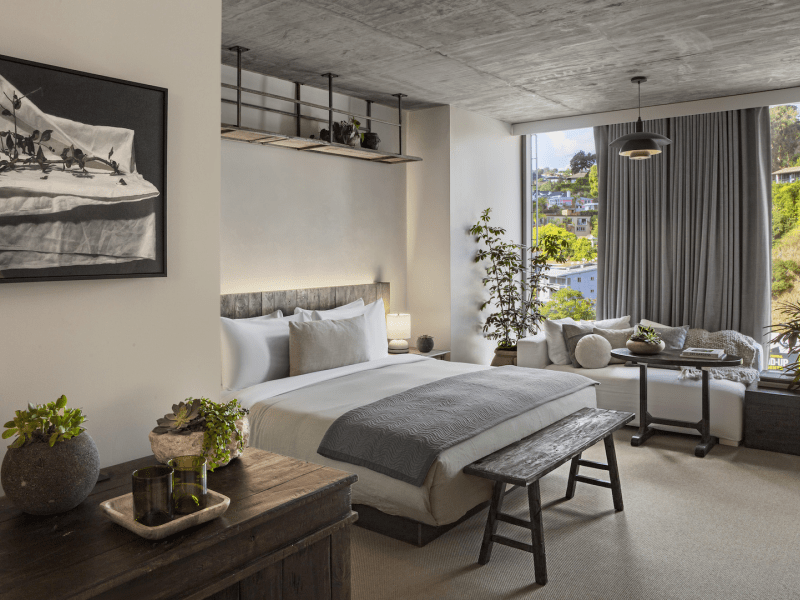 Celebrate Your Favorite Moments
If you feel a heartfelt connection to our nature-centered mission, we hope you'll cast a vote for us as Best Eco-Friendly Hotel in the USA Today 10Best 2023 Readers' Choice Awards.
WELLNESS
At 1 Hotel West Hollywood, our experiences are designed to nurture the mind, body, and spirit, including holistic treatments at Bamford Wellness Spa, sessions at Facegym designed specifically to lift and tone the facial muscles, energizing Mind & Movement programming, plus expert personal training at The Field House.
FUR-FAMILY FRIENDLY
We would never ask you to leave your furry (or not furry) friend behind! As a pet-friendly hotel, your pup is always welcome at 1 Hotel West Hollywood.
Nature is Home in West Hollywood
Geography
Nestled at the base of the Hollywood Hills, West Hollywood boasts panoramic views of the Santa Monica Mountains in the north and sights of its neighboring city skylines in all other directions, including Hollywood, Beverly Hills, and the Fairfax District. Known for its dense, compact neighborhoods, West Hollywood is one of the most walkable cities in California.
Climate
Most days, you can expect warm, dry weather in West Hollywood. Temperatures average around 64°F and vary from a low of 48°F to a high of 82°F (rarely dipping below 42°F or climbing over 90°F). In the warmer months, enjoy abundant sunshine, and in the colder months, seek comfort in the sweeping clouds. All year long, take on outdoor adventures with ease and excitement.
Flora
As you walk through West Hollywood, feel grounded in nature with sights of swaying palm trees, bright green succulents, and vibrant flowers. It may be a concrete jungle, but its balmy climate breeds beautiful flora such as Mexican Fan Palm Trees, Orange Trees, Jasmine blossoms, Prickly Pear Cactuses, Evergreens, Purple Orchid Trees, Mimosa Trees, and so much more.
Fauna
At the foothills of the mountains, West Hollywood is home to species ranging from coyotes, bobcats, and bears to red-crowned parrots, peacocks, and red-tailed hawks. Out in the waters of the Pacific, keep an eye out for dolphins, seals, sea otters, sea turtles, vibrant fish, and beyond.
Natural Attractions
West Hollywood offers some of the best hiking in Los Angeles. Adventure through Griffith Park, one of North America's largest urban parks. With miles of hiking trails, camping sights, and golf courses, it's a natural attraction everyone in the family can enjoy. Its two-mile hike leads to the world-famous Griffith Observatory, featuring spectacular sweeping views of the city, incredible telescopes, and planetarium explorations. Nearby, hike through Runyon Canyon Park with various loops that lead to peaks that showcase panoramic views of the Hollywood Hills juxtaposed with the surrounding cityscape.
Sustainability
Situated in an area where the effects of climate change (such as droughts, wildfires, earthquakes, and beyond) are unfortunately apparent, West Hollywood is continuously recognized for its commitment to sustainability. It has received national, state, and local awards for its eagerness to shift to renewable energy, reduce greenhouse gas emissions, and participate in innovative programs. From organic waste collection to mandatory green building ordinances, West Hollywood remains a leader in sustainable policies and practices.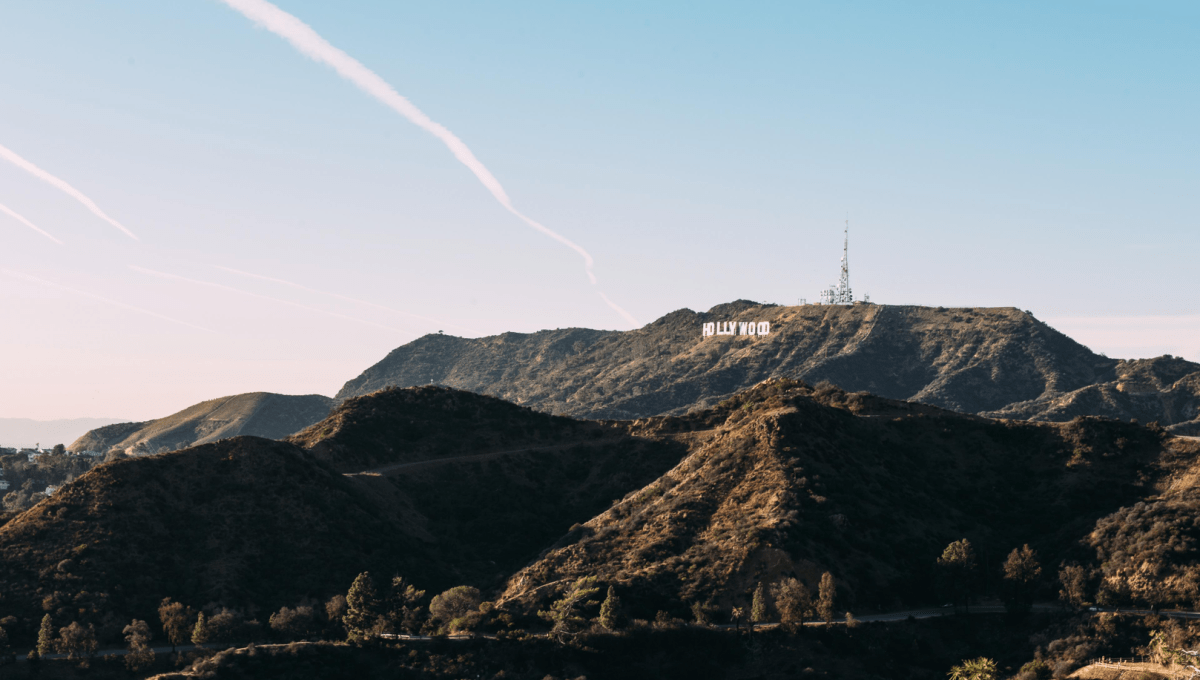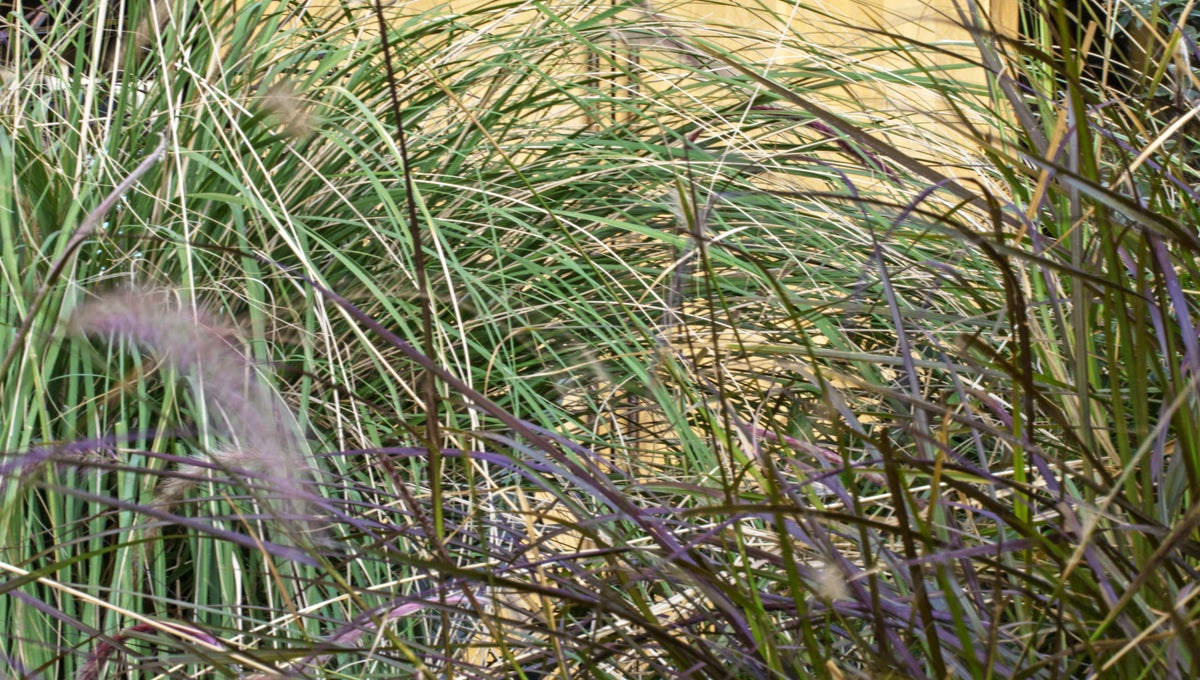 Brushing Up on Mayfair's Iconic Art History With Captivating Tours Led by Art Expert, Loyse de Pury
As we embark on monthly art tours through the creative soul of Mayfair, get to know the colorful...
Connecting to the Heart of Hispanic Heritage Month: Stories of Passion & Pride From Our Latinx Team Members
We're spotlighting the stories of our incredible Latinx staff members, discovering what this month...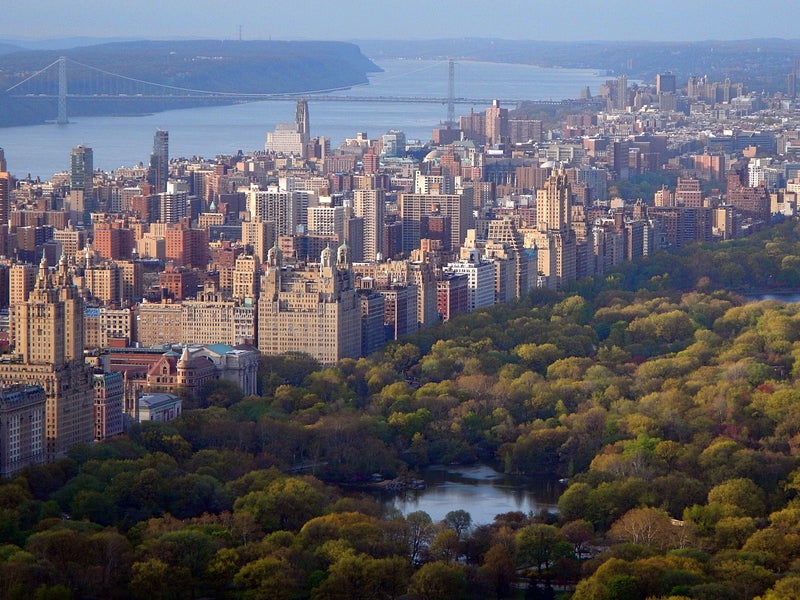 Big Promises in the Big Apple: Climate Week NYC Explored Our World's Progress Toward CO2 Targets
This global call to action is a chance to prove our world's collective resilience and commitment to...
The Heartfelt Story Behind Our New Pawtnership With Doug the Pug
Doug the Pug is a famous pop culture icon, but did you know that he's also the inspiration behind...
1 Hotel WEST HOLLYWOOD
8490 Sunset Boulevard
West Hollywood, CA 90069
On the iconic Sunset Strip, in the heart of West Hollywood, our central location is ideal to explore neighboring Beverly Hills, Hollywood, and beyond. West Hollywood is California's most walkable city, and LA's top attractions and airports are within 15 miles.