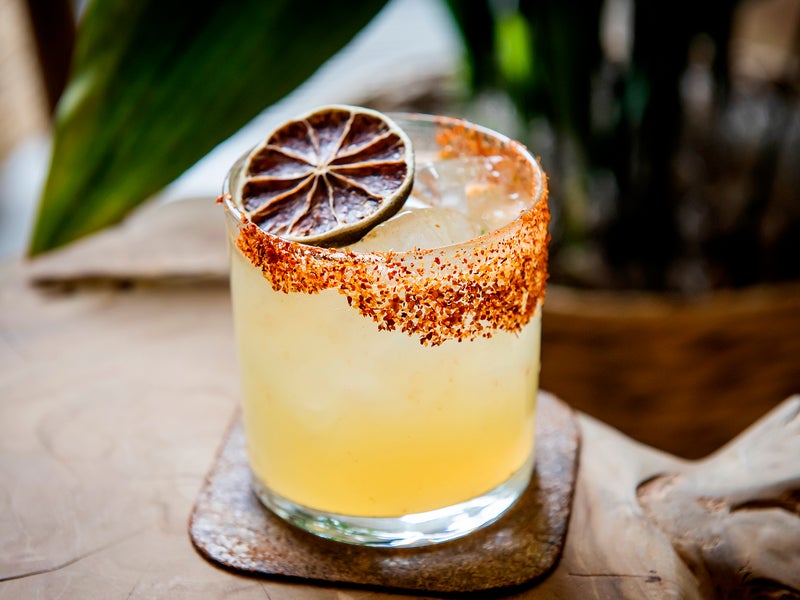 Rooted in nature, the Flora Lounge curates an experience for the senses. Experience the beauty that surrounds you through natural elements that make up each hand-crafted and carefully selected piece. Experience the subtle and perfect beauty of nature through every sip, every laugh and every bite.
Featuring our own Garden Pavilion, Flora shines with its sustainably focused dishes coming from local farmers into our plant-based kitchens. These seasonal dishes will continue to keep the palate charmed with fare and bold favours. Our wine and champagne list are curated with organic, sustainable and biodynamic producers in mind.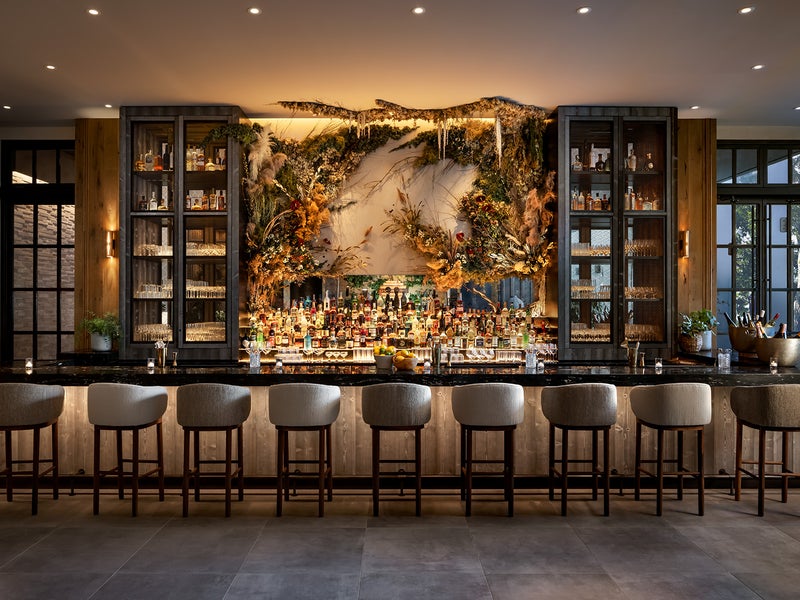 Host an Event
Bring the outside in with our 2,293-square-foot lobby lounge, Flora. Thoughtfully designed with floor-to-ceiling windows, Flora Lounge is the place to be for your cocktail reception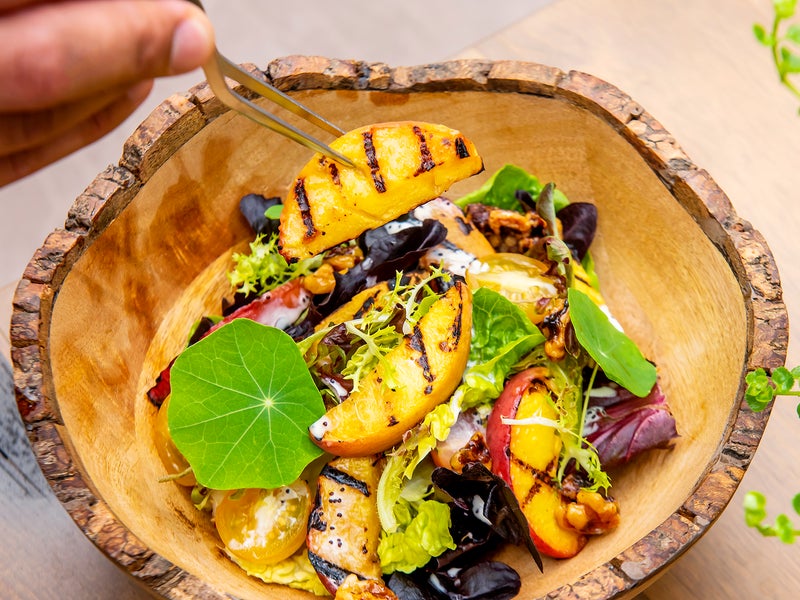 Meet Our Local Purveyors
Supporting local farmers and growers is essential to our sustainability efforts. Our purveyors provide us with the freshest, ethically sourced ingredients to ensure a mindful dining experience.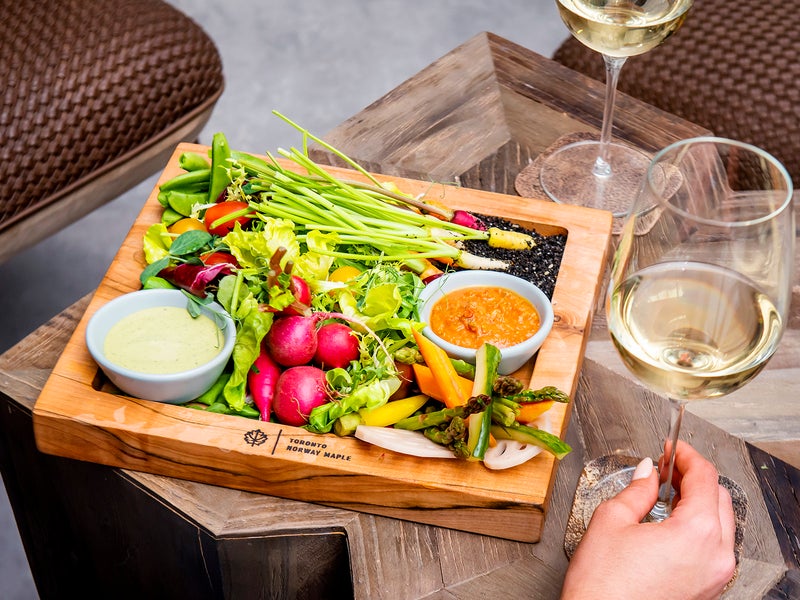 Garden-to-Table Produce
Farmers across Ontario provide us with quality, fresh produce so that you can savour the flavours of the seasons and we can work to preserve the beauty and bounty of nature.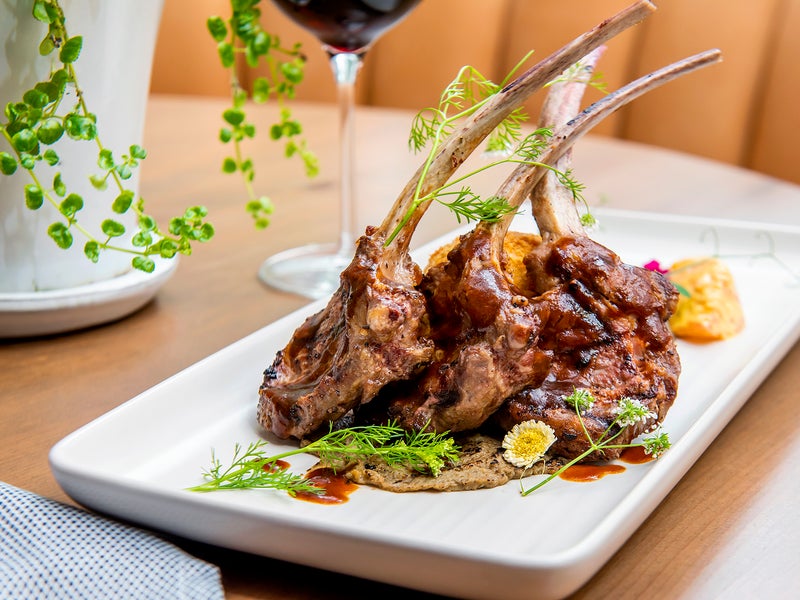 Responsibly Sourced
Our meat, fish and seafood partners are committed to growing and sourcing the best products with a minimal environmental footprint.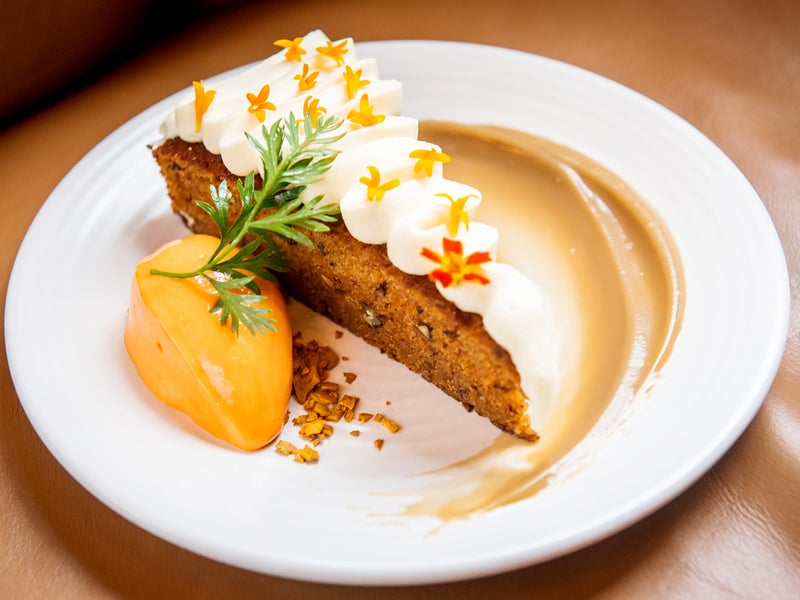 Raised With Love
We can ensure that our dairy and eggs come from animals that are cared for and ethically raised. 
Featured Cocktail
Sip To Support

Teremana Tequila Blanco, Ancho Reyes, Lime Juice, Agave, Watermelon Agua Fresca To support Earthquake relief efforts in Turkey & Syria, 20% of proceeds will benefit World Central Kitchen Earthquake Relief
Flora's Designed By Nature
Purple Rain

The Purple Rain is a perfect blend of the sweetness of Grey Goose pear vodka, elderflower liqueur and house-made lychee hibiscus juice. To top it off, we finish the cocktail with prosecco for the perfect fizz. Sustainable and delicious.

The "1"

Dillon's Vodka, Ontario Peach & Thyme Puree, 1 Hotel Honey, Fresh Lemon Juice, Egg white (can be made vegan)

Hacienda Patron

Patron Tequila Reposado, Agave, Briottet Amber Cacao, Aztec Chocolate Bitters

From The Grounds Up

Good morning, good evening and good night, Flora. Our take on the classic espresso martini uses Grey Goose vodka and Licor 43. 1 Hotel Bluestone Lane sustainable espresso & a touch of sugar for an elevated pick-me-up.
1 Hotel Around The World
South Beach: Caribbean Drift

Bacardi Ocho, Liquor 43, Honey, Pineapple, Turmeric, Ginger, Cayenne, Egg white. (Can Be Made Vegan)

West Hollywood: Sunset On La Cienaga

Cazadores Blanco, Cointreau, Chipotle Sour, Lime
The Neighborhoods
Queen Street Vesper

Empress Gin, Dillon's Vodka, Thai Basil Infused Cocchi Americano, Saline Solution

Bathurst Antitode

Scotch, Honey Ginger Syrup, Lemon

Downtown TO

Dillon's Rye, Salted Maple syrup, Spiced Pear Bitters

King Street Old Fash

St Remy Signature Brandy, Caramel Apple Butter Syrup, Vanilla & Fig Bitter
HEALTH + ELIXIR DRIVEN
Flora's Garden

HP Juniper Classic, Fresh Cucumber Juice, Fresh Lime, Fleur de Sureau, Egg White (Can Be Made Vegan)

Flora's Sun

Blood Orange Puree, Lime Juice, Coconut Water & Fevertree Ginger Beer

Floral Tonic

HP Floral, Raspberry syrup, Elderflower Tonic, Rose Petals

Greenhouse Kombucha: Ultra Violet

Filtered Water, Organic Lemongrass, Organic Cold-Pressed Pineapple, Organic Cold-Pressed Lemon, Organic Cane Sugar, Blue Matcha, Kombucha Culture, Organic Plant-Based Probiotic

Greenhouse Kombucha: Ginger Turmeric

Filtered Water, Organic Fermented Ginger, Organic Black Tea, Organic Cold-Pressed Ginger, Organic Cane Sugar, Organic Cold-Pressed Turmeric, Kombucha Culture, Organic Plant-Based Probiotic

Greenhouse Juice: Genius

Cucumber, Pineapple, Apple, Celery, Spinach, Kale, Lemon (All Organic + Cold-Pressed), Organic Fermented Lemongrass, Himalayan Salt

Greenhouse Juice: Farma C

Grapefruit, Orange, Lemon (All Organic + Cold-Pressed), Organic Fermented Lemongrass, Cayenne Extract

Greenhouse Lemonade: Blue

Filtered Water, Organic Cold-Pressed Lemon, Organic Cane Sugar, Citrus Fibre, Organic Spirulina, Organic Vegan Probiotic
Scotch Whiskies
Bruichladdich "The Classic"
Vodka
Grey Goose

Choose from: Pear, Citron, Orange.
Bourbon
Woodford Reserve Double Oak
Sparkling Wines By The Glass
Nv Prosecco Zonin, Veneto, Italy

Rose Sparkling, Cuvee Catherine, Niagara, Canada

Organic

Nv Champagne Tarlant Brut Reserve, Oeuilly, France

Biodynamic

Nv Champagne Veuve Cliquot Brut, Reims, France

Organic
White & Rose Wines By The Glass
19' Pinot Grigio Alois Lageder "Dolomiti", Alto Adige, Italy

biodynamic/organic

21' Viognier, Laurent Miquel, Chateau Cazal Viel, Pays D'Oc, Languedoc, France

19' Chardonnay, La Crema, Sonoma Coast, Usa

Certified Green

20' Sancerre, Domaine du Carrou, Loire Valley, France

21' Grenache, Chateau Minuty "M", Cote de Provence, France

Sake: Hajusturu Sayuri Nigori Sake, Kobe, Japan
Red Wines By The Glass
'20 Malbec, Humberto Canale Estate, Rio Negro - Patagonia, Argentina

16' Tempranillo Alegra Crianza, Ribera Duero, Spain

Organic

19' Cabernet Sauvignon, Silk oak, Lodi California, Usa

18' Pinot Noir, Maison Roche de Bellene, Burgundy, France

Organic

11' St Emilion, Chateau moulin Noir, Bordeaux, France
Champagnes By The Bottle
NV Brut, Tarlant Reserve, Oeuilly, France

NV Brut, Moet & Chandon, Epernay, France

NV Collard Picard, Cuvee Selection (Organic), Epernay, France

NV Brut, Pommery, Reims, France

NV Brut, Piper Heidsieck Cuvee, Reims, France

NV Brut, Veuve Clicquot (Organic), Reims, France

NV Brut Rose, Pommery, Reims, France

NV Rose (Organic), Veuve Clicquot, Reims, France

NV Grand Cordon, G.H. Mumm, Reims, France

NV Grand Brut, Taittinger, Reims, France

NV Rose Brut, Moet & Chandon, Epernay, France

NV Brut Reserve, Louis Roederer (Organic), Reims, France

NV Cuvee Bollinger Special (Organic), Ay, France

NV Rose Brut, Gosset Grand, Ay, France

'12 Gosset Grand Millesime, Ay, France

'14 Rose (Organic), Louis Roederer, Reims, France

NV Blanc De Blanc, Collard Picard, Grand Cru (Organic), Epernay, France

NV Blanc de Blanc, Ruinart, Reims, France

'12 Collard Picard Essentiel (Organic), Epernay, France

05' Brut, Pommery "Cuvée Louise", Reims, France

'12 Brut, Dom Perignon, (Organic), Hautvillers, France

NV Armand De Brignac, Ace Of Spades, Reims, France

'06 Brut Rose, Dom Perignon, (Organic), Hautvillers, France

NV Krug Rose, 24eme Edition (Organic), Reims, France

Cristal, Louis Roederer, Reims, France

2013 Bottle 750Ml

$980.00
Red Wines By The Bottle
'18 Shiraz, Earthworks (Certified Sustainable & Vegan), Barossa, Australia

'19 Beaujolais, Villages Stephan Aviron, (Organic), Burgundy, France

'19 Unexpected Grenache Pago Ayles (Organic), Aragon, Spain

'18 Merlot, Bogle Vineyards (Certified Green), California, USA

'18 Malbec, Humberto Canale Estate, (Sustainable Practice), Patagonia, Argentina

'19 Cabernet Sauvignon, Silk Oak, Lodi California, USA

'20 Barbera D'Alba Borgogno, Piemonte, Italy

'20 Faugeres, Chateau Pentus (Organic), Languedoc, France

'20 Pinot Noir, Leaning Post, Niagara, Ontario, Canada

19' 7 Fuentes, Valle de la Orotava, Spain

14' Chateau Barrabaque, Fronsac Bordeaux, France

11' Chateau Moulin Noir, Montagne St Emilion. Bordeaux, France

19' Pinot Noir, Juggernaut (Organic), Russian River Valley, USA

'19 Cabernet Sauvignon, Juggernaut (Organic), Hillside Vineyard, USA

'18 Pinot Noir, Maison Roche de Bellene (Organic), Burgundy, France

'20 Campo di Sasso, Insoglio del Cinghiale, Toscana, Italy

'19 Red Blend, Stratus, Niagara On The Lake, Ontario, Can

'18 Pinot Noir, La Crema, Sonoma Coast (Certified Green), California, USA

'18 Rosso Di Montepulciano, San Lorenzo, Italy

'20 Cabernet Sauvignon, Robert Hall, Paso Robles, USA

'19 Sangiovese, Podere 414, Morellino di Scansano, Italy

18'Merlot, Burrowing Owl, Okanagan Valley, BC, Canada

'16 Zinfandel, Moss Rozz (Organic), Oak Ridge, California, USA

'17 Cabernet Sauvignon, Il Iluoghi Rosso, Bolgheri, Italy

'17 Cabernet Sauvignon, Innisfree, Napa Valley, USA

'17 Pinot Noir, Long Meadow Ranch (Organic), Anderson Valley, California, USA

19' Cabernet Sauvignon, Hess Allomi, Napa Valley, California, USA

'14 Pinot Noir, Piazza Del Dotto, Sonoma Coast, California, USA

'19 Chianto Classico Bibbiano, Gran Rezerva, Tuscany, Italy

'17 Pommard "La Combotte", Domaine Michel Arcelain, Burgundy, France

'18 Chateau La Fleur, St Emilion Grand Cru, Bordeaux, France

'18 Cabernet Sauvignon, Cave Blend, Del Dotto Vineyards, Napa Valley, USA

'19 Cabernet Sauvignon, Joseph Phelps, Napa Valley, California, USA
White Wines By The Bottle
19' Blend, Le Loup Blanc "Le Regal", Languedoc Roussillon, France

19' Sauvignon Blanc, Big Head, Niagara On The Lake, Canada

19' Pinot Grigio, Alois Lageder "Dolomiti" (Biodynamic / Organic) Alto Adige, Italy

20' Viognier, Domaine Gassier, Rhone Valley, France

19' Chardonnay, Louis Latour, Burgundy, France

18' Chardonnay, Bogle Vineyards, (Certified Green), California, USA

20' Sauvignon Blanc, "Sattlerhof", Südsteiermark, Austria

18' Pinot Bianco, Castelfeder "Vom Stein", Vignette delle Dolomiti, Italy

19' Chateau de Montfaucon, Comtesse Madelaine de Lirac, Bordeaux, France

18' Sauvignon Blanc, Castelfeder"RAIF", Vignette delle Dolomiti, Italy

19' Chardonnay, La Crema (Certified Green), Sonoma Coast, USA

20' Sancerre, Domaine du Carrou, Loire Valley, France

18' Chardonnay, The Pursuit (Organic), Niagara On The Lake, Ontario, Canada

18' Chardonnay, Long Meadow Ranch, "Farmstead" Oragnic, Napa Valley, California, USA

19'Henri Bourgeois, Les Barronnes Sancerre (S), Loire Valley, France

20' Chardonnay, Burrowing Owl, Okanagan Valley, Canada

18' Puilly-Fuisse, Chateau De La Chaize, Odenas, Burgundy, Fr

15' Chardonnay, Thomas George Estates, Russian River Valley, California, USA

'18 Pouilly Fuisse, Joseph Faiveley, Nuits-Saint-Georges, Burgundy, Fr

'18 Montagny 1er Cru, Les Coeres, Montagny, Burgundy, Fr

'17 Chardonnay, Domaine Michel Arcelain, Pommard, Burgundy, Fr

18' Chardonnay, Corton Charlemagne Grand Cru, Beaune, France
Grab n Go
Fruit n Berry Bowl

Season Fresh Fruits and Berries

Granola

House made granola ,yogurt, berries local wild honey

Overnight Oats

Steel Cut Oats, Chia Seeds, Black Currants, Coconut Milk, Rocky Run Maple Syrup

Breakfast Sandwich

Peameal Bacon, Garlic Aioli, Heirloom Tomatoes, Bakes Egg, White Cheddar, English Muffin

Breakfast Sandwich Combo

Get A Breakfast Sandwich and a Medium Coffee

Pastries

Croissant, Fruit Danish, Pain Au Chocolat

Pastry Combo

Choose Between A Croissant Or A Pain Au Chocolat And Get A Medium Coffee

Breakfast Burrito

Arugula, Chipotle Mayo, Mushrooms, Heirloom Tomatoes, Local Scrambled Eggs, Aged Cheddar

Mixed Berry Granola bar

$4.00

Cookies and Cream Granola Bar

$4.00

Double Chocolate Cookies

$7.00
Cold Press, Boosters and Kombucha
Greenhouse Genius

Cucumber, Pineapple, Apple, Celery, Spinach, Kale, Lemon (All Organic + Cold-Pressed), Organic Fermented Lemongrass, Himalayan Salt

Greehouse Farma C

Grapefruit, Orange, Lemon (All Organic + Cold-Pressed), Organic Fermented Lemongrass, Cayenne Extract

Greenhouse Deep Roots

Apple, Carrot, Beet, Celery, Lemon (All Organic + Cold-Pressed), Organic Fermented Lemongrass

Greehouse Booster: Ginger Defense

Organic: Orange, Apple, Blend of Fermented Ginger and Lemongrass, Ginger, Lemon, Turmeric, Citrus Fibre, Vitamin C, Black Pepper Extract, Oregano Extract

Greenhouse Booster: Glow

Organic: Filtered Water, Pomegranate, Apple, Fermented Echinacea, Hibiscus Flower, Carrot, Tremella Mushroom Extract, Vitamin C, Aloe Vera Extract, Asparagus, Okra, Blue Matcha, Coffeeberry Extract, Quercetin, Acerola, Camu Camu, Acai, Mangosteen

Greenhouse Kombucha: Ultra Violet

Filtered Water, Organic Lemongrass, Organic Cold-Pressed Pineapple, Organic Cold-Pressed Lemon, Organic Cane Sugar, Blue Matcha, Kombucha Culture, Organic Plant-Based Probiotic

Greenhouse Kombucha: Turmeric Ginger

Filtered Water, Organic Fermented Ginger, Organic Black Tea, Organic Cold-Pressed Ginger, Organic Cane Sugar, Organic Cold-Pressed Turmeric, Kombucha Culture, Organic Plant-Based Probiotic

Greenhouse Lemonade: Blue

Filtered Water, Organic Cold-Pressed Lemon, Organic Cane Sugar, Citrus Fibre, Organic Spirulina, Organic Vegan Probiotic
Coffees And Teas
Teas

Chai, English Breakfast, Earl Grey, Green Tea, Peppermint, Chamomille
Flora Bites
Charcuterie & Cheese Board

Ontario Cheeses & Cured Meats, House Preserves, Pickles, Forno Cultura Sourdough. 100 KM Dish: Your carbon footprint matters. Our team works hard to ensure we feature menu items that are sourced within 100km or less of our kitchen, truly in our own backyard.

Cheese Board

Ontario Cheeses, House Preserve, Forno Cultura Sourdough

1Kitchen Dips

Hummus, Red Pepper Baba Ghanoush, Tzatziki, Harvest Vegetables & Grilled Pita

Truffle Fries

with Parmesan

Cauliflower Tempura

1Kitchen Seasonning (Paprika, Cumin, Garlic Powder, Chili Powder, Onion Powder, Cinnamon & Oregano) Served With a House Vegan Ranch. Not Available Saturdays and Sundays Before 4pm

Red Caesar

Red Endive, Pecorino Romano, Forno Cultura Sourdough Crumbs, Crispy Ontario Berkshire Pork Prosciutto.

Grilled Chicken Breast

$12.00

1K Burger And Fries

Iceberg Lettuce, 1K Sauce, Sea Buckthorn Jam, Canadian Cheddar, Brioche Bun.

1 Kitchen Vegan Sliders

Impossible Meat, Quinoa & Shawarma Spiced Patty, Ube Bun, Vegan House Sauce, Caramelized Onion, Heirloom Tomato, Boston Bibb Lettuce, Dijon, Your choice of Fries or Harvest Salad
Desserts
Carrot Cake

Carrot Gelato, Carrot Skin Crumble, Coconut caramel

Sticky Toffee Pudding

Red Miso Caramel, Shiso Ice Cream

Chocolate Mousse Bar

Ganache, Sea Salt, Maple Coffee Ice Cream, Candied Kumquat