1 Hotel
South Beach
2341 Collins Avenue, Miami Beach
Your South Beach sanctuary, set along a pristine, 600-foot stretch of shoreline,
with translucent, ocean blues in constant view.
Winter Solstice
Bask in warm, sunny South Beach winter with a stay that gives back. Enjoy up to 40% off your stay, $20 dining credit to Habitat, and we'll make a donation on your behalf to Miami Rescue Mission.
Good Energy Is Clean Energy
Optimized for energy efficiency and powered by green systems,
including low-energy LED lighting and smart temperature control.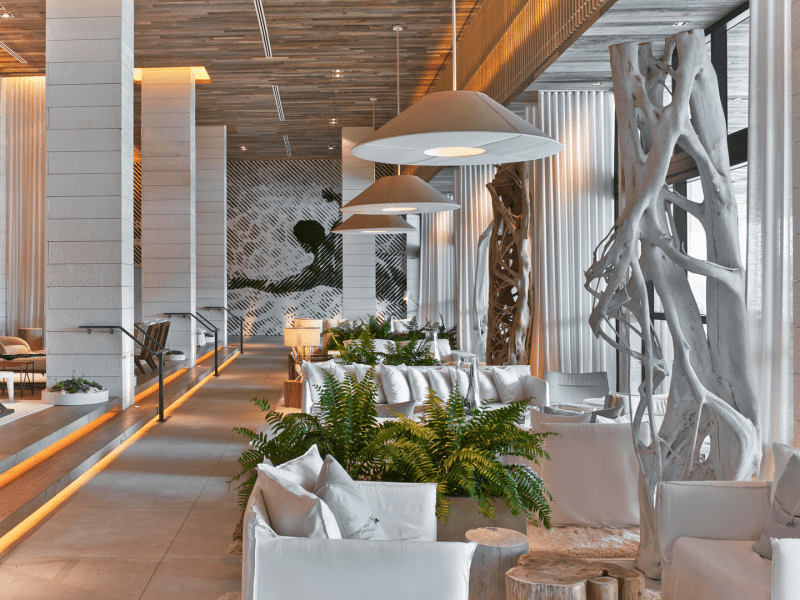 At 1 with Nature
A sustainable sanctuary designed with locally sourced and repurposed materials, including Beetle Kill Pine wood, regional coral stone, salvaged wood from Alaska, and fallen trees from the South American rainforest.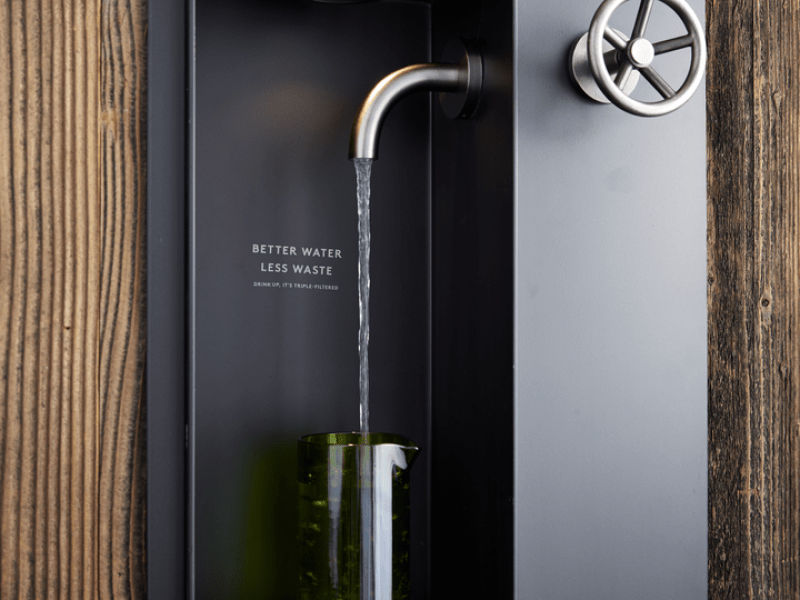 DRINKING SUSTAINABLY
Each room is equipped with water filtration in every faucet and recycled wine-into-water glasses. No thank you, single-use plastics.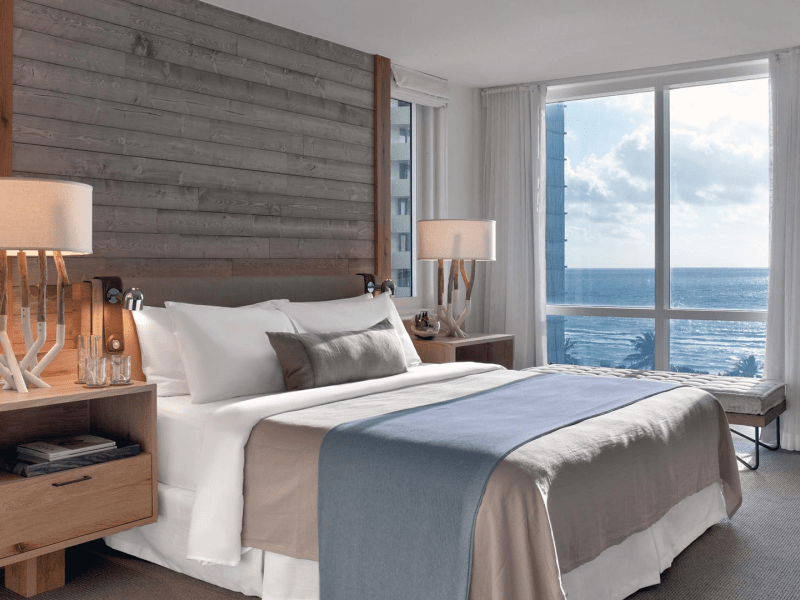 PEACE OF MIND
Locally sourced, sustainable bed linens and non-toxic, organic mattresses, so you and the earth can sleep soundly.
WANDERING RESPECTFULLY
Explore the city emission-free in our fully electric Audi e-tron, ride beach cruisers, or wander the white sands to take in the best of nature.
EMERGING EXPLORERS
Seedlings at 1 Hotel South Beach seeks to nurture nature's next great explorers with engaging and fun experiences that celebrate the natural environment.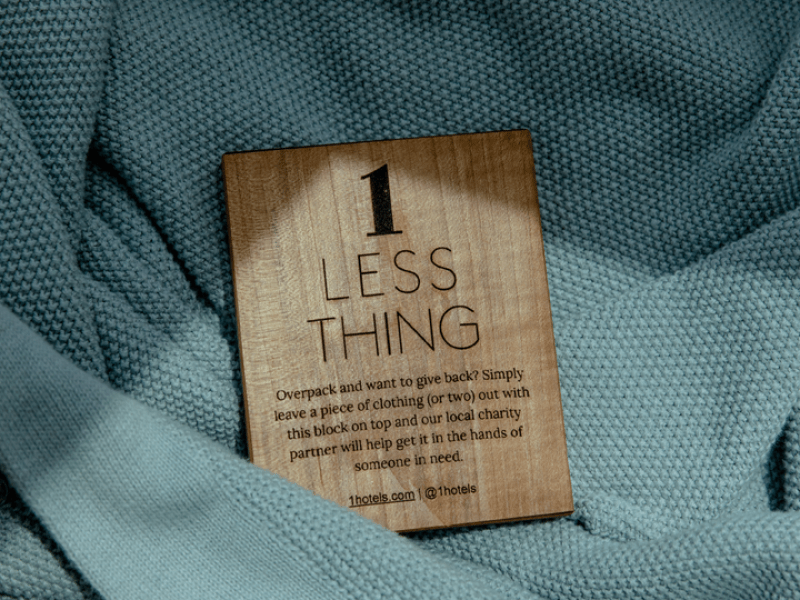 1 Less Thing
Overpacked? Simply leave a piece of clothing (or two) under this block to get your pre-loved threads into the hands of those in need through our local charity partner, Miami Rescue Mission.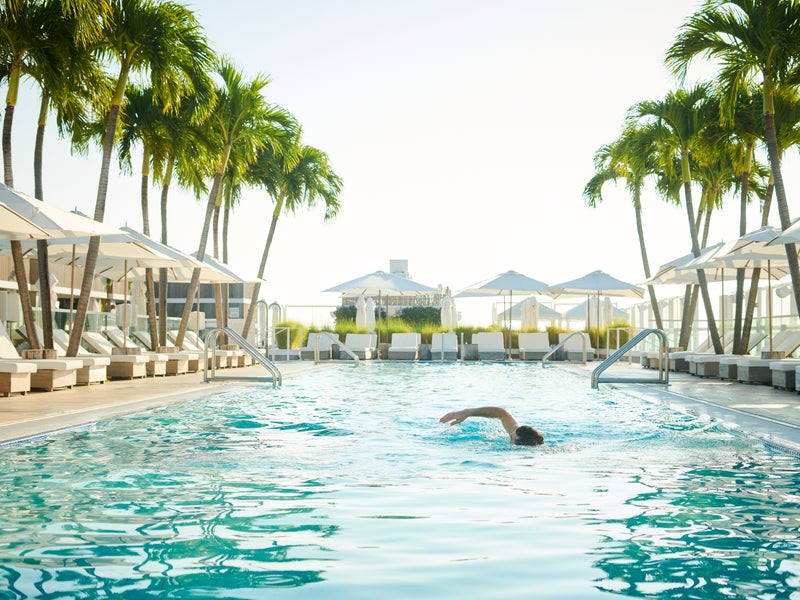 SHARE THE LOVE
Celebrate your cherished memories at our sustainable sanctuary by casting a vote for us in Travel + Leisure's 2024 World's Best Awards.
Where the festive spirit meets tropical warmth
Cherish the most wonderful time of the year with Twelve Days of Festive, featuring holiday feasts, merry + bright workouts and more festive happenings across our property. Every event aims to bring you closer to your loved ones as you embrace the true spirit of the season.
12 Days of Wellness
Tis' the season to be FIT and jolly! Join us for a heart-pumping, joy-infused group workout that will leave you feeling merry, bright, and ready to tackle the holiday season with a healthy glow!
RING IN NEW YEAR'S EVE AT WATR
Celebrate 18 stories up with 4-course prix-fixe menu consisting of Japanese-Asian Fusion dishes, select sushi rolls, cocktails, and endless ocean views, while ringing in the New Year with our resident DJ's all night long.
Craft the Perfect Festive Gathering
Make the most of the season by gathering with your loved ones in our nature-inspired spaces. From intimate dinners to festive parties, bring your vision to life while safeguarding the planet every step of the way.
 
WELLNESS
At 1 Hotel South Beach, our experiences are designed to nurture mind, body, and spirit,including holistic treatments at Bamford Wellness Spa, personalized workouts and Mind & Movement programming at Anatomy, and locally sourced, organic cuisine.
FUR-FAMILY FRIENDLY
We would never ask you to leave your furry (or not furry) friend behind! As a pet friendly hotel, your pup is always welcome at 1 Hotel South Beach.
Nature is Home in South Beach
Geography
South Beach sits on a 10-mile-long barrier island between the beautiful Biscayne Bay and the vast Atlantic Ocean. Its position between two bodies of water makes it both a desirable destination and a vulnerable target of extreme weather events. Mostly flat, South Beach is a very vibrant and walkable oasis, covered in lush tropical vegetation as well as bustling city boulevards.
Climate
Miami is characterized by its tropical monsoon climate with hot, humid summers sprinkled with passing thunderstorms contrasted by short, warm, and drier winters. Temperatures typically vary between 62°F to 90°F, rarely dropping below 50°F or peaking above 92°F. With an average rainfall of just over 60 inches, this coastal city typically gets enough rain to get through the hotter months.
Flora
South Beach is home to diverse tropical flora — Beach Sunflowers, Blanket Flowers, Blazing Stars, Coral Honeysuckle, Passion Flower, Powderpuff Mimosa, Scarlet Sage, Hibiscus, Azalea, Saw Palmetto, Sabal Palm, and Southern Live Oak all sprinkle the landscape with bright bursts of colors and natural beauty.
Fauna
Florida is home to some of the most magnificently diverse fauna in the country. On land, you might see squirrels, foxes, deer, raccoons, rabbits, coyotes, and even black bears. Soaring through the air, you might catch sight of hawks, parakeets, orioles, pelicans, sparrows, cardinals, herons, and peafowl. Miami's waters also sustain a wide range of species including barracuda, dolphins, manatees, tarpon, catfish, bass, nurse sharks, angelfish, stingrays, octopus, crabs, eel, and parrotfish — to name a few. We can't forget the amphibious creatures that call this marshy wetland home, ranging from alligators, iguanas, and snakes of all kinds to gentle turtles, adaptive chameleons, and tiny geckos.
Natural Attractions
The Miami Beach Botanical Garden is 2.6 acres of urban green space in the heart of South Beach. Featuring Japanese gardens full of gorgeous native plants and wetlands full of winding mangroves, it's the perfect place to get a closeup of Florida's rich biodiversity. Roughly 40 minutes north of South Beach, you'll find Oleta River State Park. With over 1,000 acres of natural refuge and tranquility, you're free to hike or bike through forested trails or kayak through the river to get closer to nature — and maybe even catch a glimpse of a manatee. About an hour inland is the largest subtropical wilderness refuge in the country: Everglades National Park. It's overflowing with freshwater prairies, mangrove forests, and hundreds of different species of native flora and fauna.
Sustainability
Immersed in nature wedged between two bodies of water, Miami holds sustainability and resilience close to its heart — prioritizing the protection of its beaches and waterways. The city has its own tree preservation program, innovative solar energy initiatives, stormwater management plans, and plastic-free incentives. The University of Miami has kicked off an inventive project to create a hybrid coral reef off the coast of Miami, creating human-made coral structures that will act as a safe haven for natural coral that's more resilient to current climate conditions and extreme weather.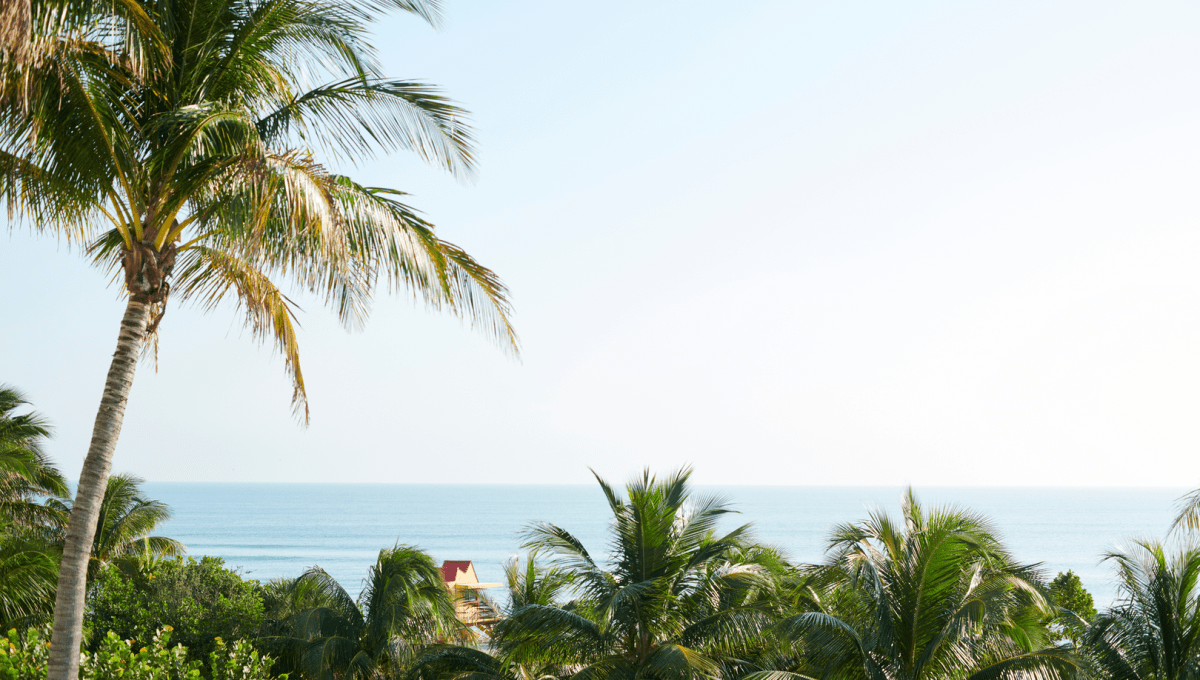 Your Favorite Moments
@1hotel.southbeach #1hotelsouthbeach
Steering the Future: Join Audi on the Journey Toward All-Electric Mobility
With an ambitious goal of phasing out the production of combustion cars by 2033, pioneering...
That's a Wrap: Our Favorite Sustainable Gifts for the Holiday Season
As the year comes to a close and we reach a time of reflection, we choose to express gratitude for...
A Message on Thanksgiving
The Gift Wrap That Keeps On Giving: Unveiling Wrappr's Story and the Winner of Our 2023 Artist Search
In celebration of our first successful Wrapped in Nature artist search, we sat down with both Wrappr...
Serving Solutions: How Copia Cooks Up New Ideas to Create a World Without Hunger
In a world where Americans waste three times more food than there are hungry mouths to feed, Copia...
Our Location
1 Hotel South Beach
2341 Collins Avenue
Miami Beach, FL 33139
Located on Collins Avenue at the beach, this is your perfect basecamp for all your South Beach adventures. 
We recommend asking for a taxi with credit card machine before departing the airports.

Property Map

Find your way around our sustainable sanctuary.