Meetings
Host a meeting or corporate gathering of any scale. We offer several ballrooms and multiple meeting rooms of varying sizes.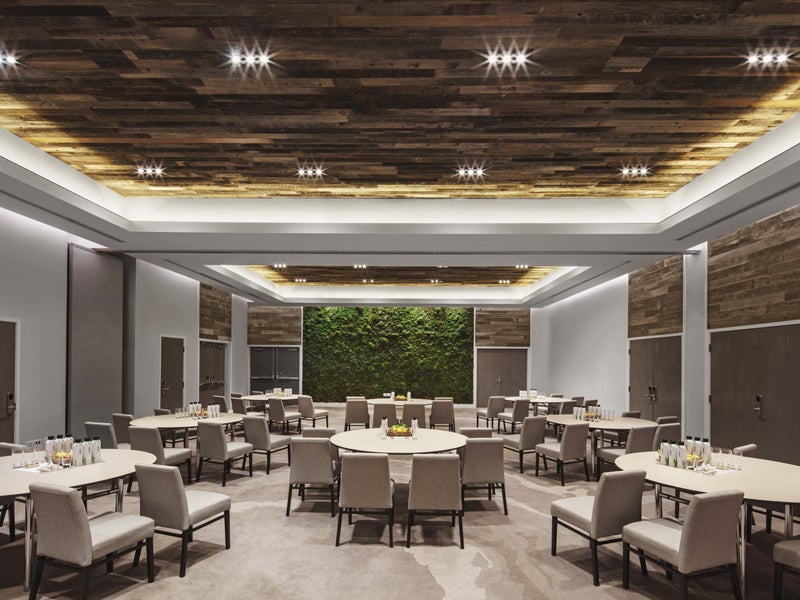 Poco Terra
A cozy meeting space that gives you the feeling of being outside with a biophilic incorporated moss wall & dark wooden panels. This space can be split into two sections & closes off to become its own private foyer from the rest of the hotel.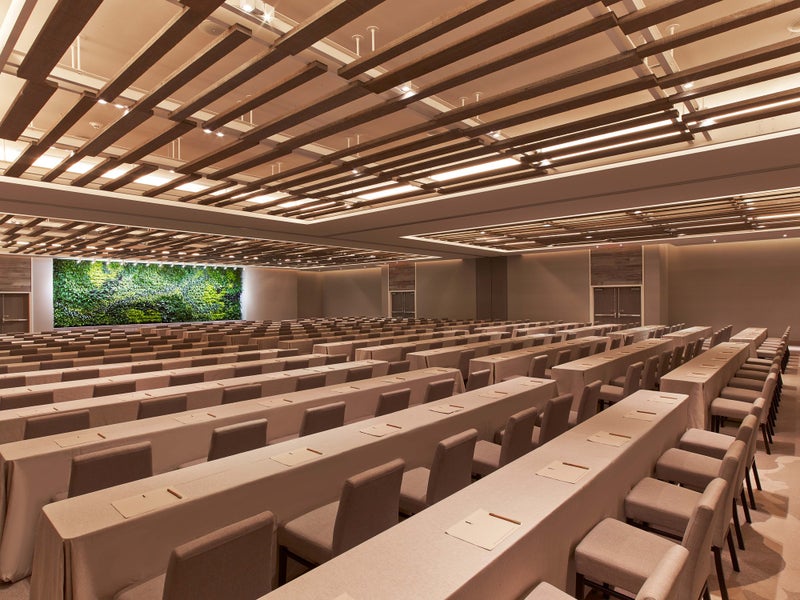 Terra Ballroom
This beautiful room is one of our largest & has an anchored showcase of 1,200 growing plants that help purify the air. A more lighthearted space to gather in as it's decorated with sheer curtains all around and light wood panels. This room can be divided into three spaces.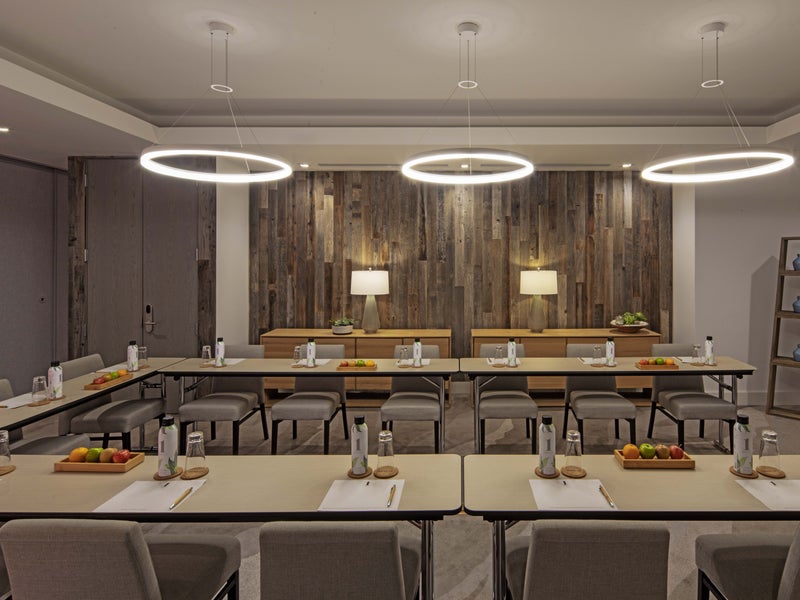 Garnet
Adjacent to Poco Terra, this serves as a convenient breakout room for intermission or coffee goers. The aesthetic is continued & complimented with built-in wooden cabinets, dressers, & LED ring chandeliers, making it the perfect backup.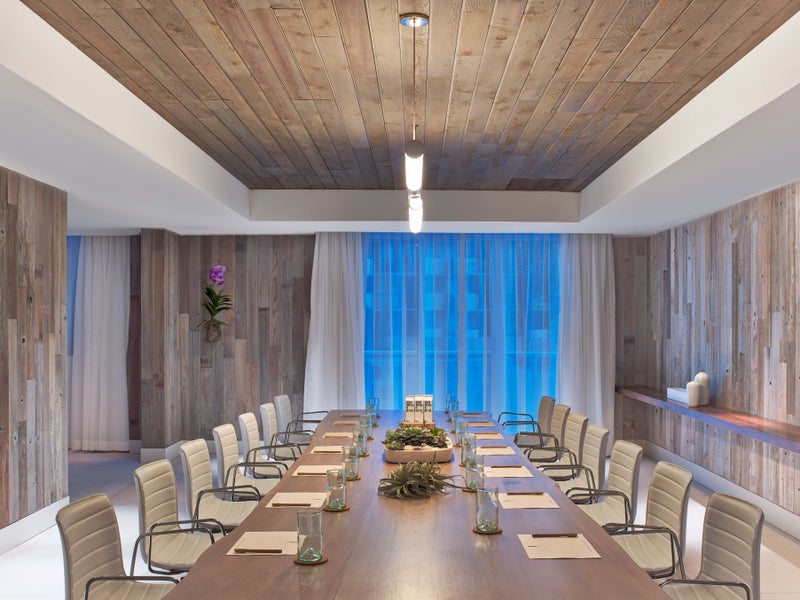 Indigo
As one of our preferred meeting spaces, this room features an existing boardroom table for up to 14 people, enclosed with floor to ceiling wood panels, & soft yellow lighting. Need a little more for your executives? Enjoy the coffee nook with extra standing space and then head out to the private balcony for a breezy break.
1 Hotel South Beach Event Space Capacities
Event Space
Dimensions
Sq Ft
Theatre
Classroom
Crescent Rounds
Reception
Banquet
U-Shape
Event Spaces | Mezzanine Level

Terra Ballroom/ South Beach

87'1" X 68'9" X 11'11"
5986
570
336
238
600
350
90

Terra Gallery/ Atrium / South Beach

51'9" X 24'2" X 10'3"
1250
-
-
-
530
380
-

Atrium 1st Floor/ South Beach

58'2" X 63'7" X 37'11"
3698
303
100
119
300
200
28

Atrium 2nd Floor/ South Beach

51' X 47'6" X 25'5"
2422
80
-
-
30
50
-

Pocco Terra Ballroom / South Beach

56' X 33' X 16'
1850
150
60
84
184
120
36

Garnet / South Beach

56' X 13' X 9'
728
50
30
28
70
40
-
Breakout Spaces | 2nd Floor

Azur/ South Beach

29' X 15'5" X 8'
447
36
18
14
45
20
21

Amethyst / South Beach

16'3" X 17'10" X 8'
289
20
8
7
25
10
-

Breakout Foyer West/ South Beach

12'9" X 39' X 8'
497
-
-
-
-
-
-

Celadon / South Beach

29'10" X 17'4" X 8'
517
36
18
14
50
20
21

Lapis/ South Beach

36'3" X 26'10" X 8'
972
-
-
35
90
50
-

Oyster/ South Beach

77'1" X 31'6" X 8'
2428
-
-
-
180
140
-

Breakout Foyer East / South Beach

16'11" X 41'9" X 8'
706
-
-
-
-
-
-

Cobalt/ South Beach

32' X 16'11" X 8'
706
42
24
21
50
30
27

Indigo / South Beach

31'11" X 17'1'' X 8'
545
-
-
-
-
-
-