Do
How will you spend your days in South Beach? Choose from endless options including treatments at Bamford Wellness Spa, Mind and Movement classes at Anatomy, multiple pools & more.
Bamford Wellness Spa
Welcome to the first US Bamford Wellness Spa at 1 Hotel South Beach. Indulge in a selection of holistic treatments and services designed to nurture the mind, body and spirit.
Anatomy
Anatomy combines wellness, sports, and science to bring you the future of fitness. Discover the culture of Anatomy, a health and wellness sanctuary that has gained international acclaim.
14,000 Sq. Ft. Gym Anatomy 
Pools
Soak up the sun at one of our oceanside swimming pools. Claim your spot at one of our daybeds or full-service cabanas. For adults-only, the rooftop pool offers cabanas and endless Miami views. 
Cabanas
Relax in a Cabana or Ultra Cabana. Designed for comfort and inspired by nature. Full-service wait staff available to provide food, beverages and amenities to you throughout the day.
Daily | 9am - 9pm
Audi Experience
We're always seeking innovative ways to show you how to live more sustainably. With this in mind, we're pleased to introduce the Official Electric Vehicle of 1 Hotels, the fully electric Audi e‑tron. Guests are welcome to enjoy the Audi Experience while taking advantage of the house car or test driving the e‑tron during your stay. The house Audi e‑tron is available daily on a first come, first served basis from the hotel entrance. To test drive, please contact our concierge. 
Goodthings
Now you can bring 1 Hotels home. At our retail shop, you'll find luxe apparel and gifts, like candles with our signature fragrance, plus a curated selection of goods from innovative brands and local artisans.
Beach
Swim, sun and recharge on a pure sand beach with stunning views of the Atlantic Ocean. Relax on a lounge chair or oceanfront cabana.
Hotel Membership
Beach life, hotel service. As a 1 Hotel South Beach member, you are able to take advantage of perks including beach chairs, a full service gym, supervised activities for kids, exclusive programming, & more.
Seedlings
The Seedlings program offers daily adventures and activities inspired by nature for your young ones. 
Pets
1 South Beach is pet friendly. Thoughtful touches are available for your pet including an arrival amenity, beds and food bowls.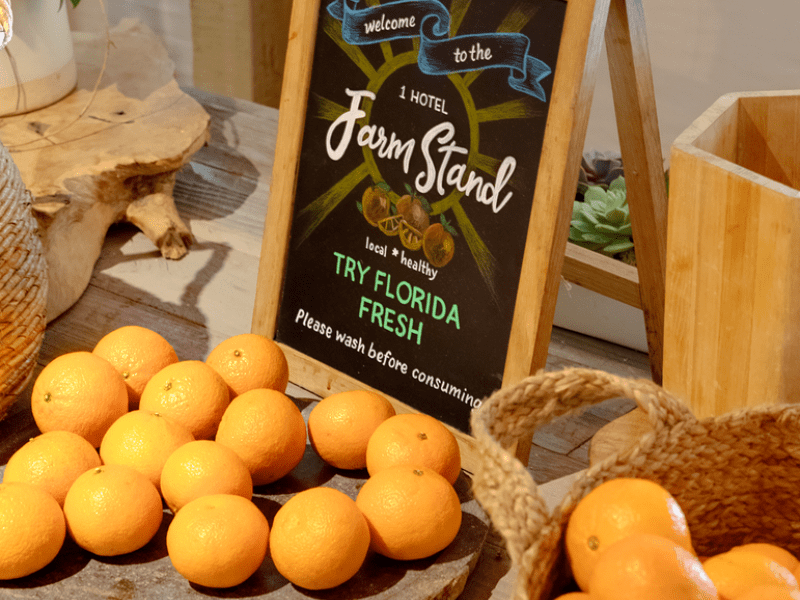 Lobby Farmstand
Forage for seasonal ingredients at the Lobby Farmstand. Taste fresh and organic items. Local farmers and artisans offer fresh foods and unique products daily. Open to guests and neighbors alike.