Weddings
Your Hollywood romance deserves a picture-perfect wedding, accented by stunning views of LA and the Hollywood Hills. Let us help you plan a celebration of love as beautiful and unique as nature itself. Celebrate with us, and watch love grow.
Weddings
Our indoor and outdoor spaces showcase the most iconic LA backdrop for one of the most important days of your life. With an abundance of light, living plants, and beautiful surroundings, every wedding is infused with nature for an experience as unique as each couple.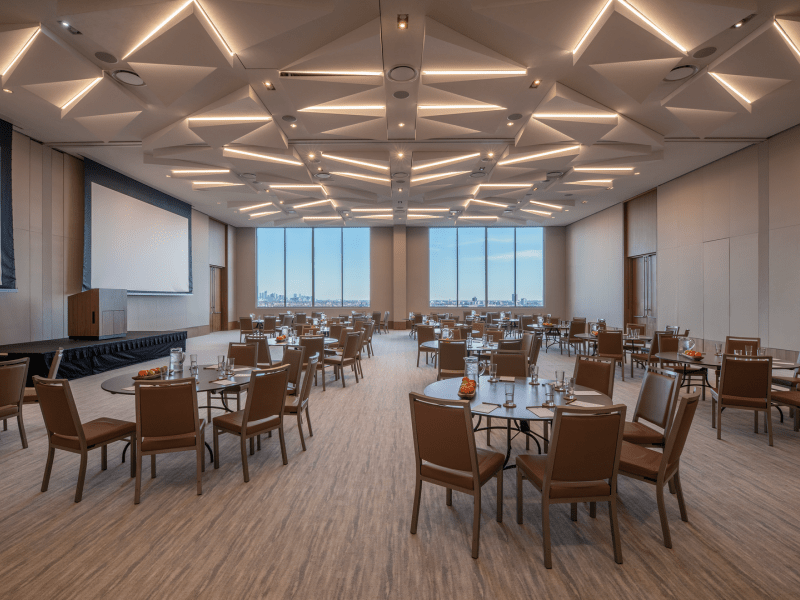 6,668 sq. ft. | Up to 500 Guests
Sunset & Foyers
Make a statement with Sunset. The main 3,905-square-foot space (which can be divided in two) features massive windows framing stunning cityscape views, plus geometric lighting and wood and brass details. With two adjacent foyers and a terrace, it's ideal for meetings and celebrations of all kinds.
Sunset & Foyers
Room Dimensions
72' x 55'
Seating Capacities
Banquet
300
Crescent Rounds
180
Reception
500
Theatre
400
Classroom
200
U Shape
70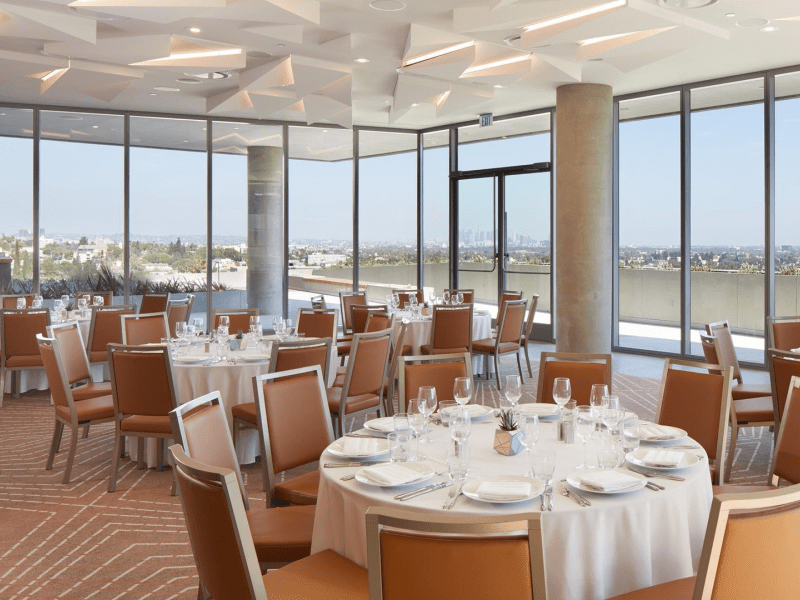 1,986 sq. ft. | Up to 200 Guests
Melrose & Foyer
You can't beat these spectacular views of Los Angeles. With 1,371 square feet of space, plus a 615-square-foot foyer, this indoor room with geometric lighting, modern wood and brass details, and three floor-to-ceiling glass walls leads out to a terrace overlooking the city and Downtown skyline.
Melrose & Foyer
Room Dimensions
30' x 43'-52'
Seating Capacities
Banquet
70
Crescent Rounds
42
Reception
150
Theatre
110
Classroom
60
U Shape
38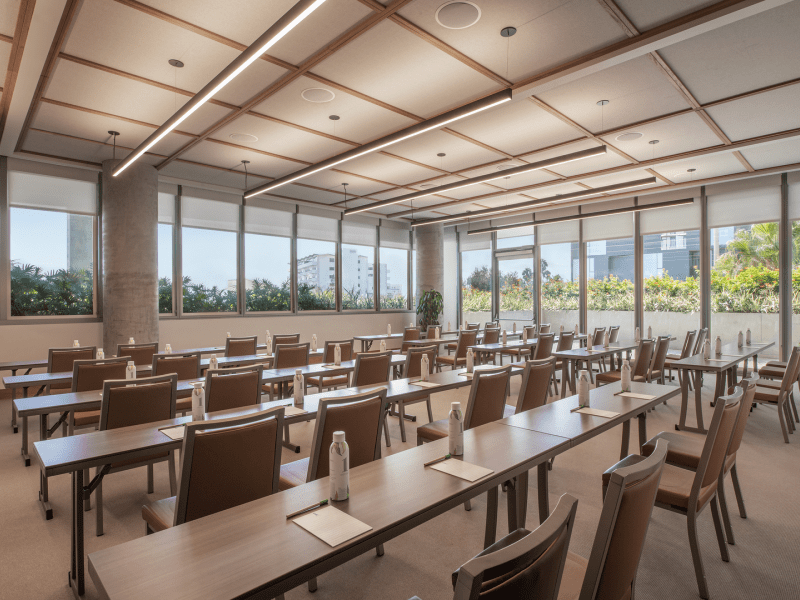 1,800 sq. ft. | Up to 280 Guests
Fairfax
Located on the lobby level, with convenient access from the hotel's Garden courtyard and valet, Fairfax offers 1,800 square feet of indoor space (which can be divided in two) plus a connected patio. Tall windows frame city views and fill the space with natural light.
Fairfax
Room Dimensions
28' x 58'
Seating Capacities
Banquet
120
Reception
200
Theatre
150
U Shape
40
432–485 sq. ft. | Up to 12 guests
Meeting Rooms
Bring the team together, strike the next big idea, or close the deal in one of two meeting rooms accommodating up to 12 guests each. With full-service catering and A/V, we take care of the planning, so you can take care of business.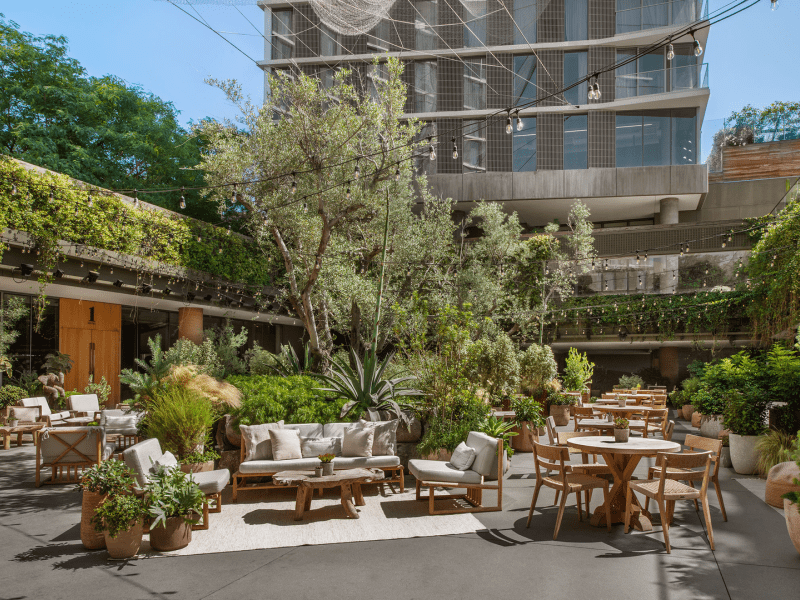 5,000 sq. ft. | Up to 150 Guests
Juniper Garden
Filled with native greenery, The Garden is an outdoor sanctuary in the heart of West Hollywood, accommodating up to 300 guests reception-style. Cascading vines and potted plants surround the space, while mature olive trees rising from a raw-wood planter create a striking centerpiece.
2,836 sq. ft. | Up to 190 Guests
Harriet's Rooftop
Nine floors above the WeHo scene, Harriet's offers unmatched 180-degree views of LA and the Hollywood Hills, plus the seven-story Dream Catcher sculpture by world-renowned artist Janet Echelman. From brunch galas to receptions with legendary SoCal sunsets to soirees under the stars, Harriet's is an inspired and unparalleled setting for your gathering.
Room Blocks
Celebrate your big day in our urban oasis with your loved ones close by. Discounted room rates are available for groups of 8 or more, please contact our team for more information.
INGREDIENTS FIRST. THEN ADD LOVE.
When you plan a wedding at 1 Hotel West Hollywood, you'll find catering menus designed for the season. Full of fresh, local ingredients and dishes that are both good and good for you, our food will perfectly complement your wedding celebration.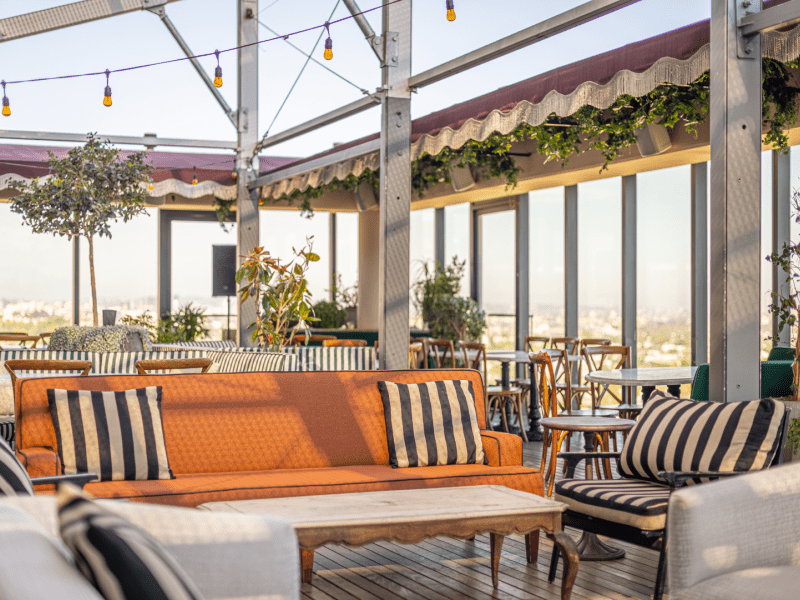 ELEVATED EXTRAS
We offer special packages and experiences to create a truly memorable wedding weekend. Treat your bridal party to a private yoga session, plan a rooftop party after the reception, or say goodbye to your guests with a farewell breakfast. Contact our team to learn more.
HONEYMOONS
Make your honeymoon memorable with our luxurious setting and picture-perfect location. Take time to relax and indulge at one of our four restaurants and bars, or get out and explore the beauty of West Hollywood together.
PLANNING
How can we help you create your dream wedding? Submit a request for a proposal, and share with us the details and budget, as well as your vision. We will respond promptly with answers and options.