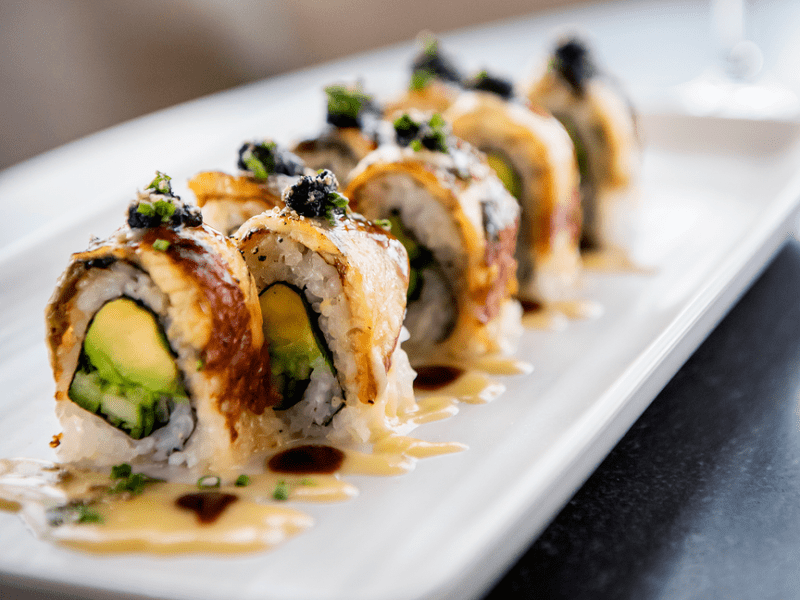 Take in the most expansive views of vibrant Toronto from Harriet's Rooftop at 1 Hotel Toronto.
Harriet's luxurious rooftop space has been decorated with reclaimed and sustainable materials throughout, creating a vibe that's both lively and cozy.
On the rooftop, guests can choose from light bites made from seasonal ingredients, as well as wellness cocktails prepared with fresh juices. And for those looking to kick it up a notch, the lounge also offers craft cocktails and bottle service.
Please note, our kitchen closes at 10pm Monday - Saturday and 5pm on Sunday. Cocktails, lounge and bottle service are available until close. Harriet's is a 19+ venue.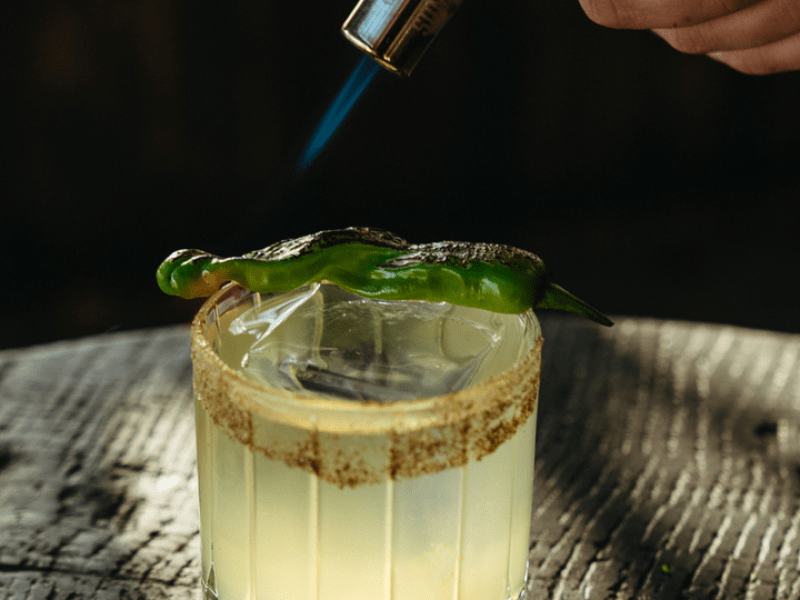 Monday to Friday | 5pm - 7pm
Harriet's Happy Hour
Meet us on the rooftop for Harriet's signature Happy Hour. With drink specials, sunshine and sweeping city views you won't want to miss it.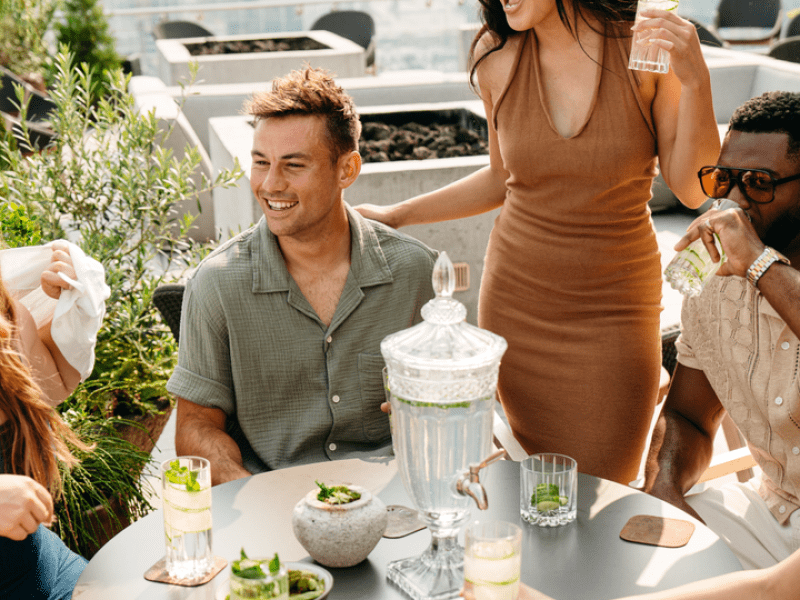 Sunday | 12pm - 8pm
Sunday's Best
Every Sunday, sip on signature handcrafted cocktails, let the sweet sounds of our DJ set the tone for the day, and celebrate all day long 16 floors above the city.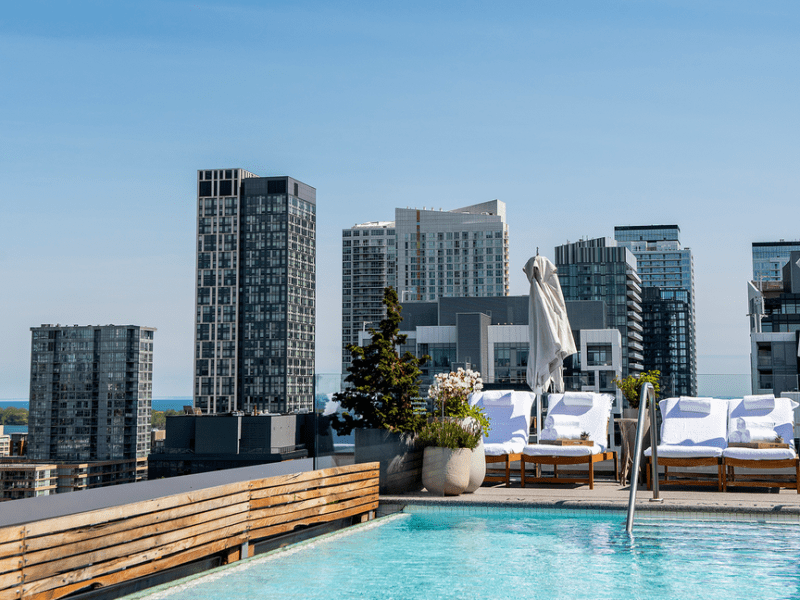 Rooftop Pool
The pool deck and plunge pool are exclusively for hotel guests and building residents. Subject to availability and limited to 90 minutes per guest room per day. Light bites and cocktail menu available. 
HOURS
Please note, the pool is closed for the season
Host Your Event
Dine poolside or host a party under the stars and enjoy the best view in the house. With relaxed seating, creative catering, and incredible unobstructed views of the Toronto skyline, Harriet's Rooftop is an unforgettable setting for your next private reception or special event.
Harriet's Signature Cocktails
Purple Rain

Grey Goose Pear, St. Germain, Homemade Lychee Hibiscus Juice, Prosecco

Shishito Margarita

Cazadores Blanco Tequila Infused with Shishito Peppers, Lime Juice, Agave

Sunset in The 6ix

Teremana Tequila, Amaro Montenegro, Select Aperitivo, Pineapple Juice, Lime

Blushing Geisha

Empress Gin, Soto Sake, fresh Lemon Juice, Dragon Fruit Syrup, Elderflower Tonic

Oaxacan Paloma

Mezcal, Fresh Lime Juice, Agave, Fever Tree Grapefruit Soda
Harriet's Seasonnal Cocktails
Chai Cloud

Chai Tea Infused Bearface Whisky, Licor 43, Gomme Syrup, Lemon Juice, Egg White, Nutmeg

Flow and Glow

Bacardi Ocho, Sake, Yuzu Shiso Leaf Simple Syrup, Ginger Beer

Orchard Promenade

Rémy Signature Cognac, Caramel Apple Butter Syrup, Vanilla And Fig Bitter

Unwind at 1 : Served Hot

Dillon's Rye, Espresso, Simple Syrup, Maple Syrup Infused Whipped Cream

Cozy Apple : Served Hot

Cinnamon Infused Hendrick's Gin, Boulard Calvados, Apple Cider, Pear Syrup
The Japanese Garden
Kyuri

HP Juniper Classic (Natural Botanicals Distillates), Fresh Cucumber and Rosemary, Elderflower Tonic

Pitahaya

Fresh Cucumber, Monin Dragon Fruit Syrup, Fresh Yuzu Lemon Juice, Coconut Water

Rabenda

Fresh Blueberries, Lavender Syrup, Lime Juice, Fever Tree Soda Water.
Snacks
Orange Black Bean Sauce

$14.00

Shishito Pepper

Gochujang Sauce, Toasted Peanuts
Chilled
Hijiki Salad

Wakame, Daikon, Carrot, Cucumber, Red Pepper, Sanbaizu, Shiso Chip

H Salad

Carrots, Mango, Peppers, Cucumber, Jicama, Ginger & Carrot Dressing, Shiso Chip

Fresh Oysters

Lemon, Ponzu, Wasabi

Sea Bream Sashimi

Citrus Cured Sea Bream, Green Ponzu, Shiso Gel, Radish, Celery, Yuzu Pearl, Seaweed Cracker

Salmon Taco

Sweet Chili Miso, Jalapeno Aioli, Iceberg Lettuce, Crispy Wonton

A5 Wagyu Tataki

Apple Ponzu, Pear Slaw, Yolk Sauce, Crispy Garlic
Hot
Veggie Tempura

Mushrooms, Green Beans, Japanese Mustard Aioli, Togarashi

Miso Glazed Cauliflower

Pomegranate, Sesame Seeds, Chive

Yuzu Mushroom Baos

Steamed Bao Buns, Yuzu Kosho-Soy marinated, Mushroom, Baby Bok Choy

Shrimp Tempura

Sweet Chili Aioli, Chives, Crispy Rice Puff

Calamari & Pork Gyoza

Black Garlic Shoyu

Miso Sea Bass

Sweet Miso Glazed, Steamed Vegetables

Chicken Karaage Sliders

Sweet & Spicy Soy, Kewpie Mayo, Cucumber Kimchi, Green Onion, Mini Brioche Bun

Beef Kushiyaki

Short-rib Steak, Black Garlic Glaze, Shishito Peppers, Wasabi Relish
Harriet's Specialty Rolls
H-Roll

Spicy Tuna, Avocado, Cucumber, Seared Salmon, Ginger Aioli, Spicy Aioli, Unagi Sauce, Crispy Shallot

Chili Crab Roll

Snow Crab, Cucumber, Avocado, Chili Aioli, Scallion, Chive Oil, Unagi Sauce

Vegetable

Avocado, Cucumber, Asparagus, Truffle, Crispy Shallot, Shiso, Spicy Aioli

Truffle Scallop

Scallop, Avocado, Asparagus, Truffle Paste, Chili Ailo and Unagi Sauce

Hamachi Tiger

Hamachi, Cucumber, Asparagus, Pink Ginger, Wasabi, Miso Cream, Unagi Sauce, Chives and Chili Oil

Hamachi - Yellowtail

$7.00
Dessert
Chocolate Black Sesame Cones

Chocolate Waffle, Chocolate Cremeaux, Black Sesame Crumble, Black Sesame Chantilly, Yuzu Pearls
For the Early Risers
Seasonal Fruits & Berries

Oyako Waffles

Buttermilk Fried Chicken, Quail Egg, Honeybutter, Chives, Green Salad, Miso Vinaigrette

Selection of Morning Pastry Basket

Pain au chocolat, Croissant
Cocktails
Harriet's Marg

Cazadores Blanco,Cointreau, Lime, Agave

Sunset in the 6ix

Teremana Blanco, Select Aperetivo, Amaro Montenegro, Pineapple juice

Red Sangria

Red Wine, Cherry Liquor, Raspberry Apple Cider, Soda Water

Espresso Martini

Dillon's Vodka, Coffee Liqueur, Espresso, Simple Syrup

Chai Cloud

Chai Infused Bearface Whisky, Licor 43, Lemon, Gomme Syrup, Egg White

Unwind at 1: Served Hot

Dillon's Rye, Espresso, Maple Whipped Cream

Cozy Apple: Served Hot

Hendrick's Gin, Calvados, Apple Cider, Pear Syrup
Sparkling By The Glass
NV Prosecco, Zonin, Veneto, Italy

NV Champagne Tarlant Brut Reserve, Oeuilly France

Biodynamic
White & Rose Wines By The Glass
20' Pinot Grigio, Dolomitti, Alto Adige, Italy

Biodynamic

21' Viognier, Domaine Gayda, Languedoc, France

'19 Chardonnay, La Crema, Sonoma Coast, USA

Certified Green

22' Sauvignon Blanc, Stony Bank, Marlborough, New Zealand

Sustainable Practice

21' Rose Gerard Bertrand, "Cote Des Roses", Cote de Provence, France,

21' Rose Chateau Minuty "Prestige", Cote de Provence, France
Red Wines By The Glass
14' Malbec, Humberto Canale Estate, Alto Valle Del Rio Negro, Patagonia, Argentina

20' Cabernet Sauvignon, Blazon, Lodi, California, Usa

19' Chateau La Croix St Pierre, Cote de Bordeaux, France

18' Pinot Noir, Maison Roche de Bellene , Burgundy, France

Organic
Champagnes By The Bottle
NV Brut, Tarlant Reserve, Oeuilly, France

NV Brut, Moet & Chandon, Epernay, France

NV Brut, Veuve Clicquot (Organic), Reims, France

NV Rose Brut, Moet & Chandon, Epernay, France

'14 Rose (Organic), Louis Roederer, Reims, France

NV Blanc de Blanc, Ruinart, Reims, France

05' Brut, Pommery "Cuvée Louise", Reims, France

'12 Brut, Dom Perignon, (Organic), Hautvillers, France

NV Armand De Brignac, Ace Of Spades, Reims, France

'06 Brut Rose, Dom Perignon, (Organic), Hautvillers, France

NV Krug Rose, 24eme Edition (Organic), Reims, France

NV Armand De Brignac, Ace Of Spade Rose, Reims, France

Cristal, Louis Roederer, Reims, France

2013 Bottle 750Ml

$980.00
Red Wines By The Bottle
'18 Shiraz, Earthworks (Certified Sustainable & Vegan), Barossa, Australia

'18 Malbec, Humberto Canale Estate, (Sustainable Practice), Patagonia, Argentina

'20 Barbera D'Alba Borgogno, Piemonte, Italy

'20 Faugeres, Chateau Pentus (Organic), Languedoc, France

'20 Pinot Noir, Leaning Post, Niagara, Ontario, Canada

14' Chateau Barrabaque, Fronsac Bordeaux, France

20' Rue Naujac Lot 33 Cabernet Sauvignon , Columbia Valley, Washington

19' Pinot Noir, Juggernaut (Organic), Russian River Valley, USA

'19 Cabernet Sauvignon, Juggernaut (Organic), Hillside Vineyard, USA

11' Chateau Moulin Noir, Montagne St Emilion. Bordeaux, France

'18 Pinot Noir, Maison Roche de Bellene (Organic), Burgundy, France

'19 Red Blend, Stratus, Niagara On The Lake, Ontario, Can

'18 Pinot Noir, La Crema, Sonoma Coast (Certified Green), California, USA

'20 Cabernet Sauvignon, Robert Hall, Paso Robles, USA

18'Merlot, Burrowing Owl, Okanagan Valley, BC, Canada

'16 Zinfandel, Moss Rozz (Organic), Oak Ridge, California, USA

'17 Cabernet Sauvignon, Innisfree, Napa Valley, USA

19' Cabernet Sauvignon, Hess Allomi, Napa Valley, California, USA

'17 Pinot Noir, Long Meadow Ranch (Organic), Anderson Valley, California, USA

'14 Pinot Noir, Piazza Del Dotto, Sonoma Coast, California, USA

'19 Chianto Classico Bibbiano, Gran Rezerva, Tuscany, Italy

18' Volnay, Domaine Claude Leblanc, Burgundy, France

18' Cabernet Sauvignon, Jordan, Alexander Valley, Sonoma, Usa

20' Nuits St Georges, Domaine Claude Leblanc, Burgundy France

'17 Pommard "La Combotte", Domaine Michel Arcelain, Burgundy, France

'18 Chateau La Fleur, St Emilion Grand Cru, Bordeaux, France

'18 Cabernet Sauvignon, Cave Blend, Del Dotto Vineyards, Napa Valley, USA

'19 Cabernet Sauvignon, Joseph Phelps, Napa Valley, California, USA

17' Brunello De Montalcino, San Filipo, La Lucere, Italy

18' Barolo, Cesare Bussolo, Del Comune Di La Morra, Italy
White Wines By The Bottle
19' Sauvignon Blanc, Big Head, Niagara On The Lake, Canada

19' Chardonnay, Louis Latour, Burgundy, France

21' Muscadet, Domaine De La Gallissoniere, Sevres Et Maine Sur Lie, France

18' Chardonnay, Bogle Vineyards, (Certified Green), California, USA

18' Pinot Bianco, Castelfeder "Vom Stein", Vignette delle Dolomiti, Italy

19' Chateau de Montfaucon, Comtesse Madelaine de Lirac, Bordeaux, France

19' Chardonnay, La Crema (Certified Green), Sonoma Coast, USA

18' Chardonnay, Long Meadow Ranch, "Farmstead" Oragnic, Napa Valley, California, USA

19'Henri Bourgeois, Les Barronnes Sancerre (S), Loire Valley, France

20' Chardonnay, Burrowing Owl, Okanagan Valley, Canada

18' Puilly-Fuisse, Chateau De La Chaize, Odenas, Burgundy, Fr

15' Chardonnay, Thomas George Estates, Russian River Valley, California, USA

'18 Montagny 1er Cru, Les Coeres, Montagny, Burgundy, Fr

'17 Chardonnay, Domaine Michel Arcelain, Pommard, Burgundy, Fr

18' Chardonnay, Corton Charlemagne Grand Cru, Beaune, France