Private Dining
Space to gather. Reasons to celebrate. Farm-to-fork offerings. Your one-of-a-kind event will fit perfectly in any of these unique spaces, with state-of-the-art technology, turnkey event planning and farm-stand fresh food and drinks.
2,293 sq. ft. | Up to 200 Guests
Flora Lounge
Bring the outside in with our 2,293-square-foot lobby lounge, Flora. Thoughtfully designed with floor-to-ceiling windows, Flora Lounge is the place to be for your cocktail reception.
Seating Capacities
Reception
200
1,064 sq. ft. | Up to 120 Guests
Harriet's Rooftop
Host your next event at the incredible Harriet's Rooftop at 1 Hotel Toronto. The rooftop is the perfect vantage point to take in the expansive views of the Toronto skyline.
Seating Capacities
Banquet
70
Reception
150-200
Theatre
125
498 Sq. Ft. | Up to 25 Guests
Casa Madera Private Dining Room
Celebrate an intimate event in our private dining room with stunning floor-to-ceiling windows and views of the 1 Hotel's Garden Pavilion.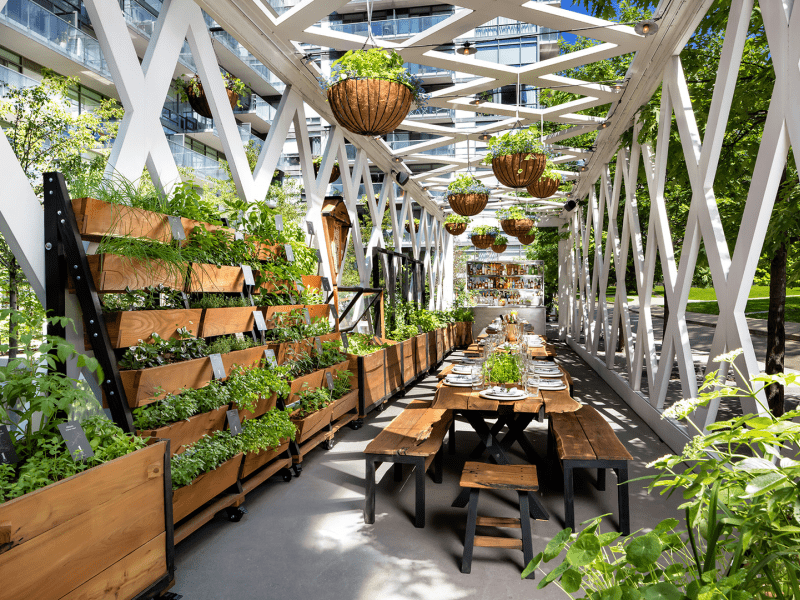 260 sq. ft. | Up to 60 Guests
Garden Pavilion
Celebrate surrounded by nature in our on-site luscious garden. The Garden Pavilion can accommodate up to 32 guests seated in reclaimed wood harvest tables or 60 guests for a unique cocktail reception. 
Seating Capacities
Banquet
40
Reception
50
Theatre
60
Classroom
20
Boardroom
32
2,000 sq. ft.
Birch House
Feel like you are in the comfort of home in our beautifully designed, light-filled penthouse. With unique touches and sweeping city views, this is the perfect location to host an intimate dinner or private gathering.
1,150 sq. ft.
Willow House
Plan an intimate event in our beautifully designed, urban retreat with a separate living room, dining area, and kitchen area.
1 Hotel Toronto Event Space Capacities
Space
SQ FT
DIMENSIONS
CRESCENT ROUNDS
RECEPTION
THEATRE
CLASSROOM
U-SHAPE
BOARDROOM
Ground Level

Flora Lounge

2,293
56'x37'
-
200
-
-
-
-

Casa Madera

3,348
83'x37'
-
250
-
-
-
-

Park Room

1,130
26'X37'
-
75
-
-
-
-

Private Dining Room

498
13'X31'
-
-
-
-
-
22

Garden Pavilion

260
13'x20'
-
50
60
20
-
32
Outdoor Space

Harriet's Rooftop

1,064
13'x20'
-
150-200
125
-
-
-

Third Floor Terrace

4,368
13'x20'
-
200
150
-
-
-
Lower Level

Maple

2,976
60'x50'
90
200
200
100
50
50

Silver Maple

1,430
55'x26'
50
140
100
55
30
40

Red Maple

1,430
55'x26'
50
140
100
55
30
40

Chestnut

1,032
43'x24'
40
100
120
60
30
40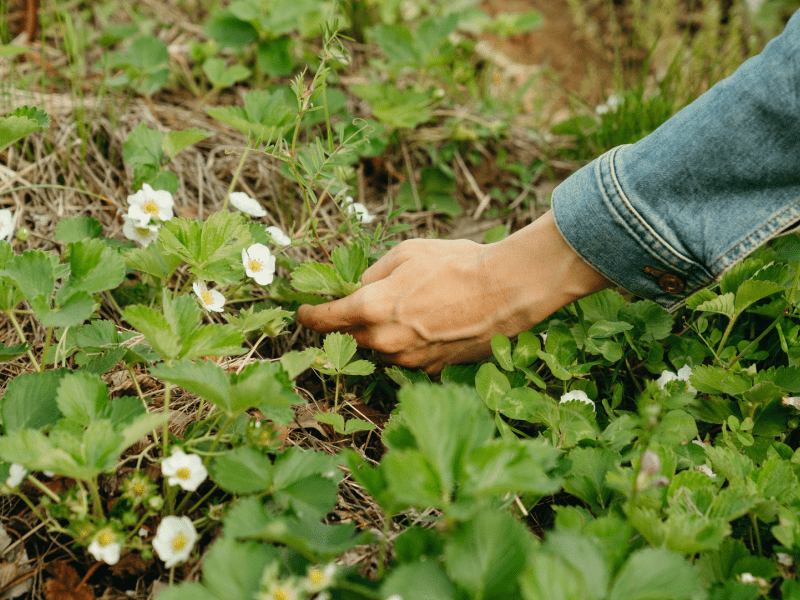 Food Sustainability
Celebrating fresh Ontario-grown ingredients and sustainable practices.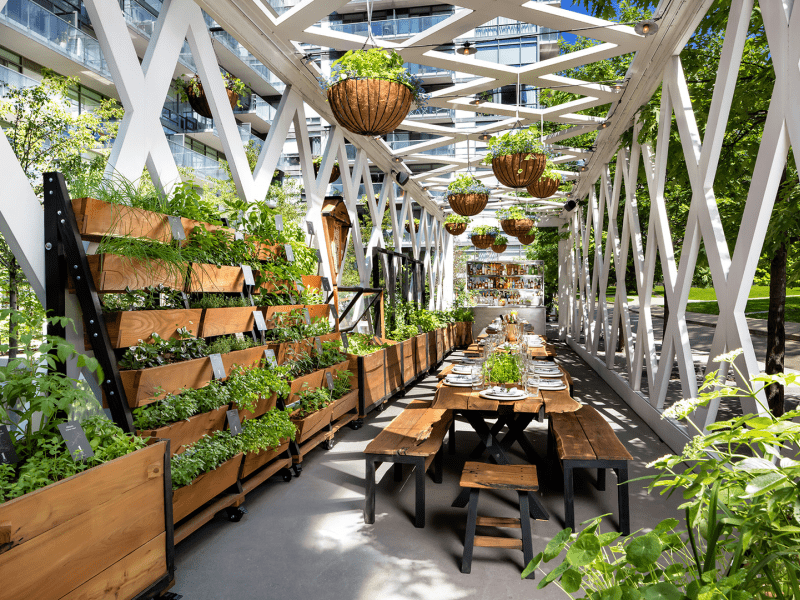 Garden Pavilion
The Hotel's onsite seasonal Garden Pavilion supplies all on-property restaurants and grows a selection of crops including 100% organic herbs, fruits, lettuces, edible flowers, peppers, onions, beans and specially hybridized pollinator perennials and shrubs. The Garden Pavilion is also home to a "Bee Hotel" designed to attract native bees and pollinators by building a habitat uniquely designed for their nesting preferences.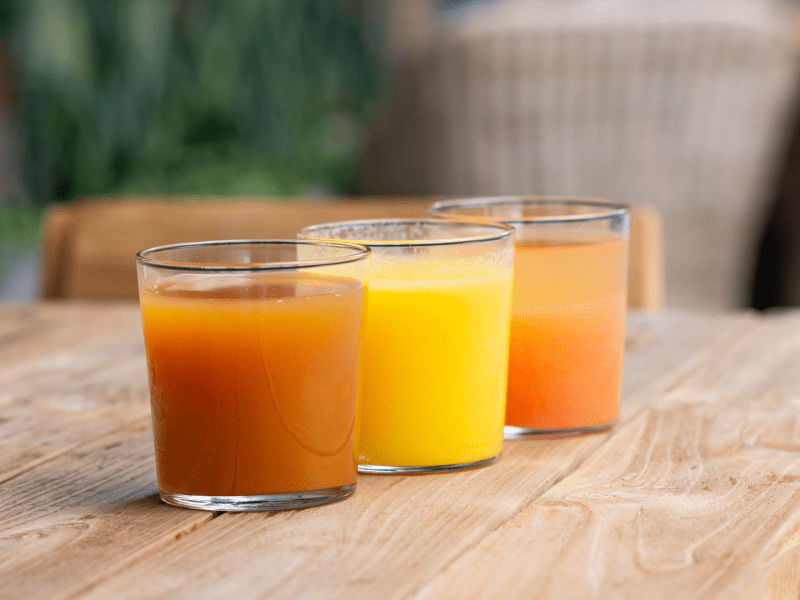 Fresh Pressed Juice
Fresh pressed juice is made to order on-site, with ingredients from the Garden Pavilion and recipes and ingredients developed to promote the wellness and nutrition of our guests (ginger, carrots, berries, etc.), and all restaurant kitchens adhere to stringent compost and zero-waste practices.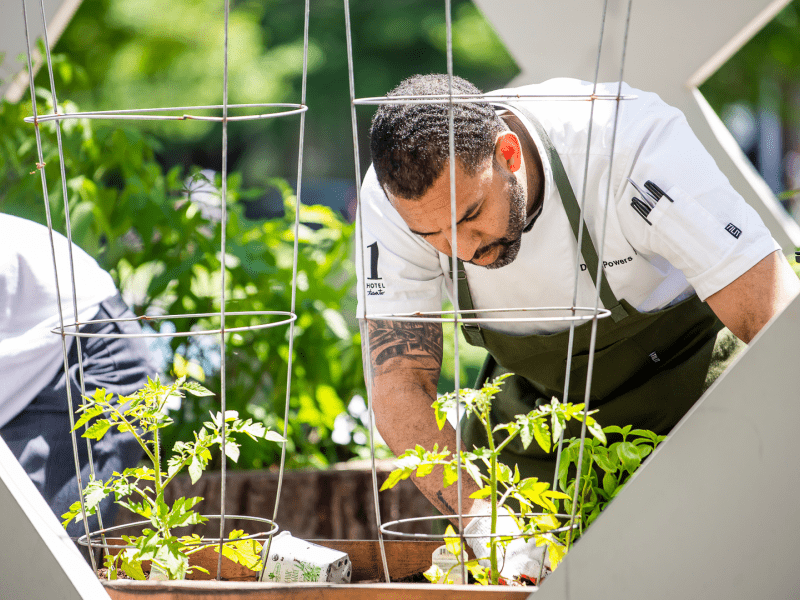 Live Local
The hotel's culinary team takes pride in their relationships with the local farmers, purveyors who supply their kitchens with high-quality, sustainably-made products. Farmers across Ontario provide us with quality, fresh produce so our guests can savor the seasons while the hotel works to preserve the environment by purchasing local.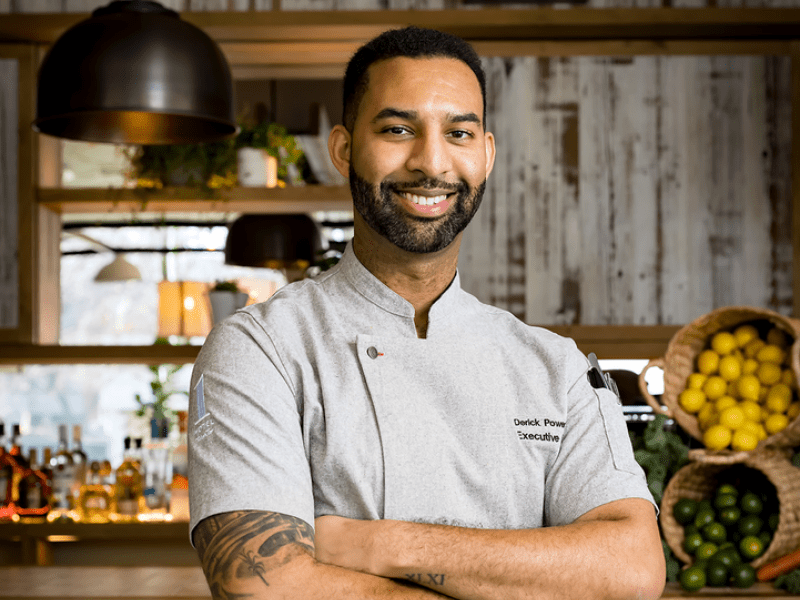 Meet the Chef
As Executive Chef, Derek Powers Jr. oversees the culinary vision and approach at 1 Hotel Toronto, ensuring our eateries uphold their reputation of using fresh and seasonal ingredients from local Ontario purveyors. At 1 Hotel Toronto, Chef Powers and his talented team are focused on crafting delicious zero-waste dishes that showcase the Hotel's commitment to preserving the beauty and bounty of nature.
Our Safety & Health Measures
We've Got Your Back
We can't wait to welcome your next meeting or event to our sustainable sanctuary. To do so safely and cautiously, we've made some noticeable and necessary changes to our operations. We consulted with leading health experts and our director of environmental health and safety to construct a plan in accordance with the Public Health Agency of Canada and WHO guidelines that takes into account the complete experience for your gathering.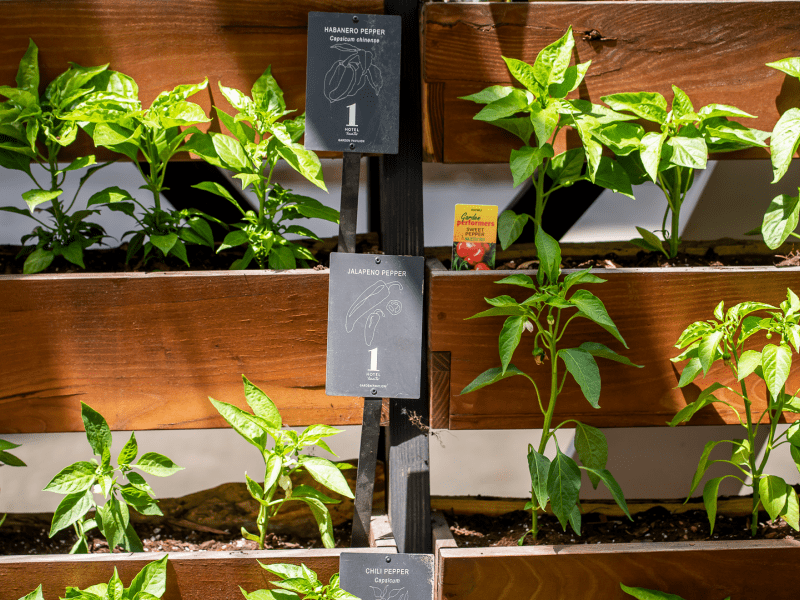 Just wanted to say "thank you" for taking such great care of our executive team.  They were all extremely satisfied and certainly impress with the services and newly renovated product.  They have asked me to let you all know that they are excited to partner with the 1 Hotel Toronto and look forward to coming back in the near future!
Corporate Client, September 2021