Weddings
Weddings mark new beginnings. 1 Hotel Toronto offers the perfect setting to celebrate the start of a life with the one you love. Celebrate with us, and watch love grow.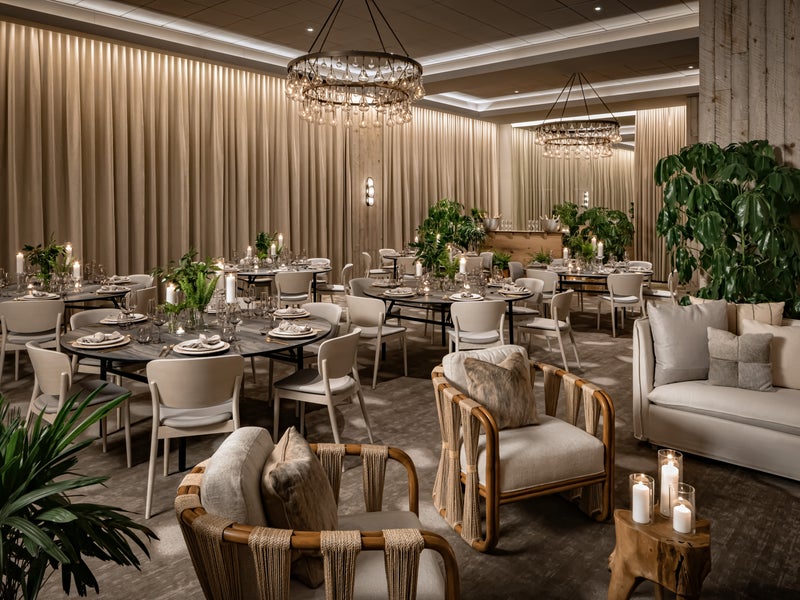 2,976 sq. ft. | Up to 200 Guests
Maple
Our 2,976-square-foot ballroom can accommodate up to 160 guests for a plated event with a dance floor. This space can also function as one large room or can be divided into two, for a separate ceremony, cocktail reception or wedding reception.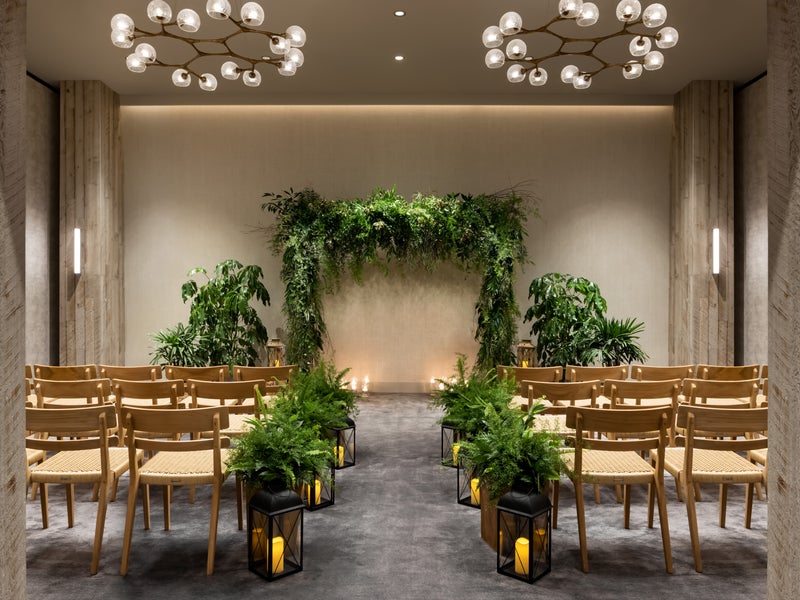 1,032 sq. ft. | Up to 120 Guests
Chestnut
Intimate weddings have never looked this good. Celebrate with an event for up to 120 guests in our 1,032-square-foot Chestnut ballroom.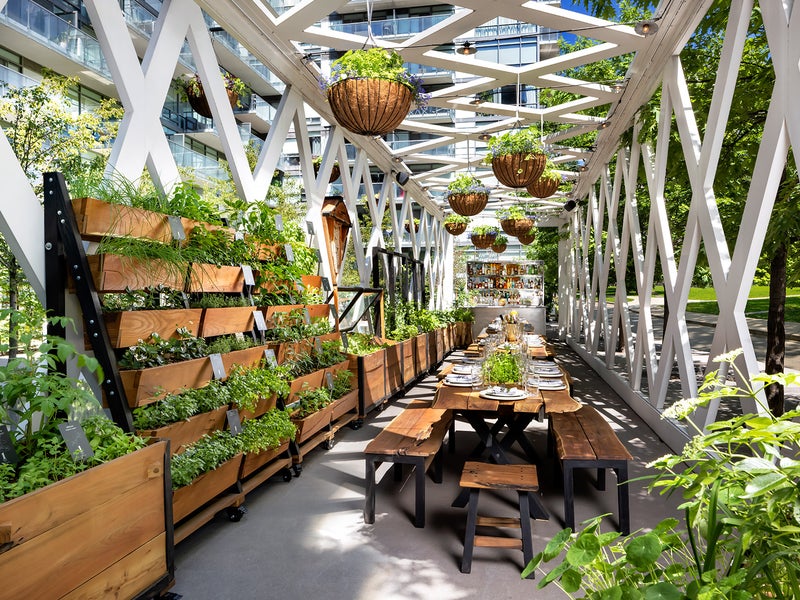 260 sq. ft. | Up to 60 Guests
The Garden Pavilion
Host your rehearsal dinner or your picture-perfect morning-after brunch in our bountiful garden. Our Garden Pavilion can accommodate up to 32 guests seated at our stunning reclaimed wood harvest tables.
Seating Capacities
Banquet
40
Reception
50
Theatre
60
Classroom
20
Boardroom
32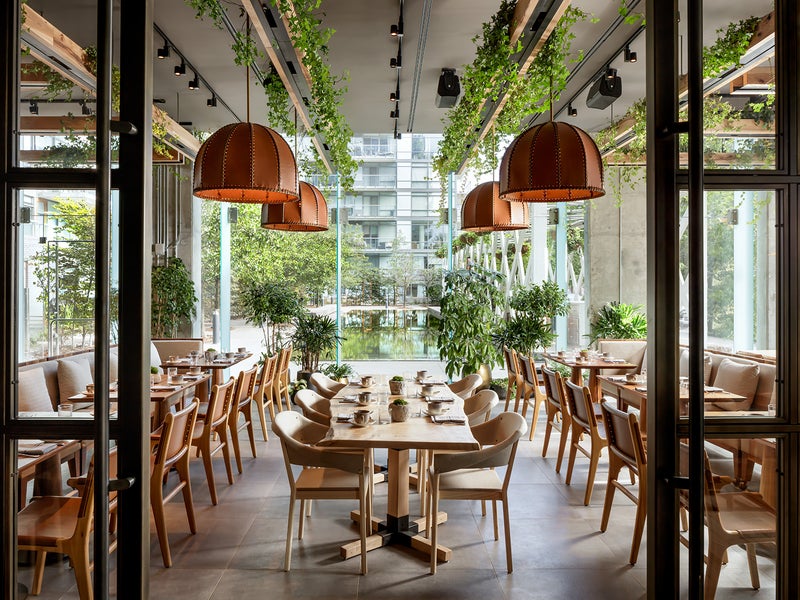 3,348 Sq. Ft. | Up to 250 Guests
Casa Madera
Let nature guide the way, this light-filled space is the perfect location to cheers to love.
Seating Capacities
Banquet
180
Reception
250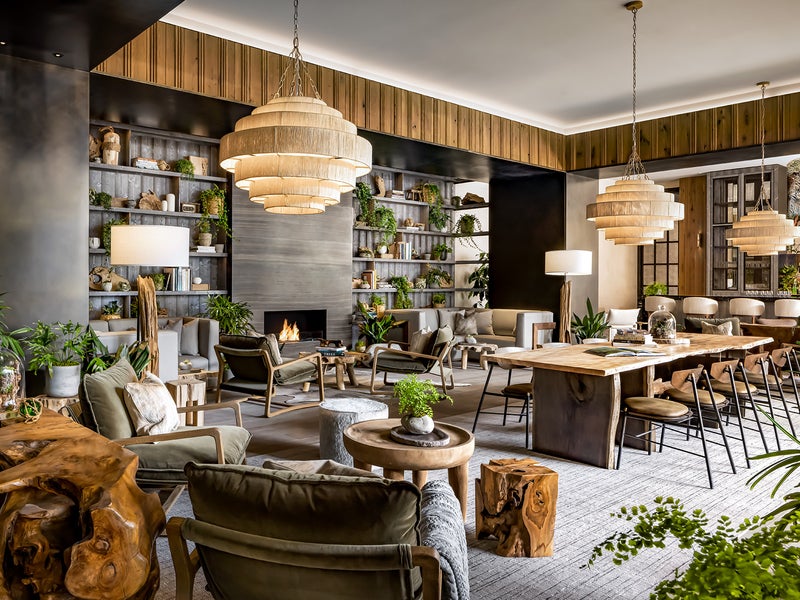 2,293 sq. ft. | Up to 200 Guests
Flora Lounge
Bring the outside in with our thoughtfully designed 2,293-square-foot Flora Lounge. Bright, airy, and beautiful with floor-to-ceiling windows and an open concept plan, Flora is the place to be for your cocktail reception.
Seating Capacities
Reception
200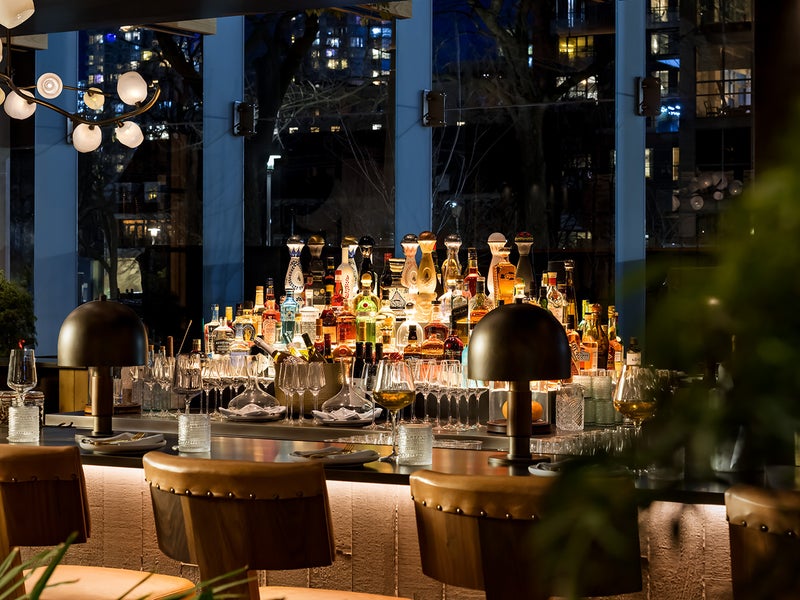 1,064 sq. ft. | Up to 180 Guests
Harriet's Rooftop
Host your ceremony at Harriet's Rooftop at 1 Hotel Toronto. The magical rooftop boasts one of the most expansive views of the Toronto skyline. A perfect place to celebrate love with those you cherish most.
Seating Capacities
Banquet
70
Reception
150-200
Theatre
125
1 Hotel Toronto Wedding Space Capacities
Space
SQ FT
DIMENSIONS
CRESCENT ROUNDS
RECEPTION
THEATRE
CLASSROOM
U-SHAPE
BOARDROOM
Ground Floor

Flora Lounge

2,293
56'x37'
-
200
-
-
-
-

Casa Madera

3,348
83'x37'
-
250
-
-
-
-

Park Room

1,130
26'X37'
-
75
-
-
-
-

Private Dining Room

498
13'X31'
-
-
-
-
-
22

Garden Pavilion

260
13'x20'
-
50
60
20
-
32
Outdoor Space

Harriet's Rooftop

1,064
13'x20'
-
150-200
125
-
-
-

Third Floor Terrace

4,368
13'x20'
-
200
150
-
-
-
Lower Level

Maple

2,976
60'x50'
90
200
200
100
50
50

Silver Maple

1,430
55'x26'
50
140
100
55
30
40

Red Maple

1,430
55'x26'
50
140
100
55
30
40

Chestnut

1,032
43'x24'
40
100
120
60
30
40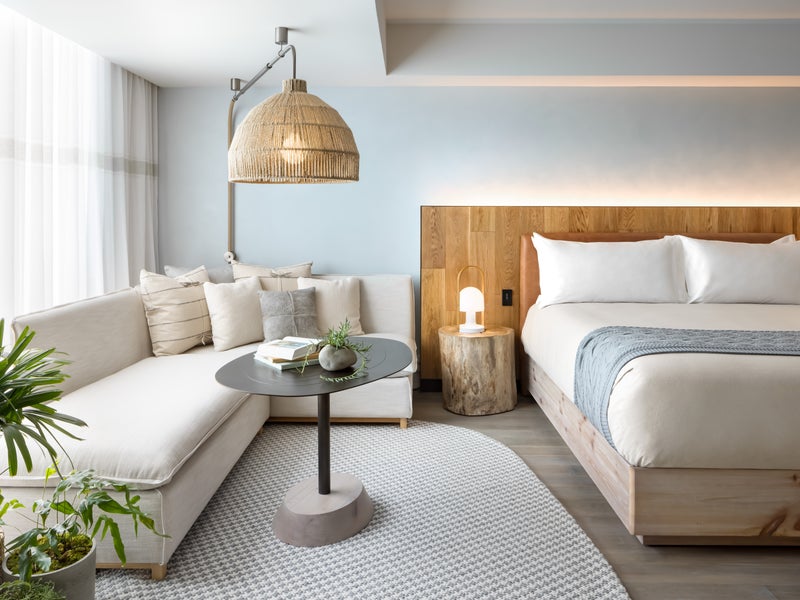 Room Blocks
Celebrate your big day in our urban oasis with your loved ones close by. Discounted room rates are available for groups of 8 or more, please contact our team for more information.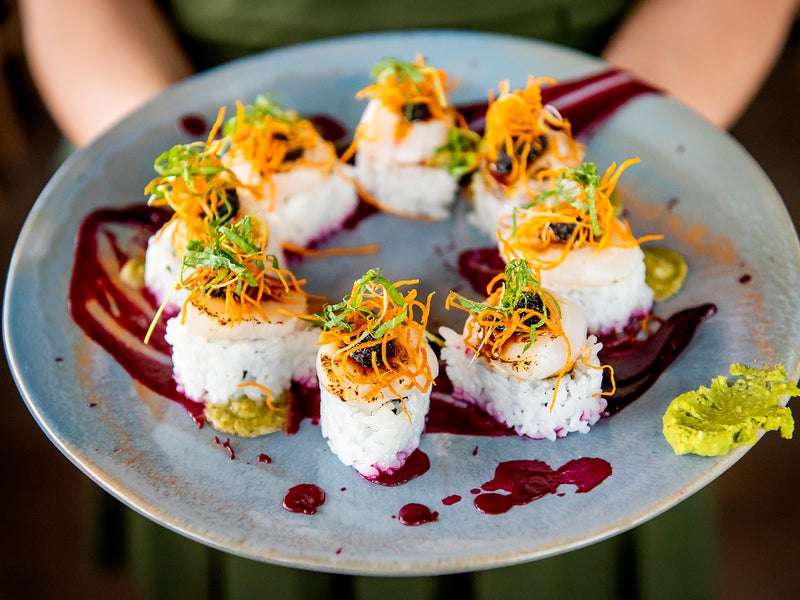 Ingredients First. Then Add Love.
Our catering menus are designed for the season with local and fresh ingredients to perfectly complement your celebration. Select from a variety of menu options for your cocktail reception, dinner and farewell breakfast. We're raising the bar for creative catering.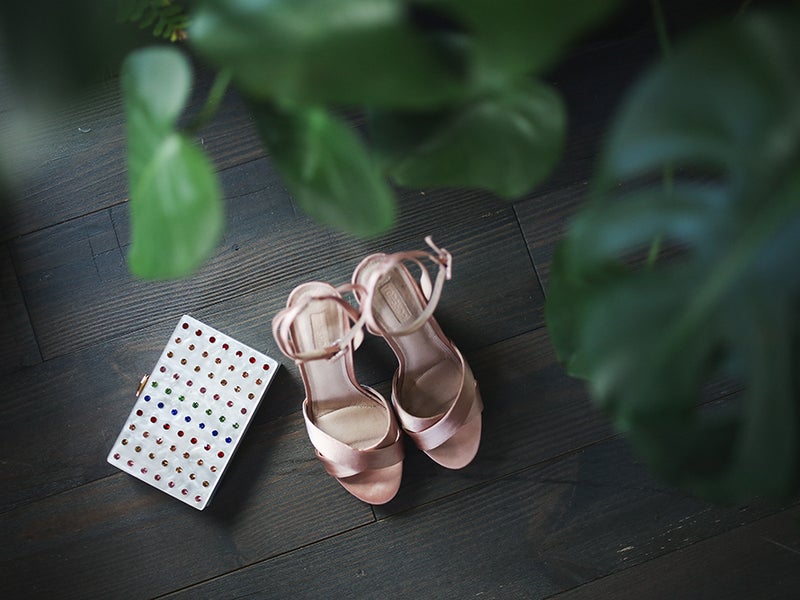 Elevated Extras
We offer special packages and experiences to create a truly memorable wedding weekend. Treat your bridal party to a private yoga session, add a special blessing ceremony for you and your soon-to-be husband or wife, gather your family for a rehearsal dinner or say goodbye to your guests with a farewell breakfast.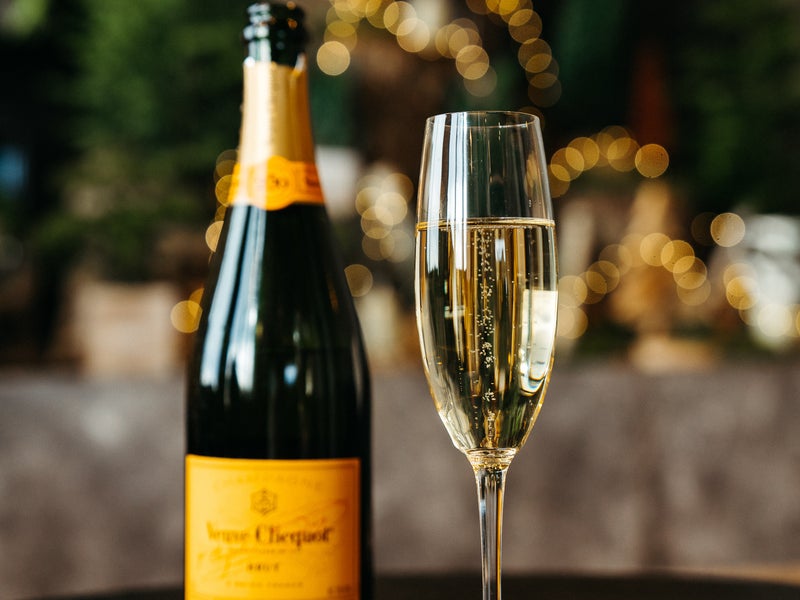 Honeymoons
Make your honeymoon memorable with our luxurious setting and picture-perfect location. Take time to relax and indulge at one of our four restaurants and bars, or get out and explore the beauty of Toronto together.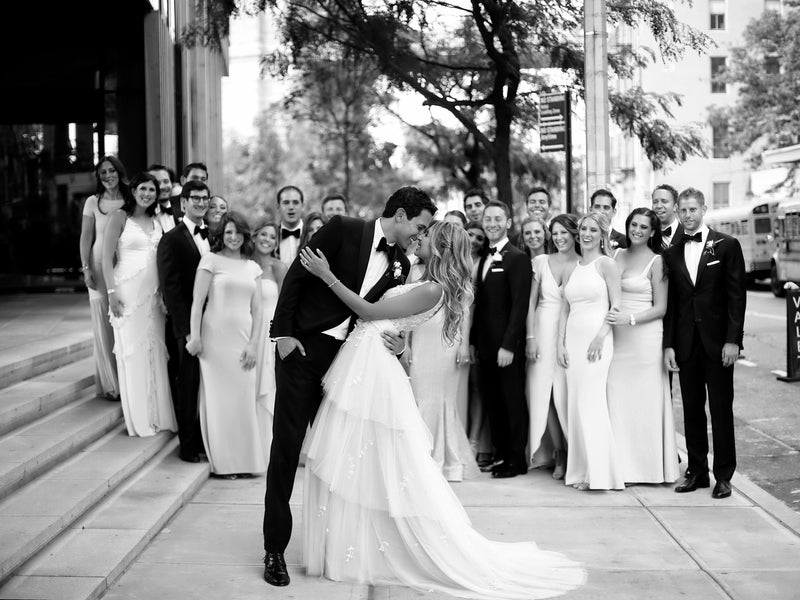 Planning
How can we help you create your dream wedding? Submit a request for a proposal, and share with us the details and budget, as well as your vision. We will respond promptly with answers and options.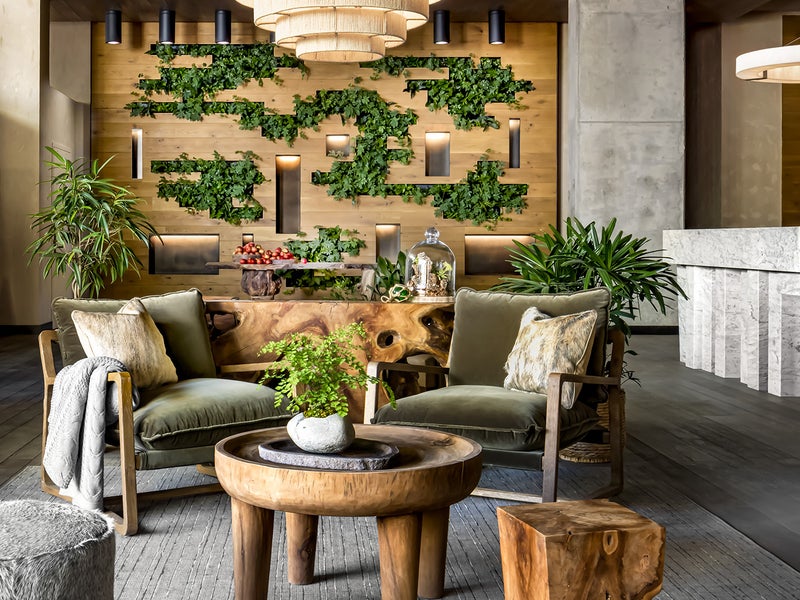 Sustainable Design
1 Hotel Toronto's design balances refined elements with a comfortably curated atmosphere, inspired by the creativity and craftsmanship of local artists, builders, chefs, and the surrounding community. All design choices and materials are used purposefully and thoughtfully with an emphasis on using existing structural and reclaimed materials sourced throughout Ontario.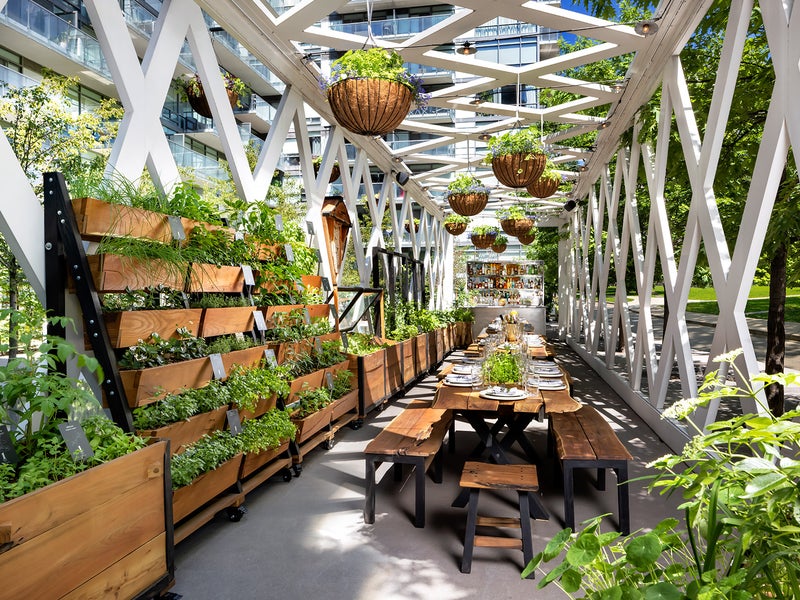 Sustainable Food Practices
The hotel's onsite seasonal Garden Pavilion supplies all on-property restaurants and grows a selection of crops including 100% organic herbs, fruits, lettuces, edible flowers, peppers, onions, beans and specially hybridized pollinator perennials and shrubs. The Garden Pavilion is also home to a "Bee Hotel" designed to attract native bees and pollinators by building a habitat uniquely designed for their nesting preferences.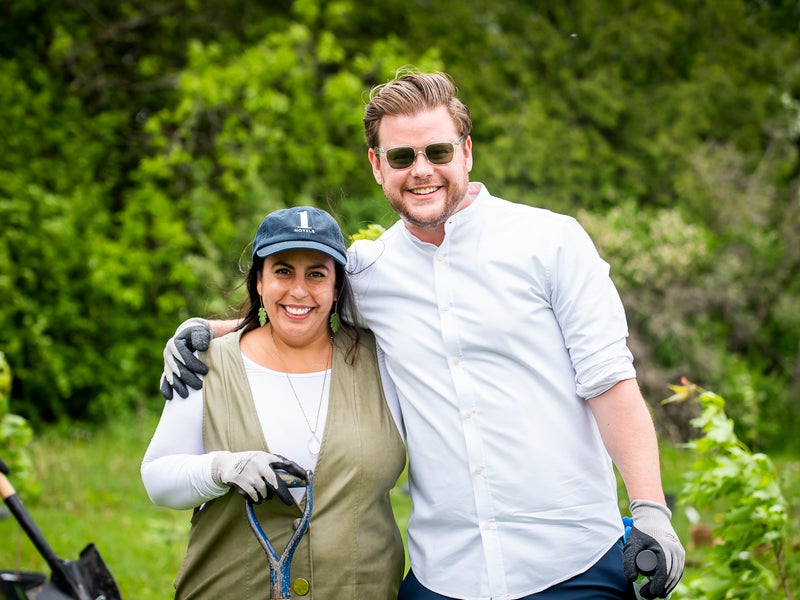 Local Love
The hotel's culinary team takes pride in their relationships with the local farmers, purveyors who supply their kitchens with high-quality, sustainably-made products. Farmers across Ontario provide us with quality, fresh produce so our guests can savor the seasons while the hotel works to preserve the environment by purchasing local to Ontario.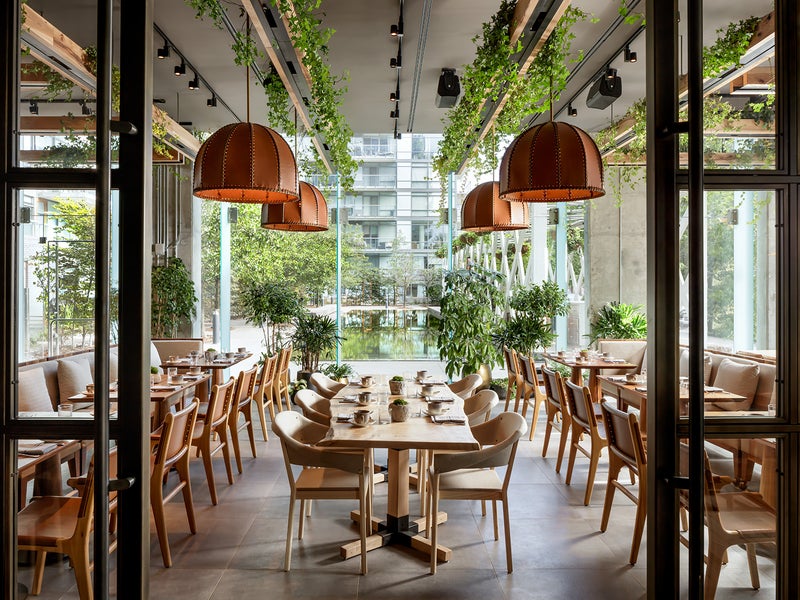 Journey to Zero-Waste
1 Hotel Toronto is dedicated to the quest for zero-waste. Reusable soil produced from on-site composting is used in over 3,300 plants located throughout the hotel and garden, and the hotel recycles through a partnership with Toronto-based Green For Life. The property also has an alliance with GreenPlanet to convert 100% of kitchen oil and grease into biofuel, alongside sustainable laundering services that rely on environmentally friendly products and eliminate harmful chemicals from the process.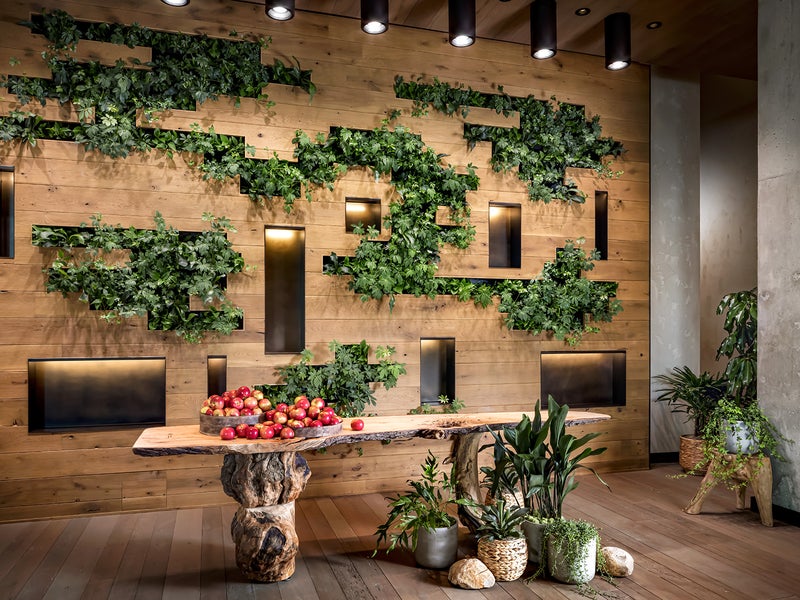 Thank you so much for everything this whole weekend - it was more perfect than we could have imagined. From the beautiful rooms to rolling with all the rain plan punches, the delicious food & even repurposing our decor for the brunch the next day - no detail was forgotten. We all had the most amazing experience. Please pass along our thanks to each member of the staff that day - from valet and bellmen, front desk, bartenders, and waitstaff, everyone was an absolute pleasure. We truly felt spoiled. A special thanks also to the chef & his team for an amazing meal!
Bride, August 2021