Do
Looking for things to do during your stay? We've got your daylife covered. From spa treatments at Bamford Haybarn Spa to art installations around Brooklyn Heights and Dumbo, there are many things to discover during your stay at 1 Hotel Brooklyn Bridge.
Bamford Wellness Spa
Relax in treatment rooms or our private suite as you rejuvenate with a selection of holistic treatments based on a heartfelt connection with nature and using natural restorative ingredients, as well as services and classes meant to nurture the mind, body and spirit. Named Best Facial in Allure Magazine's April Skincare Directory.
Mind and Movement
Recharge at The Field House, our state-of-the-art gym. Stay fit with a one-on-one training session with some of the world's top personal trainers. And get inspired in group classes, complimentary for hotel guests.
Rooftop Pool
Lounge poolside with NYC skyline views and handcrafted cocktails and bites, then cool off with a dip in our plunge pool. 
The pool deck and plunge pool are exclusively for hotel guests. Registered hotel guests must reserve pool seating through the 1 Hotels App, subject to availability and limited to 2.5 hours per guestroom per day. 
HOURS
Daily, 7am-7pm
Our Neighbors
Explore our neighboring local businesses, from yoga studios to hair salons, and experience all DUMBO has to offer. 
Audi Experience
We're always seeking innovative ways to show you how to live more sustainably. With this in mind, we're pleased to introduce the Official Electric Vehicle of 1 Hotels, the fully electric Audi e‑tron. Guests are welcome to enjoy the Audi Experience while taking advantage of the house car or test-driving the e‑tron during your stay. The house Audi e‑tron is available Friday - Sunday on a first-come, first-served basis from the hotel entrance. To test drive, please contact our concierge. 
HOURS
Monday - Wednesday | On Call Upon Request
Thursday - Sunday | 10am - 8pm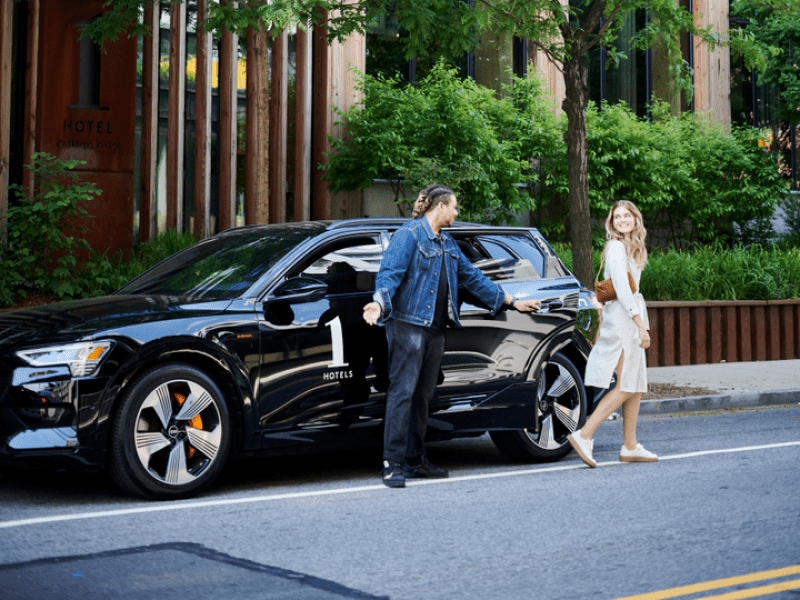 Travel with Care
Audi Excursions
Explore the natural beauty and bounty of New York with Audi Excursions. Our fully electric Audi e-tron house cars will take you on unexpected city adventures to Prospect Park and Oheka Castle.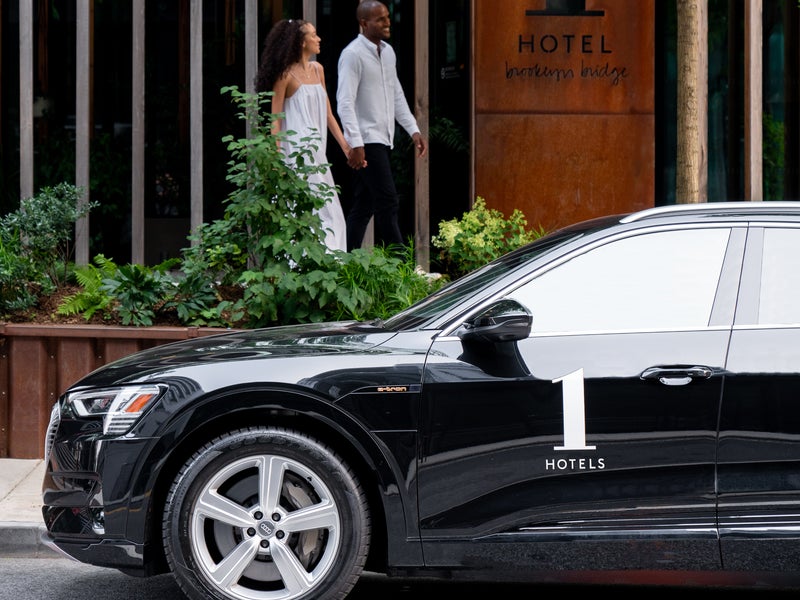 Travel with Care
Prospect Park
Seek serenity in Prospect Park, getting closer to nature in the heart of Brooklyn.
Take the time to relax and restore surrounded by the park's greenery and serenity.
Revel in the park's beauty through a scenic 3.5-mile horseback riding tour, courtesy of the Prospect Park Alliance.
Make your way to the Brooklyn Botanic Garden situated on 52 acres within Prospect Park, boasting a lush oasis of native flora and fauna, a Japanese Garden pond, and so much more.
*Audi e-tron must be reserved 24 hours in advance with concierge.
Travel with Care
Long Island's Sparkling Shoreline
Escape to Long Island's sparkling shoreline and coastal charm beginning at the magnificent and historic Oheka Castle.
Explore natural beauty and history with a guided tour of the treasured castle and gardens, situated atop a hill on the highest point of Long Island's Gold Coast.
After a breathtaking tour of the estate, top things off with an unforgettable meal at the OHK Bar & Restaurant, basking in the authentic European ambiance.
*Audi e-tron must be reserved 24 hours in advance with concierge.
The Screening Room
Join us for our weekly Movies at 1 movie nights, or welcome up to 50 guests for private screenings and presentations. 
[salon] 718
Looking for a bit of glam for a special event or just a night out? We have partnered with our Brooklyn neighbor, [salon] 718 for in-room hair and makeup services.