Frequently Asked Questions
1 Hotel Central Park is located on the corner of 58th Street and 6th Avenue, just steps from New York City's iconic Central Park.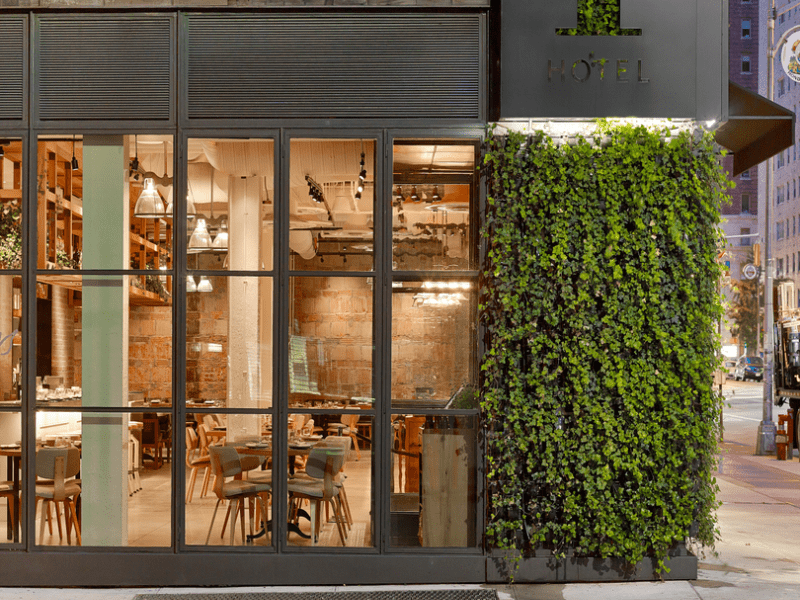 No, we do not allow smoking in rooms or on property.
Professional photography and videography are not permitted in public spaces or outlets. However, for event spaces or guest rooms that have been booked, photography and videography is permitted.
Yes, please address it to the individual, followed by 1 Hotel Central Park's address: 1414 6th Ave, New York, NY 10019
English, French, Italian, Spanish, German, Tagalog, Mandarin, Korean.
Yes, all guest rooms and public spaces have both central air conditioning and heating.
Our property will continue to be sanitized using hospital-grade, EPA-approved agents and activated oxygen spray bottles. Our kitchen staff maintains rigorous cleaning processes and our management team has undergone ServSafe® certification, ensuring enhanced safety training and educational materials.
Our concierge team is available to help with purchasing tickets to any Broadway show you might be interested in seeing. They also have great recommendations, if you're not sure what to see. Keep in mind, some shows sell out quickly – so it's always helpful to plan ahead!
Yes, when you join MISSION by SH, you'll be reducing your carbon footprint every time you visit one of our hotels. Redeem your rewards to offset the climate impact of your stay by funding projects like forestation, renewable energy production, and land conservation efforts that reduce greenhouse gas emissions.
1414 6th Ave
New York, NY 10019
We're happy to offer our Audi e-tron house car service for rides within a 15 block radius of the hotel. The house car is available on a first-come basis during select hours. To explore destinations beyond this radius, we invite you to reserve the fully electric Audi e-tron for a test-drive for up to two hours once during your stay. 
Please contact the 3rd party company that you made the reservation through. We are happy to assist as well please call in house reservations at 833.625.4111 and we will be able to assist you right away. Please have your confirmation handy.
Yes, we have accessible rooms available with features such as wheel chair accessible tubs and handlebars in a shower.
1 Hotel Central Park welcomes all four-legged furry travelers up to 40lbs max per room. This means that whether it is 1 pet or 2 pets, the combined max weight is 40lbs. Please note, if your room gets dirty, a $250 cleaning fee will be added at the end of your stay.
We don't have a designated area for pets, but we will gladly recommend Central Park.
No, we do not have pet-free rooms.
No, we do not have pet sitting or dog walking services. However, we can have our concierge team assist with locating services nearby.
Yes, our concierge team can assist with providing store locations.
Yes, there are pet-friendly restaurants nearby, our concierge team can help with recommendations.
WiFi internet access is complimentary for hotel guests.
Yes, The Field House is open 24hrs daily. It offers a wide range of equipment including treadmills, ellipticals, floor equipment, dumbbells, bikes and more.
We have two desks available on the 2nd floor, which guests can work from unless the space is being used for a private event. To request information about booking meeting room spaces, please click here. 
No, we do not have a pool at 1 Hotel Central Park.
While we do not have a spa on property, our concierge team can help you to find a nearby spa.
No, we do not have a kids club.
No, we do not offer currency exchange.
Yes, our retail offerings are located behind the concierge desk in the lobby, where you can find a little 1 Hotel to take with you.
Yes, we offer laundry & dry cleaning services.
Yes, Jams Restaurant has a bar - located on the lobby floor of the hotel. You can find more information about our restaurant here. 
Yes, in-room dining is available 7am-10pm.
Breakfast is served Monday - Friday at Jams from 7am - 11:30am, and brunch on weekends from 7am - 3pm.
Breakfast is not included in the room rate. You can view all of our offers here if you'd like to book an offer that includes breakfast.