Renew Your Synergy: How Vitahealth Nurtures Total Body Wellbeing on a Cellular Level
Vitahealth Precision Wellbeing at 1 Hotel Hanalei Bay offers targeted, science-backed strategies to nurture your holistic health. We sat down with Co-Founder Ashley DaSilva to explore their groundbreaking approach.
Published on: October 03, 2023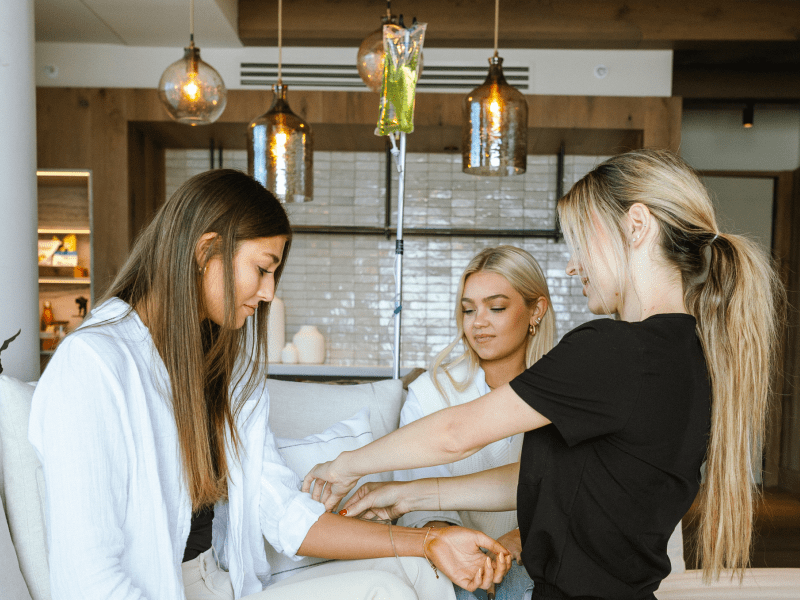 Vitahealth is a cutting-edge wellness brand blazing its own trail in the realms of science, technology, and cellular therapy. As a brand that truly believes in harnessing the natural regenerative power of human biology, Vitahealth's personalized treatments center around complete cellular transformation for total wellbeing. They combine innovative precision techniques—ranging from peptide infusions to metabolic reshaping—with personalized holistic health plans to bring you the best of both worlds and empower you to feel your absolute best.
As a wellness sanctuary on the wonderous island of Kauaʻi, 1 Hotel Hanalei Bay is a seamless setting for Vitahealth's precision wellbeing offerings. You can experience the revitalizing power of Vitahealth's approach through à la carte treatments at their state-of-the-art aesthetics center or the upcoming, fully integrated Within Journeys, launching soon at 1 Hotel Hanalei Bay. 
We sat down with Vitahealth Co-Founder Ashley DaSilva to learn more about the inspiration behind Vitahealth and how the brand's premium therapies, nutritional guidance, and turnkey Medical Aesthetics program can enrich your adventures on the sparkling shores of Hanalei Bay. You can embrace a new world of wellness and explore the full menu and details of these rejuvenating treatments here.
Vitahealth Co-Founder Ashley DaSilva on Their Human-Centered, Whole-Body Approach
The vision of Vitahealth, rooted in science, technology, and human biology, aligns closely with the ethos of 1 Hotels. Can you talk to us about what inspired Vitahealth?
The inspiration behind Vitahealth's vision stems from a combination of deeply personal experiences and a commitment to making wellbeing accessible to all. My dad, the late Dr. Guy DaSilva, MD, played a pivotal role in shaping Vitahealth's ethos. His legacy as a respected authority in various medical fields, including anti-aging, regenerative, and functional medicine, laid the foundation for Vitahealth's approach. Dr. DaSilva's pioneering work in IV therapy and bio-identical hormone replacement therapy motivated us to bridge the gap between scientific advancements and personalized wellness. Our belief in the significance of individual biology and our unwavering commitment to making wellbeing easily accessible are now more vital than ever. In a world that's constantly changing—and let's face it, stressful—our most treasured luxury is our own wellbeing. Our everyday inspirations are individuals of all walks of life that are taking the journey to live their best life by putting their wellbeing first.
Vitahealth offers a variety of wellness treatments such as premium infusion therapies, hormone balancing modalities, and cognitive wellbeing therapies. How do these treatments integrate into the guest experience at 1 Hotel Hanalei Bay? What makes Precision Wellbeing & Medical Aesthetics Center at Hanalei so unique?
The Precision Wellbeing & Medical Aesthetics Center at Hanalei is uniquely positioned as a hub for transformative wellbeing. What sets us apart is our holistic approach, combining cutting-edge scientific advancements with the regenerative power of human biology. Our medical aesthetics approach, unlike traditional cosmetics, merges science and beauty to enhance one's natural features while promoting overall wellbeing. We're proud to introduce innovative treatments like Doxxify and dermal fillers that align with our vision of harmonizing external beauty with inner vitality. These offerings are designed to empower guests to embrace and augment their true selves.
If there was one treatment you'd recommend guests take advantage of during their stay, what would it be?
If there were one treatment we recommend guests indulge in during their stay, it would be our foundational modality: the Vitacore drip with twelve super nutrients. This treatment serves as a powerful stepping stone towards transformative wellbeing. With its blend of essential nutrients and personalized enhancements, the Vitacore drip is tailored to elevate energy levels, promote cognitive sharpness, and support overall vitality. It provides a comprehensive and immediate boost that kick-starts guests' wellbeing journey.
What unique offerings or experiences will be offered to those on Within Journeys? 
This partnership is like no other for us as our vision for wellbeing and brand ethos are so similar. 1 Hotels' "Within" concept is fully aligned with our belief in the power of transformative change around one's biology and personal wellbeing journey. The integration of Vitahealth's diverse wellness treatments into the guest experience at 1 Hotel Hanalei Bay is designed to be a seamless, personalized journey. Guests will begin with a comprehensive consultation, where our medical experts and registered practitioners will gain insights into their individual needs and goals. Based on this, a personalized treatment plan will be crafted, drawing from our range of premium infusion therapies, hormone balancing modalities, cognitive wellbeing therapies, and more. This personalized approach ensures that each guest's journey is aligned with their unique biology and aspirations. Post-treatment, follow-up sessions, and ongoing support will help guests maintain their newfound sense of wellbeing.
What outcomes can guests expect to achieve on Within Journeys in partnership with Vitahealth? 
Within Journeys in partnership with Vitahealth offer guests an exceptional opportunity for comprehensive transformation. Guests can expect a highly personalized experience that addresses their individual biological needs and goals. Through treatments like the Vitacore drip with twelve super nutrients and tailored enhancements, cognitive wellbeing therapies, hormone balancing, and more, guests will embark on a journey of holistic wellness. The outcomes encompass increased vitality, cognitive clarity, emotional balance, and an overall sense of rejuvenation, aligning perfectly with the concept of unlocking individual potential that 1 Hotels' "Within" philosophy embodies.
What are your top wellness tips for staying healthy while traveling?
Staying healthy while traveling is crucial, and our focus at Vitahealth is on total wellbeing. Begin with a mindful mindset, ensuring you prioritize rest, focus, and mental clarity. Staying hydrated and maintaining proper nutrition is equally essential. Our treatments and therapies are designed to provide natural boosts to your system, helping you stay vital and balanced throughout your journey. Remember, wellness is a holistic journey that encompasses both the body and mind. Taking conscious steps towards self-care can make a significant difference in ensuring a fulfilling and healthy travel experience.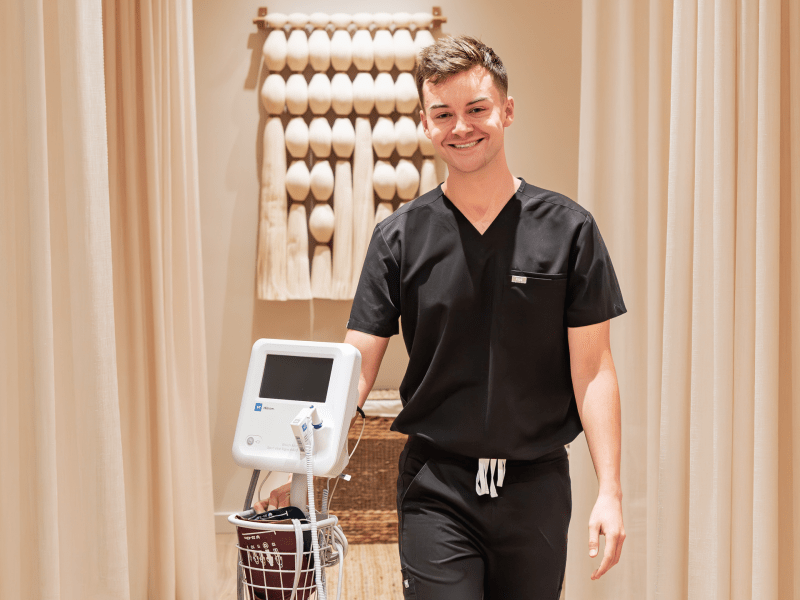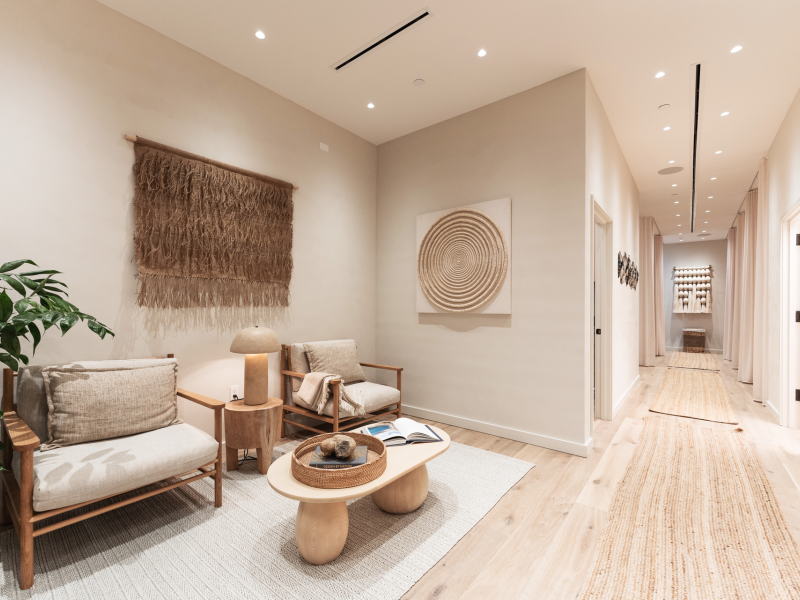 More Stories We'd Think You'd Enjoy
Steering the Future: Join Audi on the Journey Toward All-Electric Mobility
With an ambitious goal of phasing out the production of combustion cars by 2033, pioneering...
Sustainability
That's a Wrap: Our Favorite Sustainable Gifts for the Holiday Season
As the year comes to a close and we reach a time of reflection, we choose to express gratitude for...
Sustainability
A Message on Thanksgiving