Make The Most Of Thanksgiving In NYC
Published on: November 16, 2017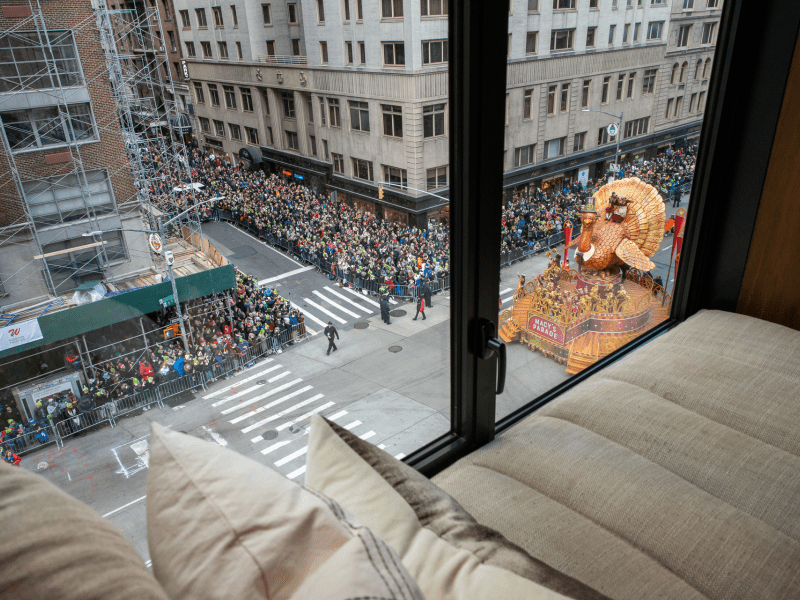 While most tourism hot spots with a temperate climate see a decline during the colder months, New York City continues to thrive as a destination for visitors from around the world. Whether people are braving the cold to see the leaves change, to enjoy Central Park covered in snow, or to witness 5th Avenue dressed up for the holidays is hard to say. One thing we do know: The energy of the holidays is felt the moment we put away our Halloween costumes and begin to focus on Thanksgiving.
Arguably one of the most celebrated holidays in New York City is Thanksgiving, brining a whole new energy to the Manhattan streets. Aside from the Christmas tree vendors going up on every corner, here are the things we suggest you do if you're spending your Thanksgiving in New York City:
The Parade
It may sound cliché, but there's no doubt it's also magical. Feel the festive energy at the Macy's Thanksgiving Day Parade alongside over a million spectators on the parade route as you attend the world's largest parade. Watch as larger-than-life balloons, spirited performances, and over 8,000 participants head down 6th avenue and pass directly by 1 Hotel Central Park. The parade takes place on Thanksgiving Day from 9am-12pm.
Since crowds aren't for everyone, consider viewing the parade balloon inflation in lieu of the actual parade. That's right – on Thanksgiving Eve you can watch as the balloons come to life while they're inflated outside of the American Museum of Natural History beginning at 1pm.
The Rinks
The cold tends to drive people indoors, but New Yorkers (and our visitors) don't let the low temperatures hold us back. There are over 10 ice skating rinks in New York City allowing people to get outdoors and flex their athletic abilities despite the cold. Embrace the chill of the ice as you practice a figure skating routine or just cruise around beneath the beautiful skyscrapers that border the parks.
Our favorite spot? Our neighbor of course! We suggest venturing to Central Park's Wollman Rink.
The Shopping
New York City is known to be a shopper's dream and the Thanksgiving holiday takes that one step further. Holiday markets, pop-up shops, and big holiday sales begin to appear in every corner of the city just in time to welcome the influx of visitors. While many choose to take a stroll down the iconic 5th Avenue to shop the holiday sales of iconic big box retailers, some opt to visit more local vendors like The Holiday Shops at Bryant Park. This European inspired open-air market features vendors from around the world showcasing local crafts, artisanal food, and holiday-themed goods in custom-designed "jewel box" kiosks.
The Switch
Wherever you decide to shop during your Thanksgiving visit to New York City, consider an alternative to the traditional plastic or paper holiday bags given out at retailers. Don't have a tote of your own to bring from home? 1 Hotel Brooklyn Bridge and 1 Hotel Central Park are teaming up to set up outposts in two of New York's busiest shopping districts so you can switch out your paper or plastic shopping bags for fairtrade cotton totes that you can reuse over and over again. We'll make sure your bags are properly recycled, so you can feel good about your purchases and look stylish with your new 1 Hotels Switch Out tote. #recycleeverything
The Feast 
With countless holiday activities at your fingertips it's easy to forget what people tend to love most about Thanksgiving, the food. Year after year visitors sacrifice their home-cooked holiday feasts to spend Thanksgiving in the city. This year join us at Jams in 1 Hotel Central Park or at The Osprey in 1 Hotel Brooklyn Bridge for Thanksgiving meals made at your home away from home in New York City.
​
More Stories We'd Think You'd Enjoy
Steering the Future: Join Audi on the Journey Toward All-Electric Mobility
With an ambitious goal of phasing out the production of combustion cars by 2033, pioneering...
Sustainability
That's a Wrap: Our Favorite Sustainable Gifts for the Holiday Season
As the year comes to a close and we reach a time of reflection, we choose to express gratitude for...
Sustainability
A Message on Thanksgiving