Ingredients First
Our People
Mezze at Home with Executive Chef David Henriquez
Just because you can't host your loved ones for intimate gatherings right now doesn't mean you don't deserve to treat yourself. Follow 1 Hotel South Beach Executive Chef David Henriquez's recipe for the perfect Mezze Platter to share with your quarantine buddies.
Published on: April 17, 2020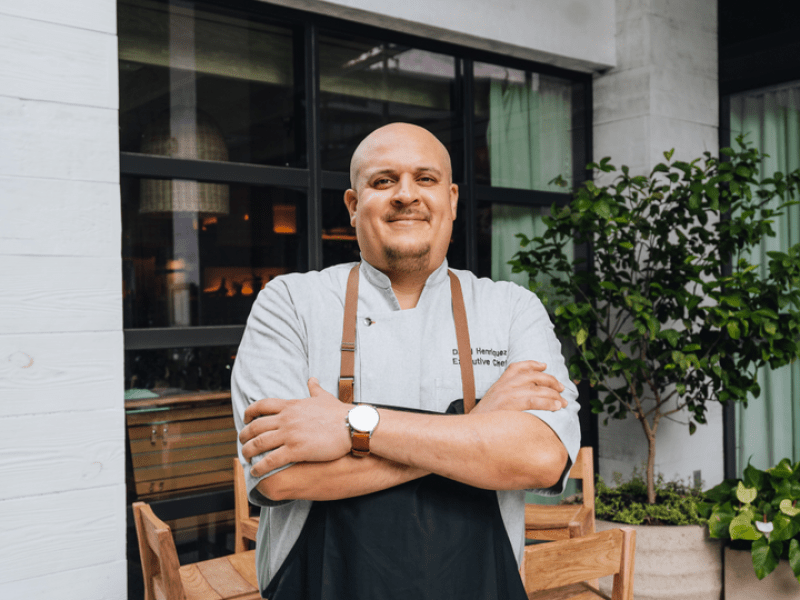 1 Beach Club Signature Mezze Platter 

Mahamara Spread Ingredients
¼ cup toasted walnuts 
¼ cup toasted almonds 
1 oz Pomegranate Malasses 
2 limes 
2 garlic cloves 
3 whole roasted red bell peppers (peeled and seeded)
1 oz extra virgin olive oil 
Salt to taste 
Mahamara Spread Directions
1. Toast walnuts and almonds together in a sauté pan at medium heat. Allow to cool and set aside.
2. Roast red bell peppers over an open flame, grill, or gas burner. Place in a bowl once charred and cover. Let cool for 10 minutes before peeling removing seeds.
3. Place the cleaned peppers in a food processor with nuts and remaining ingredients. Pulse until it becomes a spreadable texture.
4. Finish with extra virgin olive oil and salt.
 
Hummus Dip Ingredients
1 cup chickpeas drained 
2 garlic cloves
2 oz fresh lemon juice 
2 oz water 
½ cup tahini 
¼ extra virgin olive oil 
½ oz paprika 

Hummus Dip Directions
1. Add tahini and olive oil together in a food processor and pulse until smooth.
2. Add the remaining ingredients, and salt as needed.
3. Serve with a spoon and drizzle with olive oil and a pinch of paprika.
Tabbouleh Ingredients
¼ Bulgur wheat - cooked, follow the instruction from packaging, drain, and cool 
½ cup European cucumber small diced 
½ cup tomato small diced 
3 bunches of parsley chopped finely 
½ bunch mint leaves chopped 
1 garlic clove chopped 
5 oz lemon juice freshly squeezed 
4 oz extra virgin olive oil 
Tabbouleh Directions 
1. Mix all diced ingredients together and season salt to taste.
2. Allow the mixture to sit, so the ingredients have the chance to merge flavors.
Mezze Platter Directions
Serve these three spreads with your choice of crackers or grilled sourdough bread and seasonal vegetables, raw or lightly grilled and seasoned with salt and pepper.
1 Beach Club and Wave restaurant are sprouting soon at 1 Hotel South Beach. We'll see you in the sand. Learn more here.
More Stories We'd Think You'd Enjoy