Inge Theron, Founder of FaceGym, on Leading the Performance Skincare Movement
FaceGym is quite literally a skincare movement. We're sitting down with Founder Inge Theron to discuss the exercises, tools, and products known for lifting and revitalizing the 40+ forgotten muscles of your face.
Published on: February 07, 2022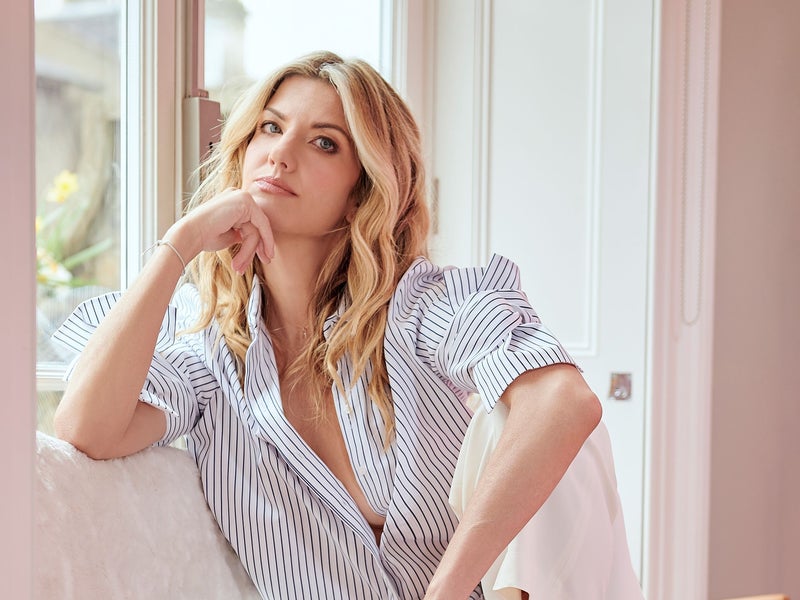 FaceGym is the first performance skincare experience of its kind—curating cutting-edge techniques to nourish, lift, and renew every single stressed (and often neglected) muscle in your face.
No matter where you are in the world, FaceGym has studio and online classes to teach you exactly how to stimulate blood flow, boost collagen, and drain your lymphatic system to increase cell renewal.
The results? A jaw dropping, eye-raising glow.
Not to mention, every aspect of FaceGym has been created with care and consciousness, including:
 
Effective skincare products that contain only intentional, clean, vegan, and cruelty-free ingredients.
Sustainable packaging made of ocean plastic, post-consumer recycled plastic, glass, aluminum, FSC certified paperboard, and plant-based inks.
Innovative processes that optimize your face's regenerative capacity, not cover it up.
This is all a result of the pioneering vision of Igne Theron, FaceGym's Founder and Creative Director. She set out to create a lineup of signature products and sculpting exercises that prep, train, and recover your face—using activating ingredients that boost your skin's own metabolism and revitalize it from the inside out.
Today, we're chatting with Inge to explore her personal skincare secrets and highlight her passion for facial wellness. Her innovation, care, and devotion for wellness (that's more than just skin-deep) makes us excited and proud to have our very own FaceGym location at 1 Hotel West Hollywood. 
Interview with Inge Theron, Founder and Creator of FaceGym
FaceGym workouts are non-invasive face lifting solutions. Can you explain how the massage techniques result in such amazing results?
FaceGym is the original and only gym designed specifically for the face. It's a truly unique concept. Our facial workouts are based on the notion of kickstarting your skin's metabolism and working out the 40+ 'forgotten' muscles in the face. I call them the forgotten muscles as many people don't know we have so many but also haven't connected the dots that if you train the muscles in your face consistently, they will retain memory and prevent sagging, much like working out your body. Our methods are all about toning, tightening, lifting, sculpting, and brightening. Each workout combines a set of signature moves including knuckling, pinching, and whipping strokes with cutting-edge tech including Electrical Muscle Stimulation and potent, high-performance FaceGym skincare to work your facial muscles. These techniques and products help to stimulate blood circulation, boost the lymphatic system, encourage collagen production, and increase cell renewal which delivers instant results and long-term benefits for your skin and muscles.
 
Your products are paired with QR codes and videos on how to properly apply and massage the products into your skin. Why was it important to you that clients be able to take the experience home, and what are the long term results of "working out" at home or in between sessions?
Because not everyone has access to a studio, we wanted to ensure all of our community could experience the FaceGym effect wherever they are. It started with including our unique QR codes on pack for our skincare and tools, because our workouts and products go hand-in-hand it was important to make sure everyone was maximizing the results of their routines at home.
Every product comes with its own QR codes which enables the consumer to unlock exclusive content, including trainer-led application videos. Accessible anytime, anywhere, the QR content has been designed specifically to share our expert knowledge directly with the consumer, helping them to make the most of their new products. For anyone who's ever gone on a bootcamp or worked their body, you know the great benefits you get from regular workouts—the muscles strengthen, skin becomes tighter and healthier. Well, it's exactly the same on your face too. As with any workout, consistency is key—even five minutes a day of facial exercising can make a huge difference, plus over time it will naturally become part of your everyday routine.
 
What's the difference between a studio workout and an online workout, and where can people find them?
FaceGym was founded with our studios to enable us to bring to life our unique facial workout concept. During a studio workout, our expert Trainers handle all of the heavy lifting while you sit back, relax, and get ready to experience the full FaceGym effect. Every session is personalized to the individual, and your skin goals and your Trainer will help you find the right workout for you. The FaceGym method is broken down into three sections. Each session begins with a warm-up, to boost blood circulation through the tissues and warm up the muscles ready to workout. Then we move onto cardio. Here we introduce the fast-whipping techniques. It's exactly like running on a treadmill in the gym. These movements really help to stimulate circulation. And we end with a recovery cool-down, with softer sweeping and draining movements, just like you after you finish a workout. All of our studio workouts are bolstered with our high-performance, award-winning skincare line, collection of innovative tools and devices, and boosters including Hyaluronic Roller, Radio Frequency, Neck and Shoulder massage, and more to ensure maximum benefits from every session. 
 
We launched our digital studio in 2020 to give our growing community access to our skin-transforming facial workouts from the comfort of their own homes. We offer up to five live classes every day with one of our Trainers who leads the session and teaches you our unique hand-led workout exercises that everyone can do wherever they are. Each session focuses on a different area of the face from Brow and Eye Lift to Tone and Tighten and Full Face HIIT, there's something for everyone and every skin goal. We also run classes for our tools so you can learn everything you need to know about them and how to make the most of them. The digital studio allows us to reach even more customers around the world, helping them get on the road to amazing facial fitness and motivating them to workout anytime, anywhere. It's been a huge success and we've built a large community of regulars who attend sessions each week. It's been especially great for those who are unable to visit one of our studio locations as it allows them to still experience the FaceGym effect and reap the benefits of our skin-transforming results all from home.
 
Do you have any favorite techniques that you incorporate into your everyday routine? Can you share a quickie at-home workout with our readers?
If you're new to facial massage try to incorporate 2-3 easy moves into your routine a few times a week building up to daily - even a few minutes a day makes the world of difference. If you're short on time, you can add some massage moves to your cleansing routine, or grab your favorite facial oil like our Face Coach and add a few minutes of massage in the morning or the evening. If you're a beginner, start by trying out the hand movements from knuckling and whipping to cheek hooks and eye lifts. Here are three of my favorite exercises that I do every day.
CHEEK WHIPPING: For toning and tightening your cheek muscles, increasing circulation and bringing oxygen to the skin. The more oxygen to the skin, the more glowy you look. Start by taking two fingers and support your skin with the opposite hand by holding your skin tight at the chin. Take your index and middle finger, and with a medium pressure and start whipping around the cheek area in an upwards direction covering your whole cheek area. Take it slow in the beginning and find your rhythm. Start with 30 seconds, work your way up to a minute on each side. 
JAWLINE HOOKS: A great move for enhancing the jaw and boosting the lymphatic system. Create a V shape hook with your thumb and index finger and place at the center of the chin with your thumb underneath. Move the V along each side of the jawline, working slowly to contour and ease any tension. Use medium pressure and repeat for eight.
V EYE LIFTS: One of my favorite moves for opening and lifting the eyes – for eye-raising results, literally! Place two fingers on each side of the bridge of the nose up to the start of the eyebrow. Apply a little pressure and lift under the eyebrow then split the fingers into a V-shape and let them glide out to the sides, still applying a little pressure. Repeat three times. Now for the under eyes. Use a little less pressure to not drag the skin. Place two fingers at the inner corner of the eye, split your fingers into a V-shape and let them glide out to the sides. Finishing with a little lift and pressure at the temples. Repeat three times. 
Once you've completed the moves, I always finish a face workout with some light lymphatic drainage to drain any unwanted toxins left from the face and neck. Remember to leave your facial oil on the skin to really reap the benefits. Finish with your daily moisturizer and always remember your SPF for optimal protection. Keep up with facial massage and exercises regularly to maintain results and build muscle memory.
More Stories We'd Think You'd Enjoy