Designed by Nature
Ingredients First
Wellness
At-Home Rituals with Bamford
We get by with a little help from our friends. Our partners at Bamford have put together some at-home rituals to help you heal from home. 
Published on: April 16, 2020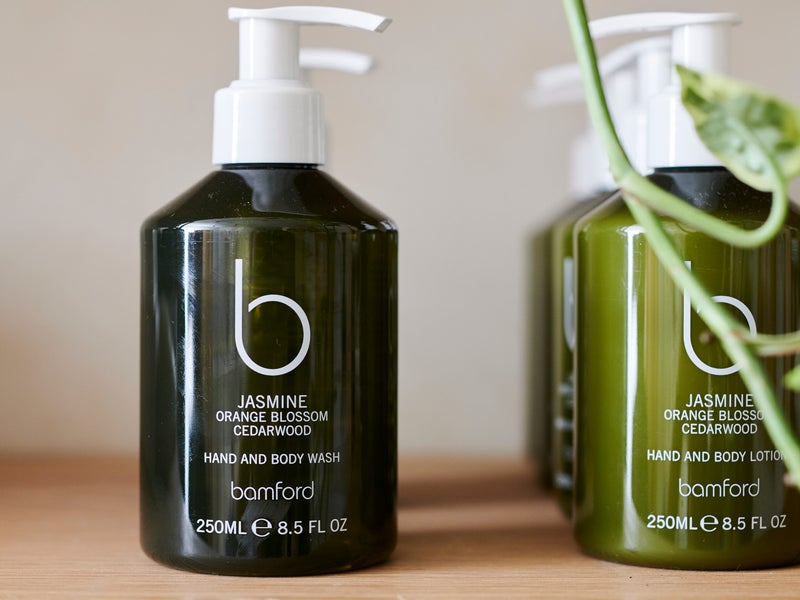 Wellness shouldn't have to wait because you can't make it into a wellness center. Follow these morning-to-night rituals from our friends at Bamford to heal the mind, body, and spirit from the comfort of home.
Bamford Morning Bath Ritual
1. Clear and focus your mind by lighting a naturally-scented candle.
2. Add a capful of revitalizing bath oil to your warm bath and let your body wake up gently.
3. Use the bath time to meditate and start your day with a clear and focused mind.
4. After your bath, moisturize and supply important vitamins and minerals to your skin with a plant-based body lotion.
5. Prepare an immune-boosting tea with ginger and invigorating pepper.
Get Bamford's Rosemary, Geranium and Lemon Candle, Geranium Bath Oil, Geranium Body Lotion, and Bamford B Vibrant Organic Energizing Infusion here.
Bamford Evening Ritual
1. Light a floral scented candle to transform your bathroom into your private English Garden.
2. Fill your bath with vitamin-rich botanical bath oil to gently restore your skin's natural glow and sooth your mind with the scent of nature.
3. Leave technology outside the door, dim the lights, and let your body benefit from the benefits of botanical essential oils.
4. Read your favorite book while sipping a caffeine-free drink like Bamford's B Strong Herbal Infusion with a blend of organic ginger, turmeric, and lemongrass.
5. Finish your bath ritual with application of an organic, nourishing body cream to encourage deep hydration and cell renewal.
Get Bamford's Rose Scented Candle, Rose Bath Oil, Bamford B Strong Herbal Infusion, and Rose Body Cream here.
We look forward to welcoming guests to our Bamford Wellness Spas at 1 Hotel Brooklyn Bridge, 1 Hotel South Beach, 1 Hotel Nashville, 1 Hotel San Francisco and 1 Hotel Haitang Bay.
More Stories We'd Think You'd Enjoy