Are Our Climate Change Mitigation Efforts Actually Making a Difference?
The Intergovernmental Panel on Climate Change (IPCC) just released its update on the global status of climate change mitigation, confirming that the time to act is now.
Published on: May 16, 2022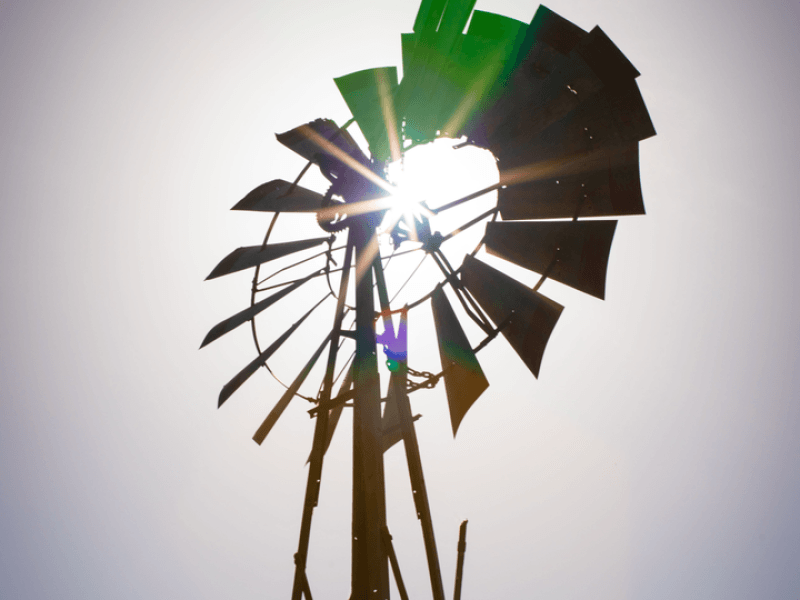 ​
Back in August of 2021, the IPCC released its latest report covering the physical science basis of climate change—presenting evidence and various findings from scientists around the world and confirming that climate change is here and now.
Eight months later, in April of 2022, a group within the IPCC responsible for evaluating methods to mitigate climate change released its contribution, analyzing the extensive literature surrounding the scientific, technological, environmental, economic, and social aspects of the mitigation of climate change. In other words, drawing down greenhouse gas emissions at the source and removing existing carbon from the atmosphere.
The gist of the report? Here's a brief overview.
The Paris Agreement's 1.5°C target is almost out of reach. Emissions over the last decade were record-high.
We can still put a cap on climate change. Although we'll likely exceed the 1.5°C mark, we can still dial it back down shortly after.
Consumer choices matter. When we unite over sustainable food choices, travel methods, and infrastructure design, collectively, we can make an actual difference.
Carbon removal is essential to achieving net-zero emissions. While reducing emissions at the source is essential in the long-term, carbon removal is essential in the short-term.
Politics plays a key role. While these reports are rooted in science, their success is heavily influenced by politics.
Now, let's dive in.
What Does the Report Unveil?
WG III's report breaks down the current sources of global emissions while providing an update on how well our nations are upholding pledges to reduce emissions—and how these pledges relate to long-term emission reduction goals.
So, what are some of their key findings?
The 1.5°C Target is Almost Out of Reach
The 1.5°C target set by the 2015 Paris Agreement is almost out of reach, as net greenhouse gas emissions generated between 2010-2019 were the highest of any decade.
Emissions from existing buildings represented 21% of total 2019 numbers, and energy demand from buildings accounted for ~31% of global energy demand. In other words, the energy sector holds the key to combating climate change, which is both inspiring and intimidating.
The carbon budget tool—used by scientists to estimate how much time is left before temperature limits cross the 1.5°C threshold—indicates that global greenhouse gas emissions will peak by 2025. As nations, cities, businesses, and investors around the globe race to achieve net-zero emission targets by 2050, this anticipated peak will change their mitigation efforts. If they want to stay on track with 2050 targets, their mitigation efforts—namely, the transition from fossil fuel sources to clean renewable energy—must be accelerated. This will likely result in heightened regulatory action across all industries.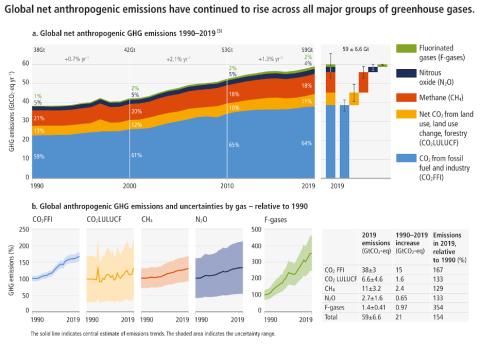 We Can Still Put a Cap on Climate Change
While emissions seem out of control and the 1.5°C target seems out of reach, we know what to do—and we have the tools to do it.
Although overall emissions are at a record high, more than a dozen countries have continued to reduce their emissions for the last decade. In 2020 (keep in mind the state of the world at this time), the largest emitting nations reduced carbon emissions as follows.
The United States: -12%
The European Union: -11%
India: -9%
China: -1.7%
Not to mention, from 2000 to 2015, more than 20 countries reduced their carbon emissions while growing their economies, as depicted in the World Resources Institute graphic below.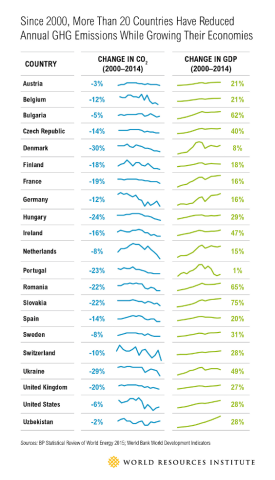 Advancements in renewable energy generation continue to fuel the momentum. In the last decade, solar and wind energy costs have gone down ~85% and ~55%, respectively, and in many places, electricity generated by solar and wind is now cheaper than their fossil-fuel-derived counterparts.
On top of this, carbon-free and low-carbon technologies—such as nuclear and hydroelectric energy—made up ~37% of global electricity generated in 2019. Not to mention, advancements in AI and "smart systems" are also increasing the energy efficiency of renewable power sources.​​ The silver lining continues to grow brighter and brighter.
Consumer Choices Matter
In the report, scientists focused on consumer demand patterns that, if changed, could produce 40%-70% reductions in emissions when compared to the status quo. Among these behavioral adjustments, the following categories would have the greatest direct impact on climate change.
Food: shifting to balanced, sustainable diets by reducing meat consumption, food waste, and over-consumption in general
Land transport: transitioning to teleworking, active mobility through walking and cycling, public transportation, compact cities, and special planning
Infrastructure design: considering compact cities, architectural design, urban planning (green roofs, green spaces, etc.), and building energy efficiency
Each of these factors can be considered on the individual and industrial levels. As you choose to make sustainable choices regarding food, transportation, and infrastructure, rest assured that we're doing the same.
We've rolled out zero-waste food and beverage initiatives at 1 Hotel Toronto, and we're using that as a model for the rest of our sanctuaries. In the world of transportation, we offer fully electric Audi e-tron house cars, cycle-sharing services, and walkable activities around our properties. In terms of infrastructure, our buildings are designed with sustainability in mind from day one. With reclaimed materials, expansive green walls and roofs, and cutting-edge energy-efficient appliances and technologies, our sanctuaries challenge the status quo from the inside out.
When you choose to stay with us, you're voting with your dollar for a future that's aligned with worldwide emission reduction targets.
Carbon Removal is Essential to Achieving Net-Zero Emissions
Carbon removal is necessary if we want to reach net-zero emissions by 2050. Given the continued rate of carbon emissions released annually, reaching the 1.5°C target will require carbon capture and removal initiatives to eliminate at least a decade-worth of CO2 emissions.
Programs to tackle this include reforestation initiatives, stricter limits regarding deforestation, and rapid expansion of newly emerging direct-air capture carbon removal technologies.
Politics Play a Key Role
As it goes, we can't discuss sustainability efforts without mentioning the role of policymakers. Every IPCC report contribution includes a "summary for policymakers," which is essentially a condensed version of the comprehensive report (which often exceeds 3,000 pages).
These summaries must be approved by the 195 countries that signed the Paris Agreement, so they are subject to tedious negotiations as each country fights to protect its own interests (and carbon-emitting industries).
While the reports are rooted in science, the ability of our world leaders to change the language to protect their own interests perpetuates the harsh reality that politics shapes this inherently science-based topic.
Where Do We Go From Here?
One thing is certain: the next few years are critical in the fight against climate change.
In order to stay around the ​1.5°C mark, global carbon emissions must be reduced by 43%, and global methane production must be reduced by roughly 30% by 2023. This requires immediate action across all sectors.
As an individual, what does "immediate action" actually look like?
Revisit our Field Note, "Want to stop wondering if your individual choices matter for the climate?" to identify and harness your power as a climate-conscious individual.
Vote with your dollar for companies who are actively and transparently working to reduce their carbon footprint and align their operations with the Sustainable Development Goals (SDGs).
Vote for (and in between elections, voice your concerns to) local, state, and national representatives who make climate change mitigation a top priority and support policies to meet the challenge, like holding big polluters accountable.
Support renewable energy companies, and if it's realistic, align your living space with the SDGs, too.
As a global business, we vow to continue to place climate change mitigation at the forefront of our operations. What does this mean for us?
We're targeting True Zero Waste operations by 2025.
We continue to invest in new energy monitoring technologies to further reduce our energy consumption (especially when spaces are unoccupied).
We're committed to holding ourselves and our partners accountable, sparking positive change in the hospitality industry and beyond.
Our individual and organizational efforts alone may not allow us to achieve the lofty targets set before us, but they can generate a ripple effect in a fight that requires global commitment.
​
More Stories We'd Think You'd Enjoy
Steering the Future: Join Audi on the Journey Toward All-Electric Mobility
With an ambitious goal of phasing out the production of combustion cars by 2033, pioneering...
Sustainability
That's a Wrap: Our Favorite Sustainable Gifts for the Holiday Season
As the year comes to a close and we reach a time of reflection, we choose to express gratitude for...
Sustainability
A Message on Thanksgiving