1 Promise
Climate
Environment
Accelerating the Drive Towards Zero Emissions: Expert Insights from Audi's Director of Government Affairs & Sustainability
Audi of America's Director of Government Affairs & Sustainability, Spencer Reeder, is also a climate scientist. He shares details on his decision to work for a car company, the future of green transportation, and more.
Published on: December 14, 2022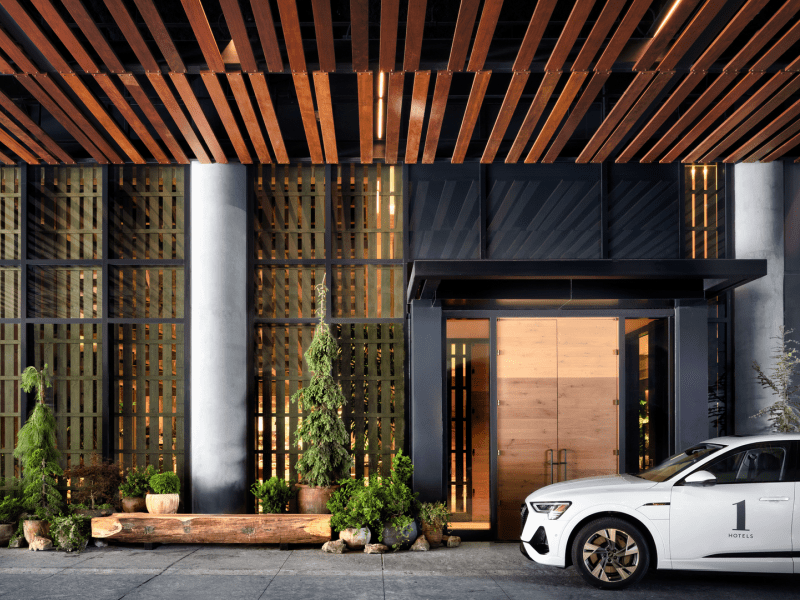 It's no secret that Audi is accelerating positive change in the transportation industry, but did you know that they're doing so with the expert guidance of a climate scientist? Spencer Reeder, Director of Government Affairs & Sustainability for Audi of America, has a background in engineering, geophysics, climate science and policy, and more. He has contributed to scientific literature for the U.S. National Climate Assessment, worked on climate policy for Washington State, and beyond.
When asked about his decision to work for a car company, Reeder explains that joining the Audi team presents a unique opportunity to truly make his mark, driving change on a large scale. Because Audi is a company committed to positive climate impact at every level of its supply chain, leadership team, product lifecycle, and production process, Reeder sees a clear roadmap towards decarbonization, reduced water use, and improved resource efficiency.
We sat down with him to discuss how Audi's care, commitment, and innovation is driving lasting change. Not only are they creating pioneering electric vehicles, but they're also setting precedents that allow other industry leaders to learn from their success. They're generating a true wave of positive change, which is something we respect and cherish at 1 Hotels.
As you discover more about Reeder's story, and what sets Audi apart from the rest, we invite you to test drive a fully electric Audi e-tron the next time you visit one of our sustainable sanctuaries.
Interview with Spencer Reeder, Director of Sustainability & Government Affairs for Audi of America
How do you see transportation fitting into the wider need for decarbonization?
It is fundamental. In the U.S., dating back to early 2017, transportation has been the number one source of climate warming emissions. This is true in other countries as well. Making quick progress in electrifying across all dimensions of the transportation sector is crucial for meaningful decarbonization. And, not just for that, but also for addressing the stubborn and ongoing unhealthy air quality in many of our cities. This is a vital public health issue.
What trends around electrification are you considering and would you want consumers to be aware of?
Electric vehicle capabilities today are immense – very good driving ranges; smooth, quiet, and agile delivery of torque (especially in an electric Audi!); and the "refueling" rate is now quite fast at any of the modern fast chargers. For those who can install a charger at home, it just doesn't get any more convenient or affordable, given today's fuel prices. I'd say to anyone even moderately intrigued by the technology, go test drive an all-electric vehicle. You'll be amazed at how wonderful a driving experience it truly is.
How much do you think about the need to change consumer behavior around transportation/ electrification?
In fact, I think more about how little behavior change is now needed to realize real reductions in climate pollution. With the capabilities of today's electric vehicles combined with the increasingly accessible charging networks, there really is very little one has to do differently other than the marginal adjustments to using electricity as a fuel, which frankly is often a more pleasant experience than dealing with the fumes and grime found at gas stations. As a society, of course, we need to think about land use and modes of mobility more holistically – to truly make progress on sustainability and overall improved quality of life for everyone, we need to have better options to walk and bike to the places we need to go and for more compelling public transit options. However, when we need to drive, it definitely should be in an electric vehicle.
What role do you see Audi playing in this space?
Audi is offering more model options in the U.S. electric vehicle market than any other automaker. This makes me incredibly proud of the entire Audi team that has been working so hard on developing these vehicles and our leadership's commitment to making the massive investments needed to enable such a comprehensive transformation. The fact that we launch our last all-new internal combustion engine vehicle in 2025 is staggering to consider given our 100+ year history as an automaker. Every new Audi vehicle launched after that point will be a plug-in electric vehicle. I think our role as a traditional automaker in setting the bar in that way is truly consequential.
Take the Future for a Test Drive
We're proud to have the fully electric Audi e-tron as our house car across all 1 Hotels in the U.S. Next time you visit one of our sustainable sanctuaries, take one for a test drive to experience the future of sustainable transportation.
More Stories We'd Think You'd Enjoy