The United States Passed its Biggest Climate Bill to Date — What's Next?
The bill promises to invest nearly $400 billion in a clean energy future. What does that mean, and where do we go from here?
Published on: August 17, 2022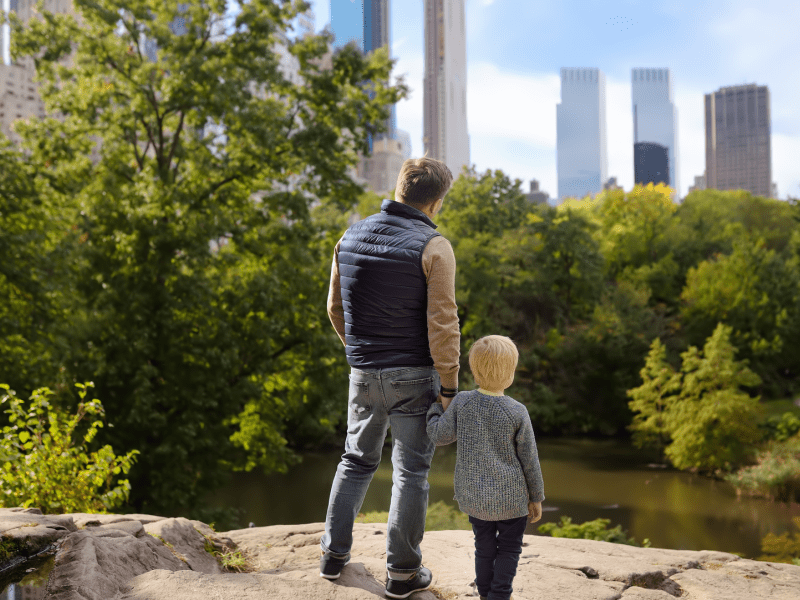 It's the United States' most significant step forward in climate action to date, making the country's climate goals seem more attainable than ever before.
As you read this article that outlines some of the contents of this historic bill—we'd like you to remember that you're witnessing history. This bill has generated a massive amount of momentum, and we hope to keep it up by sharing advice on where to go from here.
What does the bill include?
The bill funds a historic down-payment on deficit reduction, including the United States' biggest investment towards tackling climate change. Some of these climate-related investments include:
Carbon Emissions Reductions: The bill outlines $369 billion in new spending to reduce greenhouse gas emissions and invest in clean energy innovations. A 15% minimum tax on corporations making over $1 billion will generate another $300 billion in new revenue, too. This investment aims to reduce national emissions by 40% (from 2005 levels) by 2030.
New Opportunities in Sustainability: The funding outlined above (along with tax incentives) will make it possible to grow solar, wind, and other clean energy technologies. As a result, it will revitalize the clean + equitable energy space—creating new jobs, incentivizing the public to use electric vehicles, expanding climate justice programs, and reducing the nation's reliance on power plants.
Equity in the Environmental Movement: $60 billion will go towards environmental justice, cleaning up pollution and contamination in disadvantaged communities. Specific strategies include planting trees and installing solar panels on buildings in low-income neighborhoods and making EVs more accessible. (Note: While the above investment is exciting in itself, the structure of the act introduces some obstacles on the road to environmental equity, and we'll cover those in the next section—along with some action items.)

What's next?

While the act is a huge win for humanity and the environment, it's not a perfect solution.
Environmental activists—especially those in marginalized communities—agree that this bill is a bit contradictory. Juan Jhong-Chung, climate director at the Michigan Environmental Justice Coalition admits, "It feels like what the bill is giving with one hand, it's taking with the other."
While the bill dedicates $60 billion to clean up low-income communities, the structure of the tax credit program "ramp up" inadvertently subsidies fossil fuel industries. It essentially allows high-emitting companies and their investors to claim emission reductions in the foreground while supporting the next surge of fossil fuel development in the background. 
This allows big emitters to perpetuate the inequities that already exist in the climate crisis. Low-income communities and communities of color will feel the harm and hazards (contamination, poor air quality, limited access to clean water, etc.) for decades as long as the fossil fuel industry continues to receive funding.
So, while there is still a lot of work to be done to achieve climate justice, this bill is still a huge step forward on the journey towards a clean energy future.
To ensure that the investments in this bill are not used as an excuse to avoid doing the real work to achieve climate justice, we encourage everyone to:
Put pressure on Washington. Whether this is calling on the Biden administration to end new leasing for offshore drilling or following up to ensure the commitments in this bill are not empty promises—we encourage you to put pressure on the nation's capital.
Prepare for and vote in the midterm elections. The deliberation on this bill proves that margins in Congress are razor-thin, and our future depends on members who will fight for climate action and justice. Midterm elections are right around the corner. Make sure you're prepared on Tuesday, November 8, 2022, by registering to vote and getting to know the candidates on your ballot (you can do so by searching for your sample ballot on Google).
Take climate action. An easy way to do this is to sign up for the NRDC's All In for Climate Action, a newsletter that will alert you of petitions, events, voter information, and news that needs your pro-environment voice. If you're able, consider donating to the NRDC to support their fight against climate change, Big Oil, and corrupt politics. We also encourage you to seek out local pro-climate events and organizations in your area.
Alongside you, we'll continue to support the NRDC in these efforts too. We'll also continue to use our voice and platform to promote environmental equity and stand up to high-polluting industries through educational resources, donations, and ongoing partnerships.
More Stories We'd Think You'd Enjoy
Designed by Nature
Brushing Up on Mayfair's Iconic Art History With Captivating Tours Led by Art Expert, Loyse de Pury
As we embark on monthly art tours through the creative soul of Mayfair, get to know the colorful...
Connecting to the Heart of Hispanic Heritage Month: Stories of Passion & Pride From Our Latinx Team Members
We're spotlighting the stories of our incredible Latinx staff members, discovering what this month...