Tuning Inward: Kanekshun's Multisensory Rituals for National Wellness Month
Celebrate Wellness Month by integrating energy-cleansing wellness rituals explained by 1 Hotel South Beach's resident sound healer, Sabrina Badeaux of Kanekshun.
Published on: August 15, 2023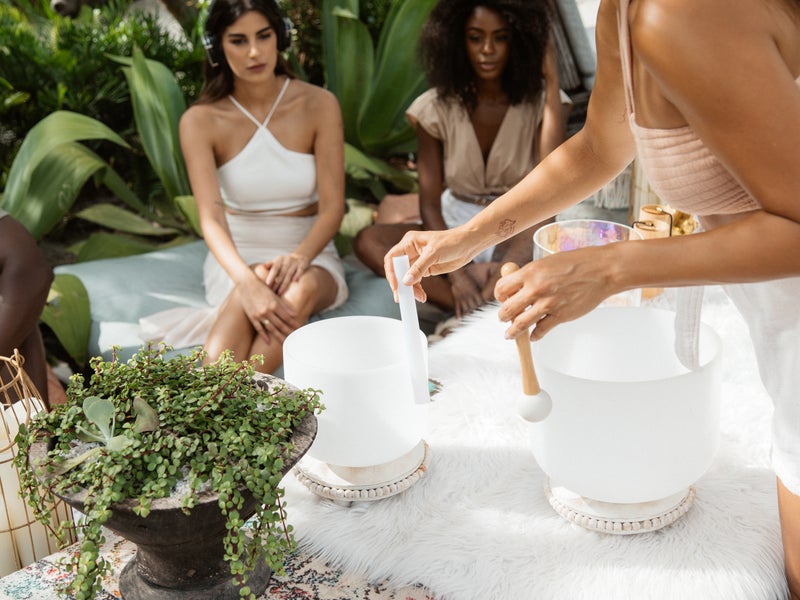 Kanekshun (CON·NEC·TION) is a meditation and sound healing brand rooted in the idea that we are all connected, especially through our energy and breath. By fusing meditation, sound healing, movement, and unique activities, Kanekshun curates a multi-sensory experience that allows you to dig deeper into the layers of yourself to reveal healing, growth, and self-exploration.
Sabrina Badeaux, founder of Kanekshun, is the resident sound healer at 1 Hotel South Beach. Through her extensive experience as both a yoga instructor and sound healer, she has discovered incredible ways to bring beautiful moments of pause and expansion for us through mindfulness. Not only do her sound baths reverberate captivating frequencies that cleanse your energy and restore your inner harmony, but her collection of self-care practices allows you to access soothing moments of pause throughout your day—no matter where you are.
In honor of Wellness Month, we spoke with Sabrina about her favorite well-being and self-care rituals as well as the beautiful brand ethos behind Kanekshun. We hope that her calming wisdom and accessible approach inspire you to find new ways to nurture your well-being this month and beyond.

Sabrina Badeaux, Founder of Kanekshun, on the Connective Power of Mindfulness
Your brand is deeply rooted in mindfulness and connection through various wellness practices. Could you elaborate on your core principles and how they align with that of 1 Hotels?
Kanekshun has always felt a beautiful synergy between our values and those of 1 Hotels. It's wonderful to work with a property that honors the need to nurture ourselves, especially when traveling. Our experiences are designed to give guests the opportunity to deeply TUNE IN to themselves. We believe that it is within these moments of pause that we can truly hear the whispers of our souls. This internal song can tell and teach us powerful things—how to take better care of ourselves, guide us to plant the seeds for new ideas, and rejuvenate us. We also believe in the balance of play and mindfulness, and we try to offer that balance in every offering as a sweet reminder to guests that life is a wonderful adventure meant to be lived to the fullest. 
In honor of National Wellness Month, we're seeking to emphasize well-being and self-care. What benefits do Kanekshun's multi-sensory experiences like meditation, sound healing, and breath-work offer guests who attend your wellness events?
At our events on property, guests can expect a deeply-immersive meditative experience that uses specifically curated frequencies and music to invite a gentle yet deep journey inward, slowing down our brain waves and heightening our inner awareness. These experiences promote relaxation, reduce anxiety and stress, and help us restore harmony in our nervous system—our physical and energetic bodies. The process is made simple: you slow your breath, tune into your inner world, immerse yourself in the healing sounds, and then enjoy the benefits as you return to daily life.
Breathwork and journaling are essential components of Kanekshun's rituals. Do you have any tips for people looking to integrate this into their daily routines and what benefits can they expect? Perhaps some insights on creating moments of pause, genuine connection, or self-exploration. 
Starting a mindful practice can seem daunting or even intimidating. We often believe we don't know how to or can't "be still." So the first step is believing and understanding that it's actually very simple. Creating moments of pause doesn't mean sitting with no thoughts or in silence, it can look and feel different every day depending on what your body and mind need. Some days I need a sweaty dance party in my living room, others I like to tune into a recorded meditation. My favorite practice is to get outside, go for a walk, jump into the ocean, or step my feet on fresh grass at the park.
Not only does getting into nature help us raise our own vibrations as we absorb the energy from the natural world, but it also gives us an opportunity to move our bodies, breathe fresh air, step away from our day-to-day tasks, and just BE.
The other two tools I use daily are my journal and my breath. My journal gives me an open ear and blank canvas to share my thoughts, ideas, fears, and more without judgment. All I need is a pen, and I can find a moment of personal connection. I have a few that I use at a time so that I can call upon this practice when I need it, so I have no excuse! I have one journal at home by my bed and a smaller one that fits in my daily purse. In regards to breathwork, our breath is the most powerful tool we have. It can help us move stagnant energy, awaken our senses so we can prepare for the day, calm us in moments of stress, and help us prepare for better sleep. Starting a mindful ritual takes time and commitment, so try to find something you enjoy and give it a try for one month. To increase your consistency, try pairing it with something you love to do, like drinking your matcha or walking your pup.
Tune In Beneath the Blue Moon
Join us at 1 Hotel South Beach for a beautiful moment of pause under August's Rare Blue Moon, a phenomenon that only happens about once every 2.7 years. As you tune into your body and your breath on our gorgeous oceanfront terrace, feel your worries and stress float away to the sounds of a soothing sound bath curated by Kanekshun.
The energy of a Blue Moon is said to be ideal for manifestation and intention setting, so be prepared to witness newfound clarity rise to the surface as the sound frequencies wash over you.
More Stories We'd Think You'd Enjoy