The Coveteur's Favorite Spots In Brooklyn And Manhattan
Published on: October 27, 2017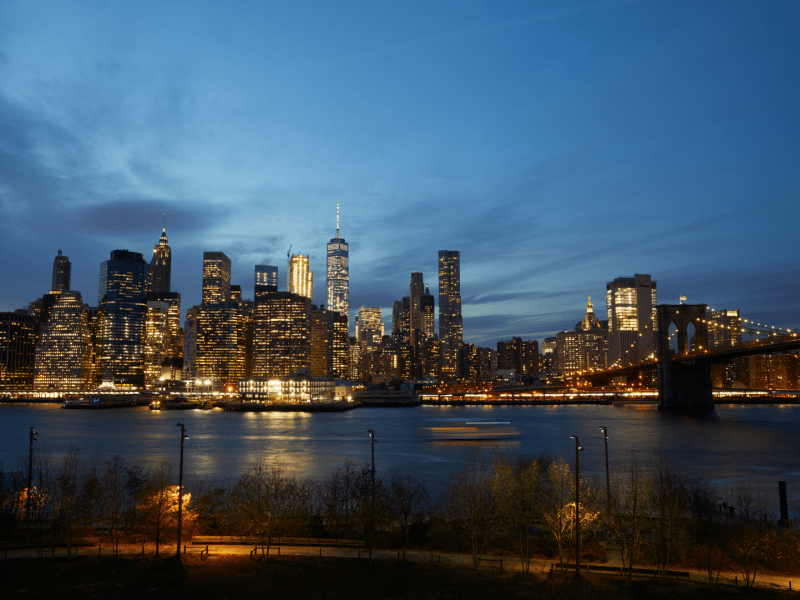 Allow us to start off by saying that we've fallen head-over-heels in love with Dumbo, Brooklyn. Sorry, not sorry, Manhattan, but every other weekend or so, we're going to have to head on over the bridge to spend some quality time in our new fav 'hood. Of course we still have our go-to spots in the city, but why not change things up every once in a while, you know? We're always game for shopping, eating, sweating, and drinking (because, balance) so herein are our favorite spots to hit up in both Brooklyn and Manhattan. After all, you can't deny that both boroughs are exploding with the best of the best places for the aforementioned activities.
 
Sip on Fine Wine at Cecconi's
We honestly can't think of anywhere else we'd rather go to sip on (or chug back) a generous glass of Italian wine after a long, stressful day. Pro tip: bring a friend (or two, or ten) to enjoy the incredible view of the skyline with. Bet you won't go just once.
 
Full disclosure: this suggestion was given to us by a friend (a friend with very good taste in food, we might add), but as soon as we saw the photos of the place and caught on to their vintage, cozy vibe, we knew it was going to become a fast favorite (you see, we have a ~thing~ for vintage). One prosciutto speciale and one spicy honey, skillet cornbread, please.
 
Eat One of Everything at Lucien
Like we said, we still have a soft spot for Manhattan and all of its gems—Lucien included. Forewarning that you'll want to make a reservation for this tiny yet amazing French bistro nestled in the East Village. We highly suggest digging into the steak frites (duh) and duck confit cassoulet.
 
It's pretty much common knowledge at this point that New York's a little bit—okay, fully—obsessed with fitness and health. We're right there with our fellow New Yorkers, but know that if we can ever find a way to cut corners, we're doing it. Enter Higher Dose, an infrared sauna that will bring down your cortisol levels (aka, your stress hormone), detox you seven times more than a regular sauna, release serotonin and endorphins (making you happy and, well, high), and bring your heartrate up to the pace of a light jog. It's essentially a workout without working out. Head to Alchemist Kitchen in Nolita to jump on in (we suggest you book ahead of time though).
 
Let Out Your Anger at Shadowbox
We're firm believers in choosing a workout that will relieve the most amount of stress in the least amount of time. Hence why we're big fans of boxing. Shadowbox, to be more specific. Choose between 45 and 60 minute classes and prepare to wave goodbye to all of your troubles, all the while working up a mean sweat.
 
Grab a Fresh Pair of Kicks at KITH
If you're not yet familiar with Kith, we suggest you get on that immediately. It's essentially the holy mecca of sneakers and streetwear brands, selling not only the usual run of Nike, Adidas, New Balance, etc., but also a crazy amount of their own creative collaborations (Coca-Cola, Vogue, and LeBron James included) and a whole slew of ready-to-wear. Lucky for you, in addition to their Brooklyn Location (233 Flatbush Avenue), they just opened a brand new flagship store on Lafayette in NoHo. Happy shopping.
 
Nothing beats a good flea market. Especially this particular one. We promise that you'll have a hard time walking out empty handed. Ironically enough, you can catch the Brooklyn Flea in Soho. Trust us when we tell you to make a point to stop in, but don't say we didn't warn you about the fact that you're about to become hooked.
More Stories We'd Think You'd Enjoy
Steering the Future: Join Audi on the Journey Toward All-Electric Mobility
With an ambitious goal of phasing out the production of combustion cars by 2033, pioneering...
Sustainability
That's a Wrap: Our Favorite Sustainable Gifts for the Holiday Season
As the year comes to a close and we reach a time of reflection, we choose to express gratitude for...
Sustainability
A Message on Thanksgiving