The Beautiful Powers of Biophilic Design
It's no secret that we believe in the powers of nature in healing, regulating, and uplifting our internal and external systems. Biophilic design is a perfect example of this, as it inherently reconnects us to our roots in nature and sparks our desires and intentions to safeguard the planet.
Published on: January 12, 2022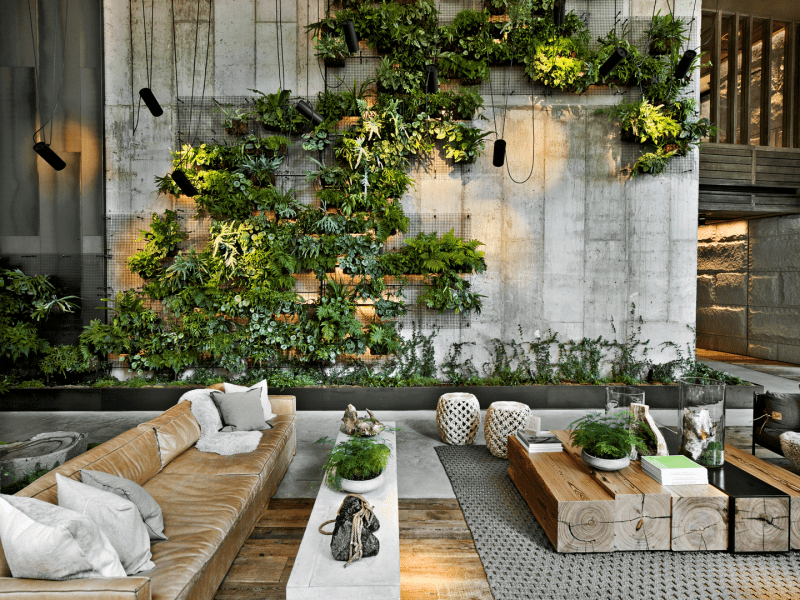 Biophilic designs are much more than simply designs that mimic the ebbs and flows of nature. In the background, these beautiful designs do a lot of unseen work. For starters, they help to reduce a building's environmental footprint as they regulate the temperature of the entire development.
These physical benefits are paired with amazing mental and emotional benefits too. These nature-inspired designs have the power to calm your nervous system, uplift your spirits, and reduce anxiety throughout your day. While the calming effects of flowing water features lower your levels of stress, natural light and air purification improve your physical wellness. Biophilic design has the power to transform the entire "feel" of a building, blurring the lines between your world and the natural world—and in turn increasing your productivity, creativity, and overall sense of wellbeing.
Let's take a deeper look at the ways we utilize biophilic designs throughout our sustainable sanctuaries.
Portals to the Natural World
 
When you step foot into one of our sustainable sanctuaries, you're greeted with the calming touch of the natural world. Whether the sanctuary is nestled in a tropical island like Haitang Bay or situated in the concrete jungle of New York City, your first glance around your home away from home will capture live greenery, golden sunlight, natural fibers, reclaimed wood, and the overwhelming urge to take it all in.
Our design team strives to perfect the art of biophilic design, utilizing the elements in a way that honors the planet and your wellbeing—but doesn't sacrifice luxury. Each individual sanctuary presents a unique opportunity to mimic the natural world and weave the soothing powers of biophilic design into every corner of the oasis.
Every design is driven by the local landscape. When designing 1 Hotel Haitang Bay, Tony Machado, Senior Vice President of Design, says, "We [had] the luxury of space that we don't often find in our urban settings. This allowed us to expand on our sustainable platform to incorporate features such as a solar farm and an expansive working organic farm for a true farm-to-table experience." Urban settings present a unique challenge to infuse the magic of Mother Nature back into the busy metropolis, gathering and reclaiming elemental materials that are all-too-often wasted.
But no matter which sanctuary you visit, you'll notice that each acts as a different portal to the natural world—a unique opportunity to work and heal with nature—rather than another attempt to work around or against it.
Biophilic design is a conscious reminder that amazing things can happen when you take a moment to pause and reflect on the beauty of the world around you. Not only does it nurture healing within—it allows you to foster a deeper connection with the surrounding environment and nature and presents a gentle subconscious reminder to continue to care for it.
DIY Living Plant Wall

Bring the stress-reducing powers of biophilic design into your own home! On top of the amazing benefits of biophilia, nurturing a lush plant wall (or creating any other type of biophilic interior design) is sure to make you feel proud and accomplished every time you look at it.
Below you'll find a simple step-by-step process to create your own beautiful DIY living plant wall. While this is a simple exercise, we encourage you to approach it as a calming, meditative experience.
1. Start by selecting wood planks of a size that you'd like for your wall (the video below recommends three 1x4x8 inch wood planks). Pair that with ¼ inch underlayment plywood and 6 MIL clear sheeting.
2. Now it's time to pick your plants! Try to select plants that will live nicely together (e.g. they require around the same amount of water and sunlight). Plants with different textures and colors will create a lush, vibrant look.
3. Build your wood frame with plywood backing, sheeting insulation, and slanted shelves. This will require screws, a drill, wood glue, a nail gun (or a hammer and nails), and a friend (if available). The 6 MIL sheeting will go on the back and inside of your wooden box. This will hold in the soil & water for your plants. Remember, your plants thrive with water, but your walls do not!
4. Add the potting soil to your shelves, and then add and arrange your beautiful plants as desired.
5. Wait at least a week to add the frame to your wall. Your plants will want to remain horizontal to settle in.
6. After a week, consult a hardware associate to determine the best equipment to hang your plant wall (based on size and weight).
For in-depth, step-by-step visual instructions on creating a living plant wall in just one afternoon, we recommend this video by ​​Eye on Design x Lowes. We can't wait to see what amazing biophilic designs you bring to life in your own sanctuaries!
More Stories We'd Think You'd Enjoy
Steering the Future: Join Audi on the Journey Toward All-Electric Mobility
With an ambitious goal of phasing out the production of combustion cars by 2033, pioneering...
Sustainability
That's a Wrap: Our Favorite Sustainable Gifts for the Holiday Season
As the year comes to a close and we reach a time of reflection, we choose to express gratitude for...
Sustainability
A Message on Thanksgiving