The Art Of Brooklyn: Meet The Artists Behind 1 Hotel Brooklyn Bridge
A sculptor and installation artist, Rachel Mica Weiss created two dramatic pieces for 1 Hotel Brooklyn Bridge, both intended to draw on Brooklyn's industrial and seafaring traditions.
Published on: May 13, 2017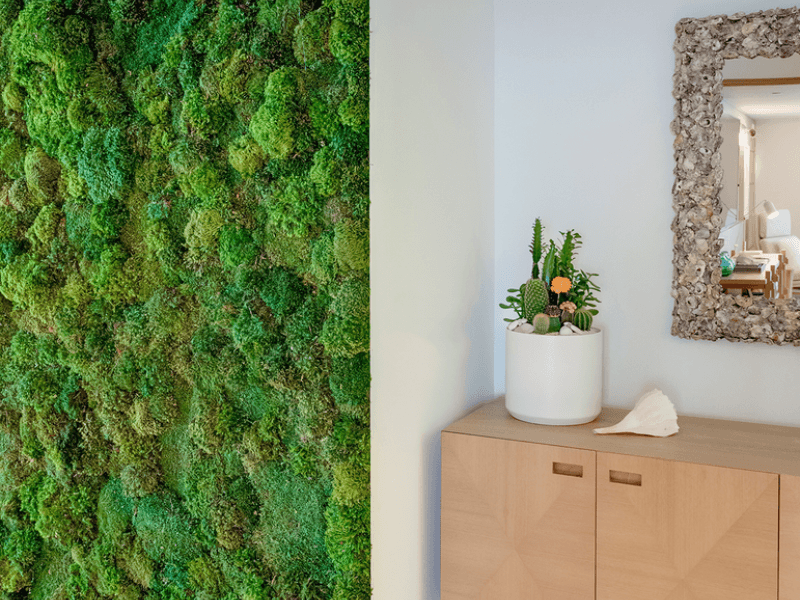 ​
At 1 Hotel Brooklyn Bridge our design embraces local community, the history of our neighborhood, and our natural surroundings. In this series, we go behind-the-scenes with Brooklyn-based artists featured throughout the hotel, and their creations which bring our design ethos to life.
A sculptor and installation artist, Rachel Mica Weiss created two dramatic pieces for 1 Hotel Brooklyn Bridge, both intended to draw on Brooklyn's industrial and seafaring traditions. The first, "Unbounded," greets guests in the lobby with its 6,000 pounds of obsidian rocks strategically tied to appear to be tumbling down from the grand staircase behind them. The second artwork, "Breaching," overlooking Brooklyn Bridge Park in the airy Event Space, uses strands of hand-dyed yarn strung between reclaimed pine beams to echo the lines of the Brooklyn Bridge and the ships that once docked along the East River.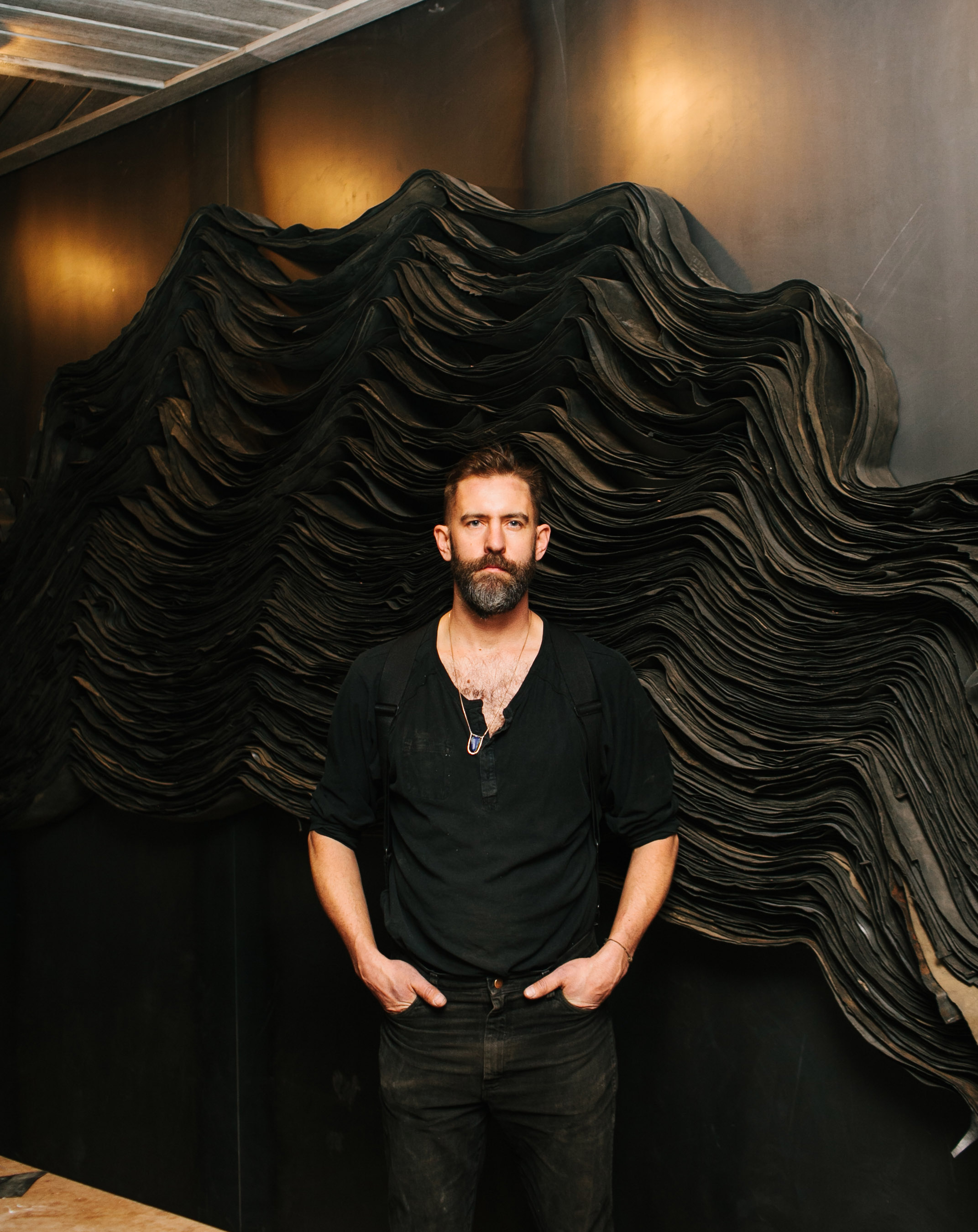 In his expansive artwork installed above the hotel's reception desk, Jarrod Beck explores the interaction between humans and nature. An expansive piece made of hundreds of delicately draped rubber strips, "All OVEREACHOTHER" actually consists of materials repurposed from the roof of a big-box retail store in upstate New York that was destroyed by a tornado in 2014. By putting this artwork in the nature-focused 1 Hotel Brooklyn Bridge, Beck challenges guests to consider both nature's power and how we can better live with the natural world around us.
Danielle Trofe, founder of Danielle Trofe Design, may be a designer, but she's also a scientist. The more than 100 lampshades and planters she created for 1 Hotel Brooklyn Bridge aren't just aesthetically beautiful—they're also so sustainable and natural that you could eat them if you wanted (though we'd rather you didn't). Trofe's pieces are actually made out of mycelium (that's mushroom root structure) and agricultural waste like corn stalks and seed husks, though you'd hardly know it from their sleek, modern aesthetic.
Uhuru Design just might be Brooklyn's coolest furniture design firm. Not only do they create beautiful, modern pieces with a Scandinavian-inspired aesthetic for some of the world's top architects and museums (including the Smithsonian), but the firm's philosophy is that everything they make "should add a greater good to the world." For 1 Hotel Brooklyn Bridge, Uhuru created furniture for the common areas—from a sofa and tables for the lobby to banquettes for the restaurant—with reclaimed and natural materials, including wood from the old Domino Sugar Factory up the river.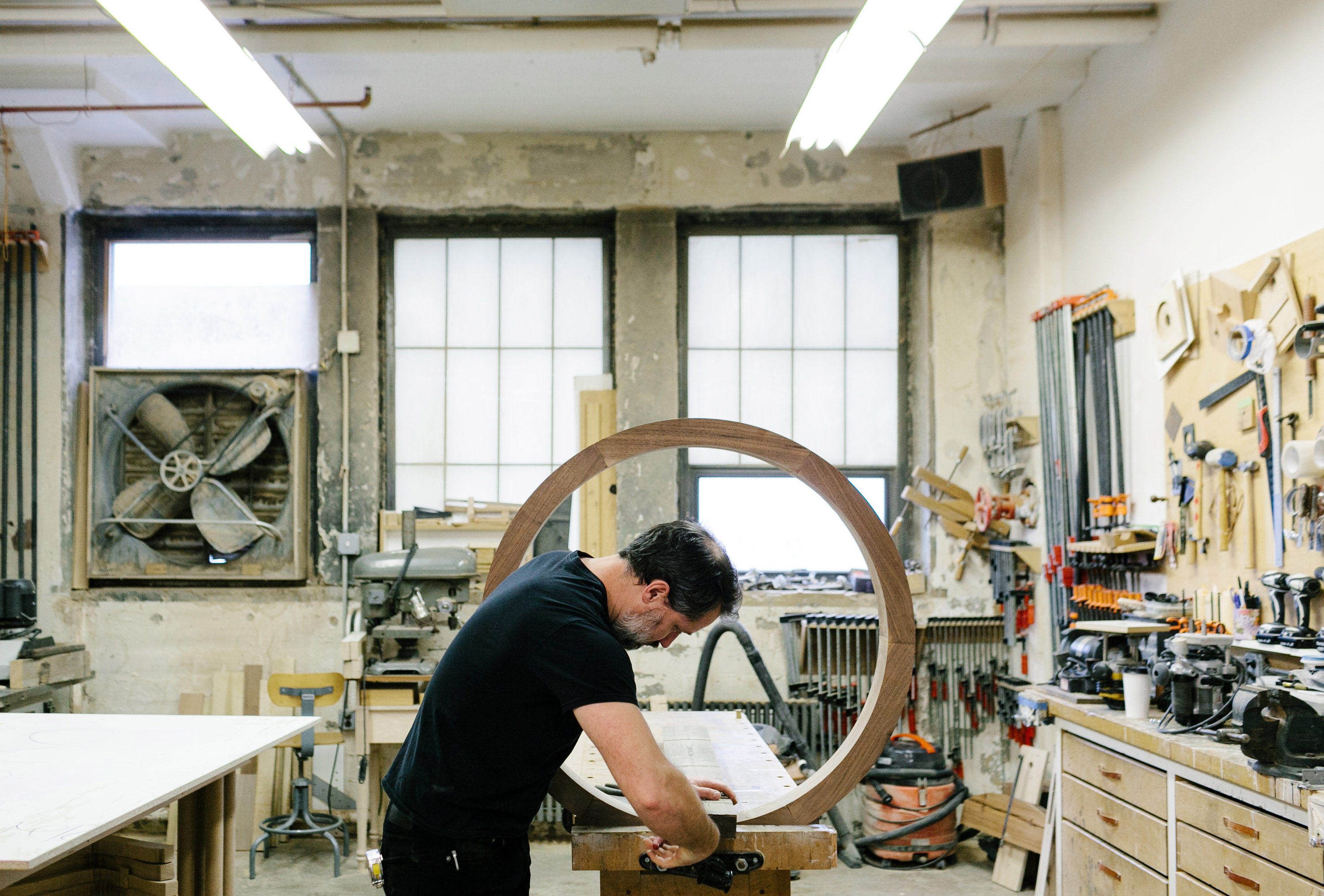 If you spend any time exploring Brooklyn, you'll inevitably see some of Bien Hecho's work. The 10-year-old Brooklyn woodworking studio founded by John Randall has become an integral part of the borough's aesthetic, from the decor of local restaurants and cafes, to street art like public planters and benches. For 1 Hotel Brooklyn Bridge, Randall and his team used reclaimed wood from trees felled during Hurricane Sandy reclaimed from the Brooklyn Botanic Gardens to create custom tables for the restaurant, café, and lobby.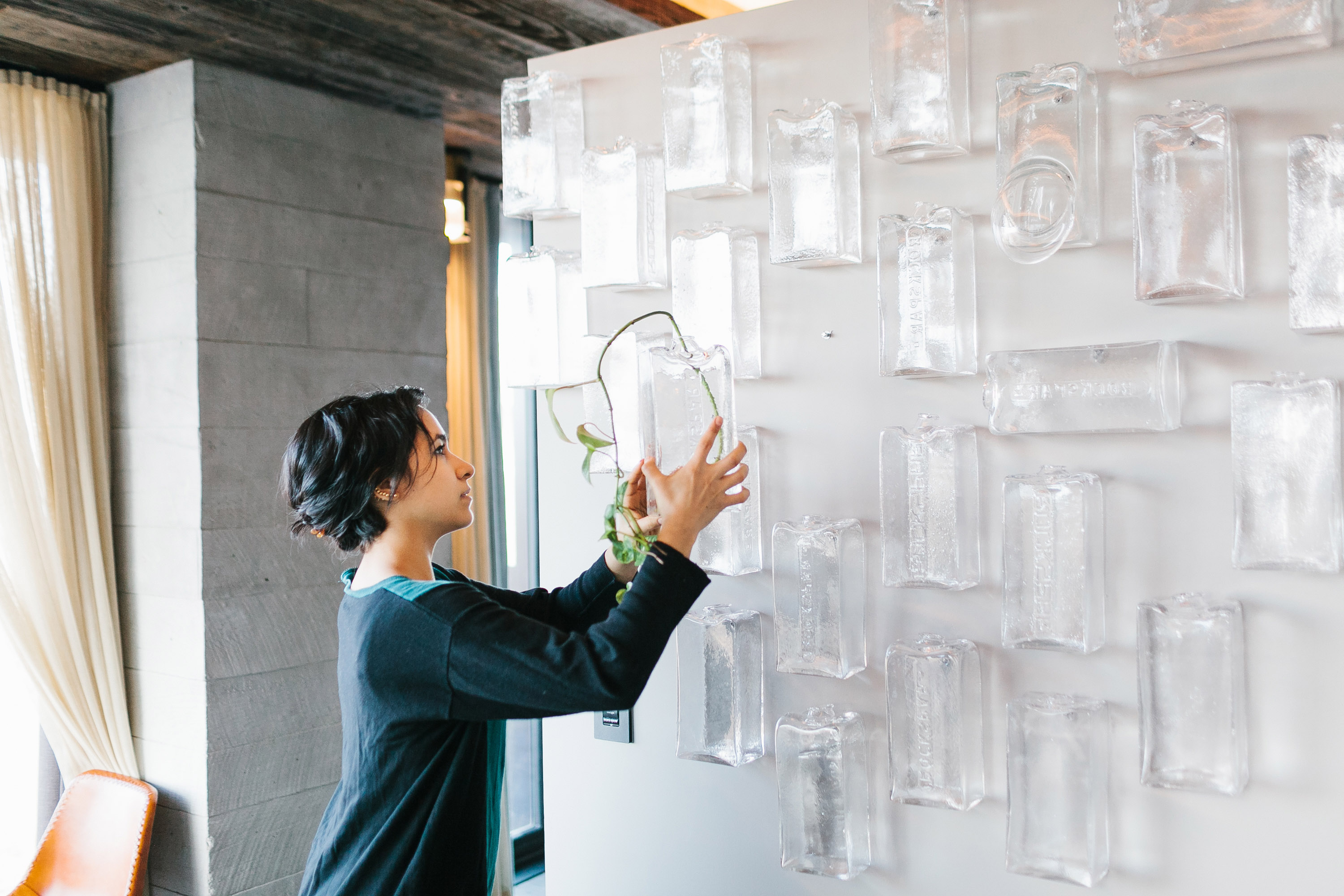 Where many artists and designers try to create works that adhere exactly to their vision, the glassblowing duo behind design company OffCentre embraces the unique shape of each of their creations. Acclaimed artists in their own right, Edison Zapata and Romina Gonzales instill each of their glass pieces—predominantly lighting and other functional glassware—with a sense of whimsy by circumventing traditional glassmaking processes. Their one-of-a-kind blown-glass bricks hang on the walls of 1 Hotel Brooklyn Bridge's suites, filled with greenery to further guests' connection to nature.
Speaking of greenery, we owe all those gorgeous plant moments throughout 1 Hotel Brooklyn Bridge—from the living wall in the lobby to the ferns and mosses by the beds—to Harrison Green. The Brooklyn landscape design firm is as dedicated to incorporating plants into urban spaces as we are, having created stunning roof gardens, lush terraces, and indoor horticultural spaces throughout New York City.
Fernando Mastrangelo walks the line between sculptor and furniture designer, but there's no doubt that he's one of Brooklyn's most exciting contemporary artists. Using common materials in uncommon ways, Mastrangelo creates nature-inspired sculptural objects intended to be used as tables, chairs, lighting, and more—out of things such as salt, coffee, sand, glass, and cement. This summer, stop by the 10th-floor bar at 1 Hotel Brooklyn Bridge to enjoy a drink over Mastrangelo's custom Cast Black Silica table.
​
More Stories We'd Think You'd Enjoy
Steering the Future: Join Audi on the Journey Toward All-Electric Mobility
With an ambitious goal of phasing out the production of combustion cars by 2033, pioneering...
Sustainability
That's a Wrap: Our Favorite Sustainable Gifts for the Holiday Season
As the year comes to a close and we reach a time of reflection, we choose to express gratitude for...
Sustainability
A Message on Thanksgiving