Taste Meets Tradition: Honoring Hawaiian Culture With Chef by Nature, Nancy Silverton
World-renowned Chef Nancy Silverton shares her background, expertise, and excitement for the debut of our newest sustainable cooking series benefiting Kauaʻi Community College's Culinary Arts Program.
Published on: May 18, 2023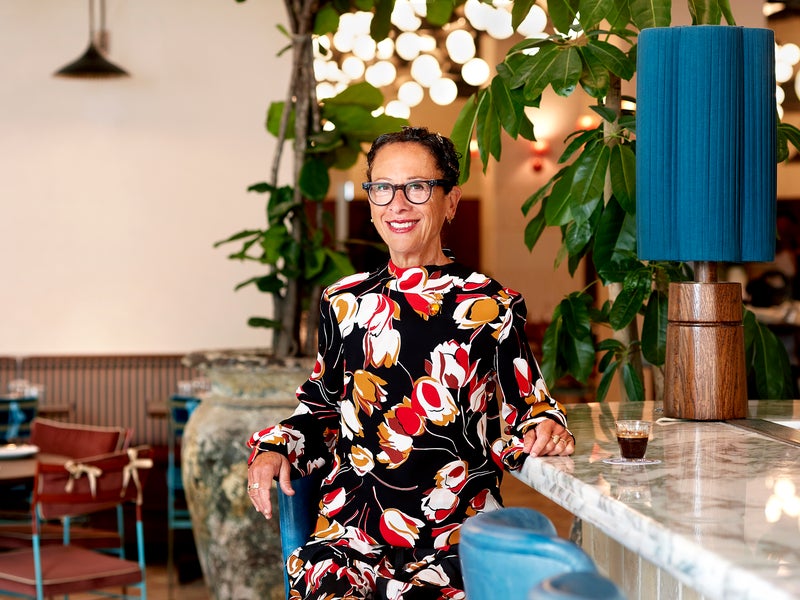 We're thrilled to welcome Nancy Silverton as the inaugural host of our Chefs by Nature series, a culinary celebration of the natural abundance of Kauaʻi as well as local farmers, fishers, ranchers, and growers that graciously serve as stewards of the land and sea every single day. Throughout the series, you'll have the unique opportunity to join Chef Silverton in interactive cooking sessions, masterclasses, and a three-course charitable dinner benefiting future chefs in the Kauaʻi Community College's Culinary Arts Program.
Nancy Silverton — James Beard Outstanding Chef Award Winner, founder of LA's beloved La Brea Bakery and La Campanile Restaurant, and co-owner of Pizzeria Mozza, Osteria Mozza, and chi SPACCA — has worked alongside the world's most notable chefs, written 10 cookbooks, appeared on Netflix's "Chef's Table," and received coveted titles such as Food and Wine Magazine's "Best New Chef" and both Fortune and Food and Wine's "Most Innovative Women in Food and Drink." 
Known worldwide for her ability to convey the traditional flavors of Italy, Chef Silverton's renowned work is a beautiful example of how thoughtful meals can fully immerse you in a specific locale — no matter where you are in that moment.
We spoke with Chef Silverton to dive deeper into her culinary background, the role of seasonality and sustainability in her work, what to expect from the very first Chefs by Nature experience, and how each activation will celebrate traditional Hawaiian flavors while supporting the local community through culinary artistry.
 
INTERVIEW WITH NANCY SILVERTON
Can you tell us about your culinary background and what inspired you to become a chef?
Well, the short version of how I got started is that there was a very cute guy who worked in the vegetarian kitchen in the dorms in college, so I started working in his kitchen to get to know him! I ended up falling in love with cooking (instead of the guy) and headed to Le Cordon Bleu in London for culinary school. When I came back to California in 1979, I spent some time in Marin County, California before coming back to Los Angeles to work at Michael's in Santa Monica with Jonathan Waxman who mentored me and is still an incredibly close friend to this day. I was then the opening pastry chef for Wolfgang Puck's Spago and eventually opened Campanile with Mark Peel. We were fortunate to find a space that also could accommodate a bakery next door, which was then the birth of La Brea Bakery. I then went on to open all of the incredible restaurants in the Mozza Restaurant Group - Michelin-starred Osteria Mozza, Pizzeria Mozza, Chi Spacca, and The Barish at the Hollywood Roosevelt Hotel. We have locations also in Los Cabos, London, Singapore, Riyadh, and a few more to come! I've had an amazing journey so far in my career, and I'm so grateful for every step along the way. 
 
You're known for marrying the flavors of Italy and the seasonality of California. What roles do seasonality and sustainability play in your cooking and the operations of your restaurants? How have different places influenced these practices?
Seasonality and sustainability are at the heart of all of my restaurants and my approach to cooking. Osteria Mozza, one of my restaurants in Los Angeles, was awarded a Green Michelin Star for our dedication to sustainability! Especially since many of my restaurants are based in California, I have access to so many fantastic local, organic, and seasonal ingredients. We change our menus daily to highlight as many seasonal ingredients as we can - I just love working with ingredients when they are at their freshest and in season, it's the best way to showcase it! I get a lot of my inspiration during my time in Italy, particularly in Panicale, and it's really just spectacular. My close friend Dario Cecchini, who is the best butcher in the world and is located in Italy, is an advocate for respecting all parts of the animal, and I certainly have the same mentality and try to avoid as much waste as possible. 
 
You're the inaugural host of 1 Hotel Hanalei Bay's Chef by Nature program, which will offer guests interactive cooking classes and a special three-course dinner. Can you tell us more about the experience and what guests can expect?
We've got a really spectacular program lined up! I'll be leading an interactive cooking class that will guide guests through two of my favorite recipes: the Mozza Caprese and the Rosemary Olive Oil Cakes. (The Rosemary Olive Oil cake is a Mozza classic, but I've just updated and perfected it in my new cookbook!) These dishes really showcase my approach to cooking - straightforward and familiar, yet well thought out to achieve an element of perfection. I'm very much looking forward to sharing my flavors with the guests at 1 Hotel Hanalei Bay as well as all of the tips and tricks I've learned over the years to take that same approach to cooking at home. We are also hosting a charity dinner where the menu will feature some wonderful dishes inspired by Italian cuisine using local ingredients - it'll be a really delicious evening. 
 
A portion of ticket sales from the Chefs by Nature dinner will benefit Kauaʻi Community College's Culinary Arts Program. If you could share one piece of advice with aspiring chefs, what would it be? Did you have a mentor or chef that you looked up to in your early career?
I was very fortunate early on in my career to have worked with and been mentored by so many incredible chefs. I've then gone on to mentor many other spectacular chefs. And that's essentially the piece of advice I'd share - find a great chef that you respect and who inspires you, work for them, and learn as much as you can.  

How do you plan to incorporate Hawaiian flavors and locally sourced ingredients into the dishes you'll be preparing with guests and class attendees?
This culinary event will really highlight the marriage of my tried-and-true Italian recipes of mine by using the local and seasonal ingredients available.
 
SPICE UP YOUR STAY
Visit us at 1 Hotel Hanalei Bay over the dates of May 28 - 31, 2023 to savor the debut of our Chefs by Nature series, from interactive cooking sessions to a charitable three-course dinner! More than just a flavorful experience, this culinary celebration will bring you closer to the natural abundance of Kauaʻi while uplifting the vibrant local community.
More Stories We'd Think You'd Enjoy