Simple & Sustainable Lifestyle Tips That Help Make Our World Go Round
Since the first Earth Day in 1970, people all over the world have come together to protect the lands, oceans, plants, and animals that keep our planet's delicate systems in balance. Celebrate today by infusing this mindset into your daily routine.
Published on: April 10, 2023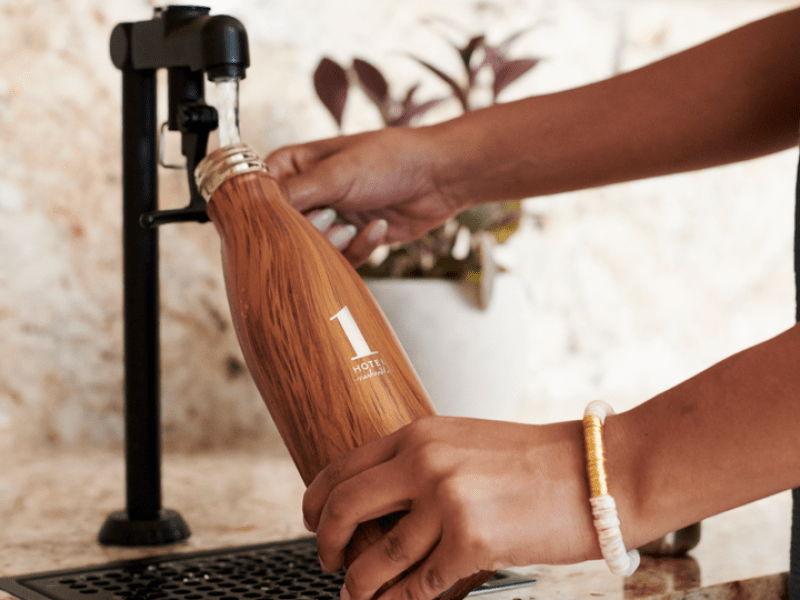 53 years ago, 20 million Americans celebrated the first Earth Day. Today, over 1 billion people in 190 different countries are coming together for this year's Earth Day (or rather, Earth Month).
More than just a celebration, Earth Day created a platform to move the needle forward on several environmental organizations and policies. To name a few, the Clean Air Act, Clean Water Act, Endangered Species Act, and Environmental Protection Agency (EPA) were all products of the first Earth Day.
In recent years, this movement has evolved into Earth Month, serving as an extended reminder that, no matter our backgrounds, we all share a common purpose to safeguard and uplift our one true host, the natural world. To celebrate, we're sharing some of our favorite sustainability tips, from reducing your food waste to secondhand shopping and selling.
So whether you're an Earth Month aficionado or this is your first time celebrating, we hope these tips inspire you to go the extra mile to care for our planet all throughout the year.
Ways to Celebrate Earth Month at Home
Celebrating Earth Month can involve activities as small as giving up single-use plastics for a day or as large as starting a petition to encourage representatives to take action on larger issues. Let's explore four ways you can celebrate Earth Month—and carry on for the months and years to come!
Reduce Waste with Haste
Food Waste
In the U.S. alone, food waste accounts for 20% of items sent to landfills or incinerators, and it's responsible for 6-8% of all human-made greenhouse gas emissions. When it sits in a landfill, food waste cannot properly decompose, and the stagnant organic materials begin to generate greenhouse gas emissions instead of breaking down into new healthy soil.
The good news is that you already have tools at your fingertips to give your food a longer lifespan, giving you more time to make good use of it! One of these tools is proper food storage. When you get home from the grocery store or farmer's market, we encourage you to slow down and store your food with love. Here are a few tips to get you started:
Meats, Eggs, and Dairy: These do best on the lower (colder) shelves.
Berries, Dips, and Raw Snacks: These do best on the upper shelves, which have the most consistent temperature. We recommend washing, rinsing, and storing berries in a container with an absorbent cloth to avoid mold.
Leafy Herbs Cilantro, Parsley, and Basil: Store these in a cup of water after a stem trimming—just like a bouquet of flowers. While cilantro and parsley do best in the fridge, basil should be stored on the counter.
Woody Herbs like Rosemary, Sage, and Thyme: Wrap these in a damp paper towel, seal them in an airtight container, and store them in the fridge.
Condiments: These should be stored in the door, which is the "warmest" part of the fridge.
Potatoes, Onions, and Squash: These are best stored in a cool, dry place outside of the fridge. Pro tip: keep the potatoes and onions separated!
Don't forget, your freezer is one of the best tools to avoid food waste. You can freeze meats, herbs, and produce to extend their shelf life for months! Frozen fruits and leafy vegetables are the perfect addition to smoothies.
On top of this, a little bit of planning goes a long way. In addition to planning out your meals, we encourage you to make plans for your food scraps. It's tempting to only use what our recipes call for, but this often leaves so much unnecessary food waste—when in reality, it's all usable with a bit of creativity. 
Save your clippings, trimmings, and husks in a bag in the freezer. Boil them with water, add any extra herbs you have, and you have homemade vegetable broth. 
Save your garlic peels to wash, bake, and crush, leaving you with a delicious garlic seasoning.
Save your citrus peels to use as zest, or boil them on the stove to create a natural, fresh, and energizing aroma to fill your whole house (these can be reboiled and enjoyed for multiple days).
Regrow your scraps! Save your discarded pieces of green onion, basil, and lettuce, and try your hand at regrowing them in a jar or a pot.
When all is said and done, compost your remaining food scraps. Whether you have acres of backyard space or just a countertop, there are many composting options to fit your needs and help you turn some of your food waste into nutrient-rich fertilizer. We encourage you to explore options like vermicomposting (apartment and patio-friendly), countertop composting (apartment and patio-friendly), compost tumblers (apartment and patio-friendly), and in-ground compost systems (backyard and patio-friendly).
Plastic Waste and Beyond
The reality is that plastic is everywhere, and we know it can feel impossible to escape it at times. But we want to encourage you to make small, strategic decisions this Earth Month to avoid single-use plastics. Once you get comfortable, see if you can keep it going for the rest of the year! You can get started by reading our previous article, Five Simple Steps Towards a Zero-Waste Home, which we've summarized below.
Master your mindset. Working towards "zero-waste" or even low-waste can feel very overwhelming at first. Start by taking a deep breath, writing down your "why," and giving yourself permission to really enjoy the journey. 
Get a reusable water bottle and water filter. Shop for countertop filters or whole-house filters, and make sure you have a trusty reusable water bottle. We love the infinitely reusable aluminum bottles at PATH.
Identify your zero-waste product swaps. Go room by room, taking inventory of your wasteful products. What are some easy, waste-free swaps you can make in your bathroom? Once the bathroom is handled, move on to the kitchen.
Compost. As outlined above, this step is huge when it comes to reducing your food waste footprint.
Bring your own. Carry your reusable water bottle, coffee mug, straw, cutlery, grocery bag, and food storage containers with you when you go out.
If you're still wondering whether or not your individual choices are merely a drop in the bucket of climate change, check out our previous article that portrays how the ripple effect can start with just one drop.
We also hope you feel proud of yourself for acknowledging and minimizing your plastic waste before it's legally mandated. From global single-use plastic bans to the UN plastic waste treaty, it's wise to get comfortable reducing your plastic waste before it's required. 
We're proud to say that one of our host cities, San Francisco, was the first city in the US to ban the sale of single-use plastic water bottles, tea, juice, and soda from any governmental property (including the airport). Since 2000, the city has been working to minimize the overall amount of waste it sends to incinerators and landfills. As a result, San Francisco reached a 78% recycling rate, steadily composted 300 tons of food per day, and decreased their annual plastic bag usage by 100 million bags.
Choose Your Wardrobe Wisely
It's no secret that the fashion industry is one of the top polluters, and it's growing at an alarming rate. When affordable, trendy purchases are just a click away, it's no wonder that fast fashion is only getting faster. Today, the industry overproduces clothes by 30-40% each season. These companies have as many as 52 micro seasons per year, encouraging everyone to buy as much (and as impulsively) as possible. As a result:
If we continue business as usual, experts estimate that fashion's global emissions will double by the end of the decade. That's why it's so important to pause, acknowledge the problem, and disrupt business as usual. Here are a few of our favorite ways to do so.
Dress Sustainably: Shop slow, local brands whenever possible, and always plan for the long-term. Seek out natural, high-quality fabrics that stand the test of time—think organic, plant-based fibers such as cotton, linen, and TENCEL™. Remember, the longer you wear something, the more sustainable it gets.
Think About It: We're surrounded by ads, hauls, influencing, and reminders to buy more all day. These are just a few reasons why the average consumer made 60% more clothing purchases in 2014 than they did in 2000 (and kept these purchases for half as long). It's easy to give in to the temptations of consumerism, but it feels better to slow down and think about it. One amazing way to stop impulse buying is to make a wish list. If you find that you're still dreaming about something weeks later, then it might not be such an impulsive buy.
Shop and Sell Secondhand: Thrifting is one of the best ways to make the most of garments that are already circulating! When it comes to buying and selling secondhand, there are a few techniques to consider—avoid buying something just because it's a good deal, seek items that display longevity, sell things that you know would be of value to someone else, check the rules of the place you're selling through, and avoid buying something with the intention of wearing it once and then reselling.
Rent It: Alongside the rise of secondhand shopping and selling, outfit rental services are on the rise too! From Rent the Runway to Nuuly, there are many platforms out there that allow you to rent an outfit for a specific occasion (or just to feed that need for "new"). 
Don't Trash It: If your garments are not in good enough condition to donate or resell, we recommend recycling them. One of the best ways to reduce textile waste is to keep each garment in circulation. Some large brands (Patagonia, Lululemon, American Eagle, and beyond) will take back old garments in-store. Otherwise, check out this article by Earth911 to discover tips about recycling your clothes.
We also encourage you to familiarize yourself with legislation in your locality that could propel the fashion industry toward positive change. For some inspiration, New York lawmakers are pushing for the Fashion Sustainability and Social Accountability Act, which would set legally-binding labor and environmental standards for the industry.
Vote Earth
Earth Day and Earth Month are amazing opportunities for us to unite around our common goal to safeguard the planet, but this ethos should extend far beyond one day or one month of the year.
One of the most impactful, farthest-reaching ways to drive positive change for the planet is to Vote Earth. In other words, use your voting power to protect the planet. On the Earth Day website, you can find resources surrounding:
Why voting is so important for the planet
Registering and pledging to vote
How to find your polling place
Understanding voting rights (and barriers) in your area
Recruiting your friends to vote and holding them accountable
Civics toolkits
You can also stay up to date on environmental news and stories around the world.
Find Earth Day Events Near You
While Earth Day is a global initiative, you can celebrate locally by finding nature-centric events in your community—from beach cleanups to pickleball to conferences. Check out the Earth Day event map to get involved and meet new like-minded people.
Earth Month at 1 Hotels
Across our properties, we're hosting many unique events all throughout Earth Month. With beach cleanups, sustainable dinner series, gardening workshops, plant installations, meditations, and beyond, we're showing our love for the natural world every way we can—a mindset we hope everyone maintains even after Earth Month comes to a close.
More Stories We'd Think You'd Enjoy
Steering the Future: Join Audi on the Journey Toward All-Electric Mobility
With an ambitious goal of phasing out the production of combustion cars by 2033, pioneering...
Sustainability
That's a Wrap: Our Favorite Sustainable Gifts for the Holiday Season
As the year comes to a close and we reach a time of reflection, we choose to express gratitude for...
Sustainability
A Message on Thanksgiving