Settle into Ethereal Comfort in Kauaʻi with Elemental Design That Emulates the Land
World-renowned interior designer Nicole Hollis discusses blurring the lines between interior and exterior in the oasis of 1 Hotel Hanalei Bay.
Published on: December 14, 2022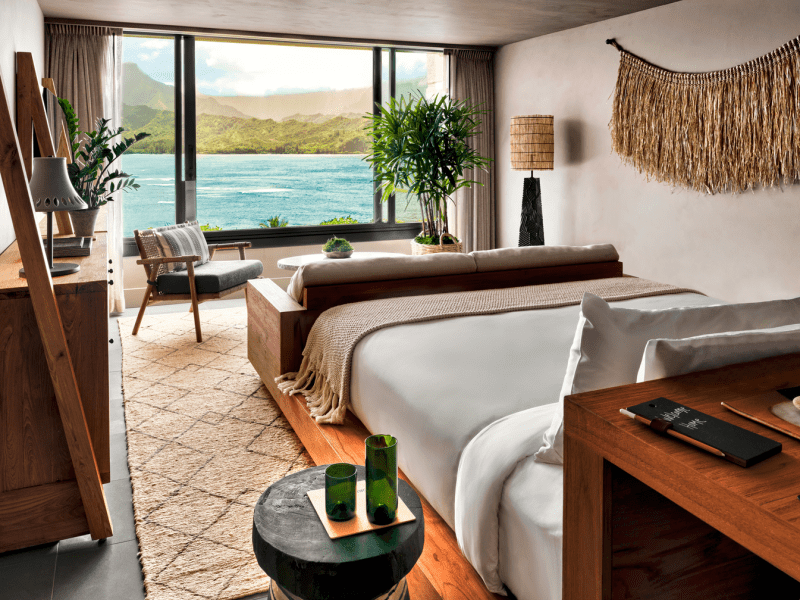 In line with the 1 Hotels ethos, award-winning interior designer Nicole Hollis believes in creating spaces that not only ease—but elevate—the human spirit while honoring the natural world. At our sprouting flagship wellness sanctuary, 1 Hotel Hanalei Bay, this ethos exists at every turn through stunning elemental design that blurs the line between interior and exterior.
When the exterior involves the soaring mountains, crystal waters, emerald valleys, and vibrant flora of Kauaʻi, it lends itself to an interior that effortlessly transports you to a soothing, ethereal escape. We sat down with Nicole Hollis to discuss how she worked alongside our internal design team to curate meticulous design elements, mindful materials, and unique artworks that evoke and honor the stunning oasis of Kauaʻi—bringing its distinctive landscapes, cultures, and traditions inside our sustainable sanctuary.
Q&A with Nicole Hollis, Interior Designer of 1 Hotel Hanalei Bay
Like all 1 Hotels, there is an emphasis on biophilic design. How does that translate to public spaces and guestrooms, and how does it affect the guest experience?
1 Hotel Hanalei Bay is unique in its biophilic design because of its location. The hotel is situated on a steep hillside, and when you arrive you are greeted with the expansive panoramic views of Hanalei Bay. Sweeping emerald valleys, cascading waterfalls, and towering mountains create one of the most stunning backdrops in the world. We set out to blur the line between interior and exterior, to create an environment where guests are transported to a place of solace and serenity. 
In renovating the hotel, a large portion of the existing lobby was removed to make room for a tropical garden interwoven with calming water and fire elements. We continue the interior-exterior language throughout the public spaces by utilizing fully opening folding and sliding glass doors, focusing all furniture groups outward toward the spectacular views, and filling the spaces with lush plantings. In the guestrooms, the design is centered on enjoying the view from every angle in the room. Nestled in understated luxury and the comfort of natural materials, the design draws from simple forms that honor nature. 
Can you tell us about some of the local design elements?
Throughout the public spaces and guestrooms, we sourced local basalt and puka lava stone as well as Eucalyptus poles for their natural organic beauty. We incorporated kapa patterns in custom textiles and layered in works by local ceramicists throughout the spaces. Most rewarding though was collaborating with local artists such as Suzanne Wang, Gary Eoff, and Kamran Samimi to commission beautiful one-of-a-kind pieces for the hotel.
Are there any pieces of furniture or art with unique stories?
At 1 Kitchen, we collaborated with a local Hawaiian fiber artist, Marques Marzan, who was born and raised in Kaneʻohe, Oʻahu. His work ties together his deep knowledge of Hawaiian traditions and history with innovations of the present – speaking to the evolutionary continuity of culture. For this project, Marques used materials which are customary house-building resources in Hawaiʻi, like coconut fibers, pandanus leaves, ti leaves, and pili grass. These materials provided the physical layers of protection and structure that offered safety and shelter to families. This contemporary work features their distinct qualities and textures in a creative way that helps to reconnect Hawaiʻi's local community and visitors alike to these historic practices and materials in new ways. He also expressed that the gathering and processing of materials is extremely labor-intensive, and that collecting materials in a responsible and ethical way is something that we must always strive for to ensure that future generations have access to these culturally significant resources.
Do any design elements have a second life?
Throughout the public space millwork, we incorporated reclaimed wood, and in the guestrooms, a large portion of the furniture is built out of reclaimed solid wood as well. The second life of this wood brings an added layer of texture and natural beauty.
How does 1 Hotel Hanalei Bay differ from other 1 Hotels you've worked on?
When designing the now-completed public spaces for 1 Hotel San Francisco, we wanted it to be a calming haven located in the heart of a bustling urban area. However, with 1 Hotel Hanalei Bay, its entire surroundings are an oasis, so our objective was to draw from that soothing energy by incorporating the property's serene backdrop into the design. By using a neutral palette, rich in textures and inspired by nature, we designed spaces that celebrate the spectacular view, bringing it front and center. Despite both hotels sharing the same brand DNA, 1 Hotel San Francisco serves as a retreat from its immediate surroundings, whereas 1 Hotel Hanalei Bay pays tribute to the elegance of the adjacent natural world.
What's your favorite space on the property?
While all the spaces are unique and special, I think the open lobby bar most evokes the spirit of 1 Hotel Hanalei Bay. Essentially a covered outdoor space, it utilizes low-level native plantings and a central bar to divide it into various smaller intimate areas while never obstructing the views of the bay.  Walls painted with lime wash from Portola, reclaimed teak ceiling joists, a raked-concrete bar, and natural limestone flooring with a subtle nod to kapa patterns provide a richly textured backdrop for guests to comfortably lounge and enjoy fresh sushi or a locally inspired cocktail.
What are you most excited for guests to experience?
Not only am I excited for guests to experience all that Kauaʻi has to offer, but I'm also excited for the world-class health and wellness programming that has been designed for the various spaces. Guests will not only feel refreshed and rejuvenated, but leave with a better understanding and appreciation for Kauaʻi.
More Stories We'd Think You'd Enjoy
Designed by Nature
Brushing Up on Mayfair's Iconic Art History With Captivating Tours Led by Art Expert, Loyse de Pury
As we embark on monthly art tours through the creative soul of Mayfair, get to know the colorful...
Connecting to the Heart of Hispanic Heritage Month: Stories of Passion & Pride From Our Latinx Team Members
We're spotlighting the stories of our incredible Latinx staff members, discovering what this month...