Serving Solutions: How Copia Cooks Up New Ideas to Create a World Without Hunger
In a world where Americans waste three times more food than there are hungry mouths to feed, Copia is relentless in its pursuit to make hunger a thing of the past—and we're honored to be part of the journey.
Published on: November 06, 2023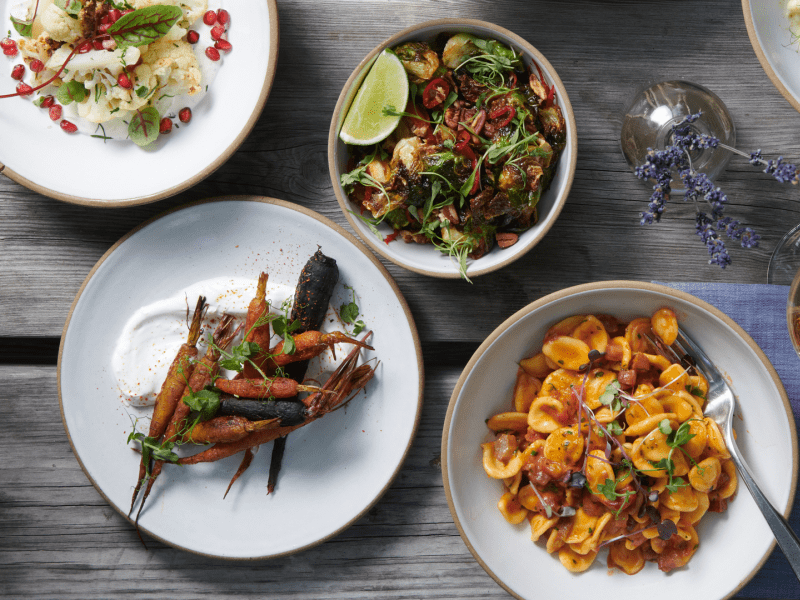 Copia's mission aims to reframe the way we think about hunger. It's not a matter of scarcity, but a matter of logistics and planning. Every single day, Americans waste enough food to fill a 90,000-seat football stadium to the brim; no one should have to go hungry. Copia's dedicated team is on the frontlines of the hunger crisis, bridging the gap between those with excess food and the people who need it most.
So far, our partnership with Copia has allowed us to donate over 5,200 pounds of food and serve over 4,400 meals to some of the most vulnerable members of our communities through local nonprofits such as Nashville Rescue Mission, Toronto's Good Shepherd Ministries, and The Salvation Army ARC Miami. Copia has also helped us divert over 16,000 pounds of CO2 equivalent and save over 1.2 million gallons of water. What were once sustainability goals for us are now a reality, and we couldn't have done it without their unwavering dedication. 
We sat down with Copia's VP of Customer Success, Paige Sullivan, to learn more about their dedication to the methods and innovative technologies they use to help partners like us measure and reduce food waste, the steps taken to ensure surplus food is safely delivered to those in need, and some tangible tips we can all use to avoid excess food.
We hope these insights inspire you to take a closer look at food waste in your life and join Copia, as we have, in its goal to create a world without hunger.
PAIGE SULLIVAN, VP CUSTOMER SUCCESS AT COPIA, ON TACKLING FOOD INSECURITY
Can you provide an overview of Copia, your mission, and how you help to reduce food waste and address hunger?
Copia is a Public Benefit Corporation and is the leading technology platform for managing surplus redistribution. What that means is that we empowerfood service and retail companies like hotels, caterers, and restaurants to effectively manage their waste and easily distribute their surplus. National brands across the US work with Copia—which has a 99% match rate between donors and nonprofit recipients, I should mention—to reduce food insecurity in the communities where they operate every day, help reduce their greenhouse gas emissions by diverting food from landfills, and boost their profitability through enhanced tax deductions.There are so many reasons for businesses to donate surplus!
We also allow companies to donate non-food items. From toilet paper to shampoo to diapers, there are incredible local nonprofits looking for this type of additional support from donations.
How does Copia ensure that surplus food is safely delivered to local nonprofit recipients?
Copia's software matches all donations to nearby local nonprofits, which ensures that food not only supports closeby neighbors in need but also that food never travels long distances. Recipient nonprofits are typically just 4-7 miles from each donor. Copia also has an in-house Food Safety Council to educate both donors and nonprofits on proper donation handling so all donations are shared safely and with dignity.
About how many pounds of edible food has been donated this year?
In 2023, 1 Hotels donated 4,567 pounds, which includes Nashville for the full year and South Beach, Toronto, Hanalei Bay, Brooklyn Bridge, West Hollywood, and Central Park which started donating in July. Those are impressive numbers!
How has your partnership with 1 Hotels helped the local communities around our properties?
In America, 38% of the food we produce annually goes to waste, while at the same time one in ten Americans are food insecure. This means that hunger in our country is not a scarcity problem as much as it's a logistics and process problem. Through our partnership with 1 Hotels, every pound of edible surplus goes to an organization that supports those in need of this food.On average, 1 Hotels' donations are just under three miles away, so its donation efforts are very much impacting your local communities.
Could you elaborate on how Copia provides real-time data and actionable insights to help us understand food surplus trends and make better purchasing decisions?
After each donation, data is reflected in dashboards for 1 Hotels to see in real time. This allows teams to not only see and celebrate the incredible impact they have on the environment and local community, but it also allows them to identify when and why there's surplus in the first place. With multiple different dashboards and visualizations, locations can really dive in to better understand how they can take action to make smarter purchasing and production decisions to reduce surplus overall.
Anything else you'd like to share about the work you do or how people can reduce food waste at home? 
Food loss at the consumer-facing business level accounts for a big portion of total food waste today, and this is something we can address with technology and determination! But it's important to remember that a lot of food waste happens right at home, and while Copia empowers businesses to better understand and divert surplus, there's a lot you can do too:
Sell-by, best-by, and expired labels don't necessarily mean that food should be thrown away! These labels refer to peak quality or inventory management for the manufacturer rather than safety. A quick tip: reference the Food Keeper app from the USDA if you ever have questions about food and beverage storage.
Food is often forgotten as it gets pushed to the back of the refrigerator. Start to put newly purchased items towards the back so you remember to eat items as they get closer to going bad. This system of storage is referred to as FIFO: First In, First Out. 
There are also so many creative ways to use ingredients that you may initially think to throw away. For example, stale bread can be used for croutons or french toast and vegetable trimmings make a great broth. When you grocery shop, create a calendar of meals so you can make sure you're taking advantage of every delicious item purchased.
PARTNERING FOR THE PLANET AND PEOPLE
We're so grateful for our journey with Copia, and we can't wait to see what the future holds as we continue to roll out zero waste programs across our properties. With 2024 just around the corner, we look forward to new opportunities to extend our positive impact with purposeful partnerships in the new year and beyond.
 
More Stories We'd Think You'd Enjoy
Steering the Future: Join Audi on the Journey Toward All-Electric Mobility
With an ambitious goal of phasing out the production of combustion cars by 2033, pioneering...
Sustainability
That's a Wrap: Our Favorite Sustainable Gifts for the Holiday Season
As the year comes to a close and we reach a time of reflection, we choose to express gratitude for...
Sustainability
A Message on Thanksgiving