Savor That Summertime Feeling with Our Chefs' Favorite Seasonal Recipes
We're celebrating summer's beauty and bounty with mouthwatering recipes, featuring fresh ingredients and vibrant flavors that have so beautifully bloomed with the season.
Published on: August 16, 2023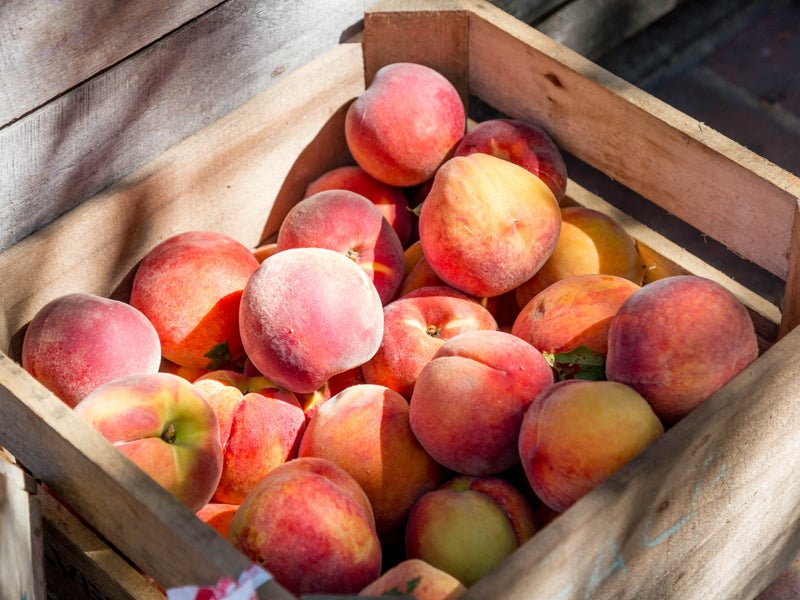 Summer is undeniably characterized by juicy fruits, sweet vegetables, fresh herbs, and overall vibrant flavors. From ripe ripe peaches to tangy passion fruits, even just thinking of your favorite summer foods has the power to remind you of all the reasons you love this captivating season.
The talented chefs across our properties are uniquely in-tune with this concept, as they continuously draw ideas and inspiration from the incredible, distinctive crops of each season. To celebrate the second half of summer, we asked some of our chefs to describe their favorite summertime flavors and recipes. You'll notice that their responses tell stories of love and appreciation for summertime—and the natural world that blooms with it.
GET A TASTE OF OUR CHEF'S FAVORITE SUMMERTIME RECIPES
Chris Crary, Culinary Director at 1 Hotel Nashville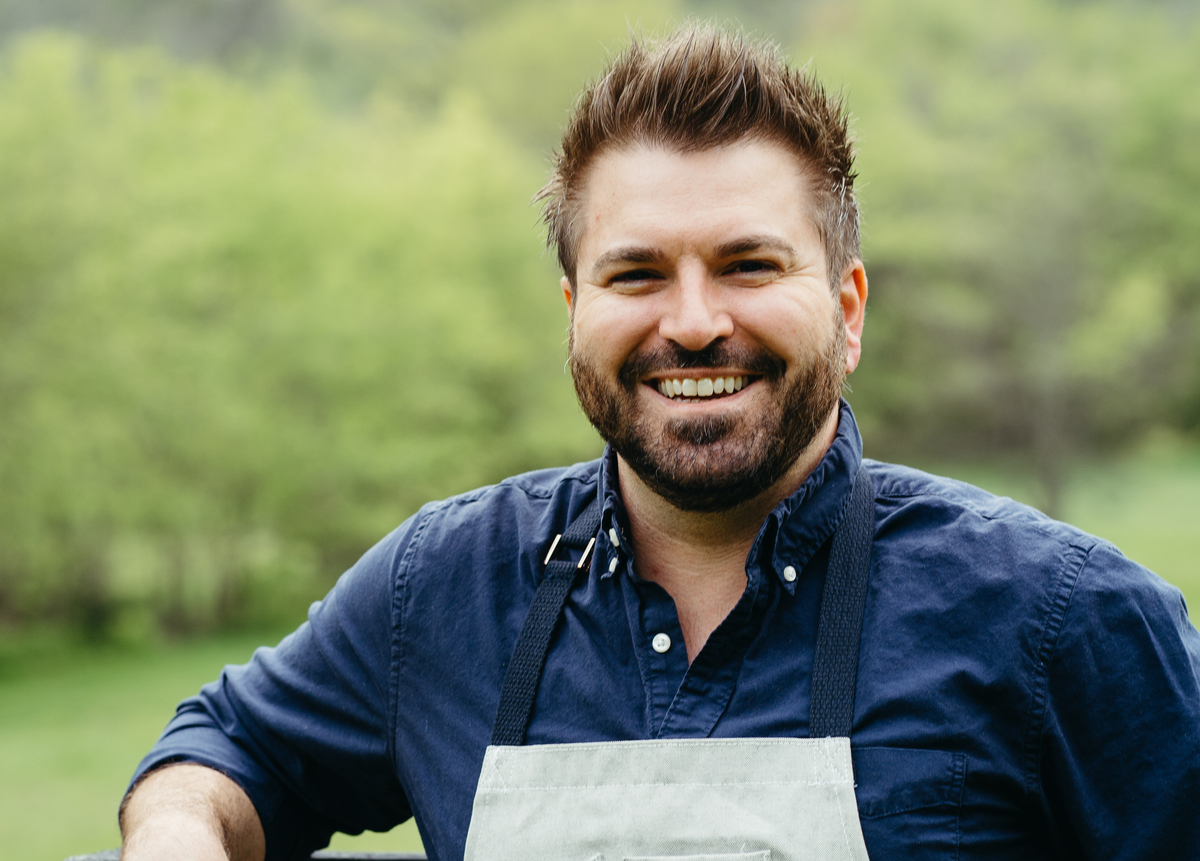 Tell us about your role at 1 Hotels.
As the culinary director of 1 Hotel Nashville, I have the pleasure of designing the menus for all of the venues. This is super fun for me as I focus on new sustainable initiatives and follow the changing seasons. When producing new dishes, there are a few things I think about first that most chefs don't. What's the environmental impact of this dish? Is it local? Is it in season? Is it a lighter, healthier version of the original dish if it's a variation of a classic dish? At 1 Hotels, we believe that simple is better, and we like to partner with local artisans and farmers that produce the best possible products in the height of their season.
How does seasonality influence your menu? 
I love being in Nashville, as there truly are four individual seasons. It's exciting to see the new vegetables and fruits come and go out of season. We work with twenty-six different farms to make sure that everything that we get is at the peak of the local season; if it's not growing, we can't get it. We also ask all of our partners to package and deliver their products in the most sustainable way possible. As opposed to using plastic bags, we ask them to use paper bags so that we can compost them. We recycle all cardboard and donate all of our glass to a local company as well.
What is your favorite summer fruit or vegetable and why? 
One of my favorite vegetables of summer is sweet summer corn! It's so versatile and has such a simple yet complex flavor. My grandmother used to grow sweet corn in her garden when I was growing up; it was so fresh and delicious, and we used to pick it right off the stalk and eat it raw. She would make creamed corn, cornbread, and grilled corn on the cob. I can still remember the smell of her cornbread and waiting in anticipation for it to come out of the oven, so I could cover it in salted butter and honey. Sometimes when she had peppers ready in the garden, she would add jalapeños and cheddar to the cornbread, and it was glorious.
Can you please share a recipe that incorporates this fruit/vegetable?
One of my favorite things to make in summer is sweet corn soup with crab, corn, pickled shallots, and cherry tomatoes.
SWEET CORN SOUP RECIPE:
Ingredients:
4 ears sweet corn, removed from cob
2 tbsp olive oil
3 shallots, sliced
5 garlic cloves, sliced
12 cherry tomatoes, halved
8 oz red wine vinegar
1 tbsp granulated sugar
1 tsp kosher salt
Water
Salt and pepper, to taste
8 oz crab (optional)
Instructions:
Heat a medium-sized pot over low to medium heat. Add the olive oil, half of the shallots, and the garlic. Slowly sauté until translucent.
Add in ¾ of the corn kernels to the pot, reserving ¼ for the soup garnish. Slightly sauté the corn with the shallots and garlic.
After a few minutes, add enough water to just cover the corn mixture and bring to a simmer.
While the corn mixture is heating up, start the pickled shallots. Place vinegar, sugar, and salt in a small sauce pot. Once it begins to simmer, pour the hot liquid over the remaining sliced shallots. Cover and let cool.
When the corn mixture has simmered for a few minutes, remove from the heat and blend until it is completely smooth.
To prepare your soup garnish, toss the pickled shallots, remaining raw corn, cherry tomatoes, and crab (if using) in a small bowl.
Place this garnish mixture at the bottom of 4 soup bowls.
Pour the hot soup over the garnish in the bowls.
Serve immediately and enjoy!
Chef Dan Churchill, The Osprey at 1 Hotel Brooklyn Bridge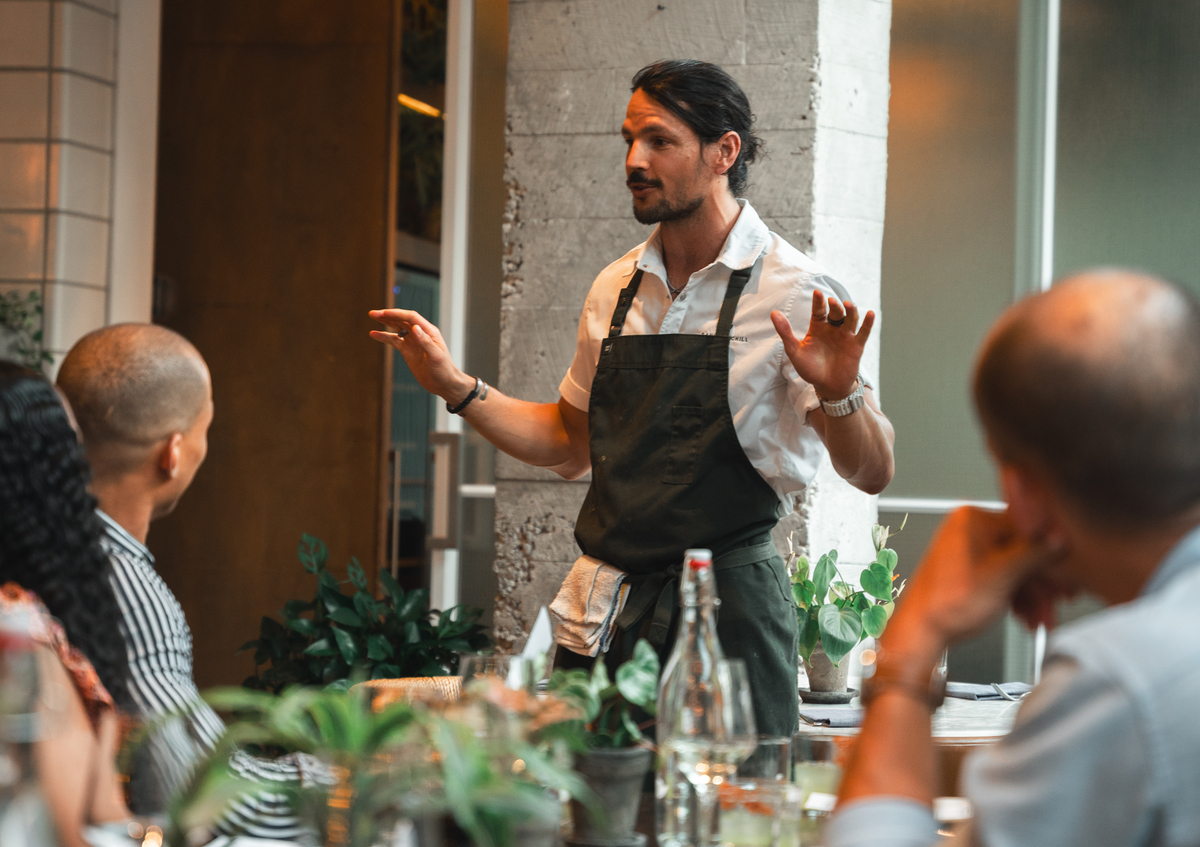 Tell us about your role at 1 Hotels.
I'm currently taking over the kitchen at The Osprey, located at 1 Hotel Brooklyn Bridge, until September 30. I was brought on board to help craft a unique identity for this incredible restaurant and location. Both 1 Hotels and my personal brand are synonymous with sustainability and wellness, and the team recognized my culinary background to help shape this story and important message. 
How does seasonality influence your menu?
Being in NYC, we have access to some incredible vegetation, farms, and marine life. In Brooklyn, we have incredible markets and opportunities to educate and inspire our communities and teams on the value of seasonal produce. I also think limitation breeds creativity. If you were to walk into a supermarket, you have so many options, and it can actually be a barrier to the imagination. When you're "limited" to what's in season, it can give you better clarity on what to create. Not only is this approach more sustainable, but it also gives you access to riper, more flavorful ingredients! 
What is your favorite summer fruit or vegetable and why?
Without a doubt peaches. How can you beat the juicy nature of the meat? They are both nostalgic and unbelievably satisfying. Whether you use a knife to cut wedges, or (more like me) you enjoy the juice running down your hand, peaches remind me of some of my favorite times of the year.
Can you please share a recipe that incorporates this fruit/vegetable?
I've grown up eating yogurt and peach jam all my life. With varying fruits and syrups, it's such an awesome summertime recipe.
SUMMER PEACH YOGURT BOWL RECIPE:
Ingredients:
2 cups natural yogurt
2 tbsp honey
½ tsp vanilla extract
Pinch of salt
2 cups peaches, seeds removed and diced
¼ cup grapefruit juice
Coconut Granola
3 cups oats
1 cup coconut shredded
½ cup walnuts, chopped
Pinch of salt
½ cup olive oil
½ cup maple syrup
Fresh berries
Method:
For the granola, preheat the oven to 300 degrees F. In a large bowl combine all the ingredients and transfer to a lined baking tray. Spread evenly before cooking in the oven for 10-15 minutes, mixing halfway through, until slightly golden brown. Allow to cool for 20 minutes.
In a bowl combine the yogurt, vanilla, salt, and half the honey. Set aside.
In a small saucepan combine the peaches with grapefruit juice, 1 tbsp of water, and the remaining honey. Bring to a gentle simmer on low heat and allow to reduce for 10-15 minutes or until soft and reduced (you can blitz with a hand mixer or blender, but keeping it slightly chunky is preferred). Allow to cool for 15 minutes.
To serve, dollop a good 2 tbsp of yogurt, before spooning over the peach jam and crumbling over the granola. Serve with fresh berries.

Mandy Figueroa, Pastry Chef at 1 Hotel Hanalei Bay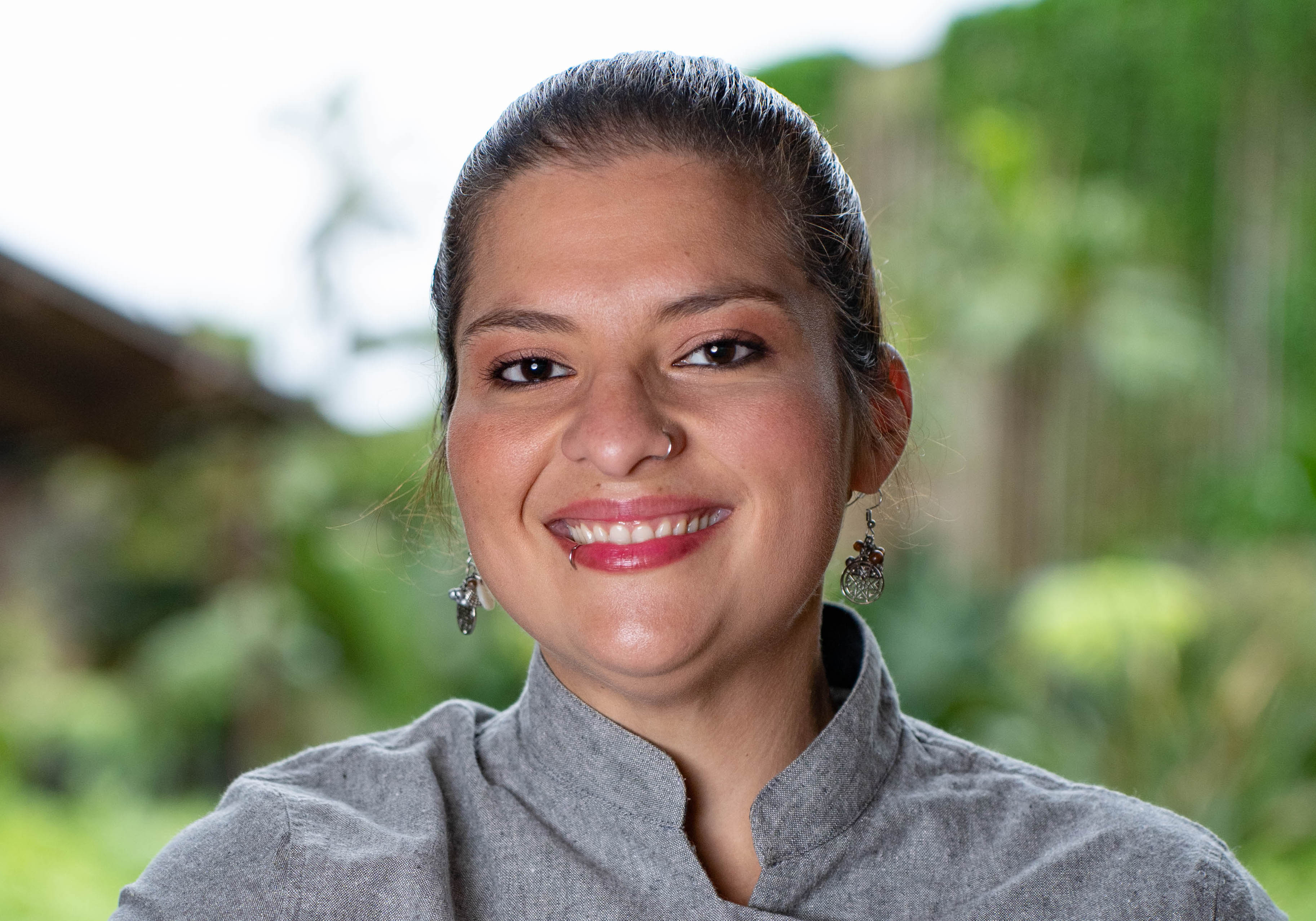 Tell us about your role at 1 Hotels.
I am the Pastry Chef for 1 Hotel Hanalei Bay, situated on the beautiful lush island of Kaua'i. 
How does seasonality influence your menu?
We supply pastries and desserts to all the venues for the hotel. Being in Hawai'i, we are blessed with an array of tropical fruits and ingredients we get to use all across our menus and outlets. 
What is your favorite summer fruit or vegetable and why?
One of my favorite summer fruits is lilikoi, or as many know it, passion fruit. Here on the island, we have a few varieties. My favorite is the yellow variety that grows on the south side of the island, which is much more dry and desert-like. It's sweeter, and you can crack it open and eat it with a spoon. You get an array of textures, sweet pulp, and crunchy seeds. It can be used in a variety of ways.
Can you please share a recipe that incorporates this fruit/vegetable?
In Hawai'i, we have this awesome combination called POG. It's a mixture of passion fruit (lilikoi), orange, and guava. I use this in one of my desserts called POG curd. POG curd is so versatile; I can use it in a tart or use it in a mousse. It uses lilikoi in the mixture itself, and when you add the fresh lilikoi to the top of it, it gives an amazing texture and bite to the dish.
POG CURD RECIPE:
Ingredients:
16 oz POG Juice Concentrate

Note: If POG concentrate is not available, you can make your own by combining 6 oz passion fruit puree, 6 oz guava puree, and 4 oz of orange puree.

4 oz passion fruit puree
4 oz guava puree
20 oz sugar
12 whole eggs
2 sticks (8 oz) cold butter
Zest from 1 Lime
2 tablespoons gelatin powder
Instructions:
Start by blooming the gelatin (this refers to combining your gelatin powder with a cold liquid to rehydrate the gelatin)—sprinkle gelatin powder into the passion fruit puree, mix gently, and set aside to allow the gelatin to rehydrate.
In a small pot, combine POG juice concentrate, sugar, and eggs. Place the pot on medium heat, stirring continuously until the mixture starts to bubble and thickens.
Once thickened, remove the pot from the heat and stir in the passion fruit puree/gelatin mixture. Continue stirring until the gelatin fully dissolves.
Let the mixture cool to room temperature.
Add the cold butter to the cooled mixture. Use an emulsion blender to blend until smooth.
Fold in the lime zest.
Transfer the curd into a storage container. To prevent a skin from forming on the surface, place food storage wrap directly onto the curd before sealing the container.
Store in the refrigerator and enjoy once cooled!
More Stories We'd Think You'd Enjoy