Reduce, Reuse, Recycle. Most Of All, Reduce.
Written by Melissa Denchak. Article provided by the Natural Resources Defense Council (NRDC). Read the original story here.
Published on: August 21, 2018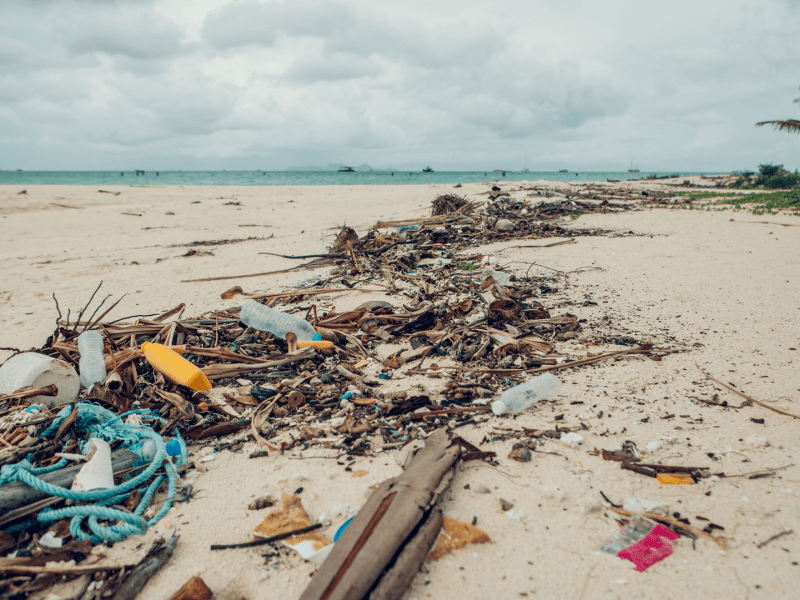 ​
About 4.5 pounds. That's the amount of trash—banana peels, frayed toothbrushes, busted electronics, plastic wrappers, greasy pizza boxes—that the average American generates every day. And it adds up quickly: In 2014 alone, according to the U.S. Environmental Protection Agency's most recent available data, we collectively tossed 258.5 million tons of stuff.
Fortunately, not all the items we discard end up in landfills; we recycle or compost more than one-third of our trash. In 2014 this saved carbon emissions equivalent to the yearly output of 38 million passenger cars. But we could be doing so much more. For example, we recycle only 14 percent of all plastic packaging. And we toss about 40 percent of all our food, composting only about 5 percent of that load, according to the EPA.
Although even recycling comes with environmental costs, NRDC's Senior Resource Specialist Darby Hoover says that "compared to landfilling, recycling is the clear environmental winner. However, waste prevention is even better." So start by cutting down on what you use in the first place. "Reduce should always be the number-one priority," Hoover says.
How? Think more conscientiously about your everyday habits and develop new routines. Here are some places where you can start.
Buy well-made products, and borrow the items that you rarely use.
When you purchase long-lasting clothes, housewares, and electronics, you'll trash them less often. Even better, when possible, borrow or buy used goods. Tap friends, neighbors, consignment shops, garage sales, flea markets, and secondhand e-commerce sites first—especially for things like Halloween costumes or that power washer you'll use just once or twice. If you have kids, always say yes to hand-me-downs. And as items are outgrown, pass them on or resell them.
Before you purchase anything, ask: Is this (say, a garlic press) a thing I need? Or is there another item I can use or repurpose for the same task (like that kitchen knife)? Get creative. Need wrapping paper? Use pages torn from catalogs, the Sunday comics, or even an old road atlas. "People love when I wrap presents in maps," Hoover says.
Cut plastic and single-use items out of your daily routine.
So many of our everyday products are designed to have a short useful life. Here are some ideas for more sustainable swaps.
Health and beauty products
Kitchen basics
On-the-go accessories
Slay food waste—and food-packaging waste.
On average, Americans toss out a staggering 400 pounds of food per person every year. Most of it ends up in a landfill, where it releases methane, a potent contributor to climate change. We also have to consider all the greenhouse gases released by growing the food we ultimately chuck. All told, our wasted food produces more greenhouse gas emissions each year than 37 million cars. And that's not our only wasteful food-related habit. We also tend to prefer our food in convenient, single-serving sizes, shrink-wrapped or accompanied by lots of plastic accessories. Commit to freezing more and wasting less, getting more out of your kitchen stash, and calming your impulse to dump anything in your fridge that isn't super-fresh. Follow these tips for reducing your food packaging, too.
Recycle and compost all you can—and do it correctly.
To reap the environmental benefits of "recyclable" and "compostable" goods, you must recycle and compost according to the rules of your municipality, since systems vary widely by location. If you don't, you'll have regular ol' trash on your hands. Search your municipality's sanitation department (or equivalent) web page to learn exactly what you can place in the recycling bin, as counties and cities often differ in what they accept. And if municipal or community composting isn't available where you live, consider doing it in your own backyard.
Speaking of the yard, in 2014 Americans contributed 34.5 million tons of yard trimmings—grass, brush, and leaves—to the waste stream. Do your part to reduce that amount by composting those trimmings, leaving grass clippings on the ground where they can decompose into a natural fertilizer, or joining the no-mow movement.
And make a habit of recycling everywhere. Designate a spot in your closet to collect clothing to donate. If you have a home office, station a paper recycling bin right by your desk, and set up a box for other recyclable items like batteries and printer cartridges. When it's time to part with old electronics, look for e-waste drop-off sites or events where you can hand over your discards to an e-Stewards-certified company, or find out if your town offers a municipal e-waste collection program.
​
More Stories We'd Think You'd Enjoy
Steering the Future: Join Audi on the Journey Toward All-Electric Mobility
With an ambitious goal of phasing out the production of combustion cars by 2033, pioneering...
Sustainability
That's a Wrap: Our Favorite Sustainable Gifts for the Holiday Season
As the year comes to a close and we reach a time of reflection, we choose to express gratitude for...
Sustainability
A Message on Thanksgiving