Radiate Naturally: The Profound Positive Impacts of Whole-Plant Skincare
April Gargiulo, Founder of  Vintner's Daughter, shares the philosophy, inspiration, and careful thought that goes into crafting skincare products that care for the planet just as much as your skin.
Published on: April 28, 2023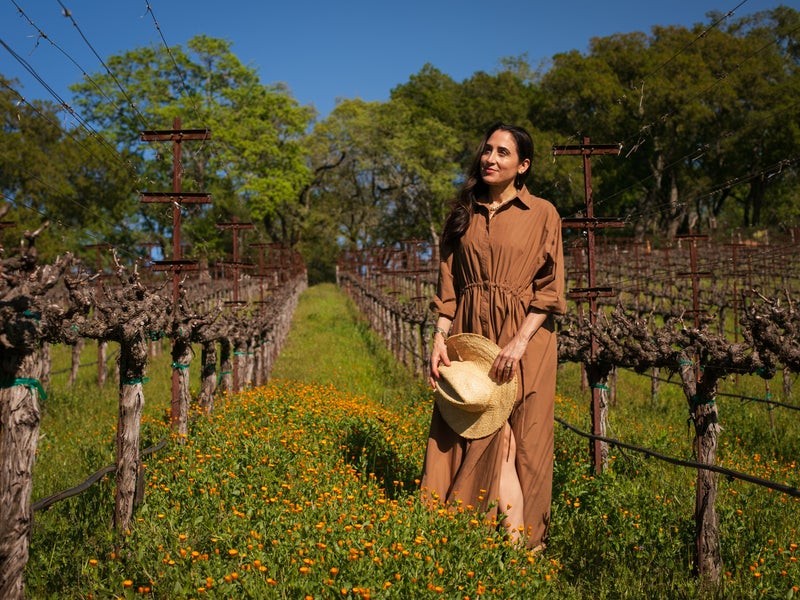 We're thrilled to feature Vintner's Daughter in our Goodthings shop at 1 Hotel San Francisco. As an impact-driven skincare brand built upon plant-based ingredients, organic farming practices, and a deep reverence for beauty in all its forms, Vintner's Daughter's mission aligns beautifully with ours. They're also based locally in San Francisco.

Not only do their products aim to impart a luxurious touch of nature into your everyday routine, they aim to generate a profound positive impact for your skin and the planet. From ethical sourcing to meticulous attention to detail, every drop of their products is made to enhance your natural radiance while safeguarding the delicate beauty of the natural world.

This Earth Month, we caught up with founder April Gargiulo at her family vineyard in Napa Valley to get to know the place that inspired her performance-driven skincare brand. Informed by April's background in fine winemaking, Vintner's Daughter was founded on a connection to nature and unmatched standards of quality and craftsmanship.

When it comes to sustainability in skincare, there are many facets—for some, it means using products featuring certain ingredients. For others, it extends beyond that, encompassing practices that have been fine-tuned for years and keeping in mind the generations to come.

So, what exactly does sustainable skincare encompass in the eyes of Vintner's Daughter?
 
INTERVIEW WITH APRIL GARGIULO, FOUNDER OF VINTNER'S DAUGHTER
What's your skincare philosophy?
We have a very high bar for what skincare should be and believe that we all deserve to use products that deliver incredible results in fewer steps. We do this through an unmatched commitment to quality, craftsmanship, and performance. Every product we make begins with the world's most nutrient-dense whole plants. Most skincare is made with synthetics, extracts, and powders. Just like our bodies, our skin is healthier, more resilient, and balanced with whole plants versus synthetics. Over the course of weeks (versus the industry average of hours), we coax out the full spectrum of nutrients from these skin-beautifying whole plants. Because your skin recognizes their nutritive structures as its own, our formulas are able to connect with the skin in an extraordinary way (again, like whole versus processed foods) driving lasting, multi-beneficial results. Another benefit to our multitasking products is that you do not need an endless array of skincare steps, so you save time, space, and our beautiful planet by buying less, but better. Win. Win. Win. 
What inspired you to start Vintner's Daughter?
Like many first-time moms, when I was pregnant, I started looking at the ingredients in many of the "luxury" products I was using. I was shocked to find that many were made from .01% active ingredients and low-quality synthetic fillers that were in many cases harmful. Coming from where I was coming from, none of that sat right with me. I come from Napa Valley, a community dedicated to making the finest wines in the world through meticulous attention to detail and craftsmanship. Shortcuts are not allowed, and practically every grain of dirt is considered for its quality. I believe that to make the finest of anything, whether that be a meal or skincare, you must begin with the highest quality raw materials. The example I like to use is the difference between a meal replacement bar made in a lab from synthetic ingredients and a beautifully prepared meal made from the freshest, whole and organic ingredients. We know which choice is better for our bodies, our environment, and our communities. The same can be said for skincare made from the highest quality natural ingredients versus extracts and synthetics. This is what led me to create Vintner's Daughter. I wanted to build a true luxury skincare company that made products from the finest ingredients in the world, using time-honored techniques in order to bring about profound and lasting balance, radiance and health in the skin.
What does impact mean to you?
Impact is critical to our mission and we think about it as four legs to a stool. First, we want to make a profoundly positive impact on skin through our nutritional, performance-driven formulas. Secondly, we want to have a positive impact on our community's life, and we do that through our commitment to positive beauty. Words and images matter. That is why we seek to show an inclusive vision of beauty and choose to avoid gaslighting words like "correct," "fix," "transform," and "anti-aging" that create fear and insecurity. Instead, we consciously choose words that create joy, confidence, and gratitude in your beautiful skin. The third leg of our impact stool is sustainability. From day one, we have woven sustainability into every part of our business—from sourcing raw materials to packaging to choosing partners and, perhaps biggest of all, maintaining a Fewer, Better philosophy related to products. We have four voluntary certifications including Climate Neutral, and in 2022, we were awarded a B Corp Certification—bestowed upon companies that live up to the highest environmental and social impact standards. The fourth leg of our impact stool is our commitment to giving back. From day one, Vintner's Daughter has donated 2% of every purchase to charitable organizations and nonprofits dedicated to protecting, educating, and empowering women and children worldwide. We have helped bring clean drinking water to communities, build homes, provide life-saving vitamins, and so much more through an incredible group of charitable organizations. As you can tell, we commit to making a positive impact in everything we do.
What's your favorite Vintner's Daughter product?
It is hard to pick a favorite product because each of our products is its own superstar, chosen for its multi-beneficial effects on the skin. What I would point to as our hero though is the way in which we assemble each of these extraordinary products and their nutritional ingredients into our proprietary Phyto Radiance Infusion. If there was a secret sauce, this would be it. It is at the heart of every product we make. Over the course of three temperature-controlled weeks, we gently extract the full spectrum of nutrition from the world's most nutrient dense whole botanicals so that with every drop, our formulas deliver optimal skin-healing nutrition. There is nothing else quite like it because it creates a level of communication and intimacy with the skin that allows the skin to become its absolute best. 
Can you speak on how Vintner's Daughter is sustainable? How do you support Earth Advocacy and why is it important to you?
We exist to not only impact your skin in the most beneficial ways, but to have a positive impact on the world. Social and environmental responsibility are infused into every aspect of our business, from sourcing and packaging to distribution, voluntary certifications, and donating 2% of revenue to charities benefiting women, children, and the environment. This way of operating requires more time and resources, but we believe it is the best way to do business. Most recently in December of 2022 we became B-corp certified. This accreditation joins a few of our already-established ethical, global accolades including Climate Neutral Certified and Leaping Bunny Certified. We are thrilled and proud to announce our B-Corp certification, one of the world's most stringent voluntary certifications for environmental and social impact. This recognition furthers our day-one commitment to operate a business that is a force for good while delivering the best-in-class nutritional skincare. The B-Corp certification not only acknowledges and celebrates current impact achievements but also allows us to create benchmarks to improve upon, making continuous improvement on our positive impact mission much more possible. We are proud of the strides we have made but also for our customers and stockist partners. Your and their conscious decision to invest in products made with a sense of responsibility and respect for each other and our planet is what allows us to continue this work. We are deeply grateful for this partnership.
More Stories We'd Think You'd Enjoy