Designed by Nature
Environment
Planting the Seed of Adventure: Your Guide to the Native Plants and Natural Wonders of Kauaʻi
Get closer to nature in the stunning setting of Kauaʻi with our Daylife adventure guide and a list of the extraordinary abundance of native plant species that thrive throughout 1 Hotel Hanalei Bay.
Published on: February 05, 2023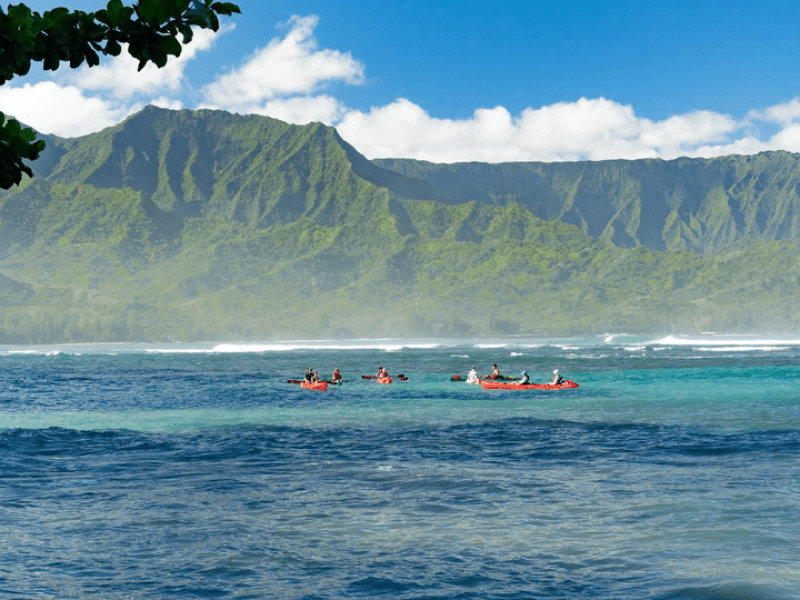 The moment you touch down on the island of Kauaʻi, you're greeted with the soothing sensations of the natural world—warm sunshine, magnificent soaring birds, swaying palms, vibrant tropical flora, and fresh island air.

With so much breathtaking beauty and awe, it can feel overwhelming to pick a starting point for your island explorations. So we curated a Daylife guide outlining natural attractions and excursions beyond  1 Hotel Hanalei Bay, so you can get closer to nature in one of the most stunning spots on earth.

Take a dive through crystal clear waters, snorkel with fluorescent tropical fish, hike paths winding through lush island forests, learn the ins and outs of turning raw cacao seeds into finished chocolate, and get a close-up look at the gorgeous, sacred plants that play a central role in sustaining Native Hawaiian culture. Every single one of these adventures gives you a unique glimpse into all of the things that make Kauaʻi such a special place.

Wander Off Path
To get you started on your outdoor adventures, we've put together a Daylife guide of incredible natural attractions—most within a 5.5-mile radius of 1 Hotel Hanalei Bay. Every one of these adventures offers a unique opportunity to connect with the land, admire the wildlife, honor Native Hawaiian culture, and challenge your limits.

Hiking, Walking, Touring, and Gazing
Hike at Hā'ena State Park: Hike the two-mile Kalalau trail to Hanakāpīʻai Beach and/or the gorgeous 300-foot waterfall of Hanakāpīʻai Falls—showcasing gorgeous ocean views along the Nāpali Coast. After your hike, take a refreshing dip in the waters of Ke'e Beach. This special adventure requires a reservation, so be sure to visit www.gohaena.com beforehand.
Tour Limahuli Garden & Nature Preserve: Home to dozens of endangered plants and tropical birds found nowhere else on earth, Limahuli Garden tells a beautiful story of Hawaiian ancestry. As one of the most biodiverse valleys in Hawaiʻi, it's considered a puʻuhonua (place of refuge) for the sacred ecology that honors the connection between humans and nature. It maintains indigenous traditions, using ancestral resource management methods to achieve contemporary conservation, in a truly authentic Hawaiian landscape. A reservation is required for all guided tours and highly encouraged for self guided tours, so be sure to visit their website to reserve your spot. 
Visit the Kilauea Lighthouse & Wildlife Refuge: This wildlife sanctuary is perched upon the grassy hills and ocean cliffs of a dormant volcano, and it's a safe haven for various rare seabirds and marine life. Take an educational tour or wander on your own to see if you can spot an 'Ua 'u kani (wedge-tailed shearwater) or Mōlī (Laysan albatross). Off the coast, keep an eye out for an endangered 'Ilio-holo-i-ka-uaua (Hawaiian monk seal) or Koholā (humpback whale).
Sight See at Wailua Falls: Roughly 20 miles from our sanctuary, Wailua Falls is a beautiful waterfall you can drive right up to—picture jagged, emerald-covered cliffs with cascading waterfalls pouring over into the gorgeous Wailua River. While it's too dangerous to hike, it's a great place to take photos and absorb awe-inspiring beauty.
Explore the Na 'Āina Kai Botanical Gardens: Roughly 20 minutes by car, Na 'Āina Kai ("Lands by the Sea") is an exceptional artistic and horticultural vision based on a strong commitment to the land and the people who call it home.
Stroll Through the Princeville Botanical Gardens: Tucked away in the jungle valleys of Princeville (roughly 15 minutes by car), these botanical gardens are a true tropical oasis, defined by dramatic topography, natural landscaping, and thoughtful cultivation. With a diverse collection of Kauaʻi's native and "canoe" plants, the gardens are home to medicinal botanicals, rare and endangered flowers, and a variety of ecosystems including the valley floor, streams, and hillside terraces. Go for the views, stay for the single-origin chocolate tasting. You can make a reservation (required) here.
Tour the Lydgate Chocolate Farm: Roughly 50 minutes by car, head over to the Lydgate Chocolate Farm to learn all about Theobroma Cacao and taste its ripe fruit. Discover the secrets involved in turning raw cacao seeds into finished chocolate, and explore the amazing health benefits of chocolate during this three-hour tour. Kick off the tour with a stroll through the gorgeous botanical gardens. You can make a reservation (required) here.
We offer gorgeous guided hikes at 1 Hotel Hanalei Bay. Led by our local experts, embark on a moderate-level excursion to experience the island's magnificent landscapes. Our guides know some of the most breathtaking spots on the North Shore, and they're always a step ahead on weather and terrain. So if you prefer to explore with someone who truly knows the island, look no further.
Exploring the Waters
Swim & Surf at Hanalei Bay: Hanalei Pier is a great place to start your water adventures. It's a lifeguarded beach suitable for all levels of swimming and surfing. Stop by our activities hut for surfboard rentals, and grab a fresh snack from one of our restaurants to put together the perfect beach picnic.
Kayak and Stand Up Paddleboard (SUP) at Hanalei River and Nature Preserve: Revered for its beauty, cultural significance, and environmental importance, the Hanalei River is one of only fourteen American Heritage Rivers. This bird-watchers' paradise is a great place to catch sight of incredible tropical birds. You can also drop your kayak here and make your way to the ocean. Stop by our activities hut for kayak rentals.
Swim & Snorkel at Anini Beach: This lifeguarded beach is the perfect place to swim and snorkel with countless vibrant fish and sea turtles, but please be sure to follow the lifeguards' guidance regarding strong currents, and keep your distance around the wildlife.
Explore the Nāpali Coast by Boat: Our concierge team would be thrilled to set you up on a boat tour of the gorgeous Nāpali Coast, boasting incredible views of jagged cliffs and cascading waterfalls. Make it a snorkeling tour to get a once in a lifetime close-up look at marine life, including sea turtles, dolphins, and whales (seasonal).
Kauaʻi's Natural Wonders Await

Kauaʻi's incredible landscapes offer limitless adventure—from golfing and shoreline fishing to helicopter tours and geological excursions and beyond. Every one of our outdoor pursuits offers a new opportunity to immerse yourself in Kauaʻi's natural beauty, magnificent wildlife, and Native Hawaiian culture.
More Stories We'd Think You'd Enjoy
Designed by Nature
Brushing Up on Mayfair's Iconic Art History With Captivating Tours Led by Art Expert, Loyse de Pury
As we embark on monthly art tours through the creative soul of Mayfair, get to know the colorful...
Connecting to the Heart of Hispanic Heritage Month: Stories of Passion & Pride From Our Latinx Team Members
We're spotlighting the stories of our incredible Latinx staff members, discovering what this month...