Navigating Every Day The 1 Way
We always discuss the importance of changing our habits to set the pace for a brighter future — to leave the world better than we found it.
Published on: April 27, 2021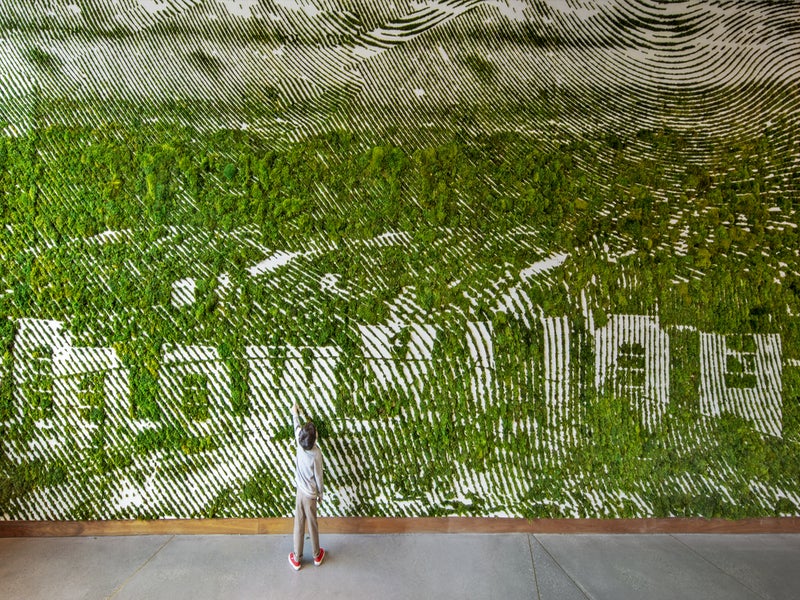 We embody the mantra "less is more," because we wholeheartedly believe that the natural world possesses unique beauty that no human can create. We not only want to admire that beauty, we want to absorb it, share it, and safeguard it. But what does that actually look like?
Each sustainable sanctuary, each experience, each personal request, and each corner at 1 Hotels has been thoughtfully crafted with a better world in mind. To show you exactly what that means, we share with you The 1 Way — several highlights of our way of doing better for Mother Earth, across all of our properties.
 
Delicate Design

You should always feel 1 with nature, especially when at your home away from home. Our sustainable sanctuaries were crafted with a specific focus on biophilic design principles — inspired by our inherent longing, as humans, to affiliate with nature. 
Our wooden "1" sculpture in the front of 1 Hotel West Hollywood was an exciting opportunity to keep trees out of the waste stream. With the help of Angel City Lumber, this project allowed us to repurpose 75 tons of wood from fallen trees that would otherwise have been turned into mulch.
The lobby of 1 Hotel Brooklyn Bridge seamlessly blends the natural world with modern design — incorporating reclaimed materials, natural light, and lush vegetation. The dramatic 25-foot verdant wall, created by Harrison Green, is both breathtaking and humbling. It features steel grating covered in hand-placed plants and winding vines that will evolve over time, reminding us of the vitality of the planet.
The pool decks and boardwalks at 1 Hotel South Beach are proof that every inch of our sustainable sanctuaries is designed with longevity and sustainability in mind — including the ground you walk on. Through the design of these structures, we repurposed 7,000 square feet of IPE decking. As an exotic hardwood that's naturally resistant to rot and decay, it's eight times harder than California Redwood and guaranteed to maintain its durability for 20 years without preservatives.

Responsible Resources

Mindful moments are everywhere, and it's important to slow down and take them in. This is the inspiration around our resourcing processes, which is why we always strive to give materials a second life.
At 1 Hotel Brooklyn Bridge, our design embraces the local community, the history of our neighborhood, and the beauty of our natural surroundings. More than half of this sustainable sanctuary is made from regional and reclaimed materials — featuring tables and benches made from reclaimed heart pine beams from the former Domino Sugar Factory in Brooklyn and over 100 lampshades made from mushroom mycelium created by Brooklyn-based designer,  Danielle Trofe.
Walk with purpose on our carpets at 1 Hotel West Hollywood — made from various recycled materials including ocean plastics.

Thoughtful Transport
The Audi E-Tron allows us to transport our twice-weekly Farmer's Market haul at 1 Hotel Central Park without a traditional delivery truck. This sustainable program has not only allowed us to cut back on fossil fuel emissions — it's increased our Farmer's Market purchases by 20% since 2019.
We offer complimentary bicycles for guest use at 1 Hotel South Beach and Central Park. This allows us to further reduce our carbon footprint, promote well-being, and remind our guests (hey, that's you!) that every little decision counts.

A World That Is 1

The future of the world and the future of hospitality are 1 and the same. Sustainability is our compass, and we hope you join us in the challenging standards of innovation and pushing the envelope — while always feeling 1 with nature.
More Stories We'd Think You'd Enjoy