More Than Just Music: The Incredible Role of Sound in Crafting Moments of Awe
Our sonic curator, Michaelangelo L'Acqua, sings the well-deserved praises of a carefully crafted sonic identity. His passion has played a central role in curating the Sounds of 1.
Published on: May 15, 2023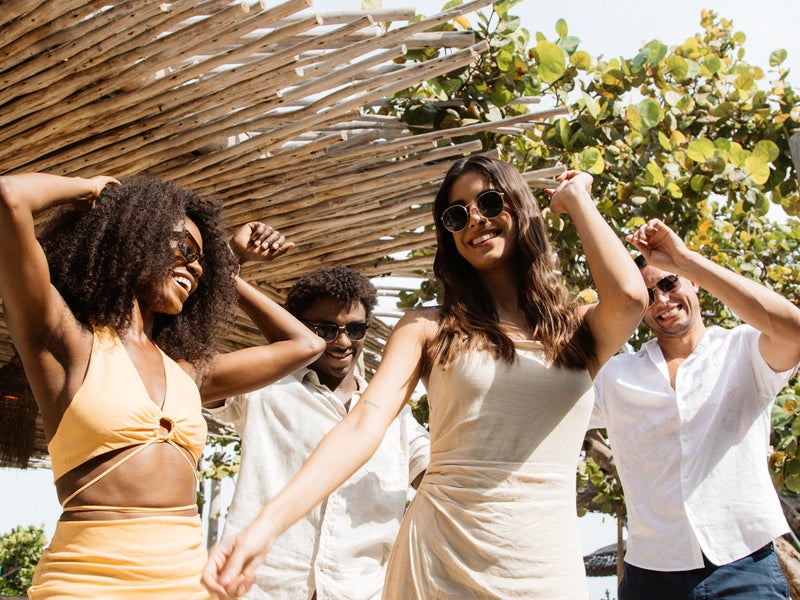 We've all experienced the powers of music, from a song that raises goosebumps to a simple sound that transports you back to a specific place and time. It's no secret that music plays an important role in shaping our lived experiences, identities, and abilities to connect with our surroundings.
Our sonic curator, Michaelangelo L'Acqua, understands this notion on an intimate level. His profound passion for music began at a young age and evolved into an internationally acclaimed career, helping brands all over the world cultivate their unique sonic identities.
We spoke with Michaelangelo to get a behind-the-scenes look into the 1 Hotels sonic identity, Sounds of 1, and its central role in crafting moments of awe. This carefully curated soundtrack was designed to echo the harmonies and rhythms of the natural world, washing over your senses and while evoking fond memories and feelings you've experienced at our sanctuaries. Now, you can experience nature in a new way across all of our properties — and even bring the Sounds of 1 home with you through our monthly Spotify playlists.
INTERVIEW WITH MICHAELANGELO L'ACQUA, CURATOR OF THE 1 HOTELS SONIC IDENTITY
What is your first memory of music? What impact has music made on your life?
When I was a child, they diagnosed me with dyslexia. Back then, every day I was told by my teachers that I was abnormal, that I would fall behind everyone else, and that I was a burden on the other students. That went on until the end of the third grade when I was given a violin to play. After a few months of playing it, my music teacher said to my mother, "He might be abnormal, but he has a special ability to play music. He should audition for the Manhattan School of Music and let the music guide his life."
Shortly thereafter I began to study at the Manhattan School of Music, and my life's journey as a musician began. Music changed my life and allowed the people around me to see more than my learning disabilities but rather the voice I had inside me to share with the world. Without music, I may have been written off as a child who just wouldn't amount to much in life. 
What is your favorite soundscape? Or one you come back to time and time again?
There is a list of artists' albums that are time capsules forever frozen to the moment I first discovered them. I often go back to an album and listen to it in its entirety to reflect on my life, the past, and the journey I've taken, in order to re-engage with the innocence I had when I first heard the music. By looking through this musical window into my past, I can remember more clearly the dreams I once had of my future and can realign to my truth.
Tell us about your role at 1 Hotels. 
My role at 1 Hotels is to understand how to translate the brand's DNA, passion points, and values into music touch points and entertainment experiences. Additionally, I serve as 1 Hotels conduit to the creative world that shares the same core values as we do and to partner with those individuals and communities that inspire us in creating experiential magic inside our hotels. 
Why is music such an important part of the guest experience?  
Music can change how one perceives and engages the world around them. This can happen on a conscious and an unconscious level. When music elicits an emotional response from its listeners, it can elevate their visceral reaction to the physical design they find themselves in, deepen their appreciation of food and beverage, or open them up to have a richer and more fulfilling human moment with friends, strangers, and our incredible hotel team.
Listening to music is seldom a solely auditory experience (i.e. "the power of music", "where words leave off, music begins."). How can music shape an experience or memory through other senses such as scent or taste? 
When you combine two or more sensory touchpoints, an individual has an exponentially greater response to an experience. When these sensory moments align perfectly together, we call this the "Moment of Awe." When the experience is forever locked into the memory of the individual, it can be brought back to life when they re-engage one of those sensory touchpoints. A song, a scent, and a cocktail forever recall the moment of first discovery. 
What is Sounds of 1? How has nature inspired the program or how did nature inspire you in curating the sounds?
By curating music rooted in acoustic instrumentation that is masterfully crafted with symmetry of form, rhythm, and melody, we follow the same principles found in the ecosystems of nature that inspire our biophilic design principles. 

1 Hotels' music persona is confident, evolved, educated, playful, thoughtful, nostalgic, inspirational, and globally appealing. It ebbs and flows between our love for daylife into our expression of nightlife. We are genre agnostic but lean towards music that inspires an air of nostalgia. We play with acoustic instruments and rich vocalists as much as we love to relax or dance the night away to electronic music. We understand that our musical future is driven by our love for mastery of the musical past. We are never trendy for trendy sake, but rather we let artistic mastery and sonic craftsmanship be the lens that guides us in our musical voice.
What can guests expect from Sounds of 1 while they're at 1 Hotels, and can they experience it at home or on the road?
Sounds of 1 has been curated to be a sonic journey into the world of 1 Hotels. You can experience it at our sanctuaries or at home or on the road through our monthly Spotify playlists, echoing the current season and various locations we call home.

We hope the Sounds of 1 not only enhance your experience when you visit us but also inspire you while traveling to our destinations. We hope these soundtracks remind you of the special moments you've shared with us and infuse your experience at home and with friends. 
How will the Sounds of 1 experience differ from hotel to hotel or from one area of a hotel to the next? How does it differ between daylife and nightlife?
We have curated the 1 Hotels sonic identity akin to a film score and a soundtrack to our guest's personal film that plays out in each of their minds during their stay with us.. As their days unfold,, our musical score plays a subtle supportive role to elevate the subtext of their experiences, but as the plot evolves into the night, so does our soundtrack that comes to the forefront and helps define their experiences. 

Each of our film backdrops changes to define the unique aspects of our city or resort experience, but the film score and soundtrack play the same role in helping to create "Moments of Awe" and memories that live on forever.
BRING HOME THE SOUNDS OF 1
Bring the Sounds of 1 home with you through our curated Spotify playlists, and allow the sonic experience to evoke fond memories you've made over the years at our sanctuaries.

We hope this soundtrack not only brightens your day — but brings your senses even closer to the beauty and bounty of nature.
More Stories We'd Think You'd Enjoy