How to Stay Healthy While Traveling with Tips from the HigherDOSE Founders
HigherDOSE is a first-of-its-kind wellness brand on a mission to ignite vitality from the inside out.
Published on: August 10, 2022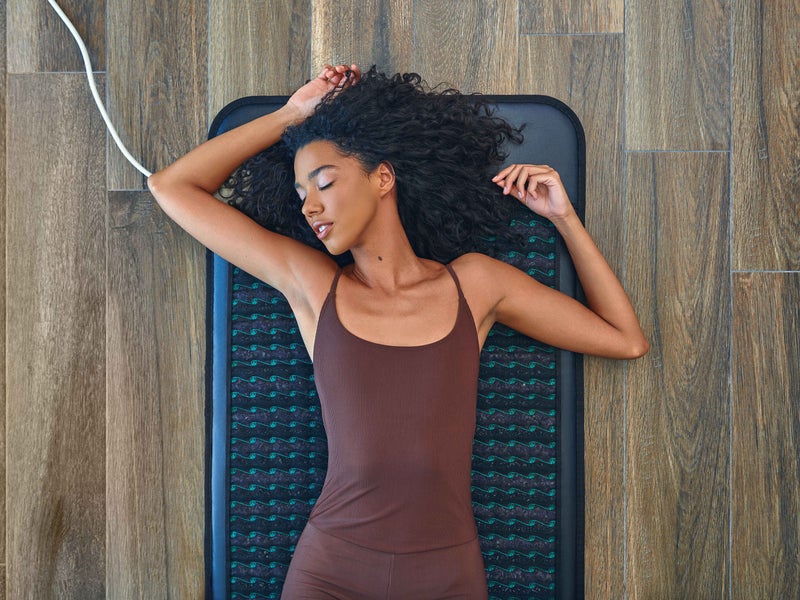 With a variety of nature-inspired technologies designed to release a DOSE of feel-good chemicals, HigherDOSE has discovered new ways to enhance wellness rituals, so you feel more rejuvenated, refreshed, grounded, and glowing—what they call getting high, naturally.
At 1 Hotels, we're aligned with their vision to reconnect you to your intuition, so you can elevate to your highest state. That's why we offer HighderDOSE wellness tools ranging from sauna wraps to red light face masks at Brooklyn Bridge and Central Park, with additional locations coming soon.
But we know that life can get busy. Schedules, commitments, and travels can throw a wrench in your wellness plans. That's why we sat down with HigherDOSE founders, Lauren Berlingeri and Katie Kaps, to gather their top tips on staying healthy—and achieving your highest self—even in the midst of a busy travel schedule.
Traveling Tips from HigherDOSE Founders
Traveling can take a toll on the body, no thanks to time zone changes, long flights, and generally being out of sync with your at-home schedule. As founders of a wellness company, Lauren Berlingeri and Katie Kaps travel a lot for work and, along the way, have discovered some tried and true practices for staying healthy while traveling. From ancient healing practices to high-tech biohacking, here's how the HigherDOSE founders focus on their well-being when on the go.
1. Hydrate, Hydrate, Hydrate!
The pressurized air on planes can totally dry out your skin, leaving it dry and lackluster. We have a few tricks for combatting this travel woe (which we go over below) but staying hydrated is our top tip. Drinking water before, during, and after plane travel can help keep skin hydrated from the inside out. To up the ante, we like adding the HigherDOSE High-Dration Powder to the mix. The electrolyte powder is infused with magnesium and marine algae minerals, along with super-hydrating watermelon and coconut powders for the ultimate replenishment. 
2. Move Your Body
Moving your body is beneficial on so many levels. Even if we don't have access to a gym, we like to run or power walk for at least 30-minutes a day. It's a great way to see the city when you're visiting and get your sweat on. 
3. Carry-On the PEMF Go Mat 
We try not to leave home without our HigherDOSE PEMF Go Mat, which promotes a state of rest and digest through Pulse Electro Magnetic Frequency (PEMF) technology. The mat is also designed with infrared, which can boost circulation after a long flight (or lots of sight-seeing), helps relieve achy muscles, and promotes detoxification. If you're staying at 1 Hotel Central Park or 1 Hotel Brooklyn Bridge, you can enjoy a PEMF Go Mat in your room. 
4. Get Your Glow On 
From lack of sleep to dehydrating cabin pressure, traveling can wreak havoc on the skin. We counter the effects of traveling by staying hydrated and igniting our inner glow with the HigherDOSE Red Light Face Mask and Glow Serum. The Glow Serum is formulated with hydrating aloe vera leaf juice, plumping niacinamide, nourishing hyaluronic acid, and a bunch of other glow-enhancing ingredients that help promote a supple and healthy-looking complexion. To up the ante, we also reach for the hands-free Red Light Face Mask, which uses far infrared and red light technology to rejuvenate the skin, reduce redness, and enhance glow. It also has international adaptors, making it all the more travel friendly. 
5. Stay Regular With Detox Drops 
If you have a hard time staying regular while traveling, there are a few things you can do. First, we try and stay as hydrated as possible to help the body's natural detoxification process. In addition to drinking lots of water, we also reach for the HigherDOSE Detox Drops to keep our guts happy when on the go. The drops are made with chlorophyll, which is considered one of the most nutritious foods on the planet. Chlorophyll helps the body naturally detox while also supporting cellular energy and healthy aging. In addition to chlorophyll, the Detox Drops are also formulated with marine algae minerals and magnesium for added detox benefits, plus milk thistle to support liver cleansing. 
6. Get Grounded
Grounding—also known as earthing—is when you walk barefoot on the Earth. The ancient healing practice is, in a way, a form of meditation that literally helps ground you. On top of that, the benefits of grounding include reduced inflammation, decreased stress, improved sleep, and more. Connecting to the Earth in this way can also help combat the EMF and radiation from the plane. If you're unable to bare your soles to Mama Earth, another way to ground yourself while traveling is to spend some time on the HigherDOSE Infrared PEMF Go Mat.
 
More Stories We'd Think You'd Enjoy