How to Cultivate Holistic Well-being with Advice from TRILUNA
In line with our vision, TRILUNA takes a holistic approach to wellness. Wellness is not a diet or a workout—rather, it's an opportunity to take an honest assessment of our physical, mental, and spiritual state. Our wellness is measured by our ability to live in the present moment, to cultivate healthy habits in our daily routines, and to show up for ourselves, our loved ones, and our communities. Like us, our partners at TRILUNA acknowledge that there's no one-size-fits-all when it comes to wellness. We encourage you to take the time to discover what wellness truly looks like for you, and we hope this insightful interview helps you navigate that journey.
Published on: September 06, 2022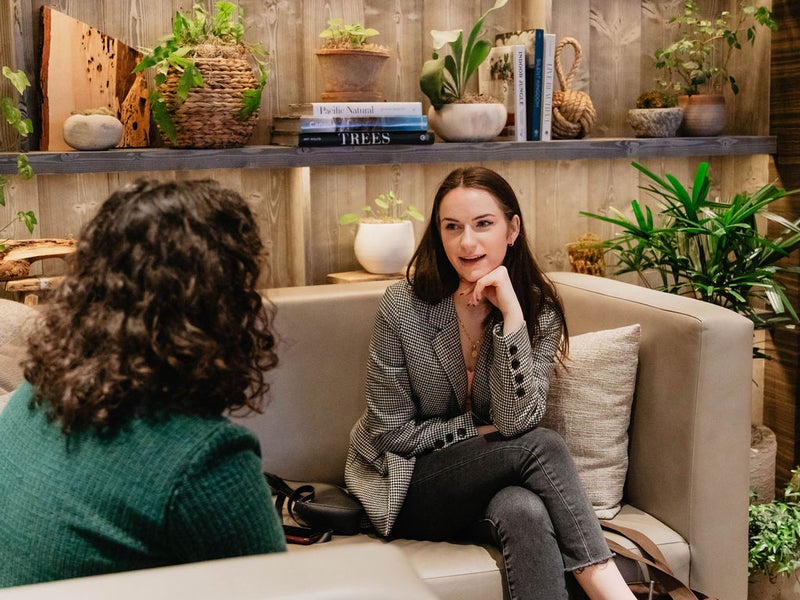 Interview with TRILUNA, Our Wellness Partners at 1 Hotel Nashville
TRILUNA is owned and operated by two of you, Ashley Brooke James and Elizabeth Moore, and you met during your yoga teacher training, is that right?  Can you tell us more about your yoga journey and how you got started?
For ten years, I (Ashley) was in sales roles. I did consumer sales for Dell Computers and then went into Healthcare IT recruiting and Account Management.  I managed large healthcare accounts and traveled the southeast regularly. Eventually, I began to notice my health was deteriorating. I developed chronic migraines that lingered for months at a time. My hair was breaking off and I was getting little to no sleep. I needed an out.
In 2012, I found yoga. By that point, my migraines had gotten so painful that the medicines I was prescribed made me feel worse. I needed an alternative solution and yoga offered that to me. Being in the studio doing yoga took me to a place of clarity and I craved it more and more. Because I was still traveling a lot with my job, I would find different studios in each city I visited because I loved it so much.
What I did notice when traveling back and forth from Nashville to Atlanta (and other cities) was that I was often the only black student in the class. It didn't bother me that I was the only one––what bothered me was the lack of representation of black and brown people in the yoga space. This is a tool we can use as a minority community to help us heal. Class after class, I was seeing little to no representation and certainly no black yoga instructors, so I made the decision to get my first certification. It was a way for me to let the black community know: "Here I am. Come join me."
In 2018, I left my corporate job to take on wellness full time. During that time, I received my second yoga certification and met my future business partner, Elizabeth Moore. In the summer of 2019, Elizabeth asked me to join a program at our local Entrepreneur center called Preflight designed to help businesses launch their businesses. In September 2019, we launched TRILUNA.
We'd like talk to you about the importance of mental well-being. Why is it so important that people take the time to focus on mental well-being?
Mental well-being is the foundation of true wellness in our opinion. We often say, "All the kale in the world isn't enough if you have an insane amount of stress in your life." The point of good health is not simply to be healthy, it is to do more of what you love with the people you care about for longer. It's difficult to fully be with the people you love, fully present in your life, and fully realized in your career/goals/pursuit of pleasure if your emotional health, happiness, and contentment aren't prioritized. So often the wellness space is just a fitness space, phrases like "no excuses" and "no bad days" perpetuate a culture of denial and separateness from reality. To be "well" means something different for each individual and in allowing room for that we promote not only our well-being but that of our community as well.
You host meditations at our newest property, 1 Hotel Nashville. What are the benefits of meditation?
The benefits of meditation are well documented: reduced stress or increased tolerance to stress, increased concentration, more self-awareness, and better sleep. But some of the things we've noticed in our own lives are perhaps a bit more intangible. Things like more creativity, more patience, and the ability to be more present. Both of us, Ashley and Elizabeth TRILUNA's co-founders, tend to be pretty future-oriented which can keep us stuck in cycles of discontent or impatience but in practicing meditation we have learned to be more present, aware, and grateful. We also want to emphasize that meditation is a practice and it looks different for everyone. Meditation can be sitting in silence, sure, but it can also be crafting awareness when you're walking, painting, or doing some rhythmic breathing. As long as you are focused, present, and aware you can access many of the benefits of meditation.
What is intentional movement and how is it unique to each person? Why should it be part of someone's wellness routine?
Like meditation, movement's benefits are well documented. It's great for heart health, mood, joint strength, and even brain health! We say intentional movement rather than fitness because it's important to remember that not everyone has access to the same kind of movement, not everyone needs the same kind of movement, and not everyone enjoys the same kind of movement. The exercise routine you need if you're an Olympic ski champion is not the same if you're not a professional athlete…but we often judge people by one-size-fits-all standards. Many things keep us from movement: busy lives, stress, injury, and poor mental health days. All of those things are valid and often movement can help with these things–but the right kind of movement. When we say intentional movement we mean movement that fits your life. The movement you enjoy and can make time for! The movement you're most likely to engage in is the kind you like doing. It's more than movement for the sake of health, it's movement grounded in compassion and built for life!
What are things that people can incorporate into their everyday routines to manage stress and improve mental well-being?
Stress is a physiological response in the body. It's our body's way of protecting from what it senses as danger. Stress itself isn't a bad thing. It lets us know something is off, tells us to pay attention, and encourages us to change our situation or address a problem. The situation or problem causing that stress is the stressor. The stressor can be harder to "fix." It can be a bad boss, an unrealistic deadline, or even positive experiences like a date you're nervous about. Even when we can't influence the stressor there are things we can do to reduce the physiological symptoms of stress (the increased heart rate, sweating, or headaches) by signaling to the body that we're safe through activities like deep breathing, intentional movement, rest. Every day is different but building some awareness around how stress feels in your body regularly will alert you to take action to reduce the symptoms or change the situation.
TRILUNA organizes and hosts purposeful events. Tell us what that means to you and what makes an event "purposeful".
All day every day people are in "events." Whether it's meetings, dinners with friends, concerts, or birthday parties, we are always attending events. The difference maker is how intentional those events are. Purposeful events have a clear beginning, middle, and end. When we're planning an event we want to think through the experience of everyone from the attendees to the custodial crew. If it's a meeting have you set an agenda, do you know clearly what the purpose is? If it's a supper club what does the entrance look like? Does it feel transformative and safe to walk into that space? Will everyone know where the restrooms are? Are the "rules" (we call them agreements) of the event clearly laid out? Purposeful means the event has a clear and organized purpose and everything that is planned is created with that direction in mind. It makes a huge difference in how the event feels to your guests. Try it next time with a dinner party at home and see how different it feels. How can you compensate for that awkward moment when everyone arrives but no one knows each other (A game? A "build your own" cocktail bar? A gift or card?). What rules will you have established (we love a no phones at the table rule)? How will you foster the conversation? Events are community builders and done well they are a gift to all of your attendees.
Can you talk to us about your tagline and what it means to you? Pro-donut, non-diet, anti-racist. If you can't tell already, we're not your average wellness or events company.
Wellness has become so commercialized and generic that it often misses the point entirely. Wellness is about a well-lived life–not powders, serums, or quick fixes. It's about community. It's about a compassionate understanding of the way others experience the world that, in turn, expands our own. Wellness to us should be inherently anti-racist, it should understand that those experiencing discrimination deserve equity and action. Wellness, to us, should inherently fight to break down anti-fat bias and curate an understanding of health beyond aesthetics. For wellness to work it has to be grounded in self-care with roots that reach beyond the individual towards a more collective and compassionate world. Pro-donut. Non-diet. Anti-racist.
Next time you visit 1 Hotel Nashville, make sure you check out TRILUNA wellness offerings here.
More Stories We'd Think You'd Enjoy