How to be a nature-positive global citizen this Earth Month: 15 ways to win at being an ally to the environment
Let's be net-nature-positive, says Juliet Kinsman, sustainability editor of Condé Nast Traveller. If Earth Month is about caring for the bigger picture and helping big-up biodiversity, we're all in.
Published on: April 13, 2023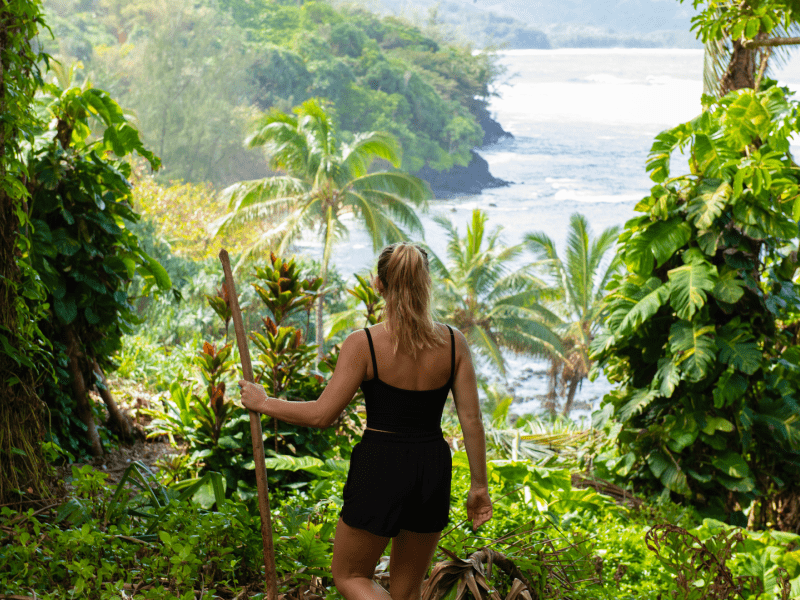 Nature positivity is what 1 Hotels is all about. Front of mind for us this Earth Month (and every day) is the need for us to be kinder to the environment — every time we hit the road, trail or winding path. In a way, it's simple. Or it should be. It means leaving less in our wake that's unpalatable for the planet, lowering our carbon emissions, and upping our contribution to conservation. In reality, it's complicated: and it can be mind-boggling trying to connect all our actions with joined-up thinking which benefits each and every ecosystem. Celebrating the natural world is what inspires how every 1 Hotel looks and feels, from Hawai'i to Central Park. So here's how to go the extra mile in the pursuit of net-nature positivity.

1. LET'S START WITH ANSWERING ONE BIG 'WHY' IT'S GREAT TO ENGAGE WITH NATURE: IT'S GOOD FOR US.
Neuroscience tells us that being near greenery has a positive effect on soothing our parasympathetic system, calming our breathing, digestion, and heart rate, and rehabilitating our rest-and-digest way of being. It's as though we've forgotten we humans are not only connected to nature, we are nature. Read these Green Spaces for You tips on how time outdoors helps keep us balanced and restores inner peace.
2. UNDERSTANDING BIODIVERSITY, AND THE COMPLEXITY AND INTERCONNECTIVITY OF ALL LIFE ON EARTH, IS KEY TO CLIMATE POSITIVITY.
A many-layered concept, maybe, but since every single species acts like an all-important piece of coding in the world's operating system, and without it, the OS crashes, just being on board with this is a biggy. Championing biodiversity matters to all, and takes many forms. Why does buying Fairtrade food or beauty products, from coffee to hair conditioner matter? It supports farming families in earning a decent income and ensures that their practices jive more kindly with the natural world. Happier people, happier planet.
3. SUPPORTING PAID-FOR PARKS AND PROTECTED GREEN SPACES IS A POWERFUL WAY TO MAKE TIME IN THE GREATEST OUTDOORS PAY IT FORWARD.
Visits to parklands aren't just an act of appreciation, they help keep pockets of wildlife alive. The National Park Service has been looking after lands for more than a century — forking out for entrance fees represents important philanthropy. Investing in membership passes for organizations such as the National Trust in the UK is more than charity — it's casting a vote to protect nature. 
4. CONSERVING WATER IS A VITAL SIGN YOU'RE NUTS ABOUT NATURE AND ITS RESOURCES.
Even drinking tap water counts as everyday activism — praise be hotel rooms that give it to you filtered, on tap, hey? Why drink H2O that was pulled out of the ground in one place, bottled in a factory, driven around for miles by diesel-powered trucks, only to leave packaging for landfill? Help out by having a refillable bottle. It's a small thing to do, yet collectively, fantastically significant.
5. TELL PLASTIC TO TALK TO THE HAND.
Ducking single-use anything is the behavioral change the world is crying out for. Picture all those polymers and PETs made from fossil-fuel extractions, as manufactured petrochemicals. And once we've had our wicked ways with those one-use wonders, they're thrown in the trash. Wait. What? Plus a world of pain awaits our waste. Much of it breaks down into nasty nurdles, gross bad-for-all nodules, which end up in our waterways and poison marine life and us. Hand a mic to nature's spokesperson and you'd hear nothing but moaning about all that plastic swilling around in a big toxic mess. Check out further plastic-busting tips here.
6. INDIGENOUS PEOPLES MAY ONLY MAKE UP LESS THAN 5% OF THE WORLD'S POPULATION, BUT THEY ARE CUSTODIANS OF LANDS THAT CONTAIN UP TO 80% OF THE WORLD'S BIODIVERSITY.
They need more of the world's eight billion people backing them up. Let's become billboards. Merch with messages that we're mad about come in Choose Earth's tees and prints.
7. ZERO IN ON ZERO-WASTE WAYS.
The quickest shortcut: reduce all you buy, use, consume, waste — when travelling and when on the hoof. Follow simple steps at home and get around to thinking in a way that's more circular: get into composting food scraps. When on the move, grill everywhere you eat on what they do with any leftovers.
8. ENLIST AS A CITIZEN SCIENTIST.
No need for lab coats, just get out in the field collecting and sharing data — from birdwatching to bug-spotting. Join the people-powered research movement at zooniverse.org.
9. CUT OUT CHEMICALS AND ALL MAN-MADE MALARKIES — FROM WHAT YOU EAT, YOU WEAR, YOU CLEAN WITH.
Lots of brands use that nigh-on non-meaning phrase "all natural" — as we know, this doesn't mean much without scientific specifics. Ingredients and materials that hail from organic and regenerative origins, and have never rubbed shoulders with pesticides or artificial anything, are true friends to nature. Scrutinize the small print from skincare to snack bars.
10. EAT SEASONAL.
Swerving 'big ag' and shop from farmers' markets and organic growers in tune — a diet in line with nature's rhythms is better for you and for the wider world. It's common sense that low food miles equals less emissions, and a side-stepping of pesticides and hormones will be better for your health and everyone else's. And it's logical your digestive system will be best served if you eat from healthier soil that's intuitive about what grows best for your geocoordinates that time of year.
11. GO LIGHTER ON MEAT AND DAIRY — IF YOU'RE NOT ALREADY A VEGAN-AWARE ECO-WARRIOR.
Eating green is a great way to live greener when you know animal farming is responsible for almost 15% of all greenhouse gasses each year (methane, in particular — more potent than carbon dioxide, but it lingers in the air for less time). We can all try to tick every do-gooding box, but still be a conscious caring consumer who's a bit of a carnivore, right? The uncomfortable truth for some is that eating less animal products is significant when it comes to the climate. Read 1 Hotels' tips on how to eat better: Eat Green, Live Green.
12. SKIP CUT FLOWERS, INVEST IN LIVING, BREATHING PLANTS.
Cultivating a compassion for all that's green, from window boxes to garden plots, is rooted in a deeper connection with nature. Only have the capacity for indoor planting? A well-postured snake plant is an easy-to-care-for air-filtering variety. In spite of its alter-ego moniker 'mother-in-law's tongue' this streaky-leafed delight speaks well for the climate, trading CO2 at night, for extra sleep-soothing oxygen. With more room to play with, turn to Farmer Nick's tips to see fingers get greener.
13. KNOWLEDGE IS POWER.
Nerd out on nature books and get behind bio-positive influencers. Experts who articulate well why and how nature loss impacts deserve to be amplified. We love you @greengirlleah. Don't have a copy of 'The Intersectional Environmentalist: How to Dismantle Systems of Oppression to Protect People + Planet'? Well, why not? Get it. Gift it. We adore you too, @georgemonbiot, and value your hard-hitting environmentalism wisdom, which keeps us on our toes. 'Feral: Rewilding the Land, Sea and Human Life' feels as fresh as when first published 10 years ago. For quick-listen, tune into the 24-minute Blinkist version. And who worth their most glittery gardening gloves or hiking boots doesn't love @PattieGonia for this queer environmentalist drag legend's climate crusading?
14. REV UP WITH RENEWABLES.
A transition from burning global-warming greenhouse-gas-spewing fossil fuels to cleaner, greener energy needs to be a global priority. From opting for electric-powered private and public transport to backing businesses that have divesting from oil and gas as their mission, think long term wellbeing-for-the-whole world over what's easiest for me here and now.
15. CELEBRATE ALL THE WINS FOR NATURE!
Whenever, wherever — shout good news loud. Like that time we hailed the United States passing its biggest climate bill to date! And check out the federal ban on toxic 'forever chemicals' in drinking water worth heralding! A massive well done to Chile and Argentina, for creating 13 national parks, rewilding six million hectares of land! When there's positive nature news — reach for the klaxon!
More Stories We'd Think You'd Enjoy
Steering the Future: Join Audi on the Journey Toward All-Electric Mobility
With an ambitious goal of phasing out the production of combustion cars by 2033, pioneering...
Sustainability
That's a Wrap: Our Favorite Sustainable Gifts for the Holiday Season
As the year comes to a close and we reach a time of reflection, we choose to express gratitude for...
Sustainability
A Message on Thanksgiving