How Tarform Is Driving Positive Change in the World of Green Transportation
We sat down with Taras Kravtchouk, founder of sustainable electric motorcycle company Tarform, to discuss the passion, ethos, and innovation behind these mindful machines.
Published on: October 11, 2022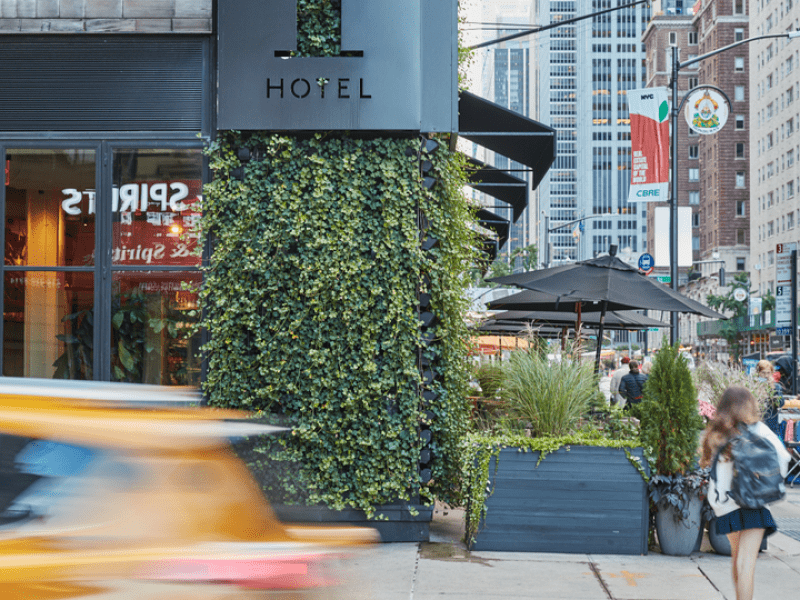 As a company centered around reinventing what is outdated and keeping what is proven, Tarform makes hand-welded, made-to-order motorcycles with performance brake systems, battery modules with Sony power cells, and control systems that ensure reliability and quality. These machines are designed for change, perfected with intelligent systems, and built to leave the smallest impact on the environment.
We sat down with Tarform's founder to discover the story behind this sustainable company—how it all started, how it fits into the future of clean transportation, and how each motorcycle reflects and respects nature.
We hope this story inspires you to experience the power of Tarform for yourself. With a studio down the street from our Brooklyn Bridge sanctuary, you can test drive a Tarform Motorcycle for free during your sustainable stay. 
Interview with Taras Kravtchouk, Founder of Tarform
Why did you start Tarform?
I've spent over 15 years at my design agency working with startups and corporations to bring their projects to life. After working with countless products and tech platforms, I felt that we were generating waste and products that don't need to exist. The promise that technology would solve our problems was not evident. On the contrary, it seemed to fuel a cycle of consumption that was not serving us a society.
As a counterbalance, I spent my weeknights and weekends at a shop restoring and building vintage motorcycles. There was something mythical about these machines; a combination of aesthetics, speed, quest for innovation, and pure thrill. One day as I was working on my Triumph that was leaking oil, I realized that these machines were due for a serious overhaul and needed to embrace new ways of thinking around sustainability. Not just in terms of electrification, but rethinking how they are made, what materials are being used during the fabrication, and if it is possible to create vehicles that preserve the spirit of craftsmanship. This was the idea behind Tarform.
What inspired your passion for environmentalism?
Growing up in Scandinavia, I was surrounded by nature and ecological awareness, which is much more prevalent in Nordic countries. Witnessing the accelerated increase in waste, pollution, deforestation, drought, and other issues around ecological degradation, I felt a sense of responsibility to bring awareness and inspire a sustainable mindset through the tools and what I cared most about—design and technology.
The design of the Tarform Motorcycle is inspired by nature's own intelligence. Can you please tell us a little bit about what that means?
We perceive aesthetics as something superficial, however most things in nature follow a certain formula that creates symmetry and beauty. The design intention behind the Tarform was to capture some of the building blocks and natural patterns that our world is made of. From the infinite variation of the Fibonacci sequence to ancient geometrical figures, I wanted to uncover the subtle beauty in each object by reducing the form to its bare essentials, to highlight the elegant beauty in the materials and capture movement in as few lines as possible.
How do sustainable materials and manufacturing practices differentiate Tarform from traditional motorcycles?
Most of today's products are built to be discarded in a few years. Our ambition at Tarform is to build vehicles that last and design for upgradability where you only replace the parts that need to be replaced. We are committed to avoiding the use of petroleum-based materials in the construction of the motorcycle. After two years of prototyping, we have developed a plant-based composite material made out of flax seed fibers, bio-resin, and algae-derived pigments. The result is a part that is fully recyclable and biodegradable. Most of the structural components are made out of aluminum, which is the most recyclable alloy. The seat is made out of biodegradable leather, and we're currently experimenting with foam made out of tree sap and coconut waste. Sustainability is not just about eco-friendly materials, but designing beautiful things that we don't want to throw away. We keep what we love.
Where do you hope to see the clean transportation industry in ten years?
The transportation industry is one of the most polluting industries, and we are in imminent need to accelerate our transition towards sustainable transportation. A lot of people are not willing to compromise and change their behavior and lifestyle. That's why I believe the most powerful way to adopt a new way of thinking is by instilling a sense of beauty and care for our environment. I hope that we use all our knowledge and the awe-inspiring potential that each individual has to shape our reality. We have all the technological solutions already available; it's up to us to use them to create a better tomorrow for us and future generations. If we see this as a collaborative project for everyone, perhaps in ten years we will have vehicles that people enjoy, that are sustainably beautiful, powered by clean technology and renewable energy.
How can 1 Hotels guests learn more about and experience Tarform bikes?
The motorcycles are handcrafted in the Brooklyn Navy Yard. Our doors are open if you want to get an insight into the making of a Tarform, or if you have a motorcycle license, go for a ride around the Navy Yard for a one-of-a-kind experience.
More Stories We'd Think You'd Enjoy
Sustainability
That's a Wrap: Our Favorite Sustainable Gifts for the Holiday Season
As the year comes to a close and we reach a time of reflection, we choose to express gratitude for...
Sustainability
A Message on Thanksgiving
The Gift Wrap That Keeps On Giving: Unveiling Wrappr's Story and the Winner of Our 2023 Artist Search
In celebration of our first successful Wrapped in Nature artist search, we sat down with both Wrappr...