How Plant the Future Is Blazing a (Lush) Trail in the World of Biophilic Design
Paloma Teppa, Founder and Creative Director of Plant the Future, explains their mission, inspiration, and knowledge surrounding biophilia—our innate passion for reconnecting with all living things that surround us.
Published on: January 12, 2023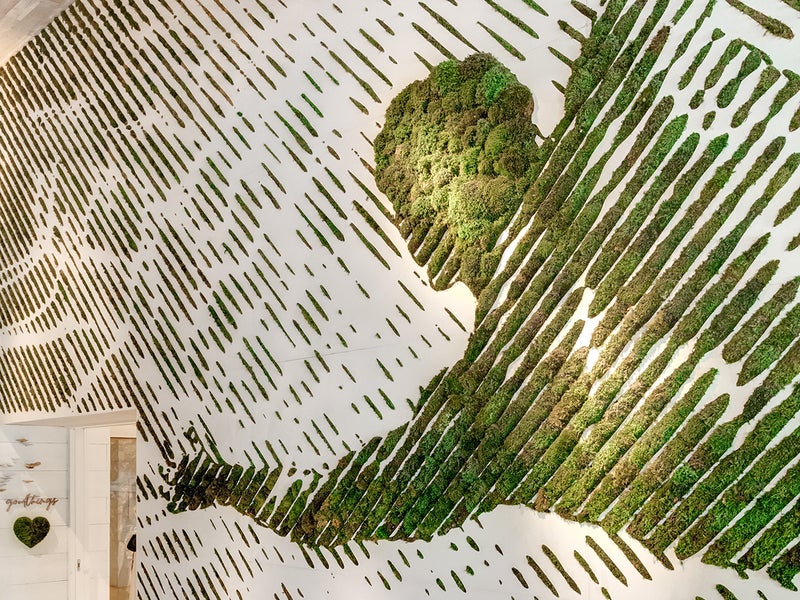 ​
At 1 Hotels, it's our mission to help you get closer to nature. What better way to do so than to bring the healing powers of nature inside? We believe in the powers of biophilic design to reconnect you with your roots, inspire mindfulness, calm your nervous system, reduce stress and anxiety, and so much more.
Our partners at Plant the Future are experts in biophilia—our innate love for nature, drawing us to seek and strengthen our connections with all living things to cultivate inner peace and happiness. As an award-winning botanical design firm, Plant the Future is continuously forging a (lush) path to uncover new ways to bring us closer to Mother Nature.
To understand more about their mission and techniques, Plant the Future's Paloma Teppa shares her insights on their design approach and inspiration as well as her tips and tricks for bringing biophilic design into your home.
What is Plant the Future, and how did you get started?
Plant the Future is a biophilic design studio and botanical art gallery based in Miami, FL. Our mission is to bring people closer to nature through art and design. We work with interior designers, architects, and developers across the globe to create nature-inspired spaces and experiences.
I started by working in a plant shop in South Miami, which was an important source of inspiration for me. I mostly worked with orchids at the time, and I was able to learn useful techniques that I further developed throughout the years. I founded Plant the Future in 2008 in the Wynwood Art District of Miami, where I began creating plant arrangements including terrariums, tabletop gardens, and plant figurines created with recycled toys. Over time, we developed different techniques for creating art pieces using moss, which led to us creating our first moss mural for 1 Hotel South Beach.
It's your mission to help people reconnect with nature through art and design. What inspired this mission, and what do you feel are the benefits of having a connection to nature?
Everything in nature inspires me. We have so many beautiful lessons to learn from nature; it reminds us that we all serve an important purpose in this life, as we are all part of a larger ecosystem.
I grew up surrounded by nature in Argentina, with a river running through my backyard in an environment full of plants, trees, and animals. When I moved to a large city, I recognized that being in a natural environment close to plants was a need for me. Plant the Future was born from this need.
We all have an innate need to connect with other living things, including plants, animals, and other human beings. This is called biophilia. Being close to nature helps us feel peace, joy, and harmony.
Tell us about the projects you've done for 1 Hotels. The green-wall designs at 1 Hotel South Beach and 1 Hotel West Hollywood are very different. Were they locally inspired?
We created various biophilic design elements for 1 Hotel South Beach including the signature "Daylife Swimmer" moss mural in the lobby. The Daylife Swimmer mural showcases the beauty of Miami's local environment in the daytime, which is characterized by warm sunny days, ocean waters, breeze, and sand. It highlights the magnificence of staying present and being alive.
We also created a moss mural for 1 Hotel West Hollywood in 2019, which showcases the local environment, characterized by mountains, plants, deserts, and valleys.
Both murals are a tribute to the land they are on, reminding us to show gratitude for what we already have in our surroundings and within ourselves, as beauty and value is present everywhere.
How can guests bring nature and biophilic design into their homes?
You can bring biophilic design into your home through the sights, textures, sounds, and smells of Mother Earth. The easiest way to bring nature indoors is through live plants. Plants serve as healers and air purifiers, bringing positive energy and serenity to your space. There is nothing more rewarding than caring for a living being. We need to challenge ourselves to take better care of our environment, and caring for plants serves as the perfect reminder of this. It is important for us to care for plants because they provide us with so much love, healing, and wisdom in return. You can also bring nature into your space through other natural textures and fibers including moss, wood, stones, mushroom, or cork.
Where can guests find Plant the Future designs?
Our designs can be found across the world in commercial and residential spaces including hotels, offices, restaurants, retail stores, and homes. We created commissioned moss murals at 1 Hotel South Beach and 1 Hotel West Hollywood. At 1 Hotel South Beach, we also have arrangements in all the rooms and common areas, created with live plants and other natural materials. You can also purchase our items on our website. 
​
More Stories We'd Think You'd Enjoy