Get a Taste of Our Newest Oasis: Menus Inspired by the Rich Cultures and Landscapes of Hawai'i
Featuring fresh, local, and sustainably sourced ingredients, the menus at 1 Hotel Hanalei Bay spotlight local purveyors, traditional flavors, and the bounty of the natural world.
Published on: January 20, 2023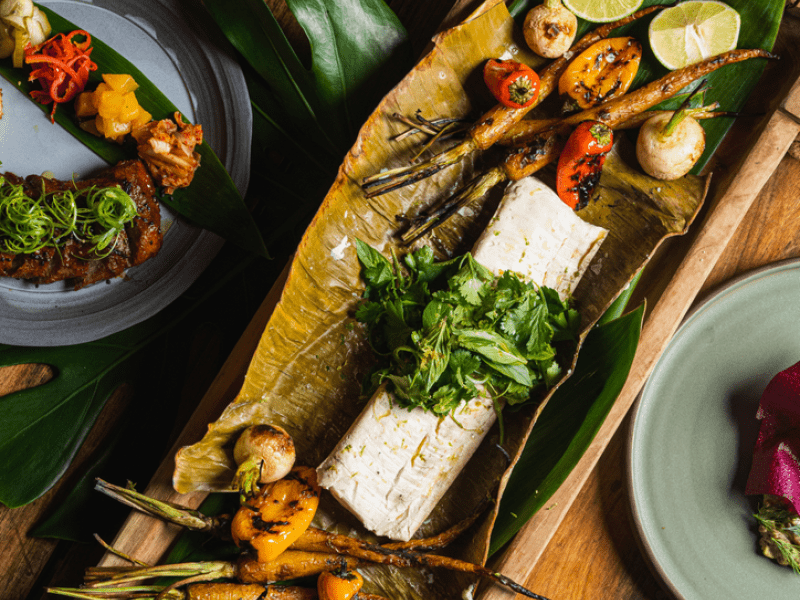 The seven restaurants and bars at 1 Hotel Hanalei Bay tell extraordinary stories of land, sea, and history through seasonal cuisine sourced primarily from Kaua'i and its neighboring islands. Featuring the freshest ingredients sustainably sourced from the on-site organic chef's garden and apiaries, neighboring farms, and local fishers, each bite and sip upholds a heartfelt commitment to our compass.
Not only do these ingredients aim to nourish your body and fuel your island adventures, they honor ancient methods and traditions that embody integrity and profound respect for the natural world. Our local purveyors understand and uphold the deep-rooted commitment to work with the land and sea.
We spoke with Executive Chef Mel Fogata to dive into the ingredients, intention, and wisdom that go into every single menu item at 1 Hotel Hanalei Bay. Born and raised on O'ahu, Mel learned to cook Filipino and traditional Hawaiian dishes from his parents and relatives, picking fresh fruits, vegetables, and herbs straight from their backyard. The food & beverage mission at 1 Hotel Hanalei Bay aims to preserve this way of nourishment — sourcing native produce, fish, and meats in a way that uplifts the cultures, purveyors, and natural landscapes of the islands.
From organic smoothies and fresh-pressed juices to a local farmer dinner series, get a taste of how 1 Hotel Hanalei Bay offers unique opportunities to relax and refuel in a way that's regenerative for both you and the planet.
Interview with 1 Hotel Hanalei Bay's Executive Chef Mel Fogata
Restaurants and bars at 1 Hotel Hanalei Bay will all feature fresh, local, and sustainably sourced farm-to-table ingredients. What makes Hawai'i so special from an F&B perspective? Can you tell us about some of our local partners and purveyors and how their products will inform our menus? 
Growing up in Hawai'i, I used to take for granted being surrounded by beauty and having some of the best fruit and vegetables readily available in my backyard. The fruits here are unreal and bursting with flavor…imagine mangos bigger than your hand with flesh that packs a punch. I've always been proud of Hawai'i, especially the island of Kaua'i for its rich history of farming, fishing, and ranching. The farmers we partner with grow their fruits and vegetables organically. Our fishermen practice the "pono" or "righteous" way of fishing by only catching what they need, returning small fish, using fresh bait and avoiding the use of long line fishing to better preserve our coral reefs and delicate ocean ecosystems.  
Kaua'i is also home to the Sugarloaf Pineapple, a pineapple that bursts with sweetness and has a core as tender as the meat and as sweet as candy. We are excited to partner with and give a platform to some amazing local farms and purveyors that are using regenerative practices to protect biodiversity and improve soil health, increasing food security in Hawai'i while leaving our land, waters, and climate in better shape for future generations.
Blue Ocean Mariculture responsibly raises indigenous Hawaiian kanpachi on the Big Island — a fish unmatched in quality, with extraordinary taste and versatility. Using sustainable farming methods, they raise the fish without antibiotics or hormones and provide them with non-GMO nutrition in their natural environment, the open ocean. This extraordinary fish is featured throughout our venues in many different preparations, from crudo at The Sandbox to nigiri in Welina Terrace and featured as a zero waste dish in 1 Kitchen.
Moloa'a Organica'a is an organic family farm and orchard on the North Shore that grows a wide variety of high quality produce, exotic tropical fruit, and medicinal herbs. Their fruits like mango are bursting with flavor and will be featured on our breakfast buffet in 1 Kitchen and in our Kaua'i Grown salad in Kai Mai`kai.
Kauai Juice Co provides our guests with amazing fresh cold pressed juices, nut milks, and elixirs made from locally sourced fruits and vegetables. Their beverages are packaged in reusable glass bottles and are available in our grab-and-go café Neighbors, 1 Kitchen, and Juice Bar. 
We're also very excited to feature the only rice currently being grown in the Hawaiian Islands from Jerry's Rice Farm in Kapa'a, which is on the menu at 1 Kitchen. It's truly artisanal rice, grown using regenerative methods and the utmost love and care, and is also the freshest and most delicious we've ever tasted. We can't wait for our guests to experience freshly harvested rice!
We have many great partners and are extremely happy to support the local food economy on Kaua'i and showcase the freshest quality ingredients the islands have to offer.
Tell us about the food and beverage experiences guests can expect at 1 Hotel Hanalei Bay.
Nutrition and wellness are key elements of our food and beverage program, with a strong emphasis on local, sustainably sourced farm- and ocean-to-table ingredients. Our team draws inspiration from the melting pot that is Hawai'i.
Chef de Cuisine Gabriel Martinez artfully showcases the bounty of the islands at 1 Kitchen, our dual experience signature restaurant. In the morning, our guests are able to enjoy a full breakfast buffet that features fruits and vegetables from our local farms and popular local dishes while the restaurant takes on a different feel when the sun starts to set. Signature dishes like plantain fritters, Maui venison tartare, and Chef Gabriel's fresh homemade campanelle pasta are must haves, and best topped off by Pastry Chef Mandy Figueroa's sugarloaf pineapple carpaccio with yuzu sorbet. Passionate about all things beverage, our Assistant Director of Food & Beverage Ikaika Hewitt has curated some amazing wines while prioritizing organic and biodynamic wineries along with some classic selections and heavy hitters. With 169 labels, 1 Kitchen will have one of the largest selections on Kaua'i. Over half of them are organic, sustainable and/or biodynamic. 
Neighbors is our grab-and-go café where you can start your day with a cold-pressed juice from Kauai Juice Co. or coffee from Hanalei Coffee Roasters. And if you're looking for something to cool you down from the Hawaiian sun, I enjoy having some gelato from Papalani Gelato or a sugarloaf pineapple frosty made by Aloha Ola Farms.
The Sandbox is where you come to lay in the sun and have fun in the pool while enjoying freshly made flatbreads from our wood fired oven. My personal favorite is the "Garden Isle," which features a variety of local vegetables from our farms over a beet and lemon hummus and finished with freshly picked herbs and citrus from our rooftop garden. Did I mention it's also vegan?
Wai'oli serves the most popular and most well-known Hawaiian dessert, shaved ice. Our syrups are made with locally grown fruit and natural sugars. You can create your own masterpiece or try our signature shaved ice "The 1 Mai Tai."
Kai Mai`i is the place for you if you want a light but filling lunch. Overlooking the adult pool, choose from shareable snacks like chips and guacamole made from the buttery sharwil avocado or the local catch ceviche with calamansi to hearty bowls or our classic burger for mains.
Are there any traditional Hawaiian ingredients, flavors, or styles of cooking that guests can expect to see at 1 Hotel Hanalei Bay?
One of my favorite ingredients from Hawai'i is kalo, also more widely known as taro. This starchy root vegetable soaks up any and all flavors and is showcased throughout our venues in many forms, from crispy chips coated in tajin to a sweet treat called kulolo and to the ever-popular fermented and pounded dish called poi. 'Ulu (breadfruit) is another ingredient that I love. This versatile fruit can be eaten at any stage. They taste like artichokes when very young, like potatoes once mature, and sweet like dessert when ripe. You can find it on the 1 Kitchen menu in the form of a tostada with kona kanpachi and XO sauce. Also, popular local dishes such as Huli Huli Chicken and Kalua Pork make their way onto salads, sandwiches, and eggs benedict.
How will food and beverage play a role in the wellness experiences offered at 1 Hotel Hanalei Bay?
Our menus offer healthy, nutrient-dense meals made with simple, quality ingredients, as well as plant-based options. We prioritize fresh and seasonal local produce, which is known to have more nutrients since it can be picked at peak ripeness. 
Upcycled coffee grinds from Neighbors and 1 Kitchen are used in exfoliating body treatments (scrubs, wraps, and pedicures) at Bamford Wellness Spa. The grinds are mixed with local essential oils and a signature moisturizer provided by Kauai Farmacy.
Exciting programming and guest experiences will center around our food and beverage offerings, including local rum and cacao tastings, plant-based cooking classes, and more.
Our Goodthings mini-bar offers healthy juice shots and other healthy snacks to fuel an active day.
Our Juice Bar menu can be tailored to your workout to give you an extra boost of energy or aid in recovery.
You've told us about sustainable and ethical sourcing. How else will sustainability play a role?
At 1 Hotel Hanalei Bay, we really want to live our compass of doing all the good we can and being a platform for change by supporting local farmers who are doing great things. The Hawaiian Islands once had a booming agricultural industry, but unfortunately now about 85% of the food here is shipped from the Continental US. Supporting local farmers helps to increase local food production and food security on the island for a more sustainable future. We build strong relationships with each of our local farmers, ranchers, and fishermen and hope to make a positive impact in the community.
Other sustainability initiatives that we practice are:
We avoid using single-use plastics on property, and have a robust zero-waste program to divert as much waste as we can from going to the landfill. Our food and beverage outlets will offer reusables whenever possible, and all of our to-go containers and utensils are fully compostable.
Our food waste and compostable containers are sent to both a local pig farmer for pig feed as well as to our partner Heart & Soul Organics, where it will be composted and turned back into soil amendments that we can use in our organic rooftop garden and landscaping for a closed-loop system.
Our organic rooftop garden on property will offer fresh herbs, canoe crops, edible flowers, and more that our culinary team will incorporate in our restaurants and bars.
Our zero-waste cocktails use spent citrus peels and coffee grounds to infuse liquors and garnish glasses and our featured wine partners observe sustainable, organic and biodynamic practices. 
A Plat(e)form for Change
As you savor the tropical flavors of the islands, smile wider knowing that every single sip and bite at 1 Hotel Hanalei Bay supports a deep-rooted mission to highlight the local culture, honor hundreds of years of tradition, and uplift the natural world—all of which make Hawai'i such a captivating and special place.
 
More Stories We'd Think You'd Enjoy
Designed by Nature
Brushing Up on Mayfair's Iconic Art History With Captivating Tours Led by Art Expert, Loyse de Pury
As we embark on monthly art tours through the creative soul of Mayfair, get to know the colorful...
Connecting to the Heart of Hispanic Heritage Month: Stories of Passion & Pride From Our Latinx Team Members
We're spotlighting the stories of our incredible Latinx staff members, discovering what this month...