From Trash to Textiles: How ANYBAG Is Transforming New York City's Plastic Waste Into Luxury Totes
We're celebrating Plastic Free July by spotlighting ANYBAG's inspiring story. Alex Dabagh, founder of the Manhattan-based company, shares the passion and process behind giving over half a million plastic bags a new life.
Published on: July 13, 2023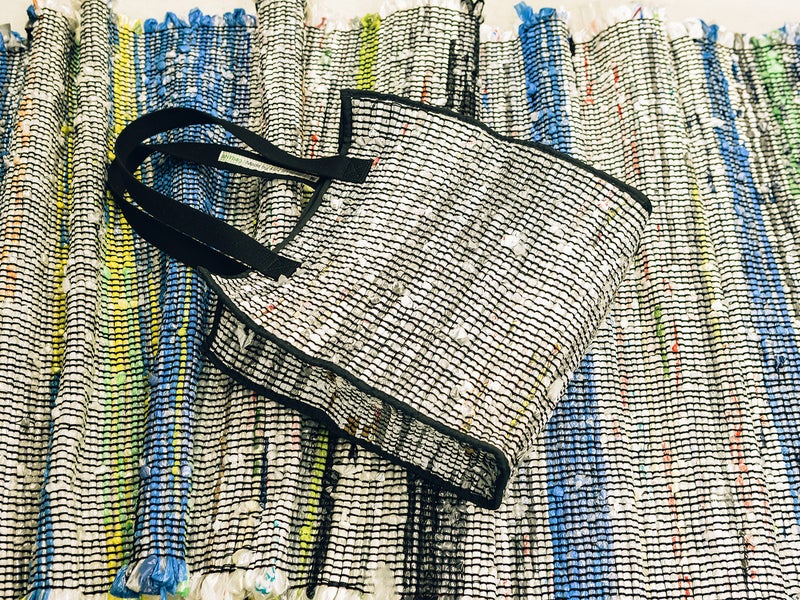 As we head into Plastic Free July, we're spotlighting the idea that no act is too small when it comes to reducing plastic use. It's estimated that worldwide, we generate over 500 million tons of plastic waste per year, much of which ends up in landfills, waterways, and other vulnerable ecosystems.
It's easy to think that just one plastic-free month won't make much of a difference towards a problem of this scale, but you might be surprised to find out that Plastic Free July is one of the largest global movements aimed at reducing plastic consumption. It's estimated that 140 million people across 190 countries participated last year, saving 2.8 million tons—the equivalent of 13,000 blue whales—of waste from oceans, landfills, and incinerators. Surveys indicate that 86% of Plastic Free July participants integrate their low-plastic habits into their everyday lives beyond July. This proves that small efforts add up and can lead to lasting change. We hope this inspires you to get involved by browsing Plastic Free July's ideas to reduce your plastic waste, exploring events near you, and signing up for the challenge.
One of our favorite sustainable brands, ANYBAG (a New York bag), does its part to reduce plastic waste every single day. Since its opening in 2020, ANYBAG has rescued over half a million plastic bags (and counting) from reaching landfills and waterways. They transform New York City's plastic waste into unique, durable, and stylish totes—closing the loop on plastics in an imaginative way.
We spoke with Alex Dabagh, founder of ANYBAG, about his inspiration, creative process, top sustainability tips, and excitement around the ANYBAG pop-up at 1 Hotel Central Park.
Alex Dabagh, Founder of ANYBAG, on Giving Plastic a New Purpose
What inspired you to start ANYBAG and transform plastic bags into unique tote bags? What drove your passion for sustainable design?
My passion for finding innovative solutions and making the most of available resources has always been deeply rooted in my upbringing and the valuable lessons I learned from my parents, particularly in fostering creativity. Their influence has greatly inspired me to explore new ideas and approaches, constantly seeking out creative ways to overcome challenges and make a positive impact while leaving no waste behind. Witnessing the overwhelming amount of plastic bags in landfills has also deeply affected me, and I felt a strong desire to contribute to a sustainable solution.
Can you talk about the process of repurposing plastic bags and weaving them into ANYBAG's textiles?
The process of repurposing plastic bags and weaving them into ANYBAG's textiles started with collecting plastic bags from various sources, such as friends, family, and even the factory where I used to work. I carefully stored these plastic bags in my basement, ready for transformation. Using a traditional wooden loom, I weave the plastic bags into unique textiles and then through experimentation, I've discovered that thicker plastic bags result in sturdier textiles. Drawing from my experience in product development and production, I've been fortunate to create durable and unique bags.
What can guests and shoppers expect from ANYBAG pop-up events at 1 Hotel Central Park? Can they shop the full collection?
I am excited to note that the collection showcased at the pop-ups will include a variety of ANYBAG's core colorways, such as vibrant blue, neon yellow, bright pink, and classic black. I will be personally available during the events, offering my guidance to guests and assisting them in finding a bag that truly speaks to their preferences. It is my sincere pleasure to help individuals explore the complete collection and select a bag that resonates with them on a personal level.
It's Plastic-Free July. How do you raise awareness of the importance of recycling plastic waste or reducing one's use of single-use plastics? Do you have any sustainability tips that people can implement in their daily lives?
Through various initiatives, I strive to engage with schools and inspire students to become champions of circularity and creativity. By conducting plastic collections and delivering presentations, I aim to educate students about the power of recycling and encourage them to collect plastic from their homes for proper recycling. It is my hope that these efforts will foster a sense of responsibility towards the environment among the younger generation. Furthermore, I actively collaborate with corporations, urging them to take a pledge to divert their single-use plastics and contribute to the development of sustainable infrastructure. By working together, we can bring about meaningful change and create a more sustainable future.
When it comes to sustainable practices, I strongly advocate for the use of reusable bags. I believe that by bringing reusable bags when going out, we can make a positive impact on the environment. I encourage people to develop a sense of pride and attachment to their reusable items, such as a favorite tumbler, making sustainability a seamless part of their daily routines. By embracing reusable options and consciously reducing our reliance on single-use plastics, we can collectively make a significant difference in protecting our planet.
 
More Stories We'd Think You'd Enjoy