From Bottles to Beachwear: Fair Harbor on Sustainable Swimwear & Our Exclusive Collection Collaboration
In celebration of our newest exclusive collection of Fair Harbor swimwear, we sat down with their co-founders to discuss their inspiring sustainability journey and what inspired the 1 Hotels designs.
Published on: December 13, 2022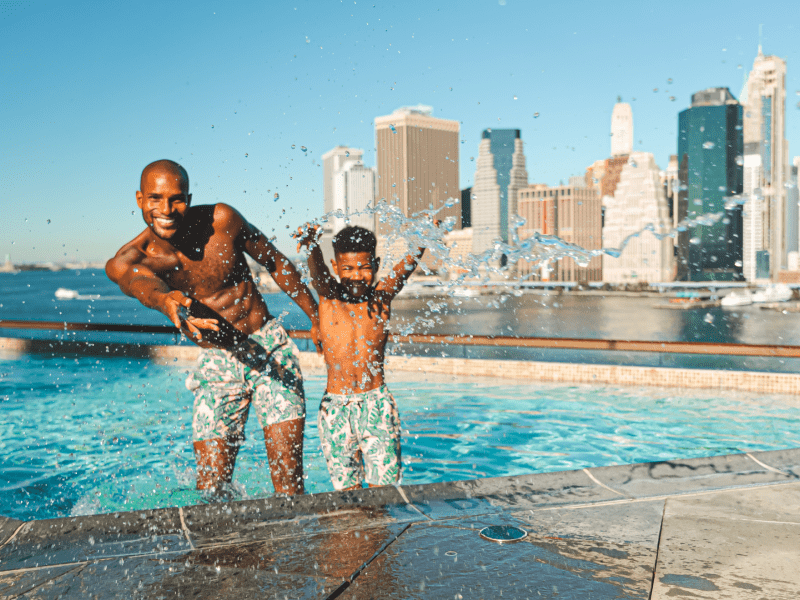 A brand born from a deep appreciation for the shoreline, Fair Harbor's designs not only reflect the beauty of the natural world but also work to safeguard it. As eight million pieces of plastic pollution find their way to our shorelines every year, Fair Harbor is working to intercept this pollution and clean up our waterways in a fresh, innovative way—one design at a time.
Because Fair Harbor's mission aligns so closely with ours, we were thrilled to collaborate with them on an exclusive line of 1 Hotels-inspired men's swimwear. The amazing designs reflect the natural beauty of our properties, honoring nature while inspiring adventure.
To take a deeper dive into what that means, we sat down for a heart-to-heart with Jake and Caroline Danehy, Co-Founders of Fair Harbor. Discover how each pair of our 1 Hotels x Fair Harbor swim shorts gives a second life to 11 plastic bottles—and how Fair Harbor has saved over 27 million plastic bottles from entering our waterways since 2014 through action, education, and passion.
Interview with Jake and Caroline Danehy, Co-Founders of Fair Harbor
Can you tell us a little bit about what makes Fair Harbor a sustainable brand?
Jake: Of course, that's why we started the business. I was a geography major in college, and Caroline was a senior in high school at the time. I wrote a thesis on plastic waste and the erosion of our ecosystem and, ultimately, we wanted to do something about it. So we found a mill that was converting plastic bottles into yarn, and the primary objective of our company was to create a platform to help promote the mitigation of plastic waste.
Caroline: We wanted to make an awesome product that people want to wear and love, and our first product was board shorts made out of 11 recycled plastic bottles.
Jake: Caroline and I grew up at the beach in a small town called Fair Harbor on Fire Island, and it's our objective to protect nature and the places that we all love, similar to 1 Hotels. We've been working  together for the past four years now. It started with a pop-up shop in the 1 Hotel Brooklyn Bridge lobby, and it's grown into a collaborative relationship.
Caroline: We're very excited about this collaboration launching in the next few days. We initially started Fair Harbor to make sustainability sexy and attainable, and that's also where we feel aligned with the 1 Hotels brand. Both brands believe that elevated style and design can be sustainable and thoughtful,  which is something we've worked really hard on the past eight years since we launched Fair Harbor.
As a mission-based company, how do you educate your consumers about your mission and sustainability?
Caroline: We bring our community together through clean-up initiatives to showcase how small steps can create larger change when we work together. Something as simple as picking up plastic forks or a straw off a beach helps to protect the places we love. A big thing is progress, not perfection, making sure that people make better everyday decisions with small things like their use of plastic. Becoming a certified B Corp was also a huge accomplishment and something that we're proud to share. It shows that, through and through, we are sustainable. The process is quite grueling and looks at every part of our company and sustainable practices.
You mentioned that the first pair of board shorts that you made was made of 11 plastic water bottles. Is that still the same number of bottles that goes into your average pair of Fair Harbor shorts today?
Jake: Yeah. On average, it's around 11 plastic bottles, and we have different blends of fabrications which have different water bottle counts. We actually just came out with our first piece of outerwear called the Bayshore, which is made of 38 recycled plastic bottles. So that's actually the highest bottled count in a single product that we offer.
Where do you source the bottles?
Jake: We have partners all over the world, and in most cases, they're sourced from mass recycling facilities and then converted into yarn. That yarn is either woven or knitted into a fabric.
Incredible. Can you talk to us a little bit about the design process and what inspired this collection?
Jake: For sure. So the collection really was inspired by the 1 Hotels' properties and brand. It's fun and whimsical, yet sophisticated, and I'd say took a lot of inspiration from nature, really bringing in a lot of natural elements and leveraging our ability to make unique prints. I'm very excited with the palm print, as well as some of the more subtle prints. With this collection, we're celebrating the crave for adventure, curiosity, and travel.
Awesome. How many pieces are there in the collection, and when and where can people purchase them?
Caroline: There are three men's swimwear shorts in the collection for adults and children, and we are launching it December 8 on our website, on the 1 Hotels Goodthings website, and at Goodthings retail shops at 1 Hotel Brooklyn Bridge, 1 Hotel South Beach, 1 Hotel West Hollywood, and at the upcoming 1 Hotel Hanalei Bay.
More Stories We'd Think You'd Enjoy
Connecting to the Heart of Hispanic Heritage Month: Stories of Passion & Pride From Our Latinx Team Members
We're spotlighting the stories of our incredible Latinx staff members, discovering what this month...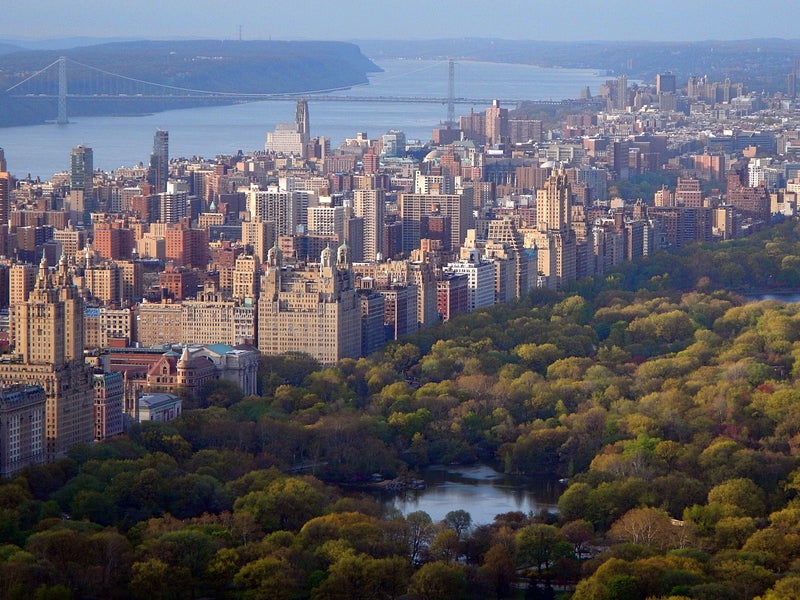 Big Promises in the Big Apple: Climate Week NYC Explored Our World's Progress Toward CO2 Targets
This global call to action is a chance to prove our world's collective resilience and commitment to...
The Heartfelt Story Behind Our New Pawtnership With Doug the Pug
Doug the Pug is a famous pop culture icon, but did you know that he's also the inspiration behind...