Fall for Sustainability: 10 Tips for a More Planet-Friendly Autumn
Welcome mindful living this season while embracing the parts of it you love most—from using your pumpkin to its full potential to immersing yourself in the transient beauty of nature.
Published on: October 03, 2023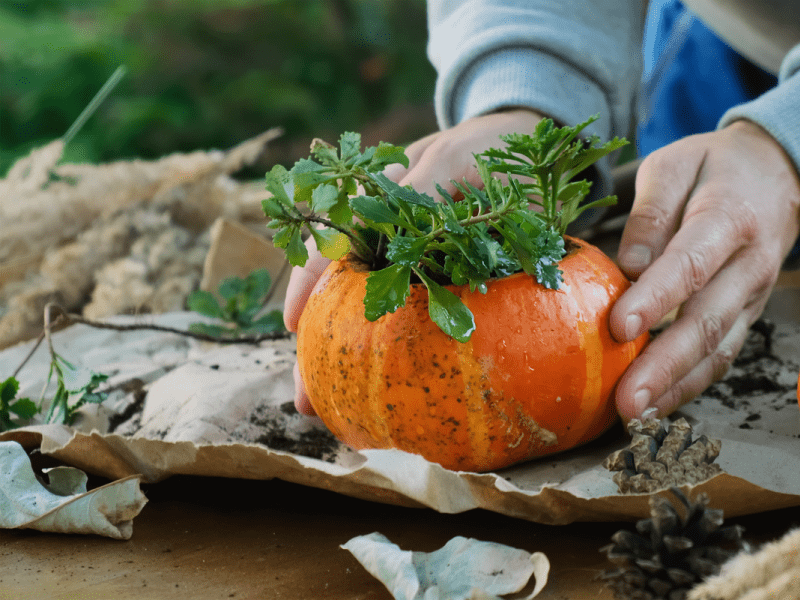 As the sunshine of summer gives way to the vibrant, earthy hues of autumn, we can't help but feel excited to embrace new daily opportunities to savor the beauty of fall, while making a conscious effort to safeguard the planet. The changing of the seasons brings about a fresh chance to explore new sustainable habits, reconnect with the natural world, and cherish all of the amazing things autumn has to offer. We hope these curated tips inspire you to cherish the season in a way that honors the planet.
10 FUN TIPS FOR AN ECO-CONSCIOUS AUTUMN
CREATE A CONSCIOUS HALLOWEEN COSTUME.
The spooky secret behind single-use Halloween costumes is that they generate thousands of tons of plastic and textile waste every year. A 2019 study in the UK found that nearly 40 million families dress up each year in the UK, and 90% of those families buy new costumes each year. On top of that, nearly 70% of these costumes are made of materials derived from plastic, and 2 in 5 are only worn once before they end up in a landfill.
The result? Nearly 2,000 tons of plastic waste (equivalent to 83 million plastic bottles) reach landfills each year (in the UK alone), taking the form of a spooky costume. If you don't already have a Halloween costume you can reuse from a few years ago, we encourage you to:
Swap with a friend
Upcycle household items to create a new design
Put together a costume using some clothes you already have
Thrift your costume from a local thrift store
Explore DIY videos online to get inspiration for your homemade costume!
USE YOUR PUMPKIN TO ITS FULL POTENTIAL.
Pumpkin carving is a classic fall tradition—and one that could use a little sustainability refresh. Instead of throwing away the pumpkin seeds and scraps, roast the seeds for a fall snack and use the pumpkin "meat" in a delicious fall recipe.
Create an Indoor Pumpkin Arrangement.
For a fun twist on indoor fall decorations, use a carved pumpkin as the base for a flower display or succulent garden. 
Join us at 1 Hotel Central Park on November 28 as plant expert Farmer Nick leads you through a creative workshop turning your average pumpkin into a stunning—and natural—arrangement! 
LEAVE THE LEAVES.
If your neighborhood allows, leave the leaves on your lawn (as an evenly spaced covering). It's great for the soil, encouraging healthy microbial activity. You can also gather leaves and pile them around your garden beds or the base of trees to help insulate and nourish the soil ahead of a cold winter.
If your neighborhood doesn't allow leaves to be left in the yard, consider composting them (at home or commercially), so they can be reintroduced to your soil (or your community's soil) in time.
COZY UP WITH CONSCIOUS CANDLES.
Many conventional candles on the market are made with synthetic fragrances in a paraffin wax base. Paraffin is derived from petroleum, and when burned, these candles can release harmful chemicals and toxins that contribute to indoor air pollution. When you're shopping for your favorite fall candle, make sure it's made with natural wax such as soy wax or beeswax and naturally-derived fragrances.
Our 1 Hotels Signature Kindling Candle is perfect for autumn. With an aromatic bouquet of all-natural ingredients suspended in a natural soy wax blend, exotic eucalyptus, lucid oakwood, and sultry cedarwood meld together to create an uplifting essence. A base of sheer musk and earthy tree moss has the ability to bring the outdoors in.
With any candle, don't forget to upcycle your candle vessel, giving it a second life as a plant pot, a pencil holder, or a home for your makeup brushes.
MAKE A PLAN FOR YOUR PLANTS.
If you're in an area that starts to get cold in the fall, be sure to research which of your outdoor plants must come inside as temps drop. If you don't have any indoor plants this winter, consider getting a few! As big believers in biophilic design, we can attest to the wonderful healing powers of plants. They can purify the air, boost productivity and focus, reduce stress, and inspire feelings of positivity and calm.
LEARN WHAT'S IN-SEASON AND SUPPORT YOUR LOCAL FARMERS.
The farmer's market is a perfect place to start when you're looking to shop for in-season produce. Plus, when you shop locally, you reduce the energy required to transport the produce around the world.
Beyond that, you can use this Crop Calendar search tool created by the Food and Agriculture Organization of the United Nations to find exactly what's in season in your area.
HOST A PLANT-BASED FRIENDSGIVING.
Even if you (and your friend group) don't follow a plant-based diet, this can still be a fun challenge to do in the spirit of sustainability. Each person can recreate their favorite Thanksgiving recipe with a plant-based twist! You can start with this master list of 40 vegan Thanksgiving recipes.
GOING APPLE PICKING? USE EVERY PART OF THE APPLE, DOWN TO THE CORE.
If you're going apple picking, we recommend seeking out an organic or regenerative orchard. Beyond that, we encourage you to use every part of your apples!
You can use the apple cores and peels to do so many fun fall things around the house! You can draw inspiration from our sustainable cocktail program by making apple-infused liquor, apple syrup, or apple juice. You can also create your own apple cider vinegar or use the peels to clean your pots and pans.
Over in Toronto, fall is in the air, and our Beverage Director Clement Bondios is helping us toast to the season with the Orchard Promenade. As he says, this crisp cocktail is 1 Hotel Toronto's version of an Old Fashioned—enhanced with a taste of autumn. As the leaves change and the temperature begins to drop, take the time to slow down and cozy up with this seasonal spin on a classic favorite.
1 Hotel Toronto's Orchard Promenade Cocktail

Pour 2 oz of Remy Martin VSOP into a Yarai Mixing Glass
Add 0.5 oz of Caramel Apple Butter Syrup (see recipe below)
Add 3 dashes of Vanilla and Fig Bitter
Add a few ice cubes and stir for 20 seconds 
Place 1 King Cube in a rocks glass
Strain the cocktail over ice
Garnish with a slice of apple

Caramel Apple Butter Syrup (makes 1 liter)

October is prime apple season in Ontario. Follow this recipe for the Orchard Promenade Cocktail above, and use the remainder to drizzle wherever else you need a little autumn sweetness.

Cut 6 unpeeled apples of your favorite varietals (McIntosh, Red Delicious, Honeycrisp) into small cubes
Add 150 grams of butter to a saucepan
Add apples and cook for 15 minutes on medium heat
Add 250 grams of sugar 
Continue to cook until caramelized
Add water 200 ml at a time until you reach 1 liter
Continue to cook on medium heat for 10 minutes
Remove from stove top and let sit for 20 minutes
Once cool, add to a blender and blend at medium speed for 3 minutes
Strain liquid through a Chinois into a jar
Chill in the fridge for 24 hours
WRAP YOURSELF IN A BLANKET MADE WITH NATURAL FIBERS.
Cozying up in a blanket is a great way to stay warm without using too much energy from your furnace. But did you know that so many blankets out there are made with polyester, a form of plastic that's usually derived from oil?
First things first, it's important to make good use of the blankets you already have. However, if you're in the market for a new one, look for blankets made with natural materials such as organic cotton, linen, Tencel (eucalyptus fiber), bamboo, and hemp.
RECONNECT WITH YOUR ROOTS IN NATURE.
With a crisp breeze, the arrival of auburn leaves (if you're lucky), and the excitement of a new season, autumn presents an alluring opportunity to get outside, breathe the fresh air, and soak in all the wonders of nature. To embrace the beauty of fall, we invite you to prioritize the time to take a stroll through your local park, walk to your favorite coffee shop for a fall drink, go camping with your loved ones, wake up for a serene sunrise, or adventure to one of our sustainable sanctuaries. 
With our Fall Equinox offers, you can embrace the unique vibrancy of autumn around the world with up to 40% off your stay and a $30 credit toward the freshest harvest flavors.
 
More Stories We'd Think You'd Enjoy
Steering the Future: Join Audi on the Journey Toward All-Electric Mobility
With an ambitious goal of phasing out the production of combustion cars by 2033, pioneering...
Sustainability
That's a Wrap: Our Favorite Sustainable Gifts for the Holiday Season
As the year comes to a close and we reach a time of reflection, we choose to express gratitude for...
Sustainability
A Message on Thanksgiving