Brushing Up on Mayfair's Iconic Art History With Captivating Tours Led by Art Expert, Loyse de Pury
As we embark on monthly art tours through the creative soul of Mayfair, get to know the colorful story of your guide. Born into the compelling world of art, her journey is guided by pure passion.
Published on: October 03, 2023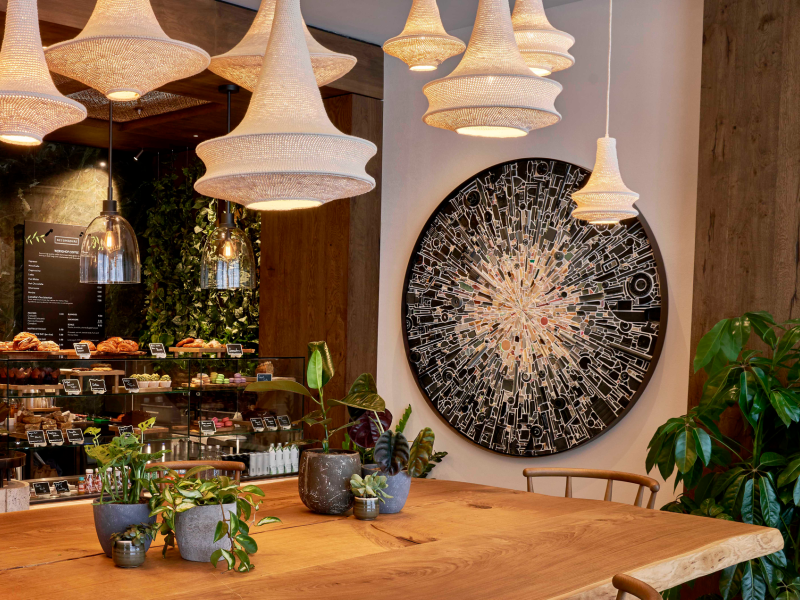 Nestled in the heart of London's iconic Mayfair district, we intentionally designed 1 Hotel Mayfair to honor the unparalleled history of the area's world-renowned museums, galleries, and history. Through thoughtful design, traditional architecture, and awe-inspiring local artworks, every detail of this sanctuary pays homage to the eclectic culture and enchanting natural beauty of London. 
We invite you to immerse yourself in the magnetic art within our walls—as well as the incredible surrounding exhibits—through the monthly Mayfair Art Tours led by art expert, sales representative, and overall art lover, Loyse de Pury.  Born in the Villa Favorita of Locarno in Switzerland to an auctioneer father and an art historian mother, Loyse has been enamored with art since she can remember. And her passion for art has only grown stronger throughout the years.
With an accomplished career as both an actor and an art sales representative for iconic names such as Bonni Benrubi and Todd Merrill, Loyse has gained invaluable knowledge and experience working with art from all centuries, from all over the world. Now, she brings her expertise to 1 Hotel Mayfair, offering her discoveries regarding established and emerging artists in the area. We sat down with Loyse to uncover her excitement for these monthly art tours and what you can expect to see and feel throughout the journey.
Heart-to-Heart with Loyse de Pury, Art Tour Expert at 1 Hotel Mayfair 
Tell us about your background and what led you to become a sales representative and an art lover.
All I could hear at home was my parents talking about art. Papa was obsessed with contemporary art and Maman had a nostalgia for the early Italian Renaissance. My first shock from art occurred at the Sensation exhibition at the Royal Academy in 1997, when I gazed at the putrefied cow by Damien Hirst in horror. The smell was so intense with buzzing flies everywhere. Then and there I pondered the question: What is Art? Our family holidays would revolve around art—spending hours in museums, which pretty much became my playground! Art was probably the first thing I saw in this world!
What can guests expect from the art tour at 1 Hotel Mayfair? Can locals attend as well?
It will be a surprise! But expect to feel inspired, energized, and connected with other like-minded souls! Everyone will be free to express their thoughts about a piece of work which will spark unique and interesting discussions.
All are welcome, whether that's locals, guests of the hotel, art lovers, art collectors, students, artists, curious creatures, children, and even dogs!
Can you give us a sneak peek of the galleries you'll be taking guests to during the tour?
For the upcoming tour on 7th October, we'll be celebrating women! As we all know, women have often been ignored in art historical canon, and now it's their time to shine. I have selected three artists from different generations and origins—all of whom work with unique mediums. Their artworks have a way of making you feel empowered just by looking at them.
We will start at Sprüth Magers, a gallery opened in the early 80's by two very inspiring ladies who have represented Sylvie Fleury from the beginning of her career. We will celebrate this iconic Swiss artist! We will then visit Alison Jacques Gallery, established in 2004, diving into the sensational work of American artist Sheila Hicks. We'll end at Pippy Houldsworth Gallery, exploring the powerful paintings of Kenyan-born, Chicago-based artist Wangari Mathenge.
What is your favorite piece in the art collection at 1 Hotel Mayfair? Could you tell us about it and what makes it special to you?
My favorite piece is Torrent, the sublime bar created by British artist Kate MccGwire. She's an artist that I've been following for years, and she never ceases to amaze me! When I see her incredible artworks in various exhibitions, each one is totally unique yet showcases her signature feather medium. She goes through the labor-intensive work of collecting, sorting, and cleaning her materials to create muscular forms, often reminiscing classical sculptures or creatures from mythology. I love that she celebrates pigeon racer feathers, which are typically shed or discarded. She is fascinated by the dual identity of the pigeon—they are often referred to as "flying rats," but they're actually much more noble, as they belong to the same family as the doves.
Torrent is made of roughly 3,000 feathers found from all over the country. By creating this piece, she gives each feather another beautiful life. The result is absolutely sumptuous, the perfect bar to bring a date and drink an Elderflower Spritz!
Are there any emerging artists that you're particularly excited to showcase?
This particular tour will showcase three established artists, but I will highlight emerging artists in future tours. That being said, I'd love to tell you about three emerging artists I admire—all of whom had shows in London last year. Victoria Cantons is a fascinating painter, Ioana Maria Sisea is a talented Romanian sculpturist, and Qualeasha Wood is an American textile artist who creates powerful tapestries!
Immerse Yourself in Mayfair's Iconic Art
Join Loyse every month for an inspirational journey into the world of art that lives within and around 1 Hotel Mayfair. Each tour will uniquely explore the art within our sanctuary as well as the works of established and emerging artists of Mayfair's iconic art district. Her knowledge and expertise will allow you to dive deeper into the meaning and history behind each piece, sparking truly engaging and uplifting conversations.
More Stories We'd Think You'd Enjoy
Steering the Future: Join Audi on the Journey Toward All-Electric Mobility
With an ambitious goal of phasing out the production of combustion cars by 2033, pioneering...
Sustainability
That's a Wrap: Our Favorite Sustainable Gifts for the Holiday Season
As the year comes to a close and we reach a time of reflection, we choose to express gratitude for...
Sustainability
A Message on Thanksgiving