Bringing the Sounds of Nature into 1 Hotel Nashville
The sounds of nature are all around us. We've partnered with Gallagher Guitar Co. to bring something special to our newest urban sanctuary, 1 Hotel Nashville—something that reminds us all to take a moment to tune in.
Published on: July 11, 2022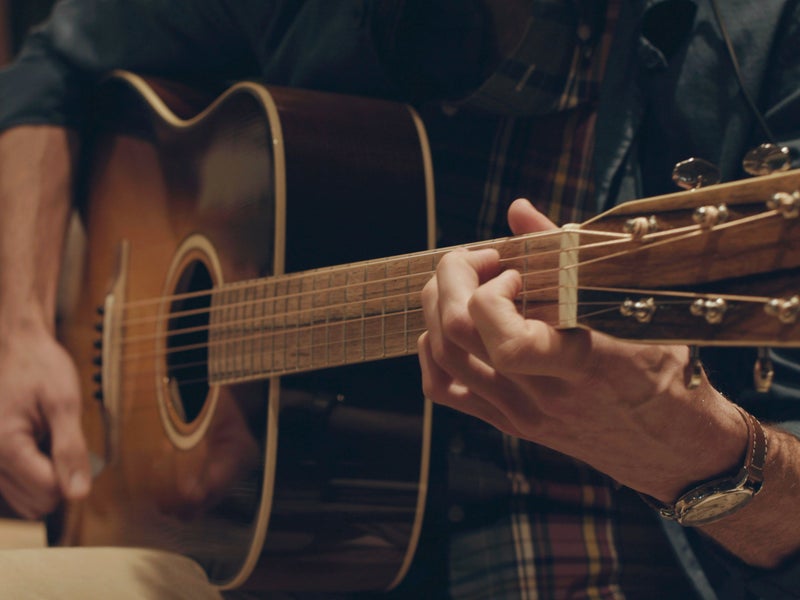 1 Hotel Nashville debuted on July 8, and what better way to welcome our new roots in Music City than with a custom guitar handmade from fallen Tennessee trees?
This meaningful piece not only pays homage to the rich musical history of the city around our sanctuary but also serves as a subtle reminder of the earthly elements that work harmoniously to nurture the world around us—and inspire us to take a step back and remember what's truly important.
Our friends at Gallagher Guitar Co. know that, just like music, intentional methods and materials have the power to connect you back to nature—restoring calming rhythms to our busy lives.
That's why one single Gallagher guitar takes three months and 70-80 hours of labor to perfect, and the 1 Hotel Nashville guitar, displayed in our hotel lobby, is no exception. It's been finished with thoughtful touches that uphold a family legacy and unparalleled respect for nature. Let's take a deeper dive into that family legacy—and how it brings a whole new meaning to "Made in Tennessee." To see the process of how this guitar was made, check out @1hotel.nashville on Instagram here.
Interview with Gallagher Guitar Company

Can you give us a brief overview of the Gallagher Guitar Co. story?

Gallagher Guitar Co. has a storied history as a Tennessee company.  J.W. Gallagher began his woodworking shop in 1939. He built fine, Queen Anne style furniture from his shop in Wartrace, TN.  After serving in the military he returned to his community and his furniture shop. In 1963, he was recruited by Slingerland Drum Company in the neighboring town of Shelbyville to set up a production line of retail guitars. He literally took old Martins and Stellas to the band-saw and cut them open to reverse-engineer how to build a guitar. That project was short-lived because he wanted to build guitars like he built furniture: a guitar of the finest quality. As a machinist, J.W. built the equipment to set up his own shop in May of 1965 and, in doing so, became the first boutique guitar builder in the US. Over the years, he and his son, Don, refined the process of building guitars. His first label included the motto: "Guaranteed Perfect."
A chance meeting in 1968 at a festival led to a long and close relationship between J.W. Gallagher (and the Gallagher family) and Doc and Merle Watson. As the most famous Gallagher guitar player, Doc introduced many players to Gallagher guitars. Many other artists have played Gallaghers through the years. Currently, you may see Gallaghers on stage with artists such as Old Crow Medicine Show, Trey Hensley, J.P. Cormier, Jim Hurst, Chris Jones, Kristen Ford, and others.
Gallagher briefly closed its doors in May 2019 before being acquired and reopened in nearby Murfreesboro, TN, by David and Reina Mathis. With some of the former luthiers, the new shop took up the mantle of Tennessee craftsmanship and the legacy of J.W. and Don Gallagher.  
How has Nashville and the surrounding nature influenced the design or production of your guitars?
The small railroad town of Wartrace is nestled in the hills of Middle Tennessee. The connection to the land and its people informed the approach to building guitars. The values of honest work, responsibility to others, the importance of relationships, and standing by your work are woven into the story of Gallagher Guitar Co.
While Wartrace was the birthplace of Gallagher guitars, it was important to move closer to Nashville.  Gallagher guitars have made many appearances at the mother church of country music, The Ryman Auditorium, as well as the current Grand Ole Opry. Nashville is truly Music City, and Gallagher wanted to be closer to that energy.  
We continue the tradition of building high-quality guitars that any player, or recognized artist, would be proud to play. We also responded to the times of building guitars that provide options beyond the traditional dreadnought guitar, such as jumbo guitars as well as smaller body guitars. In addition, we have added our own version of the T-style electric guitar, a staple of country music, the "Gallacaster."
When did Gallagher start using reclaimed and indigenous wood for its guitars?
Reclaimed wood is considered wood that has been salvaged and repurposed. For example, a gentleman brought us wood from a cherry tree that sat for years on a relative's property and was about to be burned when he asked if he could have it. He brought pieces to us and we built his classical guitar. We also recently retrieved wood from a cabin built by Roosevelt's WPA project. The cabin eventually served as the home for a local theater, but it was determined that it was unsafe and needed to be razed. We received permission to save some of the wood and plan to build a commemorative guitar.
Guitar building highly values wood that is cut in particular ways to ensure the integrity of the wood for strength and stability. In 2021, we developed plans to begin building guitars from indigious woods. While not "reclaimed," these woods are often not given much value and thus discarded and burned.   We knew immediately that we could work with the Hampton Bros. in East Tennessee for most of the species that we would need and would trust them to prepare the wood for guitar building. We call this guitar "The Tennessean."  
Can you tell us about the process used to make the 1 Hotel Nashville guitar? What kind of wood was used, and how and where was it sourced?
We have good relations with different foresters and wood suppliers who share our values and respect for wood. It is a privilege to take wood that has been carefully sourced and respected and then build beautiful instruments. The Hampton Brothers have been a valuable partner in locating and preparing the woods that we needed.  
There are excellent Tennessee tonewood options such as the Applachian spruce (Adirondack spruce) that grows in the upper elevations of East Tennessee. Walnut makes for excellent neck material. We use American Holly for the trim (binding and rosette) and persimmon (referred to as American ebony) for the fingerboard and bridge. The tone wood for the back and sides is from Bodock (osage orange).  Native Americans used Bodock for making bows. Its strength also lent itself to wagon wheel rim and hubs, crutches and machinery parts. Bodock is an overlooked wood that when cut down is often burned, as it is not thought to be usable due to its density and hardness. Yet, it makes an excellent tonewood. Its color is uncanny for its beautiful yellow-orange color.  We use the Appalachian Spruce for brace material. The persimmon wood was the most unique because it is prepared with a process over time in which they allowed for spalting of the wood to provide the coloration and streaking.
 What makes this guitar unique? 
 "The Tennessean" is truly a reflection of Tennessee craftsmanship. The native Tennessee woods are used with conscientious craftsmanship to build a truly unique guitar. It is a guitar in which the inherent uniqueness and natural beauty of the Tennessee woods shine forth. A sunburst finish is an ideal choice to accent the natural yellow color and tones of Bodock. No one else is building this truly Tennessee guitar.
More Stories We'd Think You'd Enjoy