Big Promises in the Big Apple: Climate Week NYC Explored Our World's Progress Toward CO2 Targets
This global call to action is a chance to prove our world's collective resilience and commitment to the planet. Can the highest-emitting nations affirm progress toward halving carbon emissions by 2030?
Published on: September 19, 2023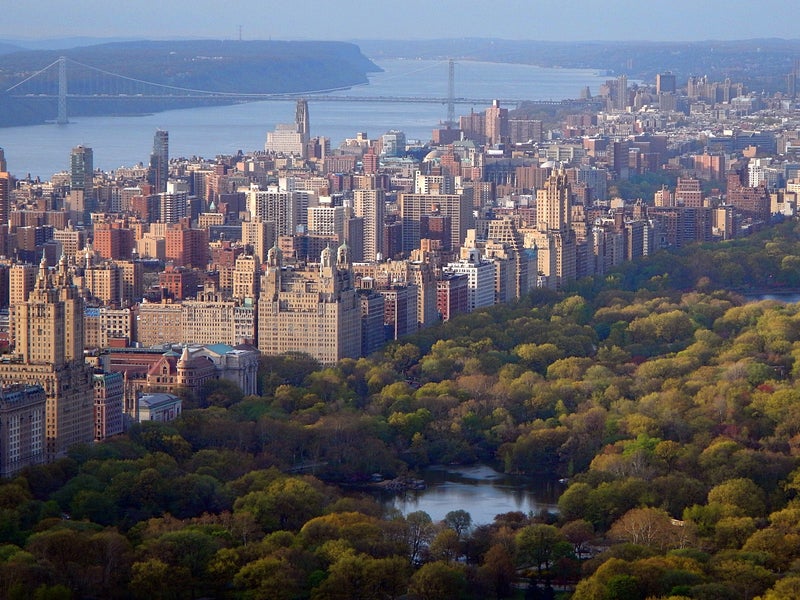 Strolling through New York City during Climate Week, you might've caught a glimpse of the Empire State Building lit up in bright green light, nature-inspired art installations on display in Times Square, and billboards decorated with climate action messages from passionate environmental activists—all eye-catching ways to rally support for our planet.
But Climate Week NYC was so much more than a captivating display. It's a globally-recognized summit unlike any other—and an unofficial kickoff for the upcoming busiest season for climate action.
WHAT IS NEW YORK CLIMATE WEEK?
Climate Week NYC is one of the largest annual climate events in the world, uniting world leaders, climate experts, investors, political changemakers, local officials, and passionate citizens over a common purpose to speed up climate progress. It's hosted by the Climate Group, an international nonprofit on a mission to drive climate action, fast. After all, the highest-emitting countries (China, the US, India, the EU, Indonesia, Russia, and Brazil) are on strict deadlines to halve carbon emissions by the end of the decade—and achieve net zero by 2050.
With hundreds of affiliated events, Climate Week NYC is often referred to as the kickoff for a busy autumn full of climate action. In many ways, Climate Week NYC informs the UN Climate Change Conference in November (COP28), as it does a lot to track net-zero goals, realignment with the Paris Agreement, and the transition to clean energy. In other words, Climate Week helps our world leaders iron out the essential questions going into COP28.
As high-emitting countries race to net zero emissions, what have been the biggest wins?
What's going right, and what's going wrong?
Where should investments be channeled?
What additional tools and accountability can ensure solutions are actually implemented?
What are some ways to bridge the gap between the private and public sectors during this energy transition?
How can we all better safeguard nature through it all?
With so many questions in the air, Climate Week gives much-needed space to identify the most pressing ones.
In recent years, Climate Week has served as the platform for massive climate announcements, such as President Joe Biden's pledge to double the federal government's contributions to lower-income countries as well as NYC's massive plans to transition to wind, solar, and hydropower. With these critical announcements happening weeks before the COP conference, it's easy to see why so many refer to Climate Week as "the largest annual climate event of its kind."
A THEME TO CELEBRATE AND INSPIRE ACTION
This year's Climate Week theme was, "We Can. We Will."
The motto is meant to reflect determination while providing a hopeful promise and a call to unite around that promise. "We can" refers to some of the promising global wins we've seen so far, from renewable energy to financing, while "we will" reaffirms that this is just the beginning. We (specifically, wealthy developed nations) need to continue to look ahead, dreaming up even loftier goals and solutions to stay on the path to net zero emissions by 2050—from tripling clean investments to continuing to break down barriers.
RECAP: THE HIGHLIGHTS OF CLIMATE WEEK 2023
Climate Week 2023 proved to be the biggest yet with nearly 600 affiliated events and multiple first-of-their-kind announcements. We've included some of the biggest stories below, as well as ways to dive into other specific stories that pique your interest.
The US Climate Alliance, a bipartisan coalition of 25 governors, announced an astonishing plan to install 20 million heat pumps across 25 states by 2030 (to phase out fossil fuel furnaces). To complete this goal, they will have to quadruple their current pace of heat pump installations. 
The COP28 President-Designate Dr. Sultan Ahmed Al Jaber and UN Special Envoy Michael Bloomberg announced the first COP28 "Local Climate Action Summit." This summit will take place December 1-2 (in the middle of COP28) and bring hundreds of subnational climate leaders (governors, mayors, businesses, other city leaders, and more) into the COP program and process for the first time.
Natural Grid explains its Future Grid plan, which begins to define the scope and scale required to enable an electrified future. Their proposal involves investing ~$2 billion over the next five years for the necessary infrastructure.
In addition to these large-scale announcements, large corporations such as Google and PepsiCo covered their climate action plans and discussed ways the private and public sectors could collaborate on climate solutions. You can read the full coverage of events on the Latest News page of the Climate Week website and re-watch dozens of expert panel discussions here.
HOW TO STAY INVOLVED AROUND THE WORLD
We've seen that Climate Week is often referred to as the opening act for COP28, which will take place from November 30 through December 12 in Dubai. You can start preparing for this international conference by exploring the themes, events, and sequencing on the COP28 website and Instagram page.
As you continue to learn more about the topics at the forefront of the climate conversation, we encourage you to prepare for elections in your area. One of the best ways to accelerate the fight against climate change is to vote for candidates who prioritize the planet. You can visit the International Foundation for Electoral Systems to explore resources in your part of the world.
For those in the US, we encourage you to prepare for the upcoming 2024 presidential election, which will have a massive global impact on the climate crisis. This guide created by DoSomething.org outlines different ways to prepare for the upcoming election—even now when the candidates are not yet solidified. You can also visit this page on USA.gov to check for information about future local and state elections in your area, including the timing and reasons for local elections.
More Stories We'd Think You'd Enjoy
Sustainability
That's a Wrap: Our Favorite Sustainable Gifts for the Holiday Season
As the year comes to a close and we reach a time of reflection, we choose to express gratitude for...
Sustainability
A Message on Thanksgiving
The Gift Wrap That Keeps On Giving: Unveiling Wrappr's Story and the Winner of Our 2023 Artist Search
In celebration of our first successful Wrapped in Nature artist search, we sat down with both Wrappr...