Behind the Scenes of Our 1 Less Thing Program With Inspiring Stories From Our Charitable Partners
By simply leaving behind a piece of clothing or two, you can help our charitable partners transform the lives of homeless adults and children in the communities we call home.
Published on: October 06, 2022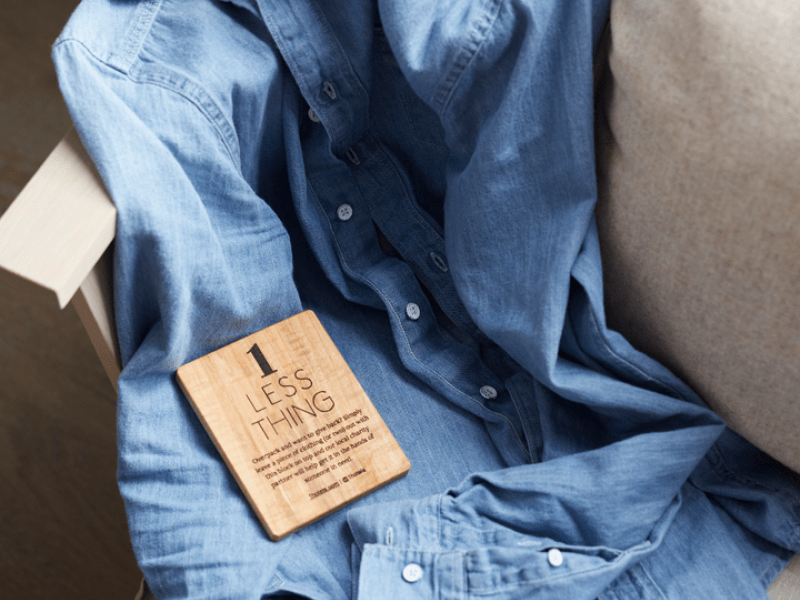 At 1 Hotels, we believe in uplifting the planet, people and places that sustain our operations. We're always thinking of new ways to give back to our communities, and our 1 Less Thing program does just that.
Through our 1 Less Thing initiative, you can lighten your suitcase by leaving behind a gently-used piece of clothing (or two), and we'll donate the collected items to one of our amazing charitable partners: Housing Works of New York, Suits Me Fine of Toronto, Miami Rescue Mission, People Loving Nashville, St. Anthony Foundation of San Francisco and the Los Angeles Mission.
With nearly 600,000 people homeless in America, the need for clothing donations will never go away. While thousands of people face life without sufficient clothing, the trends of fast fashion are sending more and more tons of garments to landfills every year. At this point, up to 85% of clothing ends up in a landfill, amounting to over 15 million tons of annual textile waste.
Not only does our 1 Less Thing program help clothe homeless adults and children in the area, it also helps to combat the overwhelming waste that results from fast fashion. On top of this, we hope this program serves as a gentle reminder that sustainable fashion starts with your purchasing decisions—encouraging you to focus on the necessity, durability and longevity of your garments, as well as supporting brands that uphold ethical and sustainable standards.
To further inspire sustainable and circular fashion choices, we sat down with a few of our 1 Less Thing partners to learn more about their empowering missions—and how you can help support them beyond the program.
Behind the Scenes With Our 1 Less Thing Nonprofit Partners
Miami Rescue Mission
What work does your organization do to aid those in need in the local community?
For the last 100 years, Miami Rescue Mission has helped the homeless and hungry in our community. Our Mission Statement: Transform the lives of homeless men, women, and children through comprehensive residential programs to effect lasting change and empower them to be productive members of society. We provide food, shelter, substance abuse treatment, education, computer literacy, job placement, healthcare, spiritual development, and housing with Christian love, compassion, and encouragement.
In what ways can others support your mission?
People in our community can help by donating clothes, shoes, hygiene items, food, monetary donations, and time.
What has been your most memorable or inspiring experience with the organization?
Every time one of our residents graduates from our program and re-enters the community is a memorable experience for us. Every time a woman escapes an abusive relationship, regains her independence, and provides for her children is an inspiring experience for us. 
Housing Works of New York
What work does your organization do to aid those in need in the local community?
For over 30 years, Housing Works has provided lifesaving services to New Yorkers living with and affected by HIV, AIDS, and homelessness. Our services include housing, mental and physical healthcare, job training, legal counseling, and advocacy. Every year, we serve nearly 10,000 clients in the community.
In what ways can others support your mission?
Housing Works operates multiple thrift stores and a bookstore which help fund our lifesaving services. There's always an opportunity to volunteer at one of our stores or get involved in one of our annual benefit events. We encourage you to email [email protected] for more info on how to get involved.
What has been your most memorable or inspiring experience with the organization?
Watching the organization work together to expand our services for clients since the COVID-19 pandemic has been truly inspiring.
More Stories We'd Think You'd Enjoy
Steering the Future: Join Audi on the Journey Toward All-Electric Mobility
With an ambitious goal of phasing out the production of combustion cars by 2033, pioneering...
Sustainability
That's a Wrap: Our Favorite Sustainable Gifts for the Holiday Season
As the year comes to a close and we reach a time of reflection, we choose to express gratitude for...
Sustainability
A Message on Thanksgiving